The capital of Spain's Basque Country has for me, always held a certain mystique. Given that it has never been considered one of the signature Spanish go-to city break destinations, I was intrigued to find out why the city of Bilbao, is starting to rise from its industrial past and attract visitors from far and wide.
Arriving at Bilbao Airport I exited through arrivals, hung a right and there I was at the bus ticket counter which in turn was less than a minute's walk from the bus stop. For a smooth transit on arrival, Bilbao Airport is hard to beat! A ticket to the Plaza Moyua in the heart of Bilbao costs less than £3 and takes just 20 minutes.
Once in town, you will find Bilbao is equally as easy to navigate and explore. Resting on the banks of the Nervion River, most visitors will choose to walk around this refreshingly safe and clean city. That said you can also be sure that if you do feel the need for a little assistance then there is an extremely efficient bus, tram or metro service to hand.
As with any major city accommodation options range from high-quality hotels to private accommodation however, I would suggest choosing a hotel somewhere between the Plaza Moyua and the Casco Viejo – the Old Quarter.
Map Of Area
Plaza Moyua
Those making their own way to the centre of Bilbao will be dropped off in the Plaza Moyua. It's worth remembering the name as you will often be directed to this plaza whether to take an excursion from this point or simply as a means of navigating yourself to other parts of the city.
Lookout for the stylish glass underground or subway entrances designed by none other than Norman Foster.
Casco Viejo – The Old Quarter
No visit to Bilbao is complete without spending a day and an evening wandering around the matrix of cobbled streets packed with shops, cafes, restaurants and bars. Locals will go from bar to bar for a glass of local wine and a Pintxos – a small snack such as Gilda with Peppers (Anchovy), Pinch de Chorizo Y Manchego (Pork Sausage, cheese and oil), or Tortilla de Patata (Potato Omelette sometimes with Onion).
In the heart of the Old Quarter is my favourite location in Bilbao – the Plaza Nueva. This Neoclassical designed square dates back to 1851. Today it is home to a weekly market on Sundays and throughout the week, it is a hub of activity where friendly locals mix with tourists and enjoy al fresco drinks and pintxos in the many bars that surround the square.
This is a little snapshot of true Basque life and worth every moment – if only to people watch! be sure to try out the iconic Cafe Bar Bilbao.
The Guggenheim Museum
The building of the Guggenheim Museum in 1997 rather changed the city's fortunes. This modern art and contemporary museum is made from titanium sheets and is the city's most famous attraction. Inside are three floors of exhibitions from leading world-renowned artists.
My favourite exhibit was actually outside – a giant spider called "Maman", which is supposed to project awe and fear – I loved it!
Popping Out For A Drink
Wandering around Bilbao with no fixed agenda is something to savour. More often than not I ended up stopping for a drink and a Pintxos and every time it was a different experience.
At the Baobab Cafe down on the riverfront overlooking the Old Town, you can enjoy a wide selection of teas in a Bohemian-style cafe oozing character and charm. I
f Gin is your thing then stop at the Gin Fizz Cafe close to the Guggenheim where the bartender is an artist himself, delivering a cocktail that will certainly hit the mark!
For those of you into the weird and wonderful how about the Kubrick Bar – a Mecca to fans of film director Stanley Kubrick.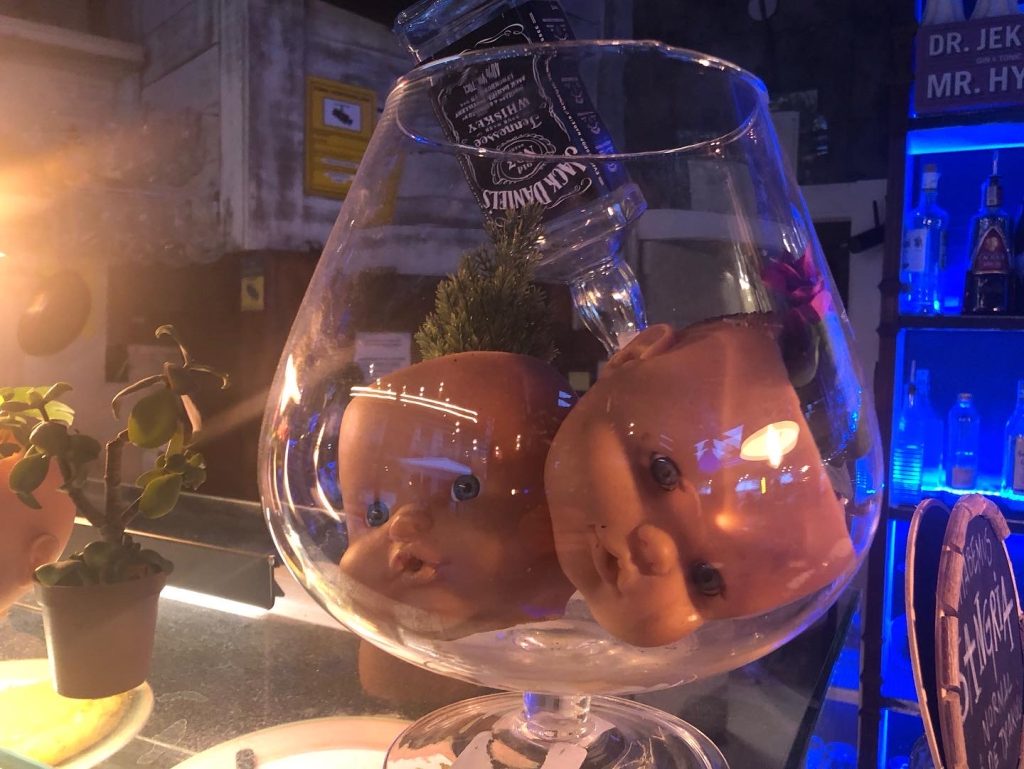 Shopping
The main street that connects the Casco Viejo and Plaza Mayua is the Lopez De Haro which then extends onto the Grand Via. Here you will find a wide choice of fashion boutiques, shopping centres and familiar brands. In general, I found Bilbao to be fantastic value for money so make sure you leave some space in that suitcase!
San Mames Stadium
If you talk to a local about football there is only going to be one team on their mind – Athletic Bilbao, the famous football team that plays in the top tier of Spanish football. They are a unique club as they only allow players with Basque heritage to play for them so their "pool" of talent is less however despite this they continue to maintain their top-flight position.
Their home is the impressive San Mames stadium known as the Cathedral of Football. You can get a tour of the stadium or like me when a game is taking place, just hop on to their website and buy a ticket.
The Funicular Railway
For a different perspective of the city head to the Funicular Railway which will whisk you up to a spectacular viewpoint for as little as €4 return for the 5-minute ride! At the top is a small park for children to play, as well as views across the city and mountains beyond.
Bilbao is known rather unflatteringly as "El Botxo" or in English "The Hole" and from this vantage point, you can see how it has got this name.
Gaztelugatxe & Bakio
Just 45 minutes by bus from Bilbao is Gaztelugatxe. Home to the small chapel of St John and next door, the island of Aketx. You may choose to take the guided tour to the top or do it yourself meaning a lung-busting walk uphill from the seaside town of Bakio. If you want to get onto the Peninsular then you need to buy a ticket online or it will be included as part of your tour.
The views are incredible and the restaurant at the top, is the perfect place to rest those weary legs.
San Sebastián
San Sebastián is the home of the Pintxos so an early morning 90-minute bus trip is well worth the wake-up call. This beautiful city has three wonderful beaches, an old quarter, and a couple of mountains to climb for awesome views of the city and surroundings and the food is off the scale.
A visit to the Basque Country is not complete without at least a day trip to San Sebastián.
A Welcome Surprise
Perhaps the biggest question I had prior to visiting, was whether there was going to be enough for me to do during my stay. I need not have worried. Bilbao is a city worthy of being added to those many Spanish city break options.
Its raw urban vibe and history, sensational gastronomy, quality shopping, friendly welcoming people, and safe and clean streets, made for a welcome surprise. I loved Bilbao and I am sure you will too.
Pre-Bookable Bilbao Excursions
Contact
For more information on visiting Bilbao, Spain, contact the local Bilbao Tourist Office, the Euskadi Tourist Office (Basque Country) or Visit Spain or contact your local travel agent or tour operator.
All photos were taken by myself and should be credited if used to @justonefortheroad