My experience of this country actually started long before the word Croatia came onto our radar as it was in the 70's that my Mum, Dad and brother, like hundreds of thousands of other Brits, with a caravan in tow, drove from the UK down into Istria in the north of the former Yugoslavia for our annual two week summer holiday….
As a result this region will always hold a special place in my heart. Strange then that in the late 90's the tour operator I worked for, Holiday Options, decided to be among the first, after the dreadful Balkan war, to seriously step back into the emerging country of Croatia.
Back in those days I formed a great friendship with a true gentleman called Josep Lozic, who was then the head of the UK Croatia Tourist Board. I can hear him now at travel industry events proclaiming in his fantastic Croatian/English accent that Croatia is "the Mediterranean as it once was" or when he was feeling mischievious "the only non hamburgerised nation in Europe" referring in the late 90's to the lack of well known american food chains!
I recall the day in 1999 when we chartered, just for 24 hours, an aircraft with 130 curious UK travel agents on board from Birmingham to Dubrovnik. We spent the day in the old town mooching around the slightly damaged walled city and then enjoyed an incredible seafood lunch at the famous Gradska Kavana restaurant overlooking the bay on one side and the famous Stradun (main street) on the other. After lunch and more mooching we visited the jaw droppingly beautiful village of Cavtat before our flight back to the UK. All in a day but what a day!
It was on another trip on this same Stradun street in Dubrovnik where I remember leading a group through Ploce gate (there are two in Dubrovnik Ploce and Pile) where a couple of elderly ladies selling lace, honey and figs heard our English voices.
As they did, they shouted at me (nothing unusual there!), declaring that the English were back and how much they had missed us. It was a small but significant moment in my travel career as it suddenly made me feel a real sense of achievement and worth that I and the company I represented was making a difference to these ladies and this countries lives. 
In 2002, with a view to increasing the awareness of this destination, I escorted Craig Doyle and his film crew from the BBC Holiday programme to Dubrovnik. Here unfolded perhaps the scariest moment in my travel career to date. We were filming up on top of Mount Srd looking down on beautiful Dubrovnik and Craig was doing a piece to camera and was told to step a little further back by the director. At that moment a lady screamed out "mines" as back then sadly mines from the war still existed on the mountain side especially as the slope got steeper and where mine sweepers could not go.
Here is that program preserved on You Tube including at the beginning that piece of footage of Craig on the mountainside – think of me having heart failure behind the camera…
Those troubled times are long gone and now Croatia as a holiday, city break, a tour, an adventure or just for fun has it all. However understanding the complexities of the regions and deciding where to start can be a little daunting to plan so I hope this review will help.
There is something so chilled about Croatian life and the combination of stunning scenery, a rich history, unbelievable cuisine, warm and friendly locals with a great sense of humour plus a fantastic climate make this country one of the must visit destinations for anyone ticking off their European country bucket list.
The problem with Croatia is you can't do it all in one visit so rest assured you will be back again and again!
Croatia Airlines, the countries national carrier, British Airways and a host of low cost airlines including Jet 2, Easyjet and Ryanair all have various services from the UK to Dubrovnik, Split, Zadar, Pula Rijeka and Zagreb.
All of Croatia's main airports are modern, welcoming, airconditioned and clean as you would expect.
I would highly recommend car hire but only if you are a confident driver as some of the highways hugging the mountainous coast can be intimidating. If you are OK with that then the experience is one to savour.
Car hire is excellent value and can be organised in advance or through your hotel or in town.
If you are planning to travel into a neighbouring country and I have in the past travelled to Bosnia, Slovenia and Montenegro in a hire car then please ensure you get the necessary permits so mention your plans at time of booking/collection.
Taxis are generally very high quality and reasonable value for money especially if they are pre ordered. Picking one up from an airport to your resort on the fly however can be expensive so with a little planning you can save some money here.
Tipping of 10% is expected assuming you are are satisfied customer.
Given the numerous islands located off the Adriatic Coast, it's very likely that you'll be utilising the network of ferries. The main ferry company in Croatia is Jadrolinija and it is highly likely you will use their services. Boats and ferries sail the Adriatic connecting major ports with almost all the inhabited islands all year round. However always check the schedules as regularity is seasonal.
The Croatia rail network is confined to the north and central parts of Croatia and to its capital Zagreb from where you can head off to the Croatia coastal resorts of Rijeka and Split or a variety of other European destinations including Slovenia, Hungary and Serbia.
Across Croatia there is a wealth of different accommodation options ranging from shepherds huts on the Kornati Islands to 5* deluxe villas in Dubrovnik – there really is something for everyone !
Hotels have over the years tended particularly in Dubrovnik to evolve into expensive 5* properties offering service and location but at a considerable price. There are still some 3-4* jewels to be enjoyed but in peak season to get what you want you will need to book ahead.
Self catering apartments are a popular choice for families and these are often ideal as the chance to take the family shopping each morning for fresh fruit and vegetables in the many markets is a joy and an education. 
Private Villas again are popular with a real difference in standards available from the simple to those catering for the super rich.
With over 1,000 islands you can also always hire a liveaboard yacht or take an old time motorsailer cruise along the Adriatic coast.
First of all Croatia is divided up into four historical and cultural regions – Central Croatia including the capital Zagreb (north central), Dalmatia (south), Slavonia (east) and Istria & Kvarner (north coast). These are then further divided into other, smaller regions. The Dalmatia and Istrian regions on the coast tend to attract the majority of tourism however given that I am such a fan of this beautiful country I really am loathe to favour any one area.
If your requirement for a beach holiday is a soft sandy beach then Croatia may not be for you. The majority of beaches with an exception on the island of Lopud are rock, shingle, gravel or man made platforms.
Having said that don't let this deter you from the beach resorts as they are buzzing in the summer months of July and August and a delight in the shoulder seasons of late May, June and September.
For city breaks Dubrovnik receives the headlines however consideration must be given to Split, Pula and the capital Zagreb. Smaller towns are also ideal for a weekend break like Makarska, Rovinj, Porec, Cavtat and a very small UNESCO jewel of a village which I adore near Split called Trogir.
Then there are over 1,000 stunning Adriatic islands with the most popular for tourism being Brac, Korcula, Hvar and Mljet. Smaller options just to visit or some to stay on are Lokrum, Sipan, Kolocep, Lopud and Vis.
For adventures, recent years has seen many music and art festivals taking place and these attract younger audiences. For touring you can stay on the mainland using the excellent road network including the iconic Adriatic highway. Finally why not let a skipper take the strain and trust in them to navigate you along the Adriatic waters while you sip on your Croatian wine and admire this regions sheer beauty … you cant beat it !!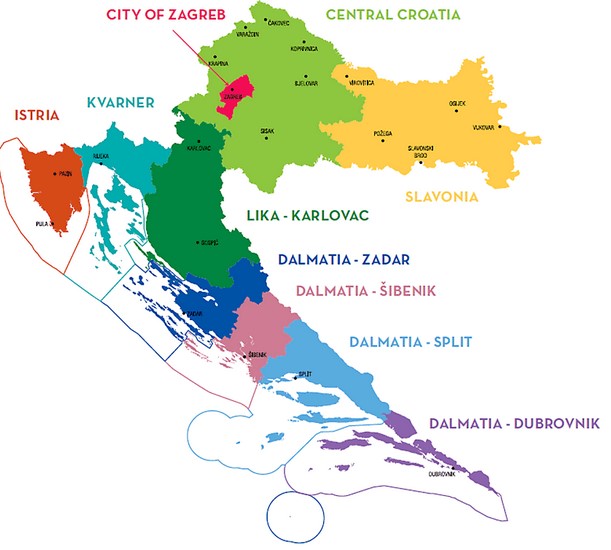 Dalmatia - Dubrovnik Region
To further complicate the regional names there is a 20km stretch of coast between Dubrovnik and Cavtat which is unofficially known as the "Dubrovnik Riviera" and officially as the Zupa Dubrovacka named after the Zupa bay. Its all park of the Dalmatia Dubrovnik region – all clear ??

Cavtat
Always a favourite with the Brits, I have yet to meet anyone who does not like Cavtat. Located on the western shores of the Konavle Valley, an area of natural beauty south of Dubrovnik, Cavtat is such a delightful resort with a picturesque bay, harbour and palm fringed promenade. It is a mix of ancient culture, modern hotels, gift shops, pavement cafes, bars and I am afraid now quite expensive restaurants that come alive at night time. A walk around the peninsula path is a lovely early morning or sunset experience as are checking out the back streets, the art galleries, the Baroque parish church and the octagonal Mausoleum built by the famous sculpture Mestrovic. A really popular pastime is to head down to the bay at about 6pm and catch a game of water polo – a sport where Croatians excel.
From Cavtat you can catch the bus to Dubrovnik but I much preferred jumping on a water taxi from the harbour front that takes about 30 minutes and drops you right in the heart of the old town.
If you are sporty there is so much to do in and around Cavtat and into the Konavle valley. You can go sea kayaking from Cavtat, scuba diving, horse riding, cycling, hiking or there are even buggy adventures and off road jeep safaris.
Other little tips for Cavtat are to get up early and watch the fisherman docking and selling their haul to the local restaurants. You can also take the boat from Cavtat on a variety of island excursions so do your research and pick your island – Korcula for history, Mljet for nature, the Elaphite islands for a variety in one trip (Sipan, Lopud and Kolocep) or Lokrum the island of love just across from Dubrovnik where the kids can play on a swing over the little pool or you can visit the botanical gardens and enjoy a meal in a tropical setting.
Watch out around the peninsula of the Hotel Croatia as you may stumble upon the nudist beach which are pretty common throughout Croatia…. of course you may be there to partake in the sunbathing in which case my advice is don't burn your bits in the summer! There are a number of hotels in Cavtat – some catering for the family market and other smaller boutique style for those looking to chill without the frill !
Cavtat is a magical place to stay as it offers the best of both worlds – the small resort with an evening atmosphere to savour yet close enough to the major city and island excursions. I love it there and its definitely one of my happy places in this world of ours!
Cavtat is for everyone – families, couples, lovers and loungers !
Dubrovnik
Mlini
Dalmatia - Elafiti Islands
If you are staying in the Dubrovnik region then a popular day trip is a three island cruise to the Elafiti islands. It is a really enjoyable day out but I strongly suggest suncream, comfy shoes and if the skipper is in the mood a strong liver as there could be some liquer unveiled at some stage!
You can also stay on any of these islands and while accommodation choices are limited there is normally something for everyone as long as you are there to relax and switch off and not expect too many modern day trimmings…. who needs them anyway ?
Kolocep
Kolocep pronounced KO LO CHEP is one of 13 islands that are part of the Elafiti. With less than 200 inhabitants and no cars you will find the island charmingly simple.
This island is famed for its sub tropical vegetation as well as the quaint fishing village of Donje Celo which is on the north west coast of Kolocep and protected from the winds by a limestone ridge. The other popular beach is Gornje Celo on  the south west coast.
The "Church of our lady" from the 13th century is a popular attraction.

Back when I last visited the Hotel Villa Kolocep was the place to stay however it was taken over by TUI and is now exclusive to them. Otherwise accommodation tends to be villas or apartments and of different standards.
Visitors would be families and couples looking for a peaceful relaxing holiday although I can't say what goes on within the TUI hotel resort.
Lopud
Sipan
Dalmatia - Dubrovnik Riviera Islands, the Peljesac Peninsular & Orebic
The Dubrovnik Riviera is rich in island diversity so be sure to check that the attractions of each match your requirements.
Korcula
Korcula, the birthplace of Marco Polo and often referred to as a mini Dubrovnik, is one of the largest of the Adriatic islands with over 195 unspoiled coves and beaches and an old town full of charm and character. It is easily accessed by a short ferry from Orebic on the Peljesac Peninsula. In fact the image of Korcula old town from the sea is one of the most popular images used to showcase the country of Croatia after Dubrovnik of course !
The island will appeal to those who enjoy their active pursuits. There are pine scented woods and caves to explore, numerous watersports and activities to take part in, plus a selection of little bars, restaurants and coffee shops to while away those hot steamy days and barmy nights.
Korcula also has a very proud tradition and one of the Adriatic's most unusual customs – the Moreska sword dance. It probably began in Spain as a form of protest against the Moorish occupation and then migrated to Korcula in the 15th century. It is effectively a danced version of a sword battle and tells the story of an abducted princess. My advice is stand well back and stand behind some one bigger than you !
Korcula is for everyone – families, couples and those who like to get out and about.
I have always loved the feel of Korcula as it has that real magic and air of history about it.
Lastovo
Mljet
Orebic
Vis
Dalmatia - Split & the Makarska Riviera
Located between the two cities of Split and Dubrovnik is arguably the most glorious stretch of coast along the Adriatic. This amazing route is dotted with seemingly endless white pebble beaches fringed with sweet scented pine and olive trees. In the winter months when you are back home in the wind and the rain that smell of Croatia is one that you will crave. The views of the spectacular Biokovo mountains overlooking this beautiful coast as well as the warm azure blue sea and the islands of Hvar and Brac plus many more will leave you speechless.
Trogir
Trogir is one of my special places in Croatia. Its not big, its not flash, and unless you cross the small bridge over to Ciovo Island then there are no beaches. A UNESCO World Heritage Site, Trogir is a unique and beguiling ancient city full of history dating back to 3BC and founded by the Greeks.
What I love about Trogir is the cobbled streets packed with shops, bars and fantastic restaurants, the walled medieval centre, the charming main square and the fresh food market. You only stay perhaps one or two nights either on arrival into Split or as I prefer before heading home as it means a short 10 minute transfer to the airport. 
There is also a lovely marina here where in the late afternoon you wander up and down the promenade where there are often kiosks selling art or local gifts to those who have pulled in on their yachts for an overnight stopover. I love the atmosphere here and to me it is one of the most lovely Croatian towns with a magic in the air.
Over on Ciovo island its good for that family holiday but Trogir itself is for people like me…. who love to potter around, take photos, wander around markets and generally relax and people watch…. perfect… for a day or two !!
Makarska
Baska Voda
Brela
Split
Tucepi
Dalmatia Split Region Islands
When enjoying your holidays in Split you may fancy some island hopping in Dalmatia. Besides being the second largest city in Croatia, Split is also a big traffic hub with airport, ferry port and train station connecting Split to the rest of the country and beyond. The ferry port in Split is the main stop to the islands of south Adriatic sea.
Some of the most popular Croatian islands are located in the Split archipelago and can be reached from Split by ferries or catamarans in 30 minutes or more.
Hvar
Hvar is known as the "Madeira of the Adriatic" with a climate that boasts 2,715 hours of sunshine every year. For those of you that know Madeira then you will know that the comparison is drawn due to the islands lush vegetation, pinewoods, olive groves and munerous aromatic plants that perfume the fresh clean air. Hvar is famous for its vineyards producing countless different types of impressive wine and also for its lavender fields. Every souvenir shop will be selling little bundles of lavender to take home.
Hvar town is the main town on the island, although there are plenty of other smaller resorts and villages throughout the island. The main fortified town is now seen as a place for the rich and famous to moor their yachts and dine al fresco in one of the many restaurants dotted around the harbour. Hvar can be lively so prepare for a party in the main summer months.  The town also boasts a Venetian palace and a perfect centuries old theatre, the first to be built in Europe and still in use today.
Hvar definitely has the X factor. I remember arriving by boat early evening and being picked up from the harbourside by a friendly guy in a golf buggy…the luggage was put on the back and I was quietly whisked off to my hotel which in those days was in a tired state with hideous purple doors and corridors and desperately in need of renovation – today that hotel is the Hotel Amfora Hvar Grand Beach Resort & Spa and is 5 star, expensive and oh so exclusive…. its the way Hvar has gone in recent years and thats the market it now attracts although in outlying towns and villages you can still discover the real Hvar.
Brac
Istrian & Kvarner Riviera
The Istria and Kvarner regions of Croatia are located in the north of the country along the largest peninsula in the Adriatic. This enchanting region of old Venetian ports, classical architecture, sun drenched beaches, vineyards, olive groves, quaint stone houses and old watermills are all components that make for a fantastic holiday experience.
Grosnjan
Groznjan, the village of artists, is the most charming of Istrian hidden gems that if you hire a car and get the chance, go and explore as it is also close to Motovun and Hum which are also full of character. This is the real Croatia !
The village also has a love of local music that you often hear as you wander through the narrow lanes of pretty little shops and studios selling art and crafts plus there are a few little restaurants. You can feel its soul in those little cobbled streets and enjoy breathtaking views all the way to the adriatic sea.
Remember to get a parking ticket for long enough to be distracted – its small but there is heaps to keep you interested.
Grosnjan is generally just for a visit as opposed to an overnight stop.
Opatija
Porec
Pula
Rijeka
Rovinj
Nestled between Kvarner and Istria, the beautiful islands of Cres, Krk, Losinj and Rab have stunning beaches, pretty old villages, historical buildings and pristine natural environments to explore.
Cres
Cres, the second largest island in the Adriatic is a nature lovers dream. Lush Mediterranean forest, Vransko lake and an island rich in plant life.
In the northern part, with cold, dry winds gusting south in winter, the flora is typically sub-Mediterannean with oak and sweet chestnut woods. In the south, which is protected by the hills, are evergreen coniferous forests.
Everywhere there are wild herbs that flavour the local food aswell as wildflowers in the pastures and thousands of olive trees. Over ninety species of bird nest on the island. As well as eagles, falcons and owls, there is a dedicated ornithological reserve for the white-headed griffon vultures which nest on rocks next to the sea.
Krk
Losinj
Rab
Dalmatia - Zadar - Kornati Islands
The Zadar region of Northern Dalmatia is well known for its beautiful beaches, glorious islands and wonderful national parks. It is a popular place for sailing and caters for both active or relaxed holidays.
Kornati Islands
The Kornati islands are an archipelago consisting of 140 islands covering an area of 114 square miles. Many of these islands are part of the Kornati National Park due to their natural beauty, numerous coves and crystal clear blue waters
There are no permanent residents of the islands and the majority of the area belongs to the people of Murter island. They will visit to tend the olive groves, vineyards and orchards. Many of them will have cottages where they stay during the agricultural season.
The islands are best visited on an organised days excursion from Zadar, Sibenik or Split although it is possible to stay in one of the cottages for a Robinson Crusoe type holiday.
Don't expect many facilities though as you will stay in a house with no electricity or running water. A boat from Murter will deliver you there and pick you up a week later. This is truly the place to get away from it all !
Zadar
Zagreb
Zagreb is Croatia's capital, as well as being a business centre, university centre, city of culture, art and entertainment. Springing up from two medieval settlements – Kaptol and Gradec, which form the core of the old Upper Town, it is a true Central European city and with the surrounding settlements it has about one million inhabitants.
The old Baroque nucleus is woven from old stone streets and buildings, many churches, a magnificent cathedral with modern shops, cosy cafes and restaurants. Have a ride on the Zagreb's blue tram or walk down the longest street in Zagreb – Ilica, climb up the funicular to the Upper Town and visit the Lotršćak tower, St. Mark's Church, Kamenita vrata, museums and galleries…
A large number of green oases and walks, numerous excursion sites in beautiful surroundings, monuments and sacred objects make it a pleasant place to live in and a city tailored to fit every man.
Located at the foot of the Medvednica mountain, which hosts two FIS ski races, there is a sports and recreation centre on Lake Jarun with regatta races and the tennis tournament Zagreb Indoors; all this makes Zagreb a city recognized for its world-renowned sporting events.
Blogging since 1978 Back in early 2020 my life took a new direction. At the same time as Covid-19 arrived on our shores so did a downturn in a family
Read More »
Private Villas Of Croatia For those of you who have read my review of Croatia you will be aware that the country is one of my favourite places in the
Read More »