An Introduction To Slovenia
To many of us Slovenia is a little bit of an unknown country and one that is often mixed up with Slovakia. One of the reasons for this lack of understanding, aside from the similarity of name, is that direct flight access from the UK has been generally pretty limited in recent years with airlines and tour operators focusing more on Croatia's beach resorts rather than Slovenia's lakes, mountains and more limited coastal offering.
Back in the late nineties however Slovenia came on to my radar as the tour operator I worked for started to sell, given their close proximity to one another, Croatia and Slovenia two centre holidays.
The first problem I had in those days was learning to spell the capital – Ljubljana – I think I have finally mastered it.  Another fact I picked up back in those days which I bizarrely always remember was that the outline of Slovenia if you look at it on the map is that of a chicken – I would say a portly mother hen actually but there you go – you were not expecting that nugget of information were you?!
I will be the first to admit that when I was first introduced to the country back in the late nineties I knew very little about it however over the subsequent 20 years I have grown to adore this undiscovered European gem.
So who goes to Slovenia today – well I do for starters – I have had many a business trip to the country but also I have had a new year skiing holiday in the mountain resort of Kranjska Gora. I have taken a city break in Ljubljana, a lads golfing break to Bled and also a weekend self drive tour of the lakes and mountains – not bad for such a little country!
Back in 2013 one of the UK's leading travel groups hosted their overseas conference in Bled – unbeknown to many it was actually my suggestion and I presented the initial pitch with the wonderfully supportive Slovenian Tourist Board to the organisers. I guess that demonstrates how much I really like this country.
A year later and ABTA – the Association of British Travel Agents hosted their annual conference in the capital city of Ljubljana. This was a great success and opened the eyes of many in the travel industry to the delights of this sadly overlooked country.
I think for many people they believe Slovenia to be that dull grey eastern european country with little to do aside from consume cheap beer. How wrong they are ! For the adrenaline junkie there is a rich list of attractions – caving, skiing, rafting, rock climbing, canoeing and even bungee jumping. I remember my first and only taste of white water rafting on the Sava river – really great fun and through the well organised sports companies that are peppered around the area you can be sure of an amazing experience but with your health and safety assured.
I often think of Slovenia as a mini Switzerland however there is a saying about being small and perfectly formed plus Switzerland does not have a coast and its blinking expensive! Slovenia is also a country that is embracing sustainability with many projects ongoing to protect the nature and surroundings – this can only be be a good thing and another reason I share a connection with the country.
Then finally there are the people. They are great fun and really quirky. This is displayed both in their art, their fashion and then in their fun loving slightly mischievious sense of humour. I remember one evening in Bled with the local Major – you might expect a stuffy regimented kinda guy but no he was at the bar singing and telling jokes all night long…. Slovenes are truly lovely and will welcome tourists with open arms.
So there you have it – a sustainable focused green country with the cleanest freshest air, beautiful scenery, superb locally produced cuisine and lovely friendly warm hearted people. Its a country I have always loved and will return to at the drop of a hat.
Continent: Europe
Capital:
Ljubljana
Time Difference: Local Time + 1 hour

Currency: Euro
Flight Time:
2h from London
Visa: No (FCO Advice)

Language: Slovene
Vaccinations:
None required
This is a country that is enjoyable at any time of the year. While the coast of course is best enjoyed May to October the lakes and mountains provide year round attractions and opportunities for outdoor pursuits in the summer and then those alpine winter sports December to March.
Accommodation
You will find accommodation to suit every budget and every taste.
If you want indulgence and luxury then there is a choice of excellent hotels along with standard 2 and 3 star options which represent good value for money, One thing you can be sure of is excellent food as Slovenes take great pride in what they serve up on your dinner table !
For a more authentic experience and where you can mix with the locals then guesthouses, pensions or private rooms are a good choice.
There are also numerous camping grounds both in the valleys and mountains and these cater for the hikers, walkers and many cyclists that enjoy the countries natural assets.
Among the themed accommodation, the natural health resorts and thermal spas tend to be more popular with the european's as opposed to those travelling from the UK.
For all those who want to save when travelling, but also value the comfort and orderliness, hostels are another option and intended for all age groups as well as families. Many hostels offer the same comfort as hotels but often with no restaurant.
Some more obscure options are a stay in a castle, a mountain refuge or you can even rent a vineyard cottage.
Car Hire
Ferries
Flights
Taxis
Train
Slovenia is divided into four key regions:
Central Region (C)                    North West Region (NW)
Eastern Region (E)                    South West Coast (SW)
Key Towns/Cities / Regions
Kranjska Gora (NW)
Koper (SW)
Lake Bled (NW)
Lake Bohinj (NW)
Portoroz (SW Coast)
Piran (SW Coast)
The capital city of Ljubljana is one of my favourites in Europe. Its not too big, its incredibly clean, stunning in its appearance and hosts many wonderful high quality restaurants, bars, shops and a delightful bustling early morning market selling all manner of fruit, vegetables, cheese, oils and local handmade products.
A friendly city with visible remains of the Roman City of Emona. Ljubljana has a baroque period old town with narrow cobbled streets nestled between the castle slopes and the river ljubljanica. The architecture of the city centre has many contrasting styles from art nouveau mansions to chic modern buildings.
Visit the cathedral, the City Hall, the three bridges and the bustling streets and market where you can absorb the special atmosphere of this delightful capital city. The castle of Ljubljana is one of the main symbols providing spectacular views across the entire city.
There is regular an antiques market with stalls dotted along the river with dealers seller books, ironwork and trinkets plus there is always some militaria from the communist era which always fascinates me.
At night time the river Ljubjanica, with its weeping willows dipping the waters edge, lights up with restaurants and trendy bars enticing in those who want to dine al fresco or just chat and watch the world go by. If you are there for the beer then there is a small square off the main centre with the customary Irish bar with sports screens as well as some more trendy wine bars and eateries. It was here in this area of Ljubljana in 2014 when ABTA – the Association of Travel Agents hosted their annual conference and we got to party the night away with none other than Alexander O'Neal – see the good times gallery.
Ljubljana does not get nearly as much of the limelight as it should – its a magical city with an atmosphere to savour.
Lake Bohinj is a large glacial lake, south west of Bled and surrounded by towering mountain peaks and on the borders of the Triglav National Park.
The image captured here of the stone bridge with the St. John the Baptist Church in the background is the iconic view of Lake Bohinj.
The area is a haven for sports lovers and walkers. Just a short stroll from the very small main hub you will find canoe, kayak, paddle board and bike hire aplenty.
For walkers the area is a dream and there is an easy, flat walking trail around the entire perimeter of Lake Bohinj. This trail is flat and easy to walk plus there are numerous little stretches of beach to stop at and close your eyes and just hear nothing aside from the occasional bird or the water lapping the shoreline – this is nature at its finest.
There are regular panoramic boat trips you can take to view the stunning area from the water. These are electric powered and you can get off at either side in case you fancy breaking up your walk.
The centre of Bohinj also hosts a small hotel and a few limited bars (I recommend the Kava bar) and restaurants but these are seen more as refreshment stops for those who have spent the day partaking in the huge amount of sports and activities on offer.
Another popular photo opportunity is a statue of the Zlatorog, a Slovenian god which is a golden-horned chamois or ibex that allegedly lives in the mountains of Triglav National Park.
If you just want a few days peace and quiet in stunning natural surroundings with a thirst quenching cold beer and a homemade cake at the end of the day then Bohinj is worth every euro !
Mount Vogel & Savica Waterfalls (Bohinj)
A short ten minute drive from the centre of Bohinj will take you to the cable car station where you can take a trip up Mount Vogel for tremendous views of the region. The cable car goes every half hour and is open from 08:00 every day until late afternoon but do check the closure time !
I have visited a couple of times during the spring and autumn and both times enjoyed the restaurant and bar facilities at the top having walked around the area and taken in those incredible views and fresh air.
If you want to spend the day walking up in the mountains then there are various walking trails of differing levels of difficulty available. Maps are in the shops at both ends of the cable car station.
In winter time this area is all about skiing and so whenever you go you will see signs of pistes and chair lift systems.  
Another 5/10 minute car journey from the cable car station will take you to the reception for the trek to the Savica waterfall. Here there is a shop for souvenirs as well as a cafe for refreshments.
The walk to the waterfall is about 500 steps and on very uneven and slippery ground so it is hard work although there are stopping points en route.
The journey takes you through the forest amid beautiful nature and although the waterfall itself was lovely the viewing zone was a little cramped with everyone vying for the same position to get a selfie.
Opening hours may vary depending on the weather and season.
Lake Bled, Slovenia's most famous resort, lies at the edge of the Triglav National Park and is a mecca for those that seek to be at one with nature.
I have visited Bled on a number of occasions either hosting groups of travel agents, a golf weekend with the lads or as part of a large travel conference in 2013. What I like about the town is that its so peaceful – no one makes a sound in Bled – well apart from in the limited late night bars and nightclub but for much of the day its all about nature and the great outdoors.
The towns centre piece is an islet in the heart of the lake housing a 8th century church. People come from far and wide to get married here. Having been rowed by a burly Slovene in his "Pletna" boat the tradition is that the young groom should hoist his bride over his shoulder and then walk her up the many steps to the church…..I mean if he does that then he deserves her hand in marriage !
The little centre of Bled is surrounded by a large number of hotels – some small and friendly, some luxury offering spa and some conference style hotels as well as private apartments. The centre has some shops and a mini mart and bank so all your needs are met – i remember needing to buy a phone charger here and sure enough there was a place to buy one.
Overlooking the lake from up high is a medieval castle with a museum, shop, restaurant and some of the best views of Bled. Be wary of the many uneven steps to get up there though ! The imposing mountains of Stol and Triglav can also be seen from Bled on a clear day.  
Slovenia has a long tradition of worldwide sporting success in rowing and on the lake here you can watch boats depart from the rowing club as watch them oar across the lake in no time.
I have walked around the lake on a couple of occasions which you can do in a couple of hours but its worth stopping at a place en route for lunch and making a day of it ! For about 50 euros you can also get a horse and carriage called a "Fijaker" to take you around if you are feeling in the mood for love !
For breakfast and/or lunch people tend to head to the lake side restaurants to sit outside on the terrace and enjoy the sun and the views. In the late afternoon or evenings those same restaurants are busy but then there are also a small collection of bars (I recommend the Devils bar) and a nightclub under the main square for those who wish to party long into the night.
Kranjska Gora is a little bit special whether you go in the spring for the flowering meadows, the autumn for the fall or in winter for a fairy tale like ski resort.
I have visited on a number of occasions and perhaps since my last I understand that the town has developed still further with the addition of some classy and fashionable shops and restaurants.. Its a great place for apres ski and festive celebrations as I found out back in the early 2000's.
In fact New Years eve was as wild as I have ever experienced as you stood in the centre square with live music crazy people standing next to you firing revolvers into the air alongside the fireworks. Scary but great fun!
I loved the atmosphere of Kranjska Gora in the winter with a mix of chalet style alpine hotels as well as large spa hotels like the Larix offering a huge pool after a long day on the slopes. The village itself is so pretty at night in the snow with kiosks selling piping hot Gluhwein and pancakes to warm the cockles.
It truly is the perfect small alpine village nestling in the lush green Sava Dolinka Valley which bisects the Karavanke range from the Julian Alps. At 810 metres above sea level the village is surrounded by the imposing mountain peaks of Vitranc, Razor and Prisojnik/Prisank.
There is also the picturesque Jasna lake just 1.5km to the west and serves as the entrance to the treasures of Triglav National Park.
This stunning heartland of the Julian Alps offers visitors a wide variety of walks and hikes through upland pastures passing waterfalls, rushing mountain streams, placid lakes, majestic woodlands and some quaint alpine villages.
Koper (also spelled Kopar) is Slovenia's main cruise port and is located just a 30 minute drive from the city of Trieste in Italy. Slovenia has always had close ties with Italy, even when it was part of Communist Yugoslavia and today when holidaying in Slovenia you can easily take excursions and trips over the border and even to Venice.  
A typical day in Koper might include a leisurely walk around the old town, shopping on Shoemaker Street or at the local markets, a trip up the Bell tower at Tito square or a visit of the Koper Regional Museum. In the evening after the cruise ship passengers have departed the town comes alive with cosy bars and restaurants in the old town or by the harbour.
There is a lovely panaromic viewpoint at the top of the hill by Tito square and from here you can even see Trieste in Italy in the distance.
The centre of Koper is, like so many places, the main square, which is called Tito Square. Here you can enjoy the cathedral, clock tower, and the Praetorian Palace aswell as some ornate government buildings. The style is a mixture of Gothic, Renaissance, and Baroque, and the structures date back to the 12th to 19th centuries.
The main shopping promenade is on Shoemaker's Street named unsurprisingly because it was once full of cobblers! Now there does remain one shoemaker but also a choice of shops and cafes – ideal for mooching.  
The Carpaccio Square area is on the harbour and is often host to farmer's markets and flea markets. These are all mainly there to capture the much sought after cruise passengers looking to pick up souvenirs. An outdoor food fair is often held here with locals and visitors choosing from a range of international dishes including falafels, burritos, barbecue pork, Asian noodles, and Turkish dishes.  
The Koper Regional Museum has exhibits of the archaeological, historical, and ethnological heritage of the region. Much of this artwork is from the Renaissance and Venetian periods of Koper, and the old palace, which was last renovated in 2015, has a lovely garden. 
The pace of life in Piran is decidedly laid back and lacks the hustle and bustle of other larger towns along the Adriatic coast. Piran is certain a secret to many and I have never really understood why as the cobbled street and narrow lanes, central square and pretty harbour are a delight for visitors. I guess the lack of beaches may be a reason but as a short break Piran is ideal. 
Piran is situated at the tip of the Piran peninsula on the Gulf of Piran and without doubt the very best way to discover the town is on foot as aside from residents, it is closed off to traffic.
The highlight is the stunning oval-shaped main square, Tartinijev Trg, which is well known for the statue of the famous violinist Giuseppe Tartini. The buildings around the square are fascinating including the 19th-century City Hall. A stones throw from the square is a gorgeous church aswell as the Minorite convent which is famous for having a 500 year old olive tree and in the summer you might get lucky to hear monks chanting.
There is a hill overlooking both Tartinijev Trg and Piran and almost at the top is St. George's Church which has a bell tower modelled on St. Mark's Campanile in Venice. Climb a little further and you will reach the city walls where again you can enjoy fabulous views of the Adriactic coast and beautiful Piran.
There are many scenic hikes in the area so take your walking shoes ! A particularly nice one is from Piran to Fiesa  where there are many rocky beaches if you need to cool down in the crystal clear waters of the Adriatic coast.
Just five minutes from Piran is her sister town of Portorož which means Port of Roses. Personally I have never been a great fan of Portoroz however it is considered one of the best Slovenia beach resorts as it has a number of glitzy hotels and casinos along the main Obala street and they really do not float my boat.
Having said that, the town is incredibly business during the summer months yet almost in hibernation in the winter. At its peak the bars and cafes lining the coast are packed as are the many ice cream stalls serving excited children and adults aside.
There is a wooden boardwalk which is popular for an early evening stroll to admire the boats that come and go and also for joggers keen to run off one of excess of those delicious ice creams. Those who enjoy a relaxing day of pampering can also take advantage of the thermal spas.
Whilst I have never been sold on the town (I would much rather stay up in Piran) Portoroz does offer something different and is a great place to overnight before embarking on a trip deeper into Slovenia, Croatia or across by road or boat to Italy.
Postojna Caves. Predjama Castle & Lipica
This undergound world was created through the natural work of the river Pivka and the stalactites and stalagmites make this cave system one of the most beautiful in Europe. I always laugh when I see those words – you know which comes down from the ceiling – its the Stalactites as "tites" always come down (sorry some schoolboy humour!).
An electric train will take you into the caves and a guide will walk you through the most interesting parts which can be slippery under foot so make sure you wear appropriate footwear.
At the end of the tour you may be shown the "olm" which is a blind very rare aquatic salamander that lives deep in the underwater caves.
A few kilometres away you will also find one of the most magnificent buildings in Slovenia – the Predjama castle which dates back to the middles ages.
The world famous Lipizzaner horses come from Lipica, a small village in the Slovene Karst region. Tour the stud farm, which has 400 years of tradition and has preserved the breeding of pure Lipizzaners for equestrian sports and classic riding schools. There are regional performances or you can just wander around and marvel at these beautiful animals.
Maribor, Slovenias 2nd largest city, lies between the Pohorje mountains and the hills of Slovenske Gorice on the Drava river near the Austrian border in North East Slovenia. The Austrian city of Graz is sometimes considered a better gateway for flights as it's a 45 minute drive to Maribor. There are some flights into Maribor itself or of course there is Ljubljana. 
The city was heavily bombed during the Nazi occupation with over 50 bombing missions destroying the city's infrastructure and industry however it was subsequently rebuilt with new road arteries and bridges crossing the Drava.
Maribor is the centre of the countries most fertile region specializing in grape and apple growing so in the autumn the surrounding vineyards celebrate their harvest. In fact one of the most visited attractions of the city is whats claimed to be the oldest vine in the world and has been producing grapes for 450 years. Here there is also a small museum and every year there is a 10-day festival in September.
However the main income for the region comes from the chemical, engineering, electrical and alluminium industries as well as truck and bus manufacture, railway equipment, food processing and textiles. I know my washing machine comes from Slovenia which is not perhaps what I expected !
Maribor still has some old fortifications from the 15th and 16th, including the picturesque Judgement Tower and Water Tower, with their witch's-hat red-tiled roofs. There is also a medieval monastery, now converted into a 21st-century puppet theatre and museum and the Slovenian national theatre.
The port area, Lent, became a centre of leisure activities and in the summer the riverside Lent quarter is taken over by musicians and street performers. If you're attending the Lent Festival, buy a "Water Passport" for about 20 euros and for that you get free or reduced entry to some 600 events.  In spring the Kurent Carnival, populated by outlandish mythological figures, takes place in nearby Ptuj and in the winter the area is known for its world class skiing.
The best present to take home is Lucifer chocolate, on sale at the Old Vine Museum. Or visit the traditional Klobúk hat shop in Postna Ulica.
Bled to Kranjska Gora - Vrsic Pass - Kobarid - Koper
There are road trips that you take in life that are so good that you just wish you could do them again and again. Well I did just that on this incredible self drive journey in one day from actually Ljubljana to Bled and then I picked up this spectacular route.
In a nutshell it encompasses stunning mountain scenery, very little traffic, fantastic picnic stops to admire gorgeous valleys! You then are inspired by the jagged mountain peaks of the Julian Alps before descending along the emerald green Sava river stopping at sensational little villages and towns before arriving at the Adriatic coast and Koper.
Here are some images I took that showcase the diversity of the trip however sadly images alone can't describe how wonderful this route is. The roads up to Vrsic can be a little hairy but in general they are excellent quality…. speaking of hairy – look out for a bear… oh and you might see Elvis in Bovec !!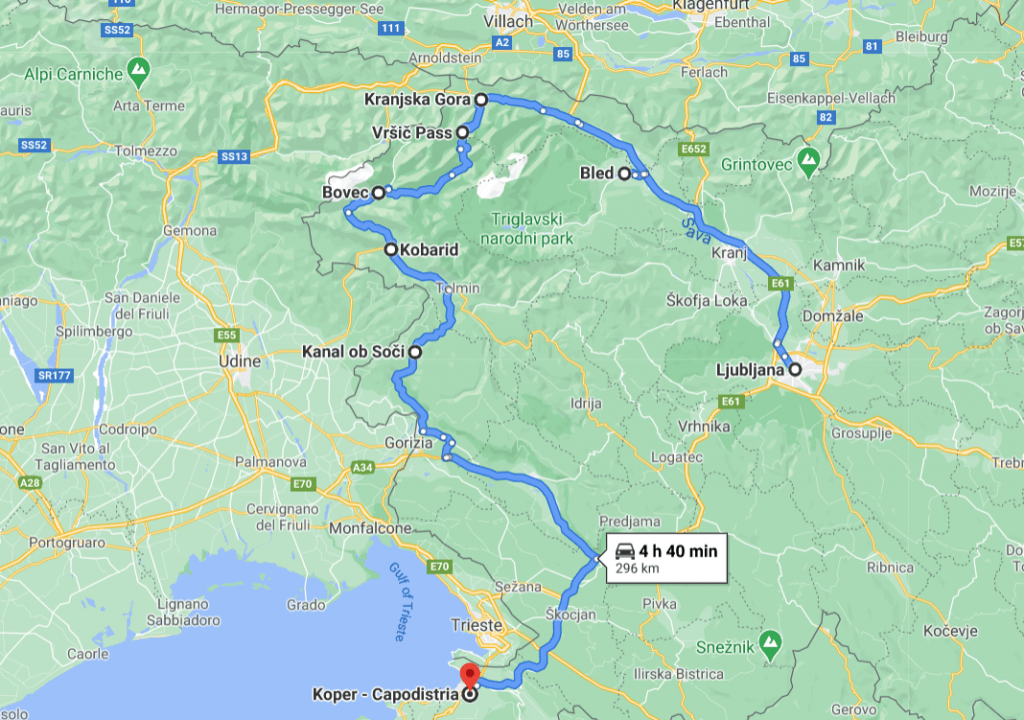 Eating
In a country with a hundred speciality soups and a thousand national dishes there is sure to be something to suit every palate and pocket. Most Slovenian cuisine is influenced by its neighbour's so Austria brings sausages, strudels, schnitzel and sauerkraut, Italy brings risottos and ravioli and Hungary brings ghoulash.
One thing Slovenia does without any outside influence is baked fare – fabulous breads and pastries that look as good as they taste. In particular try 'potica', a cake prepared with the widest variety of sweet or savoury fillings. The country also enjoys excellent fish straight out of the crystal clear rivers that cover the country while pork, veal and beef are the mainstays of the meat menu.
Drinking
Shopping
Nature & Wildlife
Sport
Hints & Tips
At the start of every November for the past 20 years I have attended one of the worlds largest travel industry fairs in London where it
Read More »