Introducing Hong Kong
Hong Kong packs the perfect mix of architecture, landmarks, museums, stunning views, and wonderful history. From the crazy, bustling streets of Kowloon packed with museums and lively markets to the rich history, modern architecture, and breathless views at Hong Kong Central – Hong Kong has something for everyone.
The gastronomy was mind-blowing if a little confusing at times. A wander around the markets will give you some idea of what is going to end up on your table. Bird's nest soup, dim sum, and all manner of seafood and waffles to name just a few.
A particularly efficient and extensive transit network allows you to get from one place to another quickly. So, however long you have in Hong Kong, there is no excuse to miss any of this diverse yet highly sophisticated destination.
Key Information
Memories Of Hong Kong
Before planning a trip, you should probably know that Hong Kong tends to be more expensive than most other Asian destinations.
The peak season for visiting is in the spring between March and May and September and November with temperatures warm and fresh.
I had just 48 hours in Hong Kong. I guess I was expecting this crazy busy, high-tech, bustling city full of businessmen in dark suits working all the hours god gave them to fund a lifestyle of high-powered cars and luxury apartments in the clouds.
What I discovered was a complex city and yes, there was all of the above but much more besides. I particularly enjoyed the lovely Tsim Sha Tsui promenade at Kowloon, the markets and mayhem of Hong Kong island, and by night the charm and character of the central district.
Overall, I found the people eager to help, charming and courteous and the service was superb throughout my stay. My 2/3 days here were most enjoyable and probably just enough – it is what it is. A fabulous short stopover city to recharge after a long flight then power on to your end destination which in my case was to have been Japan but also included a trip to Macau.
I would, if the opportunity presented itself, come back as it is such a great city to explore and a firm favorite among culture seekers, shoppers, foodies, and even outdoor enthusiasts.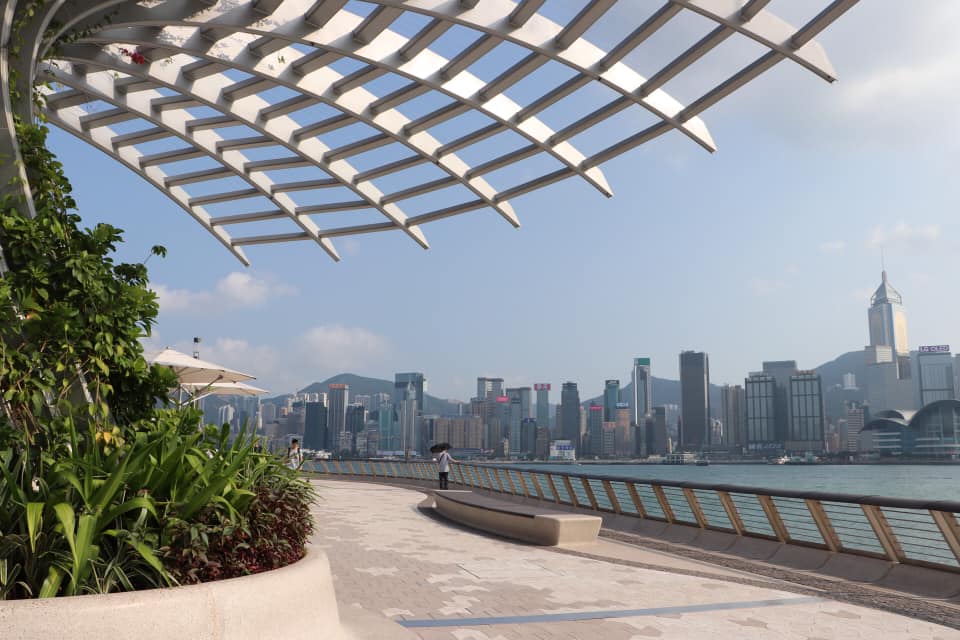 Getting Around
Cathay Pacific is the main airline and operates regular flightsas well as Virgin Atlantic from London Heathrow to Hong Kong. The in-flight service on Cathay was excellent. We invested in premium legroom seats and for this 11-hour 45 min hour flight, I would say that it was worth every penny.
After arrival at the airport, we took the Hong Kong Express train to the city center just 25 mins away for a cost of about $8. On board, the electronic sign keeps you fully up to date on your location so you don't miss your stop.
The bus is an hour and just $5 but both regular and convenient.
The airport is as you would expect, modern, full of shops and amenities, and easy signage directing you to buses, trains, or taxis.
The Hong Kong Metro or MTR (Mass Transit Railway), is a rapid transit railway system that boasts four kinds of metro lines serving different areas. There are 84 railway stations and 68 light rail stops in total connecting HK Island, Kowloon, and other districts.
I would recommend buying Hong Kong's transit card, the Octopus card. This way, you can simply tap-and-go on buses and the MTR without the headache of searching for small change.
Take a trip on the Star Ferry or a traditional red sail junk boat from Victoria Harbour to admire the skyscrapers from the water. Or why not head to the Tsim Sha Tsui waterfront for the best views of the famous 'Symphony of Lights show?
Taxis, as you would expect, are everywhere and the prices are reasonable although best to try and avoid peak times as parts of the city can get very clogged up with traffic during rush hour. only after it clobbered you in the crutch a couple of times! You can hail taxis down on the street although there are taxi ranks wherever you go in terms of the main cities.
The only difficulty I discovered was the drivers don't tend to speak English. Therefore a map or in particular assistance from your hotel porter to send you off in the right direction is always a good idea. You will soon realize the hotel concierge will become your best friend.
The Bus system is straightforward with clear signs at bus stops, on-board electronic guidance, and of course Japanese precision in terms of timing and service. The driver's English though is likely to be nonexistent.
Places To Stay in Hong Kong
Hong Kong is a densely packed city with plenty of accommodation options. I would make sure you book well in advance as rooms fill up quickly however the bad news is that it is very expensive as the below indicates.
A standard bed in a dorm – 30 to 40 GBP per night
A simple and small room – 50 to 100 GBP per night
Decent mid-range hotel – 100 to 170 GBP per night
The upscale hotel – 170 to 250 GBP per night
Luxury hotel – 250 to 800 GBP per night
I stayed on Hong Kong island which is the best option for first-time visitors. From here, you are well placed to see all the top attractions, and it's not far to walk if you want to take a short junk boat trip across to Kowloon.
The Novotel Hong Kong Century in the heart of the Wan Chai District was priced at £100 per room per night. While not cheap this location was ideal and the quality was assured although the room was on the rather small side! There is a nice pool however you need to get there early as the sun disappears behind the surrounding tower blocks later in the day.
I would, if the opportunity presented itself, come back as it is such a great city to explore and a firm favorite among culture seekers, shoppers, foodies, and even outdoor enthusiasts.
Pre Bookable Excursions in Hong Kong
More Information
The Hong Kong Tourist Office provides a wide choice of useful information including places to go, things to do and what you can expect from the weather.