Photography... but from my perspective...
Taking photos has always been an interest. Maybe its just the older I get, the more I love to look back at the good times…don't we all ?
Everyone of us is now a photographer given that our mobile phones now come with such sophisticated technology. Last year, I invested in a Canon EOS 80D and am still learning how to get the best out of it. Like golf, I think you will always be learning when it comes to photography and maybe that is part of the addiction.
So I don't profess to being anywhere near to an expert, in fact anything but however I can capture the occasional image that I feel is worthy of sharing and more often than not its the story behind the image that makes it that little bit special. Here are some of those moments…
Rejuvinated Bulgarian Style...
Now while this may not be my finest photograph it certainly highlights a murky or should that be muddy trend which I am not sure will be approved by those of us who grew up with visions of Ursula Andress emerging from the sea in James Bonds, Dr No in 1962.
Imagine the scene…. back in 2012 I was taking a leisurely stroll one evening preparing myself for another evening in the pretty little Bulgarian resort of Pomorie when I was confronted by a sight which to many, may have put them off their Shopska salad.
Now don't get me wrong I like Bulgaria and have a lot of time for many of the underestimated resorts and scenery the country has to offer but sometimes you are confronted with a vision that leaves you speechless!
What I found refreshing about this lady was not her sulphorous odour but it was the fact she was going about her day on the beach as if everything was normal….. preparing her parasol, shaking the sand off her beach towel and no doubt if I had stayed long enough serving out cucumber sandwiches to her doting husband!
On a serious note Bulgaria does offer mud therapies in a number of places up and down the Black Sea coast. Most are at specific centres or in Spa hotels however some now clearly take their habit to the beach for us all to enjoy.
I love travelling and I love life and this is what it is all about – witnessing sights that are alien to you but normal to the country you are visiting.
Now who's to say that once all that mud is removed this isnt Ursula Andress after all?!

Fishing on the Bay of Kotor...
Back in 2016 I took the short drive and day trip from Dubrovnik in Croatia to Montenegro. By the time the day was over I had seen stunning Kotor, beautiful Budva and the very special Sveti Stefan – all are highlights of a trip to Montenegro.
I also however remember and loved, the little town of Perast on the Bay of Kotor – northwest of Kotor and well known for its proximity to the pretty islets of St George and Our Lady of the Rocks.
Just before arriving into Perast. I was driving along the quiet lakeside road and saw through the trees this lonely fisherman on his boat. I reversed up and pulled over to savour the view and take a snap – there was not a sound, just fresh air, sunshine, a misty haze across the lake and an old man doing what he has probably done for the past 50 years…. it encapsulated the magic of Montenegro and was a moment of complete calm and peace that I will always remember.
Now back in the early seventies when "The Way We Were" with Barbara Streisand was at the movies and stripy tops and wet look hair style were all the rage these two young brothers enjoyed their holidays just north of Zadar at the
Crvena Luka Resort
in the former Yugoslavia.
These are perhaps some of my earliest travel memories on the beach with our nets rock pooling for star fish, crabs and doing all we could, albeit unsuccessfully, to avoid treading on those pesky sea urchins!
My Mum and Dad used to drive us from the south east of the UK to Dover to catch the ferry over to Calais and then we drove down the "route de soleil" via the always snarled up Boulevard Peripherique around Paris to the south of France. We then hung a left for Italy, then into what is now Slovenia and then into what is now Croatia.
Of course…. well of course to my generation…. back then this was Yugoslavia when dinar was the currency and package holidays with the likes of Yugotours and Phoenix holidays were in full swing.
Great memories from a moment in time that Barbara Streisand captured so beautifully in that 1973 movie soundtrack..

"Can it be that it was all so simple then?
Or has time re-written every line?
If we had the chance to do it all again
Tell me, would we? Could we?
Hell yes I would Barbara ….. again and again !

The morning after I witnessed Englands defeat to Croatia in the semi final of the football World Cup in 2018 in Russia I decided to spend the day mooching around Moscow.
Moscow is such an amazing city for photography so I started at the Kremlin and then meandered along the banks of the Moskva river. On through beautiful parks to Basils Cathedral, Red Square, Arbat Street for shopping and art then past the iconic ministry of foreign affairs building. Finally i arrived at Kiyevsky Railway station for a train out of Moscow for St Petersburg.
It was however after all of these stunning iconic sights and buildings that as my day came to an end and I crossed the road towards the railway station that I took my life in my hands to take this photograph. This is the modern financial district of Moscow rising out of the old city like a scene from a science fiction movie!
I loved Russia with Moscow being this brute of a city but normally it is captured by that delightful image of St Basils Cathedral on Red square but for me this photo encapsulates todays Russia with the wonderful young friendly commercial city stepping out of its historic past.
Thank you to all the Russian people who truly opened my eyes with their warmth and friendliness.
Good times apart from the football result !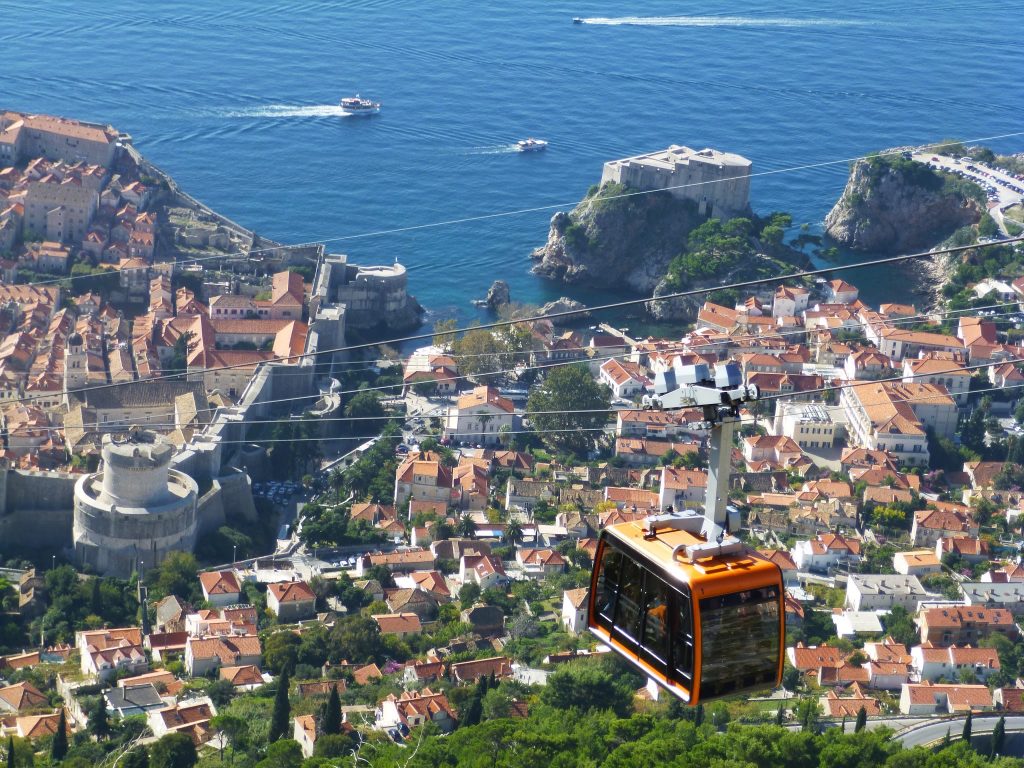 A View of the Adriatic...
Now Croatia has always been one of my most favourite destinations and in particular Dubrovnik.
For years and years after the Balkan war of the early nineties I used to hear about this cable car that used to operate. It was not until 2013 when I finally was able to experience what I had heard so much about for more than a decade !
This 4 minute trip up to the top of Mount Srd with the Homeland War Museum at the top as well as a restaurant with views that are worth every kuna is an absolute must when visiting Dubrovnik!
I took this photo as I decended – just gorgeous !