If you are looking to find that true essence of England by the sea then head down to the East Devon coast where you will discover pretty seaside towns, pristine beaches, delicious food and the warmest of welcomes from locals who have not forgotten those fast-diminishing traits of respect, manners and kindness.
I spent a nostalgic three nights last year reacquainting myself with a little corner of Devon that I had previously visited on holiday 45 years ago.
Let's see if anything has changed.
Honiton
A Honiton Homecoming
I have been back to the market town Honiton for work purposes over the years however I have never had the time to stop and have a wander around and remind myself why it was always a favourite as a small boy. Clearly, too much of my time as a big boy has been rushing from place to place without so much as drawing a breath.
My Mum loved antique auctions while Dad was, in his younger years a horologist so Honiton was a natural fit. The buzzing market takes place three times a week and the lace and pottery which made the town famous is still prevalent today. Those antique dens and auction rooms, the book shops and that old-fashioned charm still draw in the tourists like me.
At the top of the hill, St Pauls's church dominates the skyline and with the War Memorial in front, there is clearly still a strong sense of community with flowers freshly laid the week I was there marking the funeral of Her Majesty the Queen. The support for Ukraine is also evident at the Volunteer pub and at the house opposite but whether the colour scheme was by design I do not know. Either way, I liked it!
I know all sorts of fancy businesses are popping up across the country these days – back in the late seventies there were no nail bars, vaping shops, botox treatments or eyebrow threading centres so when I saw the Clock Clinic I really thought that this up and down town had taken leave of their senses – thankfully its the opticians I really needed 😉
There are however signs that sadly the town, like anywhere has its struggles no more so than Encore the "Good as New" Boutique which was looking, well, far from good, and far from new.
It was lovely to see Honiton again…. its a place that always brings a smile to my face.
Beer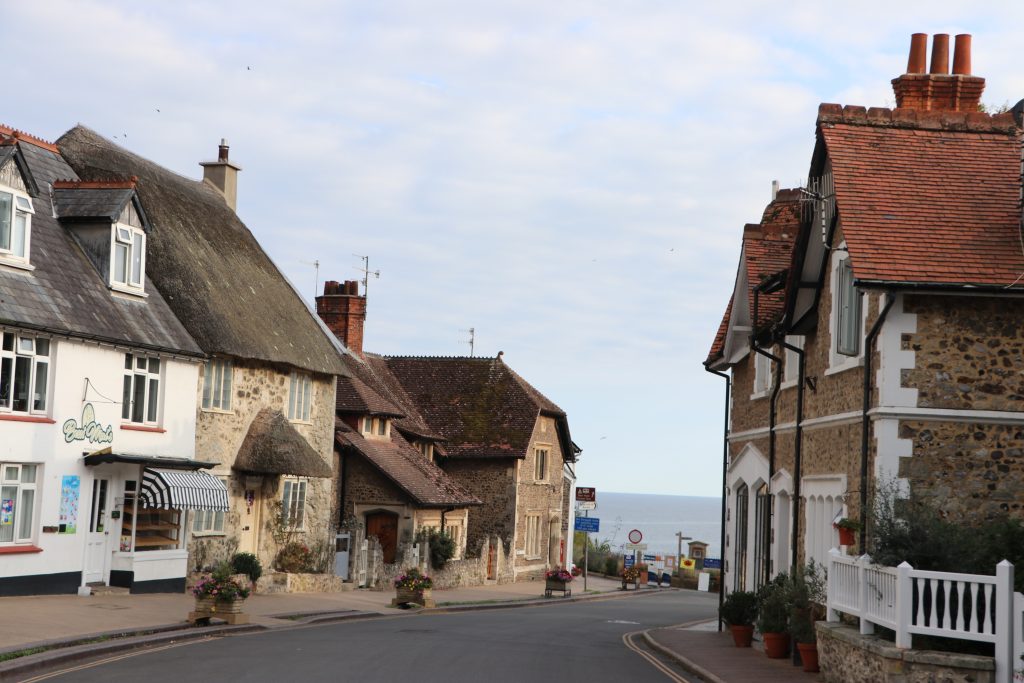 Beer Anyone
It was 45 years ago that my folks took me to the little village of Beer, 9 miles east of Sidmouth in East Devon on the Jurassic coast of the United Kingdom. I have never forgotten this pretty little place where I ate fish n chips out of newspaper while sitting on the beach walls.
From the moment I drove into the village it was clear that absolutely nothing has changed.
Well, that's not strictly true as I bought fish n chips and instead of being wrapped in the News of The World, they were in plain paper as is the way these days. But hey who cares – they tasted delicious. Talking to the lovely current owners I found out that Margaret and Cecil Perkins were running the shop in the 1970s so one of them would have delivered my supper. Margaret's Dad had started the business in 1929 before passing it on to Margaret and Cecil who then retired in 1983. Well, there you go…. the history of fish n chips in Beer!
I was told the best pub in the village was the Barrel of Beer Freehouse. Surely this village is an advertising aficionado's dream – they sell Beer. Not just any Beer mind – this is Beer from Beer! I popped in, for investigative purposes, only to be faced with the boss of the joint – Tom Cat – on his stool and not budging for anyone! I was sold! To be fair I can see why the locals love this pub – it's clean, the staff were lovely and welcoming and the locals chatty too – oh and the Beer – well that goes without saying – blinking marvellous!
The same can't however be said for the Bomb Shelter museum that was, shall we say, a little sparse – I think I must have walked in as they were having a move around so I won't hold it against them – I am sure it's really interesting when there is something in it so, unlike me, choose your moment!
If you are passing along this glorious stretch of the East Devon coast make sure you drop into Beer… have a mooch, eat fish n chips, drink Beer and toast a village that is one of those magical British villages where time has stood still for all the right reasons.
Seaton
Seaton Says
Just to prove that I do listen to your comments on my Facebook group I took the decision to head over to Seaton and discover see why a few of you recommended I should take the Seaton Tramway.
I was staying in Sidmouth so I am leaving that blog till my last, as I am sure there are many stories to be made before I leave. I can tell you now it will involve dogs as Sidmouth is, without doubt, the dog owner's capital of the universe and I love it! The weather today was as good as it gets. Blue skies and autumn temperatures. I took the opportunity to go for a wonderful brisk walk on Sidmouth seafront which was largely empty at 730am aside from a small group of ladies bearing their finest swimsuits and going for a morning dip.
After breakfast, I walked to my car which was parked in an overnight car park on the seafront. The day before I had been greeted by, and I told him, the friendliest car park attendant I had ever met. A guy in his sixties, tanned after a summer of well, parking cars, but with the life, the chat and the "joie de vivre" of a thirty-year-old. This morning I collected my car and as I drove out, the kiosk door slid open and his bearded colleague (not a "bearded collie" but we are in Sidmouth so it could have been) peered out. His first words were "hello young man, where are you off to today".
How refreshing not to get a grunt or simply a demand for money. That opening remark of his meant I spent the next 10 minutes chatting to him – he was originally from Sunderland and had moved to Portsmouth where he worked on yachts including one for Edward Heath, our former prime minister who was a keen yachtsman. He then semi-retired down to Sidmouth but works part-time as a car park attendant. He suggested I go to Beer howver I told him I had been the day before and was now heading to the Seaton Tramway. We said our farewells but not before I told him he was the friendliest car park attendant I had ever met 😉
The Seaton Tramway
A 10-mile drive along the East Devon Coast took me from Sidmouth to Seaton. Whilst you guys had said I must go, I did not know what this trip entailed or where it was but as the road led me into town I soon saw the Seaton Tramway building conveniently located alongside a Long Haul Car park. After a 15-minute struggle to understand the workings of a Devon car park machine that was clearly created by a man who has never parked a car in his life, I arrived at the steps of the Tramway and took a photo. This as always led to another conversation as a funny guy jumped out and wanted to know what angle I wanted him in the shot! These Devon folk are a happy lot! It turned out he worked at the Tramway and after another chat, he directed me inside where I would meet Sandra.
The Seaton Tramway is a 2 foot 9 inch, narrow gauge heritage railway that takes tourists and locals between Seaton, Colyford and Colyton in East Devon's glorious Axe Valley. You can pay £10 for a simple return trip or as I did, £12 allowing you to stop at both the picnic area (Riverside Halt) or the recently opened (April 2022), Wetlands Halt for bird watching and walks.
Sandra delightfully ushered me through to the next available tram that was just departing as they go every 20 minutes. I was that stereotypical modern-day pain in the backside tourist – in other words totally under-prepared. I also had luggage – a rucksack, a camera, a mobile phone with charger, a hastily grabbed collection of brochures about Seaton plus a yellow wristband that needed to be tied to my wrist. Now with all that, the last thing I needed was to board a tram with an iron spiral staircase suited for someone the size of a small child rather than a middle-aged slightly overweight and ridiculously overloaded tourist. After a struggle and the realisation that the diet must start Monday, I took my seat on the open top deck!
I decided to go to the end of the line first. A 28-minute journey covering 3 miles of glorious Devon countryside that included the magnificent Wetland area, fields of farm animals, and beautiful views of the Axe Valley estuary. Riding on top of the tram was such fun with everyone in good spirits and waving as we tooted and tentatively drew past another tram coming the other way.
Colyton
Colyton, the final stop, is a delightful little railway station complete with hanging baskets, a café and a shop. A short walk will take you across to the historic town, known as "Devon's Most Rebellious Town" for its part in the Monmouth Rebellion of 1685. By all means, go and lose yourself here for a couple of hours however beware the last train back is about 5 pm. To be sure, check the handy timetable on their website.
In Colyford, the driver pointed out the Victorian Stop that still exists from when the station was a British Rail station. There was also the story of the green Victorian toilet which is proudly on display at the trackside. Back in those days, this was only available to men. Women were expected to do their business elsewhere. Best I don't comment further.
Seaton Wetland Centre
I got off on the way back at the Wetland Centre, just for 20 minutes to walk the immaculate wooden walkways that take you down through to several bird hides where you can spy on plovers, redshanks and sandpipers going about their day in the marshes and reed banks. As I walked back to the tram stop a kingfisher flew along the river bank. For those who love the peace, the walks and nature then I would thoroughly recommend a stop here but for longer than the 20 minutes I took.
Back at the main Tramway depo, I was greeted by the ever-attentive Sandra who ensured my trip had gone smoothly. It had. I loved the Seaton Tramway and would recommend it as so many of you did to me, as an excursion, that can be tailored to your needs.
Having said my farewells I headed into Seaton to get an understanding of the town. The beachfront is like so many around here – immaculate, clean and well-maintained. The pebble beach was busy with sun worshippers grabbing those last rays of the season and once again those hardened ladies of Devon dipping their toes in the sparkling sea.
I don't remember Seaton from when I was last on holiday here 45 years ago. Understandably my folks fell in love with Beer, Honiton and Sidmouth so perhaps never spent much time exploring further afield. I am glad I did.
Branscombe
A Branscombe Pickle
Now before you lovers of one of the nation's favourite chutney get up in arms… I know, but I needed to link this particular Devon experience with the situation I found myself in.
I'd been here on the beautiful East Devon coast for 24 hours. I had been visiting such places as Sidmouth, Beer and Honiton and I kept noticing signs to the picturesque village of Branscombe. Curiosity finally got the better of me, so driving back from Seaton I swung left in the hope of finding out more.
For the first time on this trip, I soon encountered one of those notorious Devon roads where its width is not much wider than your car. It's certainly not a place you want to come face to face with a skip-hire lorry that's for sure! Well, I did… so by the time I finally got to the start of this village which is rumoured to be the longest in the country, my neck was aching from driving backwards more than forwards or so it seemed. It's all part of life down here and you just get on with it. What I love is that there is no road rage – people are just accepting, courteous and respectful.
I arrived at a T junction but with a divert sign sending me right I headed up the hill which I later came to realise was the opposite direction to the village. Realising I had messed up I asked a friendly walker who not only told me to turn around but also to carry on through the village, up over the hill and to the beach. After I had performed an immaculate 27-point turn on a dangerous bend, I was on my way – no one would ever know – unless I chose to share my story on social media 😉
I turned down into the village and caught sight of the highly recommended and very pretty Olde Masons Arms that was packed on this sunny day with alfresco diners. This was clearly one of the places to hang out in Branscombe. My thoughts immediately turned to a traditional Devon Ploughman's lunch however I resisted the temptation to stop.
Branscombe Beach
I was now in the heart of the village which is full of pretty thatched cottages, overflowing hanging baskets, a little church and tremendous views of the surrounding countryside.
Given my instructions, I soon carried on through the village where again I gripped the steering wheel a little firmer as I negotiated roads that switched between light and shadow before finally sweeping down to the sea. I had arrived at the beach and parked up.
Having wrestled with another non-sensical car park machine, I made the short walk up a slope to discover the painted beach huts and a shanty-style café selling food, souvenirs and those all-important ice creams. Walkers travelling along the South West Coast Path were arriving and departing from both directions and while catching their breath it was clear they had enjoyed their walk with stories shared of stunning vistas and abundant nature. Just by the Shanty café was a huge anchor from the MSC Napoli that developed a hull breach and was run aground in Lyme Bay in 2007.
Leaving the beach, I passed through the lovely village and following the divert signs I found myself back at the location of my 27-point turn… a few hundred yards along as I slowed before another roadblock, I was directed down an adjoining road by a lady walker who it seemed knew her highway code. I took this random stranger's word and promptly rounded a corner and came face to face with the local tree trimmers who had blocked that road whilst doing a spot of tree maintenance. Now I really was in a pickle! Another 27-point turn followed and after yet more reversing I was finally on the right route out of the village.
The Sidmouth Donkey Sanctuary
Soon after getting back onto the main road, I dropped into the Sidmouth Donkey Sanctuary where hordes of children fulfilled their dreams and stroked the nose of some poorly treated and abandoned donkeys who end up here. It was nice to unwind just for a moment. Animals have a way of calming me down – if only those who treat them so badly felt the same, they would perhaps give them the life they deserve. If you ever come down this way, you should visit this lovely charity.
After all the excitement it was time for a spot of lunch so I hit the road once again and headed for my next stop before the start of a late-night adventure.
Otterton
The Otterton Beaver Patrol
Now there are all sorts of jokes I can hear when I tell you that aside from my trip to Devon for nostalgic reasons, I also had the intention of witnessing an animal that has only been living here since 2008. However, only since 2020 have they been officially allowed to stay here in Devon – the Beaver!
A few years ago it used to be the Beast of Bodmin moor that attracted wildlife folk to the west country. Today there is an ever-growing trickle of visitors coming to Devon to get a glimpse of the elusive Beaver.
One of the best places to see them in the UK happens to be just 4 miles up the road from Sidmouth in the village of Otterton. This was right up my street (hopefully not too narrow a one!) so it was time to don my walking boots and head down to the River Otter and see what I could find! I rated my novice chances at about 5%.
What many do is head to the historic working watermill called Otterton Mill. It is home to a lovely restaurant, together with a shop selling local fruit and vegetable produce, a coffee and cake van and a few souvenirs including some wonderful, very simple, stoney owls produced by Auld Lang Stone.
I arrived at 3 pm and tucked into a sausage and caramelised onion bap and a raspberry cake. Sustenance was needed as this could be a long night! Many walkers in the region and beaver spotters park their cars in the Otterton Mill car park. It's quite unfair on the Mill owners especially if you don't eat at the Mill and give them some custom. Even though I did, I felt it only right I should move the car 100 yards along to the wide open roads of the village where there is free parking.
Upstream
With boots on, I headed over the bridge away from the village and past the mill and turned right! This was key as everyone had said to me that the Beavers around at this time like a bit of peace and go upstream. Off I headed along what turned out to be the most glorious stretch of crystal clear fresh water you could imagine. No wonder old Billy Beaver likes it here I thought!
My first clanger of the day was I forgot to bring my camping chair. Sitting at the water's edge with my creaking knees and suspect back is a recipe for disaster so I knew I would need to return to the car at some stage unless, of course, I got lucky. I found a gorgeous little clearing where you could walk down to right by the water's edge. From here I perched without a human voice to be heard, just the strong flow of water, the shrill sounds of Dipper birds and just our glorious nature all around. I was in my element.
For the second time today, I saw a Kingfisher fly past like Lewis Hamilton on speed. Those little birds never stop for more than a second so getting a photo is so difficult unless you just get darn lucky. To me, that's part of their appeal – a bit like those Beavers – assuming they are actually here of course!
I walked a little further and bumped into a couple who were on Beaver patrol too. We exchanged various pieces of information we had picked up from locals, we discussed the detailed research we had done before coming and we studied the terrain – we had no frigging idea! I found it all very amusing – it was a needle in a haystack but the scenery was fabulous so on I went, upstream.
Another pebble clearing emerged. I sat there watching a white heron pouncing on its prey in the heart of the river just 50 yards away when I was joined by a lovely lady and her labrador, Honey! Now I never got the lady's name but we chatted for half an hour – we covered everything from world politics to what our country is going to be like in 50 years. You may think it was a quite depressing chat but it wasn't… it was lovely. There I was standing in pristine nature talking to a salt-of-the-earth lady who just wanted to talk and I loved to be there with her. The fact I agreed with every word she spoke about the state of our nation is another matter and one sadly that is not for all – we agreed we were part of the silent majority.
All the while the 18-month-old nervous little Honey kept a lookout for Beavers…. I think she would have run a mile if one had come around the corner! Come to think of it I might have too!!
Downstream
On I went up the river. The next stopping point was under an iron bridge shaped in an arc. Half an hour's contemplation was then "interrupted" by an old gentleman who had come down from the fields at the back and was struggling with his stick to take the steps over the bridge. Caring for my Dad for the past two years has changed me. Dad struggled to walk in his last year and I could see in this gentleman's eyes the pain, the suffering and his (not my) embarrassment at the situation he was in. I wanted to help this old guy and so greeted him on the bridge and made conversation. He suggested to me that he had had recent health troubles but he loved talking. He told me about his love of the river, his sightings of Beavers and Kingfishers and how he was an artist who spent many days at one with nature painting this beautiful stretch of the river. Grieving is a funny old thing – you can go weeks without so much as a lip quiver but something occasionally gets you and seeing and speaking to this truly lovely man got me. I ensured he got over the bridge and then left him, as I looked back he was struggling to take a photo on his dated mobile phone of the river that he had probably painted a thousand times. He was doing what he always loved and that brought a smile to my face, yet a tear to my eye.
It was now 5 pm and I decided to head back to the village, have a pint (just one for the road mind) and pick up my camping chair ready for another search. I popped into the lovely Kings Arms pub in Otterton and ordered a pint of Otter Bitter and a packet of peanuts. I don't drink Bitter but I was on the River Otter. Do you know what – it was delicious! Once again I spoke to some locals who then threw my hopeless plans into further turmoil – they said those blinking Beavers have moved! They are now downstream. With that revelation, I nearly threw my Nobbys Nuts in the air. However, I took their advice! I grabbed the camping chair and walked past Otterton Mill and over the bridge but this time turned left!
Half an hour's walk took me to another clearing where I opened up the chair and let out a sigh. It had been a long day – the Seaton Tramway, Branscombe and the Donkey sanctuary but here I was in the most beautiful of surroundings. Behind me was a field of about 200 cows all munching away on fresh green grass with the occasional one looking over the fence and seeing what I was up to. Absolutely nothing and that's how I like it.
Beaver Sighting
About 630pm I noticed a number of camouflaged Beaver watchers started to walk up and down the bank with the occasional one asking if I had seen anything – I had spent half an hour watching two yellow, black and white dippers doing what their name suggests – dipping. However, I was getting a little tired of that so with the light starting to fade I packed up at about 7 pm and headed back.
Not 50 yards from where I was, I saw a small number of about eight people huddled around a gap on the riverbank. My pace quickened and as I arrived people were pointing and whispering that old Mrs Beaver was under a log and that Mr Beaver was currently en route from upstream with a branch the size of a telegraph pole. I was trying to contain my excitement and promptly dropped my camping chair in a position where a cow was later found nibbling on it!
By now the light was fading. In late September these pesky rodents come out later than in Summer when they can be seen as early as 4 or 5 pm. As I crouched down with a knee crack, I could see her face and paws gnawing on some branches. Mr Beaver soon rocked up with a lot of crashing and bashing bringing in his giant log – not quite a telegraph pole – more a rounders bat – these locals… they don't half exaggerate! I took a couple of photos which make out his body but the time for cameras was lost so it was just a case of enjoying the sounds of a family of Beavers just 10 yards from our position.
It was now about 8 pm and slowly everyone headed off. Before long I found myself alone in the dark with a family of Beavers on the River Otter – oh and the camping chair-munching cow whose mates were all snoring. I said my farewells to them all and thanked the Beavers for coming!
A Day To Remember
Just 100 yards further along a young couple approached me in the dark. Sadly in an instant, I was on a heightened alert as I was alone and these two characters had been sniffing something more than what I had been sniffing from the cow field over the fence. I chatted warily to them as they asked about where I had been and what I had seen. They were brother and sister, they were homeless and sleeping in a van. Life for them had not taken the direction perhaps they would have wanted. However, as I stood there they told me about their love of nature…. she was a photographer, he was a fisherman and all they wanted to do was sit amongst nature and not be stuck at home as they said "watching Coronation Street". I wished them well and left them with my head spinning – sympathy, love, sorrow, frustration… so many thoughts.
I drove back to Sidmouth and went to the hotel bar for a drink. What an amazing day full of so many emotions, feelings, and experiences.
Above all else though, I got to see those amazing Beavers – what a treat.
Sidmouth
Sidmouth For All Seasons
Sidmouth has always been this little quaint English town where I have gravitated. It's where I have so many fond memories as a little lad, eating ice cream, rock pooling, playing football on the beach and excitedly staying in a caravan or under canvass.
Today not a lot has changed. I still love ice cream and rock pooling and I clearly love the adventure of holidays and travelling. My football playing days are sadly over mind! Sidmouth has not changed either. Come in the winter months and the town is mothballed ready for the spring and summer months when thousands of people and dogs descend on this British seaside town on the East Devon Jurassic Coast.
I was staying at the very lovely Kingswood Hotel on the seafront. A delightful property catering to the older clientele of which it seems I am now a fully qualified member. From the moment I arrived, I was made to feel welcome. The rooms are clean and well-appointed, there is much-needed parking around the back of the hotel and the breakfasts were superb both in terms of service and quality. As an added treat I rather enjoyed the evening provision of free tea, coffee and chocolate mints accompanied by a copy of Devon Life. This is the future!
Devon Life
Stepping outside the hotel and across the road will bring you to Sidmouth promenade where the great and the good of the town stroll up and down taking in the fresh air and stunning views of the rusty red Jurassic coast. If you are a dog lover, then Sidmouth is for you. Take one of the many seats on the promenade and you could almost be at Crufts. Every size shape and breed of dog seems to be bounding along. Some are just your bog-standard mutt whilst others are sporting the latest in high-end dog fashion! It's so entertaining – assuming you love dogs which of course I do!
The lifeboat station is at the heart of the town and as I was there a family were launching one of the boats in order to cast their father's ashes out to sea. It was quite a poignant moment for me looking on and made me think many thoughts but in particular, understand the importance that this service provides to the local community.
The little lanes and streets in Sidmouth are full of interesting shops, cafes, and restaurants not to mention some wonderful pubs such as the Anchor Inn or the Swan Inn which deliver a warm welcome, a refreshing pint and a game of darts. The Sidmouth Market has a daily offering of fresh fish and produce while the Sidmouth Museum and Sidmouth Parish Church sit alongside each other and provide a little history for those looking to understand more about the town and area.
As I was on a nostalgic trip, I found myself in the Olde Sweet Shop longingly admiring the jars of sweets adorning the wall – I am sure my reaction would have been the same 45 years ago, as was my choice of Lemon Sherbert's and Rhubarb and Custard boiled sweets. Sometimes it is the little memories that mean the most!
The East Devon Coast Revisited
As the sun starts to set take a stroll along the promenade past the beautiful Belmont Hotel and then follow it as it passes in front of the cliffs and swings around to Jacobs Ladder – a set of white wooden steps dating back to the 1900s which lead from Connaught Gardens down to the western end of Sidmouth beach.
Here I was on the last evening of my little trip during the golden hour. The sun was setting against the red rocks of the Jurassic coast as I contemplated how very special this part of the United Kingdom truly is. But then I always knew that!
The East Devon Coast and its charismatic towns and villages are places to lose yourself. The people are so friendly, the scenery so beautiful and the pace of life is just what the doctor would order!
I am not so sure I will be back in 45 years time…. next year will be just fine!
Contact Information
If you are considering visiting the East Coast of Devon then why not check out the Visit Devon Official Tourist Board website which is packed with information about places to go, whats on and things to do in Devon, United Kingdom.
All of the photos in this blog were taken by myself. I hope you enjoyed them and the read. If you want to see more snaps then head over to my facebook page and join my group so as to follow me on my next adventure!