The Islands of Kvarner Bay, Croatia
Kvarner Bay is located in the north east of the Adriatic Sea between Istria and the Croatian coast. This relatively undiscovered part of the Europe's coastline offers scenery that is amongst the very best of Croatia.
Some of the larger islands include Cres, Krk, Losinj, Rab and Pag while many smaller less well known islands are Union, Susak, Ilovik, Plavnik, Prvic, Sv. Gregory and Goli Otok.
Each is very different and many serve up stunning beaches, pretty old villages, historical buildings, pristine natural environments with plenty of great weather, fresh seafood and welcoming people.
The islands of Kvarner Bay are truly unique and just waiting to be explored.
Cres, the second largest island in the Adriatic is a nature lovers dream. Lush Mediterranean forest, Vransko lake and an island rich in plant life.
In the northern part, with cold, dry winds gusting south in winter, the flora is typically sub-Mediterannean with oak and sweet chestnut woods. In the south, which is protected by the hills, are evergreen coniferous forests.
Everywhere there are wild herbs that flavour the local food aswell as wildflowers in the pastures and thousands of olive trees. Over ninety species of bird nest on the island. As well as eagles, falcons and owls, there is a dedicated ornithological reserve for the white-headed griffon vultures which nest on rocks next to the sea.
Krk – a town and port on the island with the same name. Krk is also the managerial, administrative, cultural and religious centre of the island.
This former bishop's town has an extremely significant architectural monument – a cathedral, whose origins reach back to the 6th century. The old town, which can be entered through four town gates is surrounded by walls, which guard the valuable memorial heritage; there is a roman basilica leaning on the cathedral, there is a Frankopan castle from the 12th century as well as many profane buildings (Kotter house, Kanonička house) with valuable markings from the different periods. In terms of the many towers, the oldest is the four cornered tower of Kamplin built in the 12th century.
The newer, urban part of the town expanded outside the walls a long time ago. There are luxurious villas and summer residences which during the season offer tourists comfortable accommodation. The pretty pebble beaches, the many cultural entertainment events (the Krk fair that has an attractive maritime battle and others), excellent offer of food, the possibility of trips (Biserujka cave, Košljun island and others) make Krk an attractive tourist destination.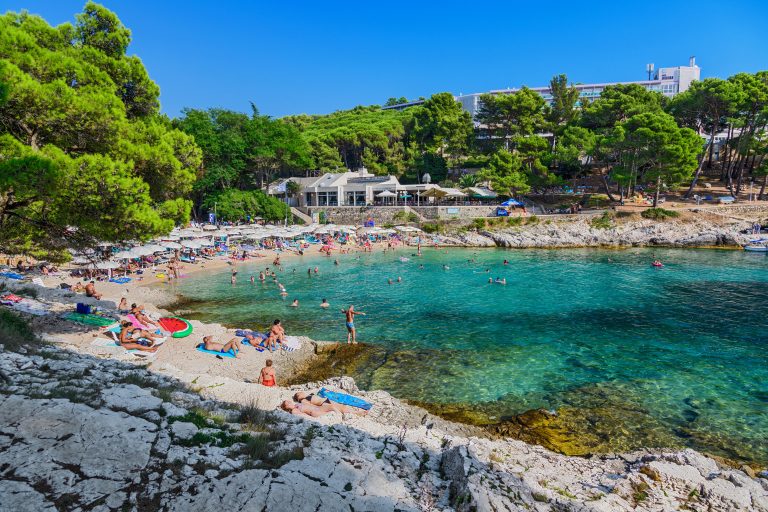 Lošinj has been a tourist trap since 1897 when Austrians and Hungarians visited for its clean, unspoilt landscape and air. The forests are ideal for cycling and walking trails, which wrap around secluded beaches. The best beach is in Mali Lošinj, a pebbly and rocky cove protected by the forest and excellent for windsurfing. Mali Lošinj is a picturesque port town, where you can walk along the seaside promenades, and enjoy the pretty bays, gardens and natural forest.
Neighbouring smaller town Veli Lošinj has the feel of an old fishing village, with a castle, a Venetian tower and many lovely gardens.
Rab is a lush green haven with small towns and secluded beaches. King Edward VIII and his lover Wallis Simpson visited in 1936 while sailing nearby. Rab has some wonderful beaches, including the popular and beautiful Rajska Plaza in Lopar – considered one of the best beaches in Croatia.
Pudarica beach near Barbat is known for being a party place with its beach parties and night clubs. The lovely Komrčar forest park is full of exotic trees, flowers, birds and butterflies, with lots of bike and walking trails. Inland Rab is also speckled with vineyards, olive groves and crops.
The main town on the island, Rab, is a medieval walled city with churches, palaces, romanesque bell towers and an interesting cathedral.
Pag used to be most famous for its cheese called paski sir that is made from sheeps milk and also for its lace making.

However in recent times the town of Novalja has become one of Croatia top music venues for clubbers coming from all over Europe.

The other main town is Pag town on what is a very barren yet strangely appealing island which is connected to the mainland by a bridge.
If you enjoyed this story why not share it on social media and help me publicise my blog. Just click on the relevant icon below, add your message and share.
Thank you in advance.
Don't forget to visit our Competitions page for your chance to win a fantastic holiday or travel prize.
Visit my Blog page here and discover all of the latest blogs in one place.
Need a book for your next holiday. Get some ideas and recommendations in our Bookshop.