Kranjska Gora, Slovenia
If you are looking for an active holiday in Slovenia you may at first consider the resorts of Lake Bled and Lake Bohinj. While these two locations do offer year-round sports their winter ski facilities are fairly limited. The best ski and all-year-round sports resort are in the village of Kranjska Gora, 40kms from Bled and close to the border with Austria and Italy.
I have visited Kranjska Gora in all of the seasons for business trips, I have passed through on a road trip and enjoyed a snowy New Years' ski holiday. On each occasion, I have enjoyed the ambience of this pretty picture-perfect alpine village that over the past two decades has developed into a stylish, upmarket holiday destination with plenty of attractions throughout the year.
So if you are looking for a feel-good break where you can enjoy fresh air, mountain scenery, exhilarating sports and the legendary hospitality of the wonderful Slovenian people then look no further than Kranjska Gora.
An Alpine Gem
Kranjska Gora has always been my little secret. Not many people in my circle of friends have been there yet so many of them would adore everything about this little alpine village nestling in the lush green Sava Dolinka Valley at the edge of the Triglav National Park.
Bisecting the Karavanke range from the Julian Alps and at 810 metres above sea level, the village is surrounded by the imposing mountain peaks of Vitranc, Razor and Prisojnik/Prisank.
This stunning heartland of the Julian Alps offers visitors a wide variety of walks and hikes through upland pastures passing waterfalls, rushing mountain streams, placid lakes, majestic woodlands and some quaint alpine villages.
From Kranjska Gora, you can visit Tromeja (the summit is Pec) and where Italy, Austria and Slovenia all meet. In winter you can even ski them all in a day – where else can you do that?
Travelling To Kranjska Gora
Kranjska Gora has never really taken off in terms of mass market travel but I like that.
Over the years flight options have always been fairly limited but with the emergence of low-cost airlines, Ljubljana is now well served. The towns of Klagenfurt and Graz in Austria and Trieste in Italy also conveniently feed into Kranjska Gora.
If arriving in Ljubljana the one-hour drive to Kranjska Gora is so easy so on arrival at the resort you will be full of energy to get out and explore and you are definitely in the right place to do that!
Getting Around
As an all-year-round resort methods of transport change with the seasons. One constant is walking and hiking and this, in what is a small town, is the easiest way to get around.
Cycling is popular between May and October and rental is available at the many retail outlets or indeed from your hotel. Horse riding is also possible amid the breathtaking fields and the upland slopes.
Obviously, in winter, it's all about skiing and boarding plus some go to this region for nordic skiing so there is a wide range of equipment available to hire in the rental shops.
In the summer months, canoeing and white water rafting on the Sava River are very popular.
There are frequent bus services to nearby towns including Ljubljana and car hire is great although how much you would use it if based in Kranjska Gora in the winter, remains to be seen.
Kranjska Gora By Day
A wander around the cobbled alleyways of the old town of Kranjska Gora and you are likely to end up at the main centre where there are often stalls selling local produce, crafts and delicacies.
Shops have changed in recent years and although you will have some of the traditional stores there has been an increase in stylish boutiques selling mainly expensive sports gear and the latest fashions.
Slovenes love beekeeping and are always at the forefront of supporting World Bee Day. You will see sales of locally produced honey throughout the town.
The little church in the heart of the old town is the Church of the Assumption Of the Virgin Mary. It is home to some beautiful frescos and paintings and is open every day during holy mass.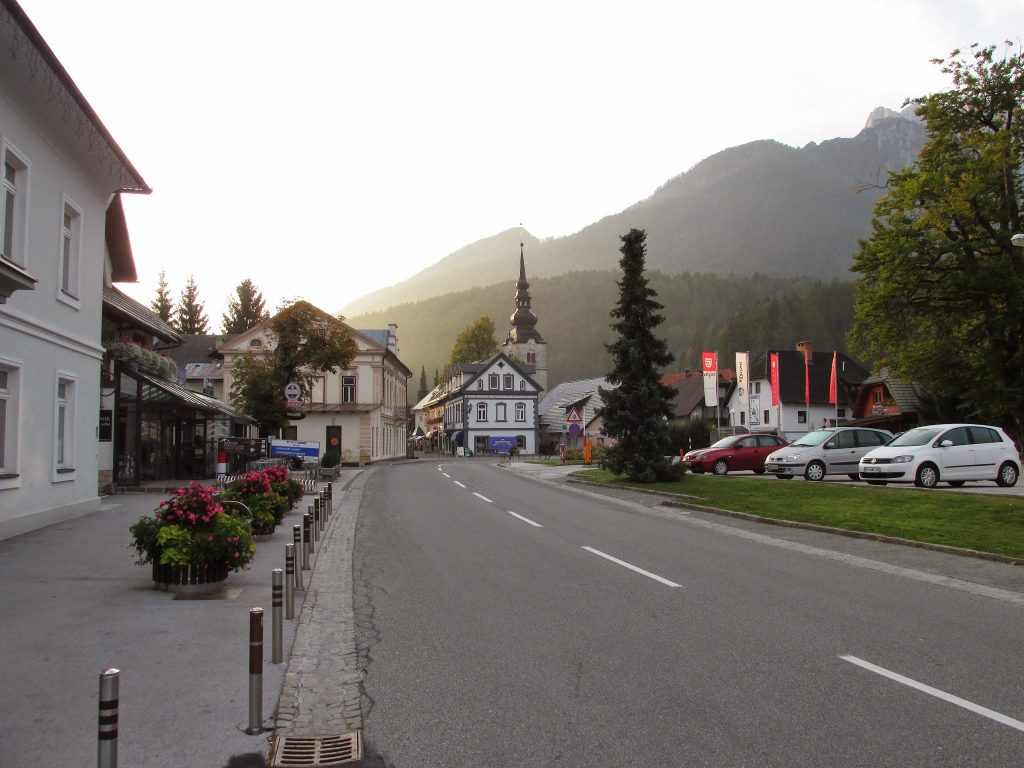 Hiking Trails
There are many options and routes of varying difficulties for hiking, trekking, mountaineering and canyoning.
All offer incredible scenery and breathtaking views.
I would recommend checking out the Kranjska Gora Tourist Office website for more information on specific trails.
Ski & Board
In winter, Kranjska Gora is a small resort with a ski area that is perfect for young families and beginners. There is the customary difficult black run but in the main, it's a ski resort for the casual skier.
Lessons and tuition are generally pretty good value and widely available with instruction available in various languages including English.
There are normally a few dates every year when the men's and women's FIS World Cup races take place and at these times the resort will be jumping. The ski season usually lasts from December to April.
Kranjska Gora By Night
In winter the beautifully lit village itself is so pretty at night particularly in the snow with stalls selling piping hot Gluhwein and pancakes while festive alpine music fills the air.
For those with bundles of energy, pistes are illuminated for night skiing and sledging however most will be tucked up in cosy bars enjoying the apres ski and the great food and service the village offers.
The ice rink in front of the Ramada Hotel is a popular feature for families.
Husky dog and reindeer rides are available during the day and evenings.
During other months of the year, there are various festivals and celebrations and there always seems to be something taking place to ensure a wander into the old town offers a different experience.
Accommodation
The accommodation in Kranjska Gora ranges from glitzy 5 stars to sports and spa hotels and traditional alpine inns to camping.
The Ramada Hotel & Suites by Wyndham (pictured) is a high-quality centrally located hotel offering good service and dining.
Another central hotel is the Best Western Hotel Kranjska Gora offering more simple rooms and furnishings but is ideal for those who are spending most of their days outdoors.
The small rustic Hotel Kotnik in the old town with a great pizzeria next door and the Hotel Kompas on the outskirts of the town but close enough to wander in are also both great choices.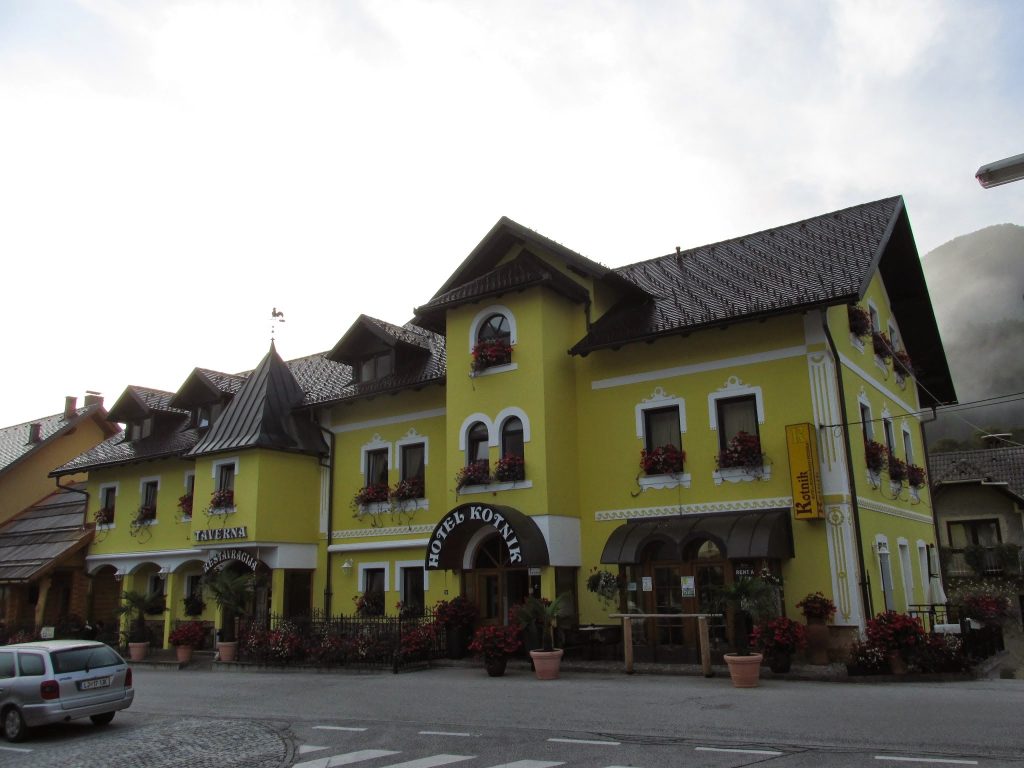 Eating Out
The Kranjska Gora region is famous for offering traditional Slovene dishes. The local Gostilna restaurants/pubs serve up hearty alpine cuisine followed by homemade brandies that are sure to warm you up on a cold night!
Typical dishes include charcuterie boards, sausages, schnitzels, goulash, soups and also pizza! Make sure you try out the local Slovenian Wines which are generally excellent.
For a great pub night out with music and song try the Vopa Pub.
Things To Do
The picturesque Jasna lake is just 1.5km to the west and serves as the entrance to the treasures of Triglav National Park. Jasna comes from a Slovenian word meaning "clear" and that is exactly how to describe the waters! At the edge of the lake is a statue of the mythical stag called the Zlatorog or Goldenhorn who is said to guard the lake.
Kranjska Gora is a magical setting in which to enjoy the festive celebrations as I found out back in the early 2000s. New Years' eve was as wild as I have ever experienced as you stood in the centre square with live music and crazy yet charming and courteous people standing next to you firing revolvers into the air alongside the fireworks. Scary but great fun!
I would highly recommend hiring a car and taking the route over the Vrsic pass. It's such a spectacular journey lasting a full day but worth every moment.
Visit Zelenci Nature Reserve for beautiful scenery and marshes, crystal clear spring waters, fishing and a viewing area.
Of course, you also have Lake Bled, Lake Bohinj and Ljubljana all available for a day trip.
Finally, just 15 minutes from Kranjska Gora is the Planica Nordic Centre – the birthplace of ski jumping no less! If you are a budding Eddie the Eagle then head on over!
Remember The Name
Even though it may take some time to master the spelling of Kranjska Gora I suggest you remember the name as if you ever get the chance I would highly recommend you disappear and immerse yourself in these Slovenian mountains one weekend.
Kranjska Gora is a beautiful village set amongst breathtaking natural scenery…. who doesn't need a little bit of that in their lives these days?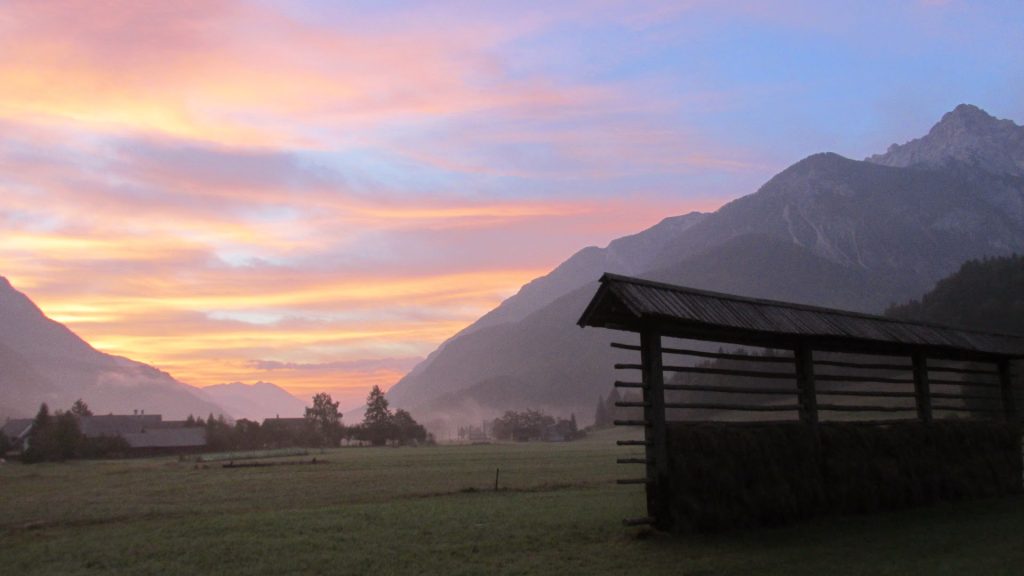 Contact Information
For further information on taking a trip to any part of Slovenia, either contact your local travel agent, a specialist tour operator or the Slovenian Tourist Office.
If you are interested in visiting other parts of Slovenia then check my blogs for Ljubljana, Lake Bled, Lake Bohinj, Maribor, or how about a Slovenia road trip over the Vrsic Pass or learning about Slovenian Wine.