Slovenia in All Her Beauty
There are road trips that you take in life that are so good that as soon as you finish you just wish you could do them again. That was the case on this wonderful self-drive journey over the Vrsic pass in Slovenia, through some of the best and perhaps most undiscovered scenery in Europe.
Places such as Ljubljana, Kranjska Gora, Bovec, Kobarid, and Piran will leave you breathless but so happy that you took the time to discover this special country.
Ljubljana – Bled – Kranjska Gora – Vrsic Pass – Bovec – Kobarid – Kanal – Koper – Piran – Portoroz – Lipica – Postojna Caves – Ljubljana
Whilst this entire journey can be accomplished in 2 full days with one night I would suggest 3 or 4 nights to fully appreciate some of the very special Slovenian places you will discover along the way. I would also then add to this some nights at either end in Ljubljana.
In a nutshell, this road trip over the Vrsic Pass encompasses a capital city, towns, villages, a lake, mountains, valleys, rivers, a cave, oh and the spectacular Adriatic coast. Is that enough?
Now the roads up to the Vrsic Pass can be a little hairy for the nervous driver so bear that in mind. However if it's an adventure you crave then follow me on this epic Slovenian tour where you could spot bears or go white water rafting, you could eat truffles, or even sing with Elvis Presley – now there's a combination!
It is worth noting that in the extreme winter months the pass is closed for fear of avalanche so make sure you plan. Here follows my story of a Slovenian road trip that was so good – I did it twice!
Ljubljana
Arriving at Ljubljana airport in Slovenia is about as straightforward as any airport I have ever passed through. It's simple, it's small, and it's oh so clean and welcoming.
As I was planning to head off on this road trip I decided to pre-book car hire. This was so I could get the best rates, the choice of vehicle I wanted, and also for the convenience of picking up and dropping off at the airport. Car hire desks are ideally located as you exit into the terminal along with a useful information point for the excellent maps and tourist information that is provided by the superb Slovenian National Tourist Board. Other tourist boards could learn a lot from Slovenia in this regard!
The pickup point is just across from the entrance to the airport terminal and from there it is just a short drive of about 30 minutes into the heart of the city where parking is available in many different car parks. There may of course be parking at your hotel or as I have done safely many times on the streets which are payable.
I would recommend at least a couple of nights in Ljubljana at the start, end, or both. For more about this beautiful city check out my blog titled Ljubljana, Slovenia – A City For All Seasons.
Driving in Ljubljana is nothing like the experience in many European capitals. Palermo in Sicily comes to mind as my worst experience!
With a quick study of the map and then by simply observing the clear signage you head out towards Kranj and Radovljica on the E61 then pick up the signs for the 45-minute drive to Lake Bled. I love this part of the road trip as you travel through a flat rural part of Slovenia before finally starting to climb. Be prepared to notice lots of these strange wooden structures called "Kozolec" – these are hay drying racks. They have become quite a symbol for Slovenia.
There is another route you can take from Ljubljana to Bled which takes a couple of hours to Skofja Loka then to Zelezniki, up to Drazgose, Jamnik
chapel, down to Kropa, Radovljica, and finally Bled. I guess it just depends on your schedule.
Lake Bled
Arriving at Bled is always exciting as you await that first glimpse of the lake from up high. As you descend past alpine-style houses and hotels you see the lake through the trees and before you know it you are in the heart of the little town.
Parking is easy although these days there is a charge pretty much everywhere. There are a couple of main car parks at the lakeside which are well signposted and if you are in the quiet season then you can park on the street.
For a comprehensive review please check out my blog on Lake Bled.
Kranjska Gora
Departing Bled, head on the E61 to Jesenice, and from there continue on the more scenic 201 until you reach Kranjska Gora.
The nearer you get to Kranjska Gora the more the scenery of the Save Valley starts to change as well as the air temperature.
You will begin to notice the Sava River which will accompany you for much of the trip. A fresh, crystal clear yet emerald-colored river that screams Slovenia. Soon after this, you will spy the majestic Julian Alps before arriving at the fabulous year-round activity resort of Kranjska Gora.
This leg is just less than an hour's drive from Bled and a distance of about 40kms.
Please check here for my full travel blog and review of Kranjska Gora. The next stop is the Vrsic Pass.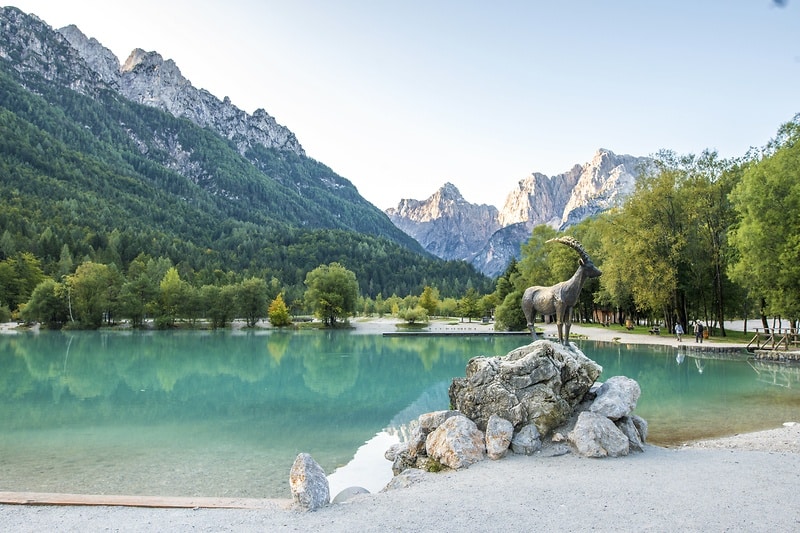 The Vrsic Pass
This next section of about 13 km and takes 30-45 mins is for me the most exciting as you ascend the Vrsic pass at 1611 meters which is the highest road pass in the Eastern Julian Alps.
As you leave Kranjska Gora be sure to check out Lake Jasna. It is an artificial lake built for tourism purposes but I challenge you to witness a clearer or more beautiful setting for a mid-morning coffee stop!
After passing Lake Jasna the road becomes a little trickier with over 50 steep, intimidating hairpin bends. Keep your eyes peeled at all times as the local mountain cattle population have a habit of plonking themselves in the middle of the road. Outside of public holidays, the road is generally pretty quiet although you may come across the occasional tourist bus complete with a driver who may be more preoccupied with speaking on his mobile phone than watching for passing traffic – take care!
At 1200 meters there is a Russian Chapel which is a popular stop. This is a monument to the Russian soldiers who died during the construction of the road during World War 1. Sadly they perished due to the tough conditions, to disease, and also some 300 were killed during an avalanche that wiped out their lodgings.
Another stop en route is at Prisank which is popular for the views of both Lake Jasna and Kranjska Gora.
As you reach the top of the Vrsic pass there is a lodge where you can take a drink and enjoy the incredible mountain scenery and fresh air before you continue on the road trip and start to descend into the Soca Valley.
You quickly head into the Triglav National Park with one stop being at the statue of Julius Kugy, a famed mountaineer and botanist. Here he looks out across the majestic Julian Alps and the valleys below. It was here as I sat on the steps minding my own business looking at the awe-inspiring view when this yellow and black salamander came and took an interest in me. Just me and a salamander who I christened "Steve" at the top of the Julian Alps – magic!
Bovec
The descent down from the Vrsic pass is a whole new driving experience with your foot welded to the brake pedal!
Another hour's drive through the Trenta valley takes you along the River Soca and leads you to the popular base for all these activity lovers – Bovec.
Every car park in this pretty town seemed to have a canoe strapped to its roof as sure enough, this is the heartland for white water rafting in Slovenia. Plenty of shops here provide equipment rental and also guides who will take you to some of the best locations on that magnificent Sava river. Numerous other extreme mountain sports are available from mountaineering, paragliding, or simply walking, hiking, and biking.
In the evenings in Bovec, there are often entertainments in the main square, or simply head to a local tavern and try the local hearty mountain food on offer. After dinner, there is also the random Elvis Club where there is often a whole lotta shaking going on! 
Kobarid
From Bovec, another 21kms and a half hour brings you to Kobarid, a historic small town with plenty to do and see.
Towering over Kobarid is the Krn mountain range where some bloody battles took place in World War 1. Today you can take a guided trail where the history is explained. Additionally, there is Tonovkov castle and the Kozjak waterfall. In town, there is the Kobarid museum and also a Cheesemaking museum so rest assured if you are stopping for lunch you can guess what might be on the menu!
Now speaking of food and accommodation. I was lucky enough when I visited to stay a night at the magnificent Hotel Hvala. The service and facilities here were magnificent but even topping that was the dinner I had at the Restaurant Topli Val which is part of the hotel. Over twenty years later I still recall the meal and the Slovenian wine and of course the cheese! If you are ever in town you have got to eat here!
Kanal
From Kobarid, you then take a 15-minute drive to Tolmin which is a popular stop for music, sport, history, and culture lovers. If you then carry on another 15 minutes you arrive at the picturesque medieval town of Kanal with its distinguishable bridge that you cross as you drive into town.
The local attractions are similar to Kobarid in terms of the proximity to sporting opportunities as well as fishing and sadly hunting.
Kontrada square in the heart of town has Gothic houses and in the summer hosts several festivals, concerts, and musical performances.
Koper
You are now heading out of the Soca Valley and to the Adriatic coast. After another 60 km of not such spectacular driving, you arrive at Koper (also spelled Kopar). This is Slovenia's main cruise port and is located just a 30-minute drive from the city of Trieste in Italy. Slovenia has always had close ties with Italy, even when it was part of Communist Yugoslavia and today when holidaying in Slovenia you can easily take excursions and trips over the border and even to Venice.
A typical day in Koper might include a leisurely walk around the old town to Tito square where there is a lovely panoramic viewpoint at the top of the hill where you can see Trieste in Italy in the distance. At the heart of Koper, you can visit the cathedral, clock tower, and the Praetorian Palace as well as some ornate government buildings. The style is a mixture of Gothic, Renaissance, and Baroque, and the structures date back to the 12th to 19th centuries.
The main shopping promenade is on Shoemaker's Street named unsurprisingly because it was once full of cobblers! Now there does remain one shoemaker but also a choice of shops and cafes – ideal for mooching.
The Carpaccio Square area is on the harbor and is often host to farmer's markets and flea markets. These are all mainly there to capture the much sought-after cruise passengers looking to pick up souvenirs. An outdoor food fair is often held here with locals and visitors choosing from a range of international dishes including falafels, burritos, barbecue pork, Asian noodles, and Turkish dishes.
The Koper Regional Museum has exhibits of the archaeological, historical, and ethnological heritage of the region. Much of this artwork is from the Renaissance and Venetian periods of Koper, and the old palace, which was last renovated in 2015, has a lovely garden. 
Piran
From Koper, you have a half-hour drive to the pretty town of Piran which is decidedly laid back and lacks the hustle and bustle of other larger towns along the Adriatic coast. Piran is certain a secret to many. I have never really understood why as the cobbled street and narrow lanes, central square, and pretty harbor are a delight for visitors. I guess the lack of beaches may be a reason but as a short break, Piran is ideal.
Piran is situated at the tip of the Piran peninsula on the Gulf of Piran and without doubt, the very best way to discover the town is on foot as aside from residents, it is closed off to traffic.
The highlight is the stunning oval-shaped main square, Tartinijev Trg, which is well known for the statue of the famous violinist Giuseppe Tartini. The buildings around the square are fascinating including the 19th-century City Hall. A stone's throw from the square is a gorgeous church as well as the Minorite convent which is famous for having a 500-year-old olive tree.
There is a hill overlooking both Tartinijev Trg and Piran and almost at the top is St. George's Church which has a bell tower modeled on St. Mark's Campanile in Venice. Climb a little further and you will reach the city walls where again you can enjoy fabulous views of the Adriatic coast and beautiful Piran.
There are many scenic hikes in the area so take your walking shoes! A particularly nice one is from Piran to Fiesa where there are many rocky beaches where you can cool down in the crystal clear waters of the Adriatic coast.
Portoroz
Just five minutes from Piran is her sister town of Portorož which means Port of Roses. I have never been a great fan of Portoroz however it is considered one of the best Slovenia beach resorts as it has several glitzy hotels and casinos along the main Obala street.
Having said that, the town is incredibly business during the summer months yet almost in hibernation in the winter. At its peak, the bars and cafes lining the coast are packed as are the many ice cream stalls serving excited children and adults aside.
There is a wooden boardwalk which is popular for an early evening stroll to admire the boats that come and go and also for joggers keen to run off the excess of those delicious ice creams. Those who enjoy a relaxing day of pampering can also take advantage of the thermal spas.
Whilst I have never been sold on the town (I would much rather stay up in Piran) Portoroz does offer something different and is a great place to overnight.
Lipica
From the coast of Portoroz, you are now on the last leg heading inland back to Ljubljana. After 45 minutes there is the opportunity to stop at Lipica.
The world-famous Lipizzaner horses come from Lipica, a small village in the Slovene Karst region. Tour the stud farm, which has 400 years of tradition and has preserved the breeding of pure Lipizzaners for equestrian sports and classic riding schools. There are regional performances or you can just wander around and marvel at these beautiful animals.
Postojna Caves
Thirty minutes from Lipica are the Postojna Caves. This underground world was created through the natural work of the river Pivka and the stalactites and stalagmites make this cave system one of the most beautiful in Europe. I always laugh when I see those words – you know which comes down from the ceiling – it's the Stalactites as "tites" always come down (sorry some schoolboy humor!).
An electric train will take you into the caves and a guide will walk you through the most interesting parts which can be slippery underfoot so make sure you wear appropriate footwear.
At the end of the tour, you may be shown the "olm" which is a blind very rare aquatic salamander that lives deep in the underwater caves.
A few kilometers away you will also find one of the most magnificent buildings in Slovenia – the Predjama castle which dates back to the middles ages.
The next and final stop in this truly awesome road trip over the Vrsic pass is Ljubljana which is just another 45 minutes from the caves.
I would recommend a couple of days in the capital to catch your breath and rest before your flight home. I cannot rate this trip enough – it truly has a bit of everything, particularly for those of you who love an adventure and sharing a view of a mountain range with a Salamander called Steve.
Contact Information
For further information on taking this trip over the Vrsic Pass or to any part of Slovenia, either contact your local travel agent, a specialist tour operator, or the Slovenian Tourist Office.