At the start of every November for the past 20 years, I have attended one of the world's largest travel industry fairs in London where it seems like every country in the world was showcasing everything and anything to entice you to do business and ultimately send customers to their homeland.
As someone who for many years sold the countries in Central Europe and the Adriatic coast, I would often be found at the Slovenia stand catching up with business partners and enjoying a refreshing glass of Slovenian Wine.
Someone I knew back then and who today lives in Slovenia is British – Graeme Chuter. From 2002 to 2005, Graeme spent many years welcoming both summer and winter guests to the country for the tour operators Thomson and Crystal Lakes & Mountains before in 2005 setting up his incoming tourist agency called Four Seasons Travel, where he looked after the tour operator Holiday Options for whom I worked for over a decade and hence how we know each other!
Graeme continues today to run his business providing single destination, multi-centre and private tour packages across the entire Alpe-Adriatic region, including Italy, Austria, Slovenia, Croatia, Montenegro and Bosnia & Herzegovina. He has a real passion for travel and is especially enthusiastic about discovering some of the lesser known corners of Europe, enjoying nature and unspoilt towns, and exploring the local history, culture, food and especially the wines. So for a lesson on good Slovenian wine here is Graeme's blog:
A Secret Too Good Not To Share
Hands up if you are aware that Slovenia is a wine-producing nation. Hands up again if you have ever tried Slovenian wine.
Either way, let's get better acquainted with Slovenia's wine regions, the impressive selection of wines produced, and how these can be best discovered and enjoyed.
Slovenia is one of the smallest countries in Europe, located at a central point where the west meets east, and where the Alps meet the Adriatic. Numerous sub-climates across the country are influenced by cool alpine breezes from the north, and the southerly winds from the Mediterranean, creating perfect conditions for cultivating vines and making fabulous wine.  
As might be expected, in terms of total output Slovenia is a relatively small producer, certainly compared with its mighty neighbour Italy.
Therefore, wine export volumes are also relatively modest and you would do well to find a bottle of Slovenian wine on a supermarket shelf outside of its borders, and especially further afield in countries such as the UK or the US. But look more closely and you could find a couple of white varieties available in the UK at Marks & Spencer and Waitrose, supplied by two of Slovenia's largest wine co-operatives. Typically though, you would need to go to a specialist wine outlet to pick up a bottle or two.
There are several decent size co-operatives in the country, where each one typically has a hundred or more member farms contributing to the production. The grape quality across the different vineyards is stringently monitored by the co-operative oenologists, and this enables them to produce distinctly different lines. From mediocre so-called "open wines", to medium quality fresh wines, through to the highest quality premium wines – aged barriques produced from the best-rated fruit, requiring optimum weather conditions. 
A Matter of Quality Over Quantity
The vast majority of the 28,000 Slovenian wine producers tend to be small and family-run, where the emphasis is on quality rather than quantity, and where long-standing family values and traditions have been meticulously followed and passed down through several generations.
The usage of supplementary chemicals and pesticides is typically kept to a minimum, and most of the grapes are picked by hand, even by the largest producers.
For many boutique wineries, gaining official recognition as an "organic" producer has been relatively easy since only minor tweaking of their methods has been required.
The Wine Regions of Slovenia
The wine regions and grape varieties in Slovenia are surprisingly diverse.
Slovenia has three primary wine regions which are located in the southwest of the country (Primorje), the southeast (Posavje) and the northeast (Podravje). These three regions are divided into sub-regions as illustrated in the table below.
The overall Slovenian wine production of around 80 million litres per year comes from approximately 70% white and 30% red grapes, using many international and indigenous grape varieties, and resulting in a mouth-watering selection of white, red, rose and Slovenian sparkling wine.
Primorje is located in the extreme west of Slovenia, adjacent to the Italian border. The corresponding administrative region of Primorska (meaning "by the sea") is split into two, north and south. South Primorska is located on the Adriatic coast and also includes an inland area known as the Slovenian Karst. Here the climate is classically Mediterranean, with reasonably mild winters and hot and dry summers. The deep reddish-brown soil is particularly rich in minerals, which makes it ideal for producing Refošk, Teran and Malvasija. North Primorska includes the sub-regions of Goriška Brda and the Vipava Valley. As well as being vineyard country, the region is also known for growing many other different fruits in abundance, such as cherries, peaches, nectarines, figs and olives.
The climate is also very hot and dry during the summer months, but the land is cooled by fresh winds coming down from the nearby mountains during the nights, and occasional downpours of rain provide a sufficient supply of water. The landscape here is stunningly beautiful – with lush green rolling hills carpeted by vineyards and cypress trees, peppered with "Italian style" medieval hilltop villages, ornate bell towers and stylish castles. Goriška Brda and the nearby Vipava Valley offer the widest range of grape varieties, compared with Slovenia's other wine regions.
The good Slovenian white wines are produced in the largest volumes, including Rebula, Zelen and Pinela – indigenous varieties rarely found anywhere else outside of Slovenia – plus Chardonnay, Sauvignon Blanc, Pinot Blanc, Pinot Grigot, Malvasija, and Rumeni (yellow) Mušcat. In smaller volumes but with good quality, the red varieties include Cabernet Sauvignon, Merlot, Syrah (Shiraz), Pinot Noir, Barbera, Teran and Refošk.
The Regions of Posavje and Podravje
The Posavje and Podravje wine regions are located in the east of Slovenia and take their names from the rivers which flow through each area – the Sava and the Drava. The administrative territories which are covered here, running from north-east to south-east are Prekmurje, Štajerska, Dolenjska, and Bela Krajina – bordering Austria and Hungary in the north and with Croatia to the east and south. For the most part, the landscape is made up of gentle ranges of hills and wide river valleys, with a temperate climate. The cultural feel here is a mix of Slavic and Germanic, compared with the obvious hints of Italy in the west. 
The east is best known for its outstanding white wines and sparkling wines including Laški Riesling, Renski Riesling, Rumeni Mušcat, Mušcat Blanc, Pinot Blanc, Pinot Grigot, Chardonnay, Sauvignon Blanc, Traminec, Šipon (Furmint) and Kerner. The red varieties include Modra Frankinja (Blaufränkisch), Pinot Noir, Cabernet Sauvignon and Merlot. It is probably fair to say that producing top-notch reds is more challenging here compared with the southwest of Slovenia because of the cooler climate.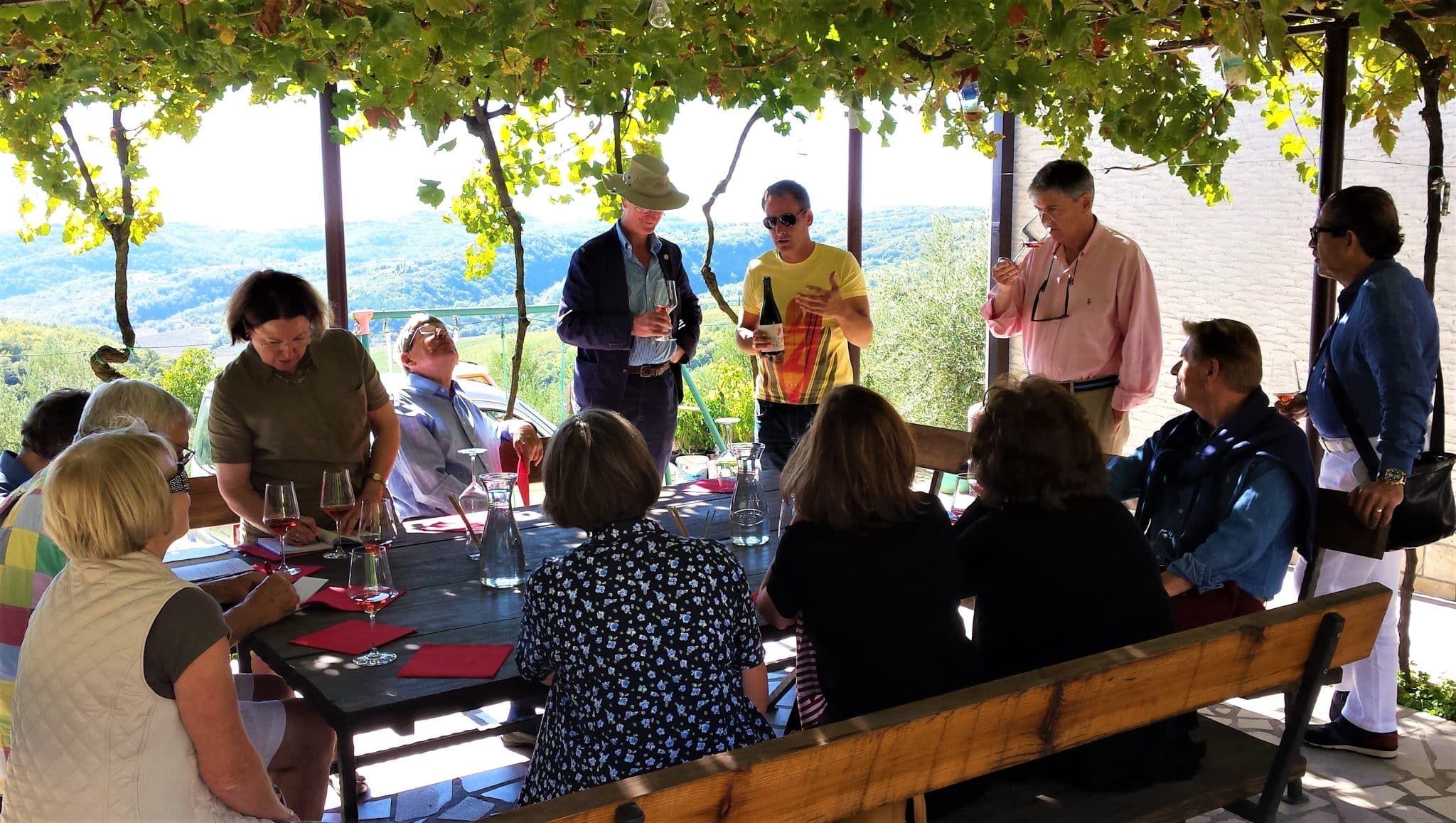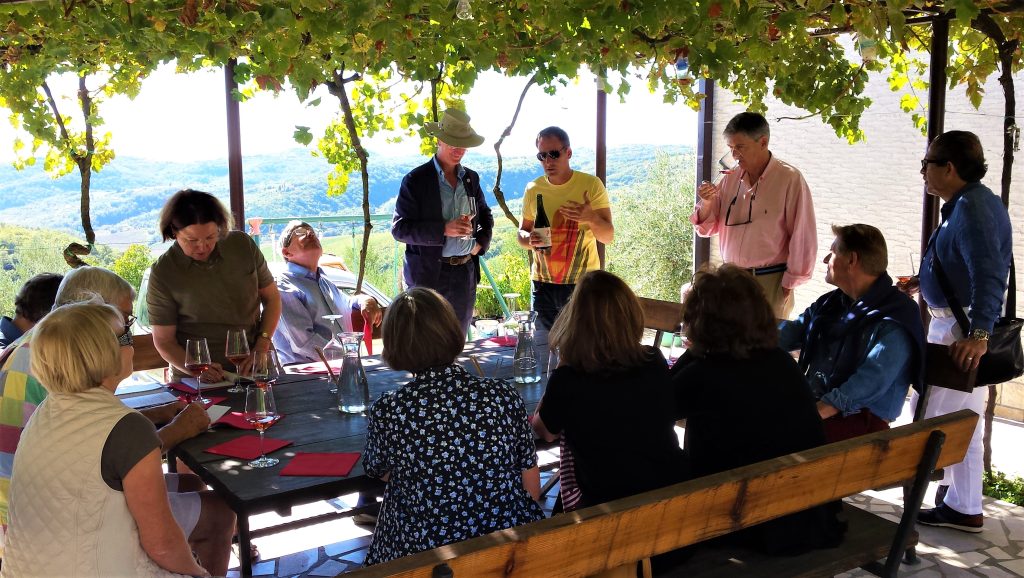 The Rise of The Cuvees and Orange Wine
There have been two particularly noticeable wine trends in Slovenia over recent years, which are the increasing popularity of cuvées and the growing fascination with orange wine, the so-called "amber revolution".
Let's start with the cuvees. Even the smaller size producers typically cultivate a good range of grape varieties, with distinctly different characteristics, and this has enabled them to experiment with creating different blends of whites and reds. Overall the results have been pretty impressive because the vintners have been using mostly good quality fruit and ageing the wine in oak barriques, to produce premium cuvée wines. Some of my favourite Slovenian "smooth reds" are cuvées, including the Prinčič Mihael Rdeče which combines Merlot, Cabernet Sauvignon and Pinot Noir, and the Sveti Martin Tresse Rdeče which uses Barbera, Merlot and Passito, and the Klet Brda A+ Rdeče which brings together Merlot, Cabernet Sauvignon and Cabernet Franc.
For anyone who might be less familiar with the term "orange wine", it is created from white grapes, where rather than pressing the grapes immediately after harvesting and before fermentation, the grapes are allowed to macerate for around a week. The skins are gently crushed but remain intact before these are pressed. This allows more of the skin matter to pass into the juice, resulting in higher levels of acidity and tannin, and adding a rusty brown-orange tint to the colour of the wine. The grape varieties which work particularly well are Pinot Grigot and Rebula, and the best orange wines tend to be matured in lightly toasted oak or acacia barrels. A couple of my good Slovenian wine favourites include the Emeran Reya Pinot Grigot and the Žorž Pinot Grigot.  
Organised Wine Tasting Tours in Slovenia
It is possible to arrange tastings directly with some wine producers, but you should bear in mind that the vineyard owners are typically farmers first, and hosts second. This means that they are often difficult to get hold of, and even harder to pin down for a scheduled visit.  On top of this, who the heck wants to drive anyway?!!
Therefore, you might well be better off arranging cellar tours and tastings with an experienced wine tour provider, who can co-ordinate multiple vineyard visits within a 1-day tour, or over several days as part of a private wine tour package. My incoming travel agency – Four Seasons Travel, Slovenia – has been arranging custom-made wine tours for individuals and groups for almost twenty years, establishing good relations and personal friendships with some of the Slovenian wines top producers. Solo travellers and couples are more than welcome, but some wine tasting venues require minimum group sizes of four, six or eight persons.
Four Seasons Travel Slovenian wine tours include a good balance of the larger-size co-operative producers and smaller, family-run, boutique wineries. Tastings tend to be informal and relaxed, allowing you to try an interesting mix of varieties, whilst enjoying the hospitality of the personalities behind the wines. Samples tend to be on the generous side, and your host will no doubt want to twist your arm for an extra glass – or perhaps "just one for the road", as we might say.
Hands up who knows a lot more about Slovenian wine now? Or should that be bottoms up?!!
Thank you for reading and hopefully see you soon.