Top 10 Seychelles Hotels
Choosing my Top 10 Seychelles Hotels is like choosing which of your children you love the most. It's impossible. Each hotel, like each island, offers something very different depending on what type of traveller you are.
If you have a family – there are some great options with heaps of activities. For honeymoons, there are some of the most idyllic luxury Seychelles hotels in the World. If you seek adventure, nature, or solitude then you have a choice of properties set within some of the best natural scenery anywhere on the planet.
On top of that, you need to find the right island or a combination of islands that mirror your requirements. A holiday to Seychelles takes planning and organization. If you get it right, you will have a trip that, like mine, you will remember forever.
I visited the Seychelles in 2019 and saw a whole bunch of hotels on four different islands. The majority of them I loved. Some were not for me. That's life – we can't love everything!
Of course, I did not visit every hotel in the Seychelles so there are properties that many of you will feel I should have included. This list is based on what I saw and not what I have heard.
Here are my Top 10 Seychelles Hotels.
This small affordable boutique hotel offers above all a warm and friendly welcome. It is located on one of Mahe's most beautiful beaches. The little beach is just half a dozen steps down from the delightful pool and dining area. The decor throughout the hotel is fresh and modern and in keeping with typical Seychelles style and traditions.
You will stay in one of the 12 chalets that are set into the hillside behind the hotel. They provide guests with stunning views whether from your balcony or whilst wallowing in your private plunge pool.
The locally made Takamaka rum that is on display in the bar was particularly popular and made for just the best cocktails at sunset.
While the Carana Beach hotel is simple and small its welcome and location make a few nights here worth every rupee!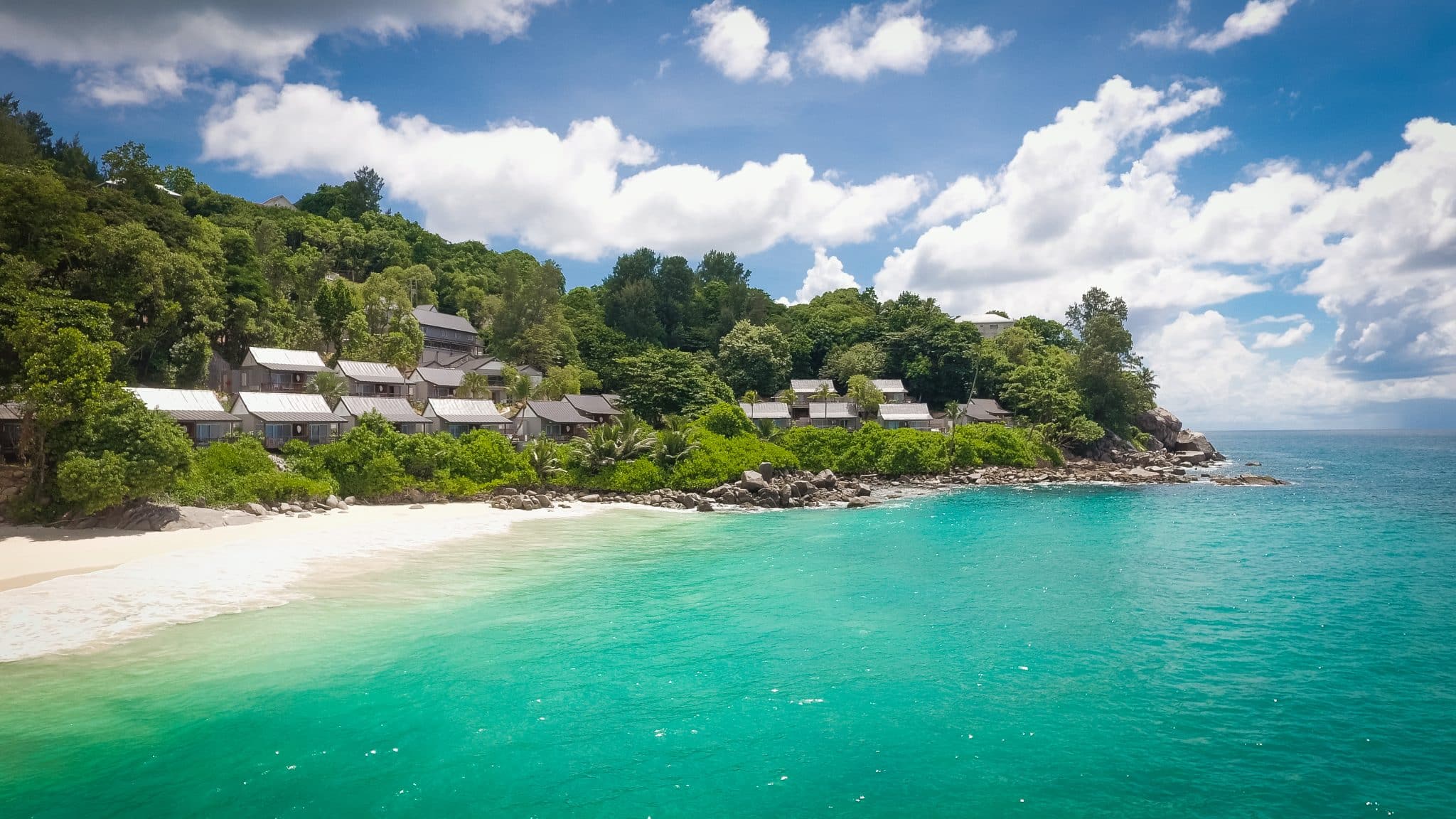 If you love modern, luxury hotels then the Raffles Seychelles Resort and Spa is for you. At first, I was not taken with it but as with so many places in the world, sometimes you just need to stay and experience a hotel before making your judgment.
The dinner I enjoyed that night of freshly caught fish accompanied by local organic produce on the terrace of the Curieuse restaurant was probably the best meal I had during my stay in the Seychelles. That night the restaurant was buzzing with all of the tables taken with guests who were not only enjoying the food but also the entertainment as we were all serenaded by an excellent guitarist who just set the mood.
The 86 private pool villas built into the hillside surrounding the hotel are exceptional. They provide all the facilities that you need to ensure a good night's rest before waking up to dreamy ocean views and the sound of the Indian Ocean.
A highlight for me was the huge outdoor pool with views across the Indian Ocean.
The Raffles Seychelles is without a doubt one of my top 10 luxury hotels in the Seychelles.
One of the most popular family-friendly hotels in all of the Seychelles. The Ephelia comes with plenty of facilities to keep everyone entertained. The Constance Ephelia with two stunning beaches is located on Mahe's northwest coast overlooking the Port Launay National Marine Park.
The hotel has an excellent choice of contemporary rooms and villas. Some are positioned on the private hillside ensuring stunning morning views. Family villas with up to 3 bedrooms accommodate those large party sizes.
The resort does not disappoint when it comes to dining and entertainment with a choice of five restaurants and bars. A choice of water sports and land sports include zip-lining, rock climbing, squash, tennis, windsurfing, and diving facilities. There is a superb kid's club with daily activities and an enormous spa for Mum and Dad to rejuvenate.
I enjoyed the evenings here at the Constance Ephelia. The great dining and a lively after-bar give those who have packed their dancing shoes the chance to shine!
Located in the exclusive south end of Mahé on the iconic Baie Lazare, this elegant luxury resort is ideal for those looking for that mix of relaxation and when the mood takes, a wide choice of activities.
The uninterrupted 800-meter white-sand beach is one of the finest stretches of coastline in the Seychelles. Activities here include a PADI diving centre, kayaking, snorkelling, paddle boarding, and surfing. If the beach is not your thing, then there is also a huge Olympic-sized swimming pool and gardens full of palm trees. For those looking to enjoy land-based activities, there is a fitness centre, spa, tennis, kids club, volleyball, tortoise feeding area, and nature walks.
A variety of dining options include four bars and restaurants offering international cuisine, and delicious seafood and for those looking for romance and solitude, there is beach dining available too.
The 148 contemporary rooms and suites overlook the ocean and tropical hillside.
One of my highlights was at the end of the day as you are coming off the beach and enjoying one last refreshing drink you will see that the palm trees are starting to see some activity. For this is the time that fruit bats come out to feed making a wonderful spectacle.
The Kempinski Resort on Mahe unsurprisingly makes my Top 10 Luxury Hotels in the Seychelles.
A luxury hotel and home to the only 18-hole championship golf course in the Seychelles. As a little treat on arrival, before checking in, we had to wait outside the large doors to reception while a large gong was sounded to announce our arrival. I am not sure if that happens for every guest but still, I loved the gesture and I do hope it happens for you too!
The hotel is set amongst really lush vegetation that leads down to three separate beaches – Petite or Grande Anse Kerlan and Anse Georgette. Each offers something a little different for sun worshippers or water sports lovers.
The usual very high-quality Constance service is evident at the three restaurants, bars, and also at the children's club. The breakfast was outstanding and probably the best that I experienced on my Seychelles trip. Golf is complimentary for guests which given the quality and some of the vistas you will enjoy is quite a treat.
There are 9 villas and 96 suites all of which are spacious and of the quality, you expect from a five-star hotel.
One particular memory I have is getting up at sunrise to go and see what wildlife I could discover down on Anse Georgette beach. On route via part of the golf course, I stumbled across some huge holes that were populated by two enormous land crabs – I certainly would not want my golf ball disappearing down one of those holes!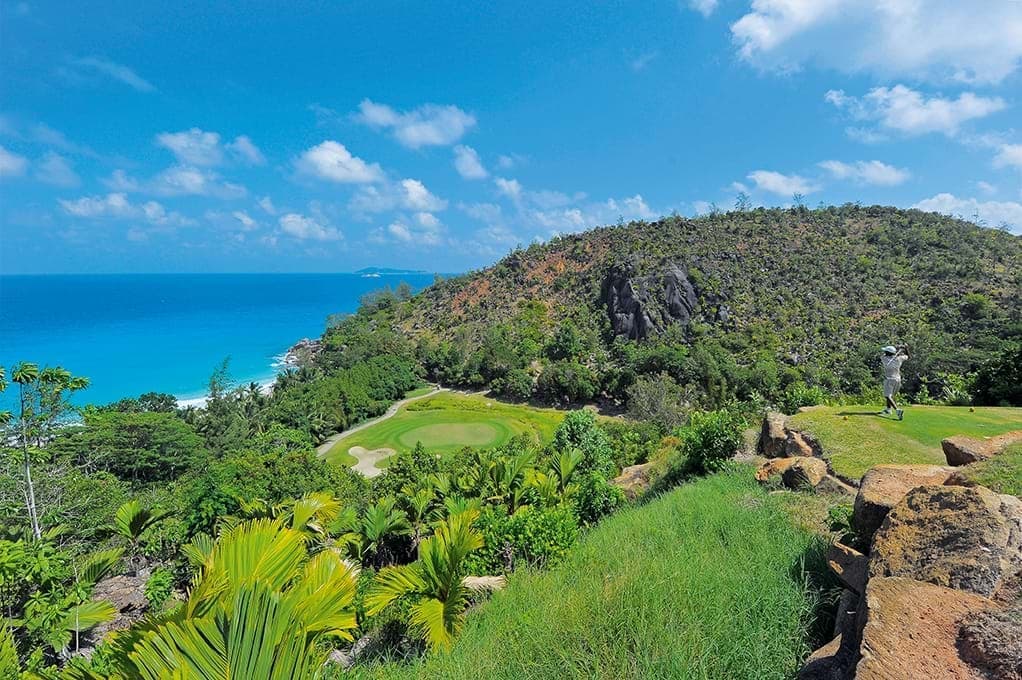 The Banyan Tree Seychelles is the location of the former home of The Pink Panther actor Peter Sellers and the Beatles star George Harrison. The day I visited it was pouring with rain yet I could just imagine these stars of a bygone era sitting amongst the luxurious colonial décor and reading or writing. The Banyan Tree Seychelles is truly a place to switch off.
The magnificent Intendance Beach that sits in front of the hotel is magnificent. The only problem is the tide here is strong so bathing is recommended at the far end of the bay where it is more sheltered.
The facilities on offer here include a choice of 6 restaurants with much of the produce gathered from the vegetable garden on site. To while away the time there is a world-class spa and a sumptuous infinity pool.
The property offers 60 villas of which there are seven villa types, with ocean views or of the hillside around.
As I was leaving the hotel the sun came out ensuring that I truly appreciated the beauty of this location. It's worth noting that this hotel has been closed for two years as it has been undergoing major renovations. We await the reopening with great interest. Who knows, following the refurbishments it may be worthy of going higher in my Top 10 Seychelles hotels.
This tiny family-run hotel is a little gem. The hotel has a restaurant where you can take a continental or à la carte breakfast. The raised outdoor swimming pool is a key feature along with the little rustic bar for some of the best cocktails on La Digue. Everywhere you go you will never be far from the incredible views out to Anse La Reunion Beach and the Indian Ocean.
As is normal on the island of La Digue, cycling is the mode of transport, and bike hire and bike parking are available at the hotel.
Each of the 9 rooms has a small balcony and comes with air conditioning,  a flat-screen TV, a safety deposit box, and a private bathroom with a shower.
A stay at Le Nautique Luxury Waterfront Hotel is special and to prove its popularity you need to book many months in advance.
This small romantic hotel is typically Seychellois and a great place for couples to kick off their shoes and unwind. The two restaurants serve up superb fresh locally produced Creole cuisine with sensational sea views across the bay. Whilst the swimming pool does not have sea views, the cool little poolside bar more than makes up for it with its choice of delicious cocktails and friendly service.
The 32 colonial-style rooms and suites are set in pretty gardens on a small hillside that encircles the bay thus ensuring every room has tremendous views from their sea-facing verandah across the Cote d'Or Bay.
I particularly liked the water sports center where you can organize several different activities such as scuba tuition and snorkeling.
The Hotel L'Archipel feels like home – you are just at ease from the moment you check-in. If it's authentic Seychelles hospitality in a magical setting then you really can't go wrong with the Hotel L'Archipel.
I loved this hotel so that's why it is number 3 in my Top 10 Seychelles Hotels!
The Domaine De L'Orangeraie is a mix of rustic-chic and contemporary styles and is perfect for couples looking to bask in a magical romantic location.
The 63 villas are tucked away amongst tropical gardens and into the hillside however where this property reaches another level is with the location of its restaurants, bars, wellness centre, and pool area.
The stunning infinity pool overlooks the Indian Ocean and the stylish sundeck with comfortable seating draws you in. The resort is set amongst magnificent gardens and is just yards from a gorgeous white sandy beach where you can try your hand at snorkelling or canoeing among many other water-based activities.
Two restaurants offer Mediterranean and Creole dishes. Two bars offer cocktails in an open-air lounge bar environment with views that are out of this world.
This luxury hotel on La Digue ticks every box and is worth the journey alone!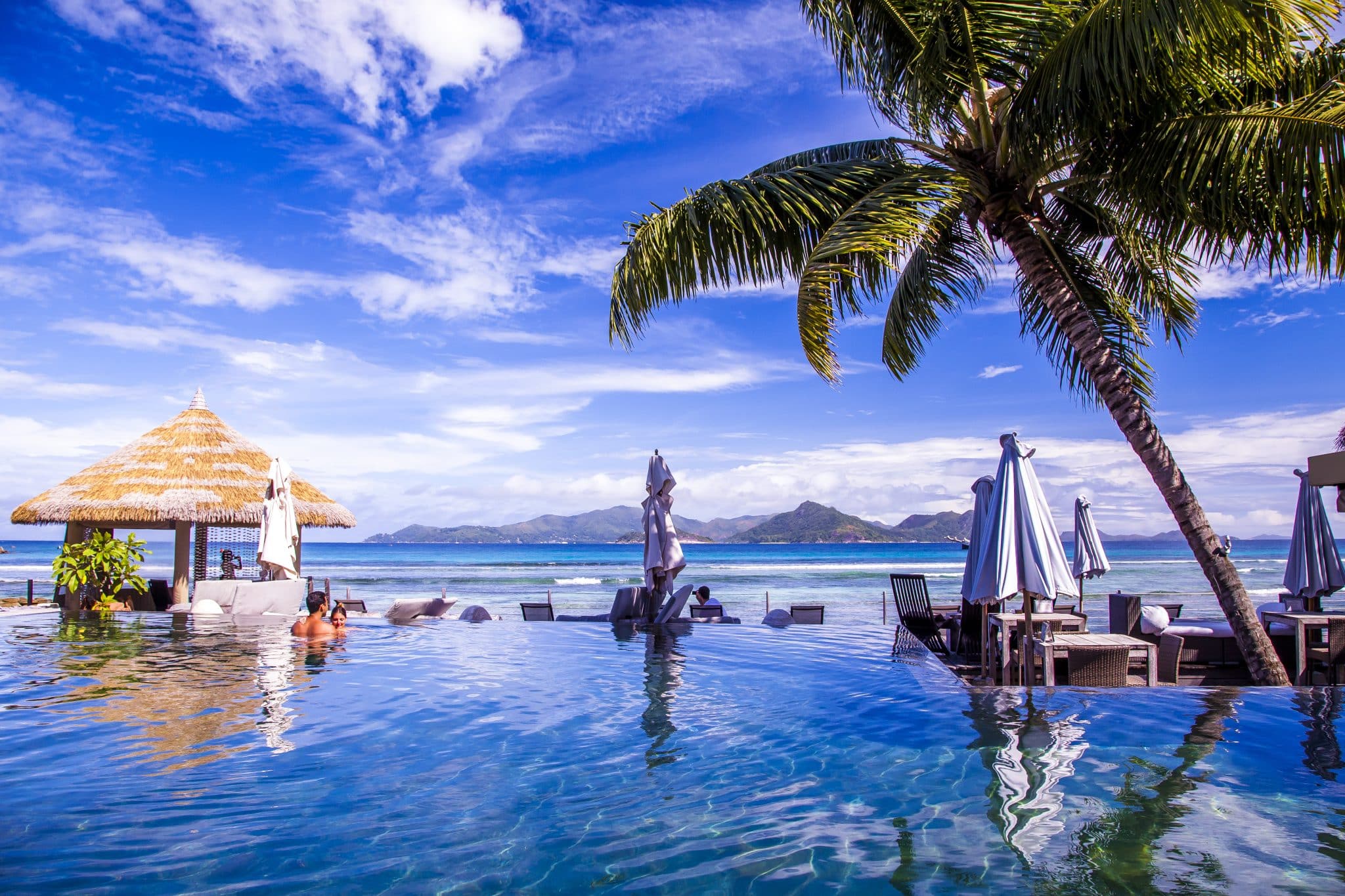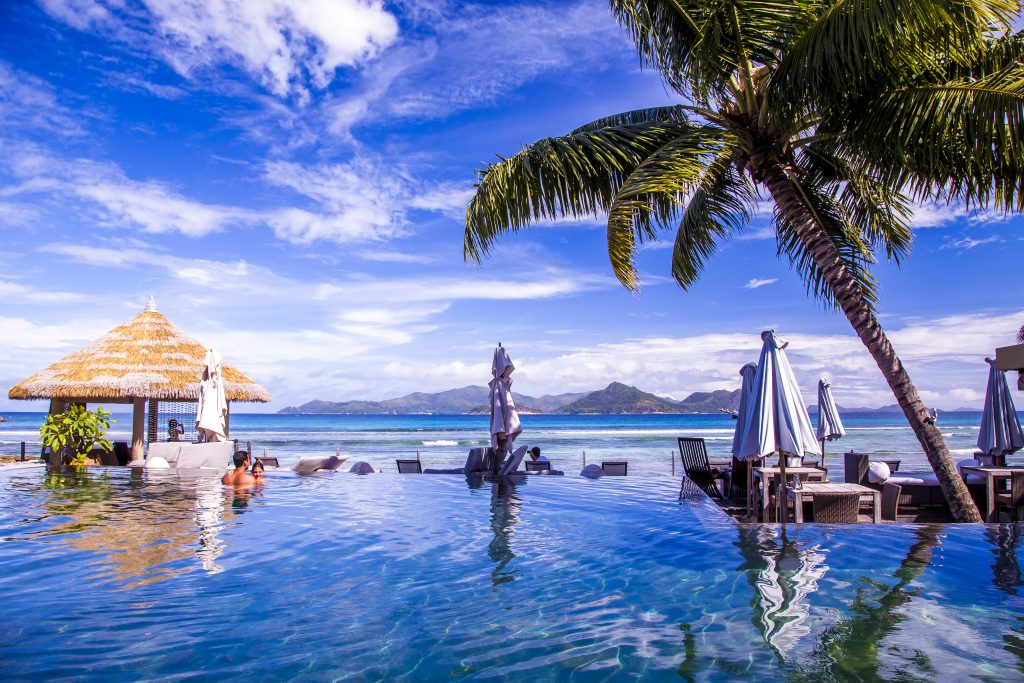 Digital detox was how the manager of the Denis Private Island Hotel in the Seychelles described it. With no Wi-Fi available on the island aside from in their library/TV lounge, this truly is a place to switch off and remind ourselves what is important in our lives.
Denis Private Island was my Seychelles experience. Landing on the grass runway and being picked up by a golf buggy and whisked straight to my beach cottage was the stuff of dreams. There are just 25 cottages, all discreetly positioned and just a few steps from the beach.
The lush vegetation on the island which is surrounded by coconut palms, soft white sand, and coral reefs is everything you expect of a luxury private island resort. Swimming off the beaches is heaven.
The island's restaurant serves up incredible breakfast, lunch, or dinner with fresh produce straight from the island's farm and gardens which you can tour. There is a deck for outdoor dining, an open-air bar/lounge, a wine cellar, and a snooker table.
Denis Private Island is positioned on the edge of the Seychelles Bank. A highly trained and professional PADI Dive Centre is affiliated with the resort. They provide a range of dive excursions and courses for beginners & advanced divers. Game fishing is also popular in the hotel.
For those looking to take part in land-based activities, there is tennis, bicycles, nature walks, and various jogging trails.
An extensive range of spa treatments is available, and these are taken from the comfort of your cottage. When I visited there was no pool.  I believe today there is, so this will make your holiday even more enjoyable – if that were possible.
Denis Island is committed to the ongoing rehabilitation of the natural environment on the island as well as the protection of several endemic species such as the Paradise Flycatcher, Seychelles fody, and the Seychelles warbler.
I woke up very early one morning, jumped on my complimentary bike, and headed down to the runway (it's grass and there is just one flight a day). I found a remote beach and watched the sunrise as terns hovered around me and hermit crabs scuttled along the beach. This was how I imagined the Seychelles and it was a moment that I will always remember. In my opinion, Denis Private Island is number one in my Top 10 Luxury Seychelles Hotels.
The Best Seychelles Hotels
If you love my Top 10 Seychelles Hotels, then you will need further information on how to book a trip. Contact your local travel agent, a specialist tour operator, or the Seychelles Tourist Office. You may also like to check out my Seychelles guide.