Wildlife Of Canada
Some of my most memorable travelling adventures and experiences have taken place in Canada – whilst I love the cities, and the people it is the wildlife of Canada that grabs my attention the most.
Back in 1986 I won a holiday at a travel industry event to Hawaii in a raffle with Canadian Pacific Airlines and stopped en route in Vancouver. From that brief 48-hour stay my love of the country was cemented.
In the mid-nineties, I travelled through the heart of the US ending up in Toronto where I stayed with an old school friend who had landed a job with a bank. I loved Toronto both in the cosmopolitan city itself and also just out of town where I skied at the pretty Blue mountain resort.
Fast forward to 2018 and it was my 50th birthday. I needed an adventure so once again it was a US road trip that was calling. This time I took a journey from New York up through Cape Cod followed by an epic drive along the "Old Canada Road" up to Montreal and on to Quebec where I disappeared from all human trace (and the internet) in the sensational national parks north of the city.
I intended to see bears and moose however I was unlucky – in fact, all I saw aside from the awe-inspiring scenery was a few birds. If I ever choose to try to discover the wildlife of Canada again then it's with the specialist Prestige Travel who I would contact. Their knowledge of the country, its attractions, the best places to stay and also the wildlife is outstanding.
If you need proof – here is their blog on the wildlife of Canada!
Natures Best
Canada offers a wide range of wildlife diversity and some of the most accessible viewing opportunities in the world. From the Atlantic Provinces to British Columbia on the Pacific Coast you're spoilt for choice; whale watching, a host of other marine wildlife, birds galore, black, grizzly, polar and even the elusive Spirit Bear, elk, moose, deer, mountain sheep and goats….the list is endless.
There is a host of pre-bookable excursions available together with multiple nights' stays at lodges specifically aimed at wildlife viewing but throughout the Rocky Mountains, you can often see black bears, elk, mountain sheep & goats along the roadside.
Here is a brief overview but, of course, for more information just contact us at Prestige Holidays Canada!
Atlantic Provinces
From either Digby in Nova Scotia or St Andrews by the Sea in New Brunswick, enjoy a boat excursion looking for whales in the Bay of Fundy, where in the summer, up to 12 species of whales are to be found. Used as a feeding ground and as a nursery, the waters are rich with krill, squid, and schools of young herring. Common sightings are Humpback, Minke and Finback whales while other species include Sei, Pilot, and North Atlantic Right whales together with quite an elusive Blue, Sperm, Beluga and Killer Whales.
During June, Twillingate in Newfoundland offers a chance to see both icebergs and Humpback whales on one excursion. When taking the trip from Bay Bulls, there is the chance to spot puffin and whale. Gros Morne National Park is home to both moose and caribou.
The Cape Breton Highlands area of Nova Scotia boasts a large population of moose and black bear and from Cheticamp, you can take a whale watching excursion and frequent sightings include Pilot, Minke and Finback Whales.
Quebec
From Tadoussac & Baie-Sainte-Catherine take a whale-watching trip on the mighty St. Lawrence River at the mouth of the Saguenay River. Recognised as one of the best whale watching areas in the world, the waters are rich with krill and attract Minke, Humpback, Finback and Sperm whales and also Blue whales. There is also the chance of seeing Beluga whales as they are the only cretacean species to live in the St Lawrence year-round.
Not far from Tadoussac is Sacre-Coeur and here you can take an excursion to see black bears and the occasional beaver. Watch the bear in their natural environment as your guide offers commentary on specific habitat needs and behavioural traits.
Ontario
Algonquin Provincial Park is home to moose, black bear, moose, porcupine, white-tailed deer, and wolves. Generally, moose are best spotted early morning/evening in ponds and lakes feeding on lilies, pondweed, and grasses. There is also a host of birdlife in the park including great blue heron, loon, ducks, jay and chickadees to name just a few.
Manitoba
Riding National Park offers the chance to see moose, black bear, elk, and even bison together with a wide range of birdlife and butterflies. However, Manitoba is best known for polar bear viewing with Churchill, on the Hudson Bay, having the nickname of 'Polar Bear Capital of the World. In summer, the Bay is home to around 60,000 beluga whales who come for feeding, mating and giving birth in the warm waters. In summer too it's also quite possible to see polar bears as they leave the melting sea ice.  Other sightings include arctic fox, hare, seals, and a host of nesting or migrating birds
Between October and mid-November, visitors flock to Churchill to see the majestic polar bears who are waiting for the winter icepack to freeze on the Hudson Bay. Tours by specially designed vehicles take you to the Churchill Wildlife Management Area where the bears congregate; they are very curious and far from shy so sometimes they come right alongside the vehicles – a great photo opportunity! As well as polar bears you'll often see an arctic fox, arctic hare, ptarmigan, and even snowy owls.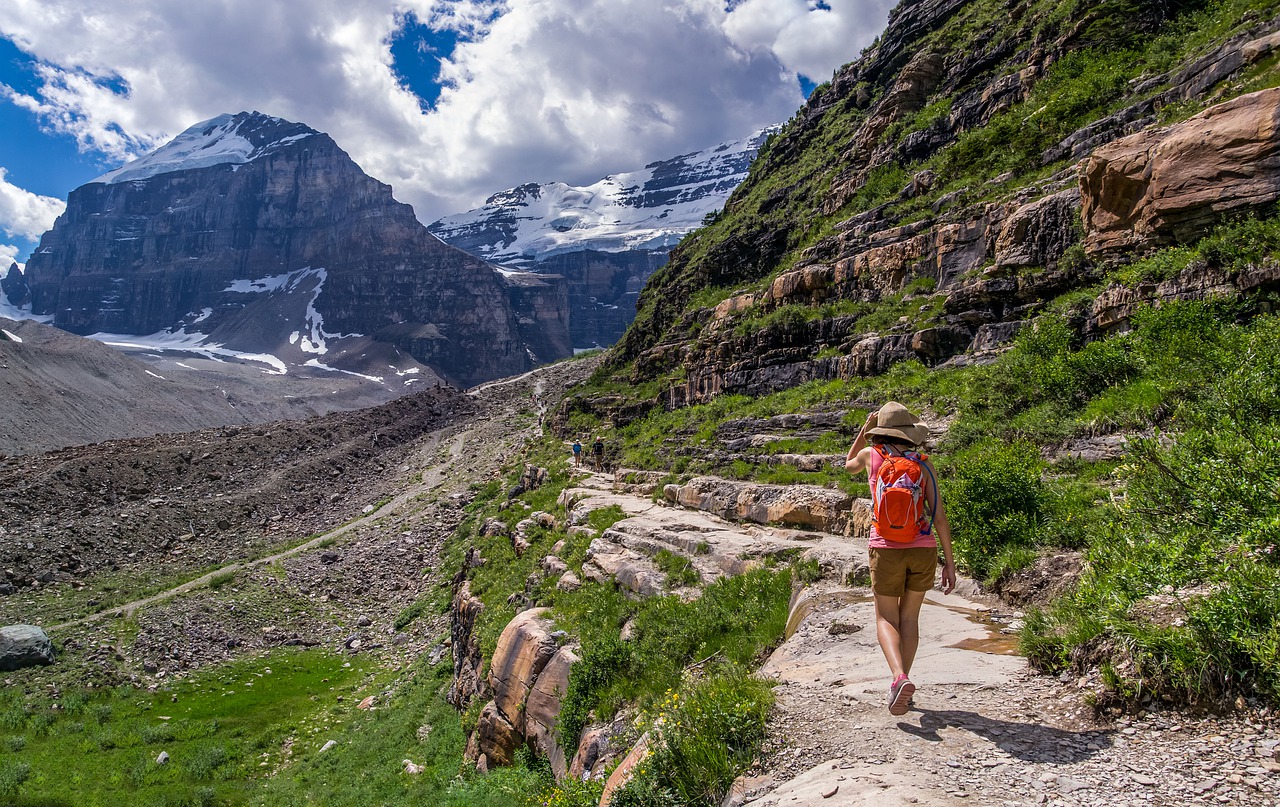 Alberta
Banff and Jasper National Parks are home to a cornucopia of Canada's Wildlife including black and grizzly bears, mountain goats and sheep, elk, deer, moose, wolf, and coyote and many of these can be seen while driving around. In both Banff and Jasper towns, there are guided wildlife viewing excursions with local guides who know the area so well and therefore know where the best opportunities are to see certain animals.
For example, in Banff, mountain sheep can often be seen around Two Jack Lake viewpoint and elk around Vermillion Lakes. Lake Louise offers the best chance of seeing grizzly bears and a ride on the sightseeing lift is recommended as they can often be seen on the ski slopes feeding on clover, grasses, and wildflowers.
The road between Lake Louise and Jasper is the Icefields Parkway, recognised and one of the top 10 drives in North America. The only time you'll see a traffic jam is when there's wildlife roadside; look out for cars pulled off to the side and see if it's a 'bear jam'….the name says it all!
In Jasper, the road leading to Maligne Lake is a wildlife corridor with frequent sightings of black bears, mountain sheep and elk along the roadside.
British Columbia
Where to start? The province of British Columbia will enthral you with its diversity of wildlife viewing due to the variety of landscapes. Just to whet your appetite here are some ideas:
Vancouver Island – 3 resident pods of Orca inhabit the waters around Victoria and sometimes a pod of transient Orca can be seen. Humpback whales, dolphins, porpoises, seals, sea lions, sea otters and a myriad of sea birds can be seen including bald eagles.
Tofino – Specific excursions can be taken to view whales (mainly Pacific Gray) and other marine wildlife while, at low tide, you can enjoy a black bear viewing tour. The bears come to the shoreline in search of their favourite food, rock crabs, but they're also over-turning rocks looking for clams and other molluscs.
Telegraph Cove – The area of Johnstone Strait is recognised as one of the world's best areas for Orca viewing but there's also a good chance of seeing Humpback as well as other marine wildlife.
Campbell River – Whale watching excursions operate from here to Johnstone Strait and full-day excursions travel to Bute or Knight Inlet looking for grizzly bears during September & October.
Grizzly Bear Watching
Grizzly Bear Viewing Lodges – Offering multi-day packages there are some amazing lodges in remote areas specifically aimed at Grizzly Bear viewing. For example, Knight Inlet Lodge (spring to late August – mum & cub viewing while late August to mid-October – it is viewing bears feasting on salmon), Farewell Harbour Lodge (bears and whales) and Great Bear Lodge. There's also Spirit Bear Lodge looking, as the name suggests, for the elusive Spirit Bear (Kermode bear) which is a black bear with a double-recessive gene which gives the bear creamy-coloured fur.
On the mainland, there are also bear viewing lodges such as Tweedsmuir and Wild Bear Lodge.
Whistler offers a great chance of seeing black bears as the area is home to around 80 bears, and they can often be seen on the ski slopes feeding on wildflowers, clover, and grass.
As you can tell British Columbia offers amazing viewing opportunities for bears, whales and other marine wildlife. Bear viewing day excursions or lodges for multi-day viewing are also available. Whale watching can be by boat, zodiac or even kayak!
The Yukon
Another province which offers more amazing wildlife of Canada is the Yukon. Chances are you may see black bears, red fox, deer, moose, wolves, Dalls' sheep, woodland caribou, lynx and more.
As there's little traffic, animals think nothing of just walking across the road so always keep a lookout.
Contact Information
Prestige Travel are specialists for  Canada and Alaska in the United States of America. Each of their holidays is tailored to your specific needs and interests. The unique combination of cities, countryside, mountains, train journeys, cruises and wildlife make for many fantastic and varied memories to cherish.
You can book Prestige Travel to Canada with your local travel agent or contact them as below.
T: 01502 567222
E: Canada@prestigeholidays.co.uk
W: www.prestigecanada.co.uk