A Montenegro Road Trip
This Montenegro summer holidays travel blog describes my journey back in October 2013, when I had the opportunity to take, what turned out to be, a fabulous Montenegro road trip to discover some of the best places to visit and things to do in this beautiful European country. From the beaches of the Adriatic to the old-world charm of the ancient towns I had heard so much about this mysterious country – it was time to pay a visit.
I was on holiday in one of my favourite cities in the world, Dubrovnik in Croatia however it was not long before I got the urge to jump in the car and drive. Now given that over the previous decade I had covered almost every square inch of Croatia and her Islands and having already travelled around Bosnia and Herzegovina, it provided me with the chance to get a taste of another neighbour, Montenegro.
I was staying at the Grand Villa Argentina, one of Croatia's premier hotels, with breathtaking views across the Adriatic and the famous old town. On that crisp cloudless October morning, I remember enjoying a five-star breakfast on the terrace of the hotel with my morning reading. On this occasion, it was not the Dubrovnik Times, but instead, a road map planning my route so that I could work out the places to see and the things to do in Montenegro, this relatively new European country. I was excited!
From Dubrovnik to The Border
The previous evening I had arranged my car hire for the day. You can always do this through your hotel reception or via the many car hire locations that exist in and around Dubrovnik. One key point to note here is that you need to mention, at the time of booking that you are driving into another country. It is just so the car hire company can issue the relevant paperwork to get you over the border without delay.
So at 8 am with a belly full of coffee and croissants, I turned the key of my little VW Golf and headed out onto what is called the Adriatic Highway taking me initially past the popular Croatian holiday resorts of Mlini, Plat and Cavtat. Now normally, driving past Cavtat has never been an option for me, especially on a glorious day however today I needed to control my urge to hang a right and to just keep heading south.
Highway To Heaven
Over the years I have often been asked about driving along the Adriatic Highway. Quite simply the road is magnificent and the scenery is some of the finest you will experience in Europe, especially between Dubrovnik and Split. You will however from time to time, like anywhere I guess, get your boy racers or your slightly unnerving small stretch of exposed road but if you are a confident driver it is a dream.
Officially the Adriatic Highway runs from Zagreb, the capital of Croatia in the north to Dubrovnik and then to the Bay of Kotor in Montenegro in the south. You take in three/four countries – Croatia, then Bosnia & Herzegovina, then Croatia again and finally Montenegro. The odd reason for this is that Croatia is a country that is divided into two as there is the smallest stretch of the Bosnian coastline which always causes a few mutterings of excitement when on a tourist coach from Dubrovnik to Split.
Just 20 minutes after leaving Dubrovnik I saw border control up ahead and the large red, yellow, black and slightly intimidating flag of Montenegro.
Now bear in mind this was October so in the peak summer months there are likely to be long delays however on this occasion after a nervous smile to the surly guard, a quick flash of the passport and the car hire documentation, I was swiftly on my way.
Welcome To Montenegro
It is so strange that whenever I cross a border I kind of expect the country to change in the blink of an eye. I am not sure why I always feel like that or indeed what I was expecting from this Montenegro road trip however I guess I just needed to wait that little bit longer.
Within 15 minutes you reach the start of the Bay of Kotor and follow the water edge on your right-hand side. The Bay is also called Boka Bay just in case of any confusion when doing your research. The first town that you come to is the spa and health resort of Igalo with its healing sea mud and mineral water springs.
Closely following this is Herceg Novi – a much quieter town than some of the places to which I was heading but pretty in its own right with a castle and clock tower its most recognised attractions along with a multitude of charming little buildings, a central square and overall a very rustic feel.
Herceg Novi used to be very popular back in the days of the former Yugoslavia of which Montenegro was a part but since independence, the towns of Budva and Kotor have stolen the tourism limelight making Herceg Novi a bit of a hidden gem. In fact, during the winter months, it is very popular with artists who come for the peace, the subject and the conditions – sounds perfect!
A Picture Postcard Moment
Sadly I could not stop long in Herceg Novi as I was conscious of time.
An interesting place of note that back in 2013 I would then have driven past, is Portonovi.  Today this is a new riviera style resort with a fabulous marina and is home to the much-heralded and recently opened One & Only Luxury Hotel & Resort. It looks sensational given its location at the entrance and gateway to the Bay of Kotor. With my tour operating hat on I would say a Dubrovnik and Portonovi two-centre holiday would be just divine!
As I continued to follow the empty road along the shores of the bay and with the sun strengthening I simply had to pull over as I suddenly caught a glimpse of a view and a moment that was to remain with me to this very day.
Through the dark trees and with the early morning mist rising from the bay an elderly guy was out on his wooden boat pulling up his fishing nets. As I switched off the engine and wound down the window I remember closing my eyes and hearing nothing aside from occasional birdsong and the gentle lap of the oar as the fisherman serenely moved from point to point collecting up his nets.
I got out of my car and took a couple of photos and took a long deep breath of fresh air. That was the very moment, a picture postcard moment, when I started to truly appreciate and feel the beauty of Montenegro!
The Bay That Keeps On Giving
Feeling energised and with that moment engrained in my mind I jumped back in the car and continued the gentle drive around the bay. Increasingly you start to notice the sustainable mussel and oyster farms close to the shore and before long I was presented with a further reason to pull over and take in yet another incredible view.
Just along a small track was what appeared to be a derelict little fishing landing site where a boat was beached on the pier in front of a neat jigsaw of perfectly still mussel and oyster beds. Once again this was another wonderful image and memory to cherish.
Within the space of 15 minutes, I had taken in two views that blew me away. I guess sometimes we all get lucky with a photo – or perhaps in Montenegro you simply cannot take a bad shot!
This Montenegro road trip itinerary was certainly living up to the hype!
The Islets
One of the first places I had earmarked for a stop was the town of Perast. Colleagues had mentioned it over the years and I had kept the name in the back of my mind just waiting for the opportunity. As I approached I noticed two islets in the bay which turned out to be the Island of St George and Our Lady of the Rocks.
The island of St George has a chequered past having been destroyed by both pirate invaders and also by an earthquake and today visitors are not allowed on the island.
Our Lady of the Rocks is however open to tourists and a boat trip to visit the church of the same name will cost just a handful of euros. The island celebrates its unique history on the 22nd of July each year when locals take their boats out to the island and throw rocks into the water as according to legend when seamen found the rock they discovered it complete with an image of the Madonna and Child.
With my itinerary already rather predictably running behind I did not join one of the many organised boat excursions but instead took these snaps and continued just a few more minutes before parking up in Perast.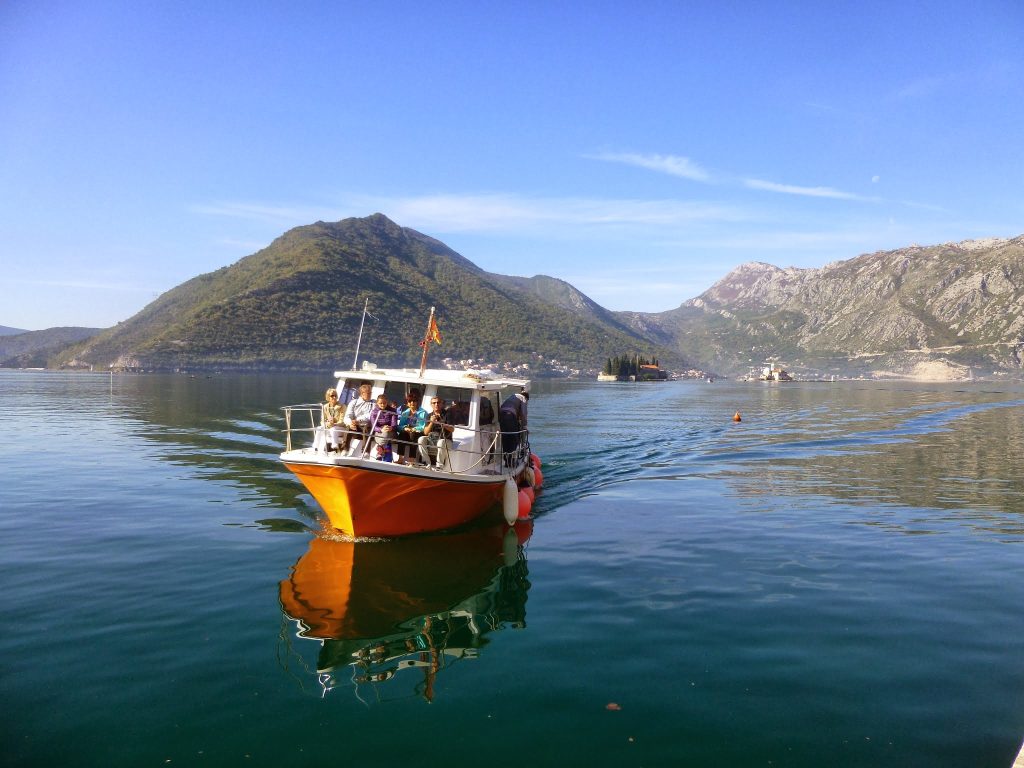 Perast
I knew that the small village of Perast was going to be one of the most beautiful stops when travelling around the Bay Of Kotor and I was not disappointed. The village is located at the base of the Hill of St Elijah – where incidentally from the top, you can get the very best views of Perast and the area.
Located just 20 minutes from Kotor, Perast is famous for the prehistoric human life that has been excavated by archaeologists so it's a great place to visit not only for its beauty but also for its history too.
Perast today is home to just a few hundred residents but also over 30 churches and palaces all of which are in different states of repair from ruins to renovated. Key buildings include the Bujovic Palace, which houses the Perast Museum and the beautiful St Nicholas Church on the main square.
I spent half an hour just pottering around the harbour, some ancient buildings and generally just watching locals going about their early morning routine at a time when there were very few tourists. At either end of the village, there is a stoney beach where in the summer months many will head to catch some rays.
There are also several stunning restaurants with terraces on the waterfront offering a magical location to enjoy those shellfish that have come straight from the bay.
On any Montenegro road trip, Perast is a great stop if anything just to unwind for an hour or two and catch your breath with a glass of white wine (just one for the road mind!) and a couple of oysters before getting on your way again. I loved Perast and would highly recommend a visit if you are on a Montenegro summer holidays
Kotor
If you are looking for a town with old-world charm and with an ambience all of its own then 20 minutes from Perast is one of Montenegro's stand-out towns and my next stop – is Kotor.
As you approach you will soon start to notice how the walls of the town are improbably built into the mountain side snaking their way up high above the bay.
Arriving at Kotor the first thing you are going to need is parking – although street parking is limited it is in my opinion best to find one of the designated car parks although it's worth noting that places are limited here too. Prices are about 1-2 euros per hour and with most visitors staying for a morning or an afternoon that is not unreasonable.
Having left my little VW in a car park by the water I walked along the edge of the harbour past an enormous Thomsons cruise ship, then through a pretty flower market before arriving at the main gate into Kotor old town. There are three gates into Kotor, the River Gate, the South Gate and the most popular called the Sea Gate and an important landmark in the town.
I must admit when I saw the cruise ship my heart sank as I did not want my experience ruined by dodging thousands of tourists all intent on getting their brief taste of Kotor. However that is exactly what I was doing, I was just in a different mode of transport, so I slapped myself and came up with an age-old plan. I just went in the opposite direction to those pesky tour guides. Genius!
A Tour of Kotor
As you walk through Sea Gate the town is there before you including the clock tower with its two faces that was built in 1602 and which has both Baroque and Gothic influences. This is a great rendezvous point in what's known as the Old Arms Square. Under the clock tower is a Watchmakers shop that has been there almost as long as the clock … I guess you could say since the beginning of time!
As a visitor, you could of course now choose to take a guided tour where you will learn the history of the town. This can be 2-3 hours so if like me, you are on a tight itinerary you are best just walking around the simply stunning little cobblestone streets packed with shops selling everything from fashion to pottery and from trendy cafes to traditional restaurants.
Kotor attracts many artists whom I love to watch. I recall standing for some time watching this young lady in the picture below just painting an archway scene. This street was so peaceful yet had an atmosphere all to its own. I could have watched her for hours.
If you have the time and are feeling fit to take on the 1355 steps you could hike to the Saint Johns fortress which has the best views of the Bay of Kotor.
Other key sights in Kotor to consider would be the Kotor Cathedral, the Church of St Nicholas, the Old City Walls, the farmer's markets, the Bazaar for cheap souvenirs and there is even a beach just a few minute's walks from the Old Town.
If I ever visit again I would love to stay in the town for the night as I am sure there is a completely different atmosphere to enjoy in what is one of the most beautiful and celebrated Adriatic towns today.
After a couple of blissful hours and with no harm being done to any flag-waving, megaphone-wielding tour guides I once again hit the road.
Becici
The next stop was a 30-minute drive to the holiday resort of Becici which is just 2 km from the town of Budva.
Becici has one of the finest beaches (mostly sand and some rock) in Montenegro. It has won many EU Blue Flag awards for its quality and cleanliness and attracts sun worshippers in their droves. The main promenade is lined with shops, cafes and restaurants and if you walk far enough you will reach the old original fishing village.
One of the reasons I chose to visit was because I knew that the 2006 James Bond movie, Casino Royale had been filmed at the Hotel Splendide. Being a fan of all things Bond I wanted to check it out so pulled into the car park and parked my little VW alongside a colourful selection of multi-million dollar vehicles… I could not see a silver Aston Martin mind but wow I knew I was in the right place!
I walked gingerly into reception conscious that my faded M&S shorts and loose-fitting Fat Face polo shirt were not perhaps really in keeping but on a 12-hour road trip of Montenegro you just can't cater for every eventuality.
At the reception, I was directed past a cut-out of the James Bond logo and told to take a lift up to the top floor. On arrival, I was greeted by a characterless musclebound adonis who for all I knew could have been Blofeld's bodyguard. I was promptly told I could not enter the casino itself as I was not there to play… I think it was my shorts. I was however allowed a brief look around a rather uninspiring foyer with views across the beach.
Now as it turns out the casino filming was done in the Czech Republic so that kind of made me feel better although I was disappointed not to lock eyes across a smokey roulette table with the latest Bond girl.  I had a brief look around this glitzy hotel which is geared towards the large numbers of Russian and Ukrainian tourists who spend and gamble big during the summer months.
I decided against a beverage on the terrace and got back behind the wheel …. besides I have never been a fan of dry Martini – shaken or stirred!
Budva
A stone's throw from Becici is the stone-walled town of Budva – one of Montenegro's most photographed and popular towns and the flagship location on the 35km long Budva Riviera.
The pedestrian-only Stari Grad (old town) attracts thousands of tourists like myself intent on walking within the Venetian-built walls and sampling the atmosphere of the architecture, cafes, boutiques and delightful restaurants.
I found local Montenegrins particularly in the traditional shops, bars, restaurants and outer villages to be friendly and welcoming. However, it was in Budva that I also found those who were keen to show off their wealth were actually less friendly, more closed, secretive and not as keen to engage and show their personality. Maybe that is just the way it is the world over? Do the trappings of excess bring true happiness?
Budva's beaches (especially Jaz beach) are extremely popular in the summer months mainly with Russian tourists. The island of Sveti Nikola pictured below is about 1km from Budva and can be reached by boat for 3 or 4 euros. Its nickname is Hawaii Island and visitors head there in the summer to relax on one of the three beaches that are also there.
There is also a guarded marina where a selection of multi-million dollar yachts are moored. I decided against parking nearby as I had already embarrassed myself enough in the Hotel Splendide!
Budva is very much a place to be seen and to let your hair down in the many cocktail bars, pubs and nightclubs that are prevalent throughout the town.
If you are looking for things to do outside of the main town then close to Budva there are other attractions such as monasteries, forests and a popular aquapark for a family day out.
Sveti Stefan
For years the one place in Montenegro that I had wanted to visit was Sveti Stefan. As a result, my Montenegro road trip from Dubrovnik was very much geared toward ensuring that I would get to see this unique fortified island village which is connected to the mainland by a slender narrow causeway.
Arriving mid-afternoon and just 15 minutes after leaving Budva I popped into a local supermarket and grabbed some Montenegrin snacks before taking the directions to Sveti Stefan – a name that always causes a snigger when pronounced in English.
The first stop for me was the deserted beach on a glorious October day. With two beaches on either side of the island village with the one to the south free to the general public and the one to the north belonging to the hotel on the island. The sea was too good to resist so a quick change in the car park ensured any passing dog walker didn't catch sight of anything they shouldn't. Why is it that when getting changed by your car you can never hold your towel and get your swimmers on in one movement? One of life's great mysteries!
The beach was generally lovely sand but with a few stoney sections however, the water was divine and so beautifully calm and not too cold given the time of year. The area around the beach is mainly luxury residential homes but there was the pretty Milocer Park which is filled with olive trees and that wonderful familiar aroma of wild herbs and Mediterranean blossoms.
After my dip, I took a walk along the front to the entrance of the causeway. Would you believe it but the hotel on the island was closed for refurbishment and they were not allowing visitors. Sadly that meant the tremendous view from both the beach and the best lookout point up high at the Church St Sava was all I got however that swim off the beach was a moment and a location to remember.
Back in the '50s, the island was home to just 20 people but in the 60's there opened a hotel that was soon to entice iconic celebrities from the time – Sophia Loren, Doris Day and Princess Margaret to name but a few.
Today the island is now part of the luxury Aman hotel chain and is therefore mostly off limits to all but paying guests. There is a restaurant which can be booked and at times the hotel does organise island tours but these need careful planning and are not cheap. The hotel with its 58 rooms and apartments was also the location for one of my favourite sports stars to get married to his childhood sweetheart back in 2014 – the tennis player Novak Djokovic.
After all the years of selling this resort and promoting the country, I finally witnessed the view that graces a million guidebooks that promote Montenegro summer holidays. I had reached the furthest point on my trip and it was now time to turn around and leisurely drive back to Croatia.
Kamenari-Lepetane Ferry
To avoid the long journey back around the Bay via Kotor and Perast for a second time I took some local advice and headed for Lepetane where there was a fabulous little car ferry crossing to Kamenari.
An orderly queue led down to this little harbour where you paid a guy in a kiosk the princely sum of 5 euros to take you, the car and unlimited passengers across the bay. It took just a few minutes but was quite exciting to be on the water and gave you the feel-good factor in that you were saving yourself a heap of time.
I would highly recommend this little shortcut!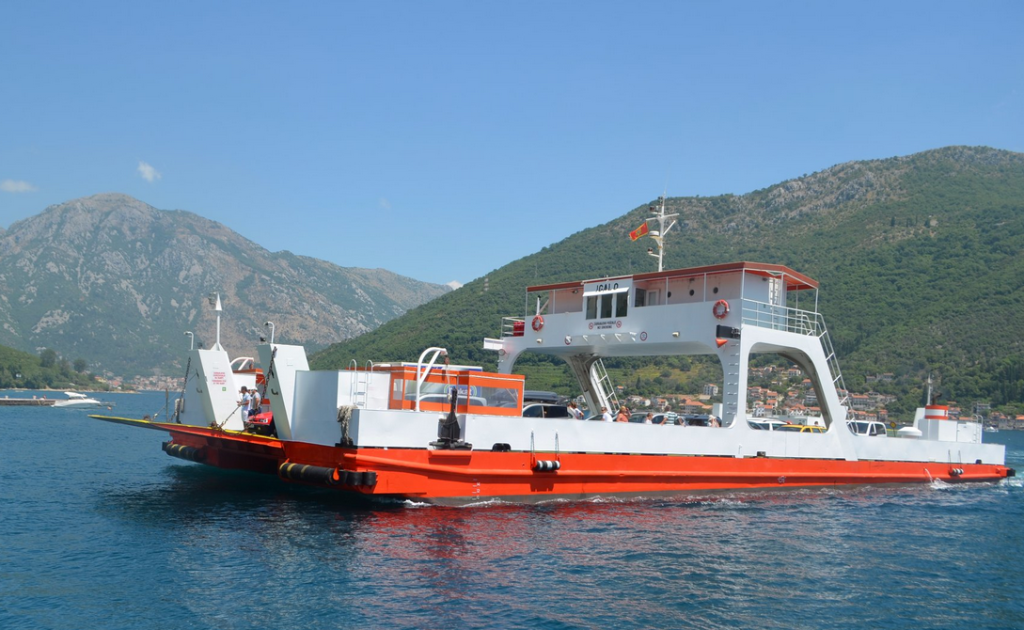 Montenegro Summer Holidays Road Trip
Whenever I think about my brief Montenegro holiday, I think about that elderly man pulling his nets up on that gorgeous still morning at the edge of the Bay of Kotor.  He will never know that his simple daily routine was the catalyst for me discovering and falling in love with the beauty of his country. In the years since many hundreds of thousands of visitors will have taken that same road as me. I can only wonder if he was there having the same effect on them, as he did on me.
So there you have it. Just the best 12 hours on a road trip to Montenegro from Dubrovnik. The morning was taking in the scenery of the bay as well as the towns of Perast and Kotor where you can take lunch. Then in the afternoon a trip to Becici, Budva and the iconic Sveti Stefan. You will be back in Dubrovnik for dinner at eight and a well-deserved Prosek or Ojujsko beer on the terrace overlooking the old town.
There is so much more of the country to discover – the off-the-beaten-track mountains and hiking hotspots of Durmitor and Prokletije, the forest of Biogradska Gora, Lake Skadar, Stari Bar, Tivat and then there is the capital Podgorica. All of this for another day and another blog!
For me, the attraction of Montenegro is in its unspoiled beauty, its about getting out on the road and into the fresh air, enjoying the incredible scenery, the nature and its old towns as opposed to the fast-developing modern glitz, the excess and the glamour of the casinos and bright lights… I just hope they keep the balance right in years to come.
The best road trips leave you wanting more and 12 hours in Montenegro was simply not enough!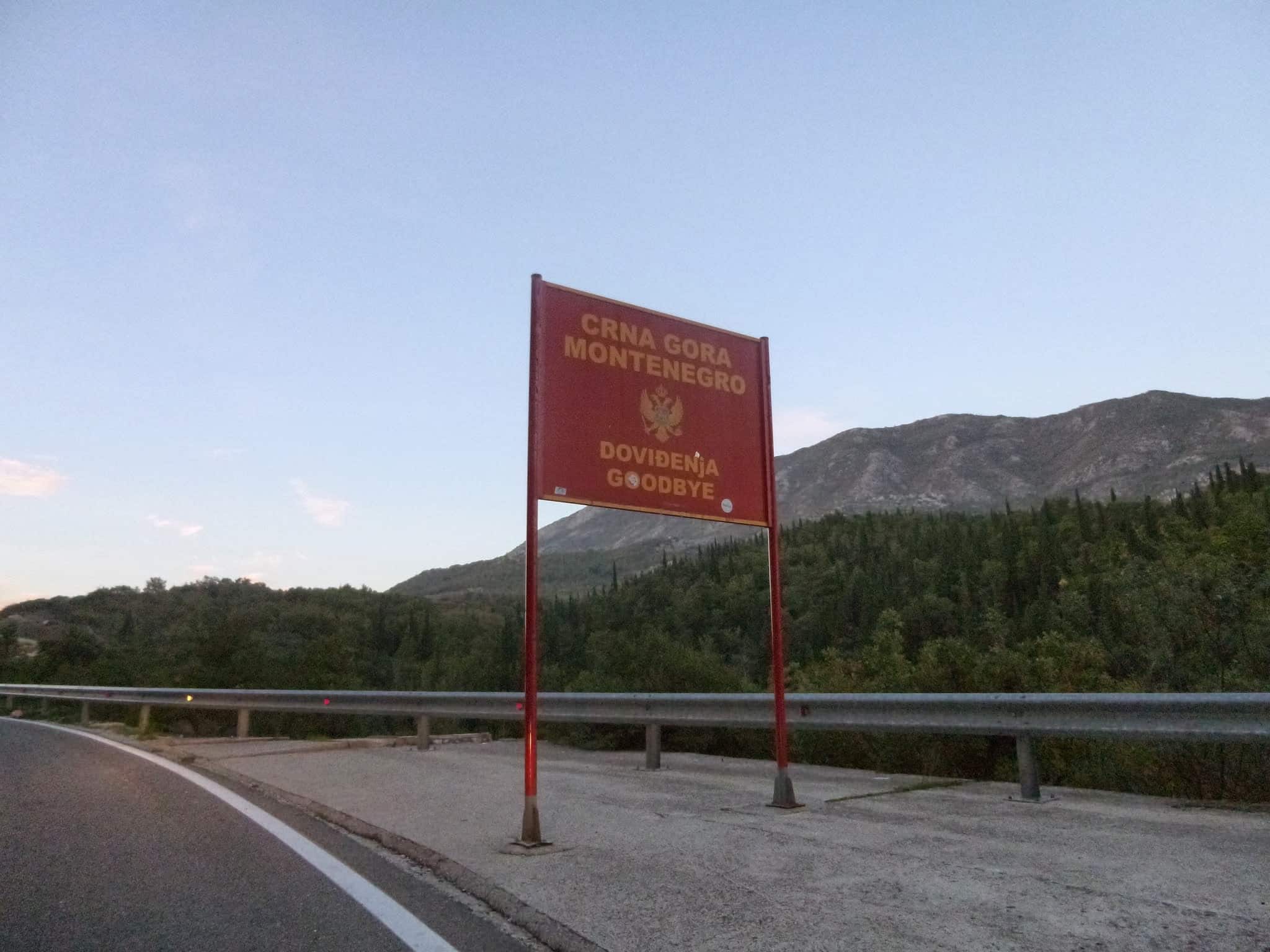 Contact Information
For further information on any Montenegro summer holidays either contact your local travel agent, a specialist tour operator or the Montenegro Tourist Office
I hope you enjoyed the story of my Montenegro Road Trip.