One of the wonderful things about taking a short break to the island of Guernsey is that there is just so much to see and do.
Of course, you may be planning to simply put your feet up and relax, however for many, the opportunity to spend your time experiencing the island's history, natural beauty or harbour town life is just too good to resist.
Whatever the reason for your visit, if you are hopping over to this gorgeous Channel Island, you are in for a treat.
Introducing Guernsey
Guernsey is closer to Normandy than to mainland Britain and this is reflected in its street names and places which often come with a French twist. There is even a local language, known as Guernésiais, which is still taught in those schools that are keen to protect the island's strong heritage.
Since back in the 1990s, I have been a regular visitor to Guernsey. In those early days, and before my first visit, I had the impression that Guernsey was going to be a tiny bit dull and slow, while populated with wealthy retired folk and beige cows. I was wrong then, and even more so 30 years later!
Today traditional pubs sit alongside trendy new bars and sensational restaurants. Cosy B&Bs are neighbours to stylish boutique hotels. Friendly welcoming people of all ages invite you to discover the many riches and varied attractions of their island.
Last year I had the opportunity to return and spend 48 hours in Guernsey. On this occasion, I was staying at the Duke of Richmond Hotel, just a few minutes from the centre of St Peter Port. With my walking boots on I wanted to spend my first day mooching around the town on foot, leaving day two to venture further afield to discover the wartime history and coastline.
Candie Gardens
Just a few steps from my hotel were the Victorian, Candie Gardens. Once part of a private estate, they are now open to visitors looking to enjoy the flower displays, immaculately maintained lawns, fishponds and some glorious island views across St Peter Port harbour and the sister islands of Herm, Sark and Jethou.
Within the gardens is the Guernsey Museum and Art Gallery, which charts the story of Guernsey's island life, from prehistory to the present day.
The Priaulx Library archives are open to the public and located in Candie House. Since 1889 the library has been collecting, cataloguing, and preserving records, artefacts, maps, military records and books that document Guernsey's unique identity and past.
The Victoria Tower
A short walk from the Candie Gardens is the Victoria Tower. Built in 1848 this is the island's tallest of its fifteen, loophole towers. As I approached, I could not help but smile as I read the note on the heavy wooden door stating that if I wanted to gain free access, I would need to collect the key from the nearby Guernsey Museum and Art Gallery. Once inside, there is the chance to climb the steep, spiral staircase and take in some beautiful views.
In the Monument Gardens outside the tower, there are two First World War, heavy German calibre artillery guns. Their story is fascinating as they spent the entire occupation, and many years thereafter, buried beneath the gardens in order to prevent them fallen into the wrong hands.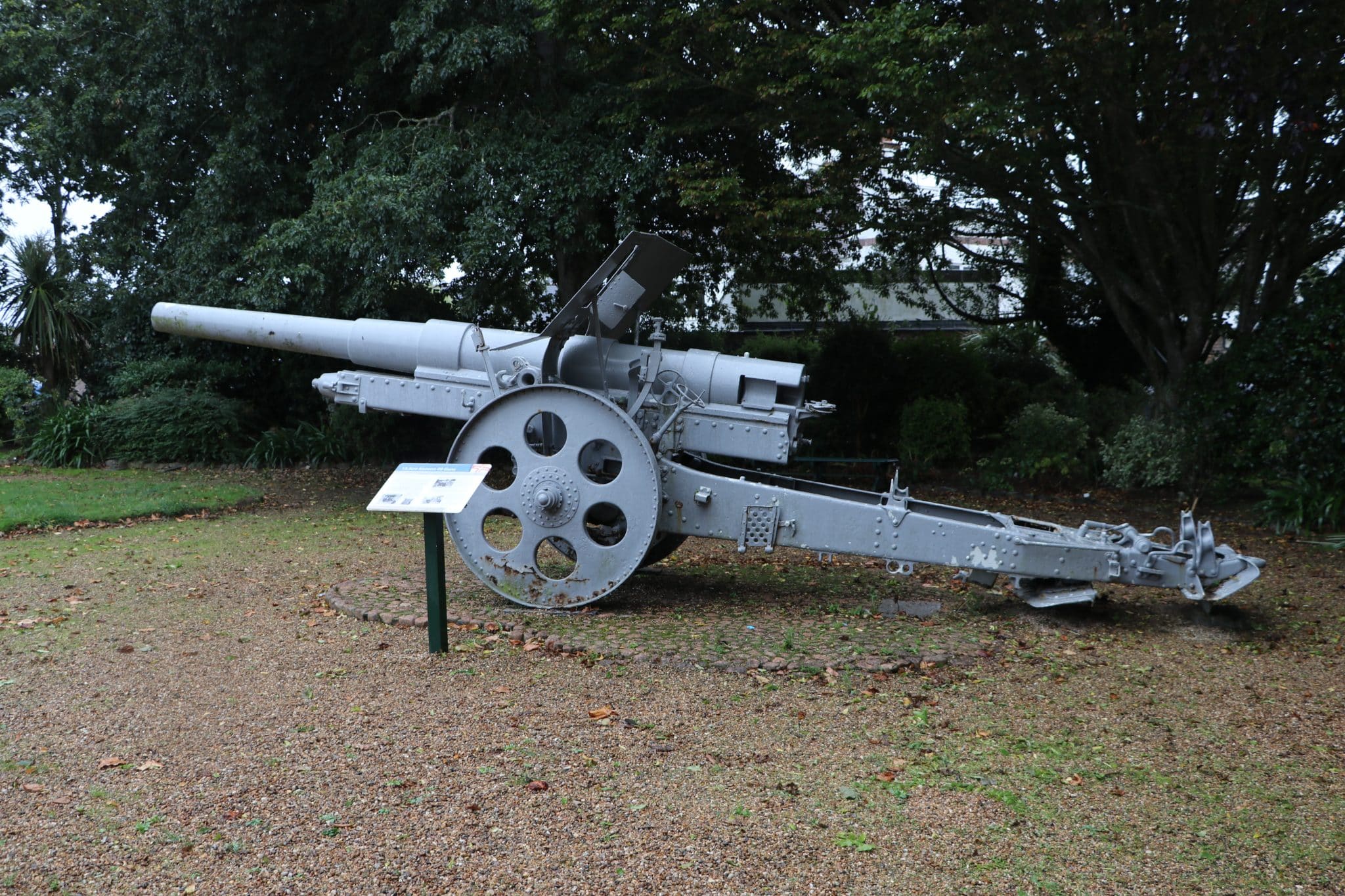 Exploring St Peter Port
From the Victoria Tower, I wandered down into town but not before taking a slight detour to discover what I understood to be Guernsey's oldest pub. Dating back to 1810, The Plough Inn feels as if it has hardly been touched in two centuries. In other words, don't expect any mod cons – this is where you go for a pint, a packet of peanuts, a chat with the locals and a game of Euchre.
The card game of Euchre is considered by many to be Guernsey's national game. Depending on what story you are told or what you read, it appears to be of North American origin. I loved the local's enthusiasm for this rather strange pastime played with cards, a small piece of wood and in the case of the Plough Inn, rivets! All over the island, there are leagues, clubs, and even Euchre parties.
Continuing down towards town, I arrived at the Old Quarter and Mill Street with its independent shops, antique emporiums, jewellers and galleries. Quirky art and fun quotations adorn the walls of this street, with one stating that "Lost is a great place to find yourself". I agreed.
Market Square was originally built in the 1770s and today offers a variety of shopping experiences and dining in beautiful Victorian-style surroundings. Throughout the year, events are held here including musical and literary performances, photographic displays, as well as a Christmas market. All year round there is the Fresh Friday market where small independent traders sell local produce & street food. This is a great place just to sit and observe Guernsey's life.
From Market square, you cannot miss the opportunity to wander up and down the cobbled streets of the High Street and the Pollet. This pretty area, charmingly decorated with hanging baskets and bunting, is the retail centre of Guernsey and is full of high-street stores alongside small boutiques, charming restaurants and cafes.
Close to Market Square is the Town Church which is next door to the traditional Albion House Tavern. Local legend has it that this is the closest tavern to a church anywhere in the British Isles. A look up at the gargoyle in the narrow alleyway shows it almost kissing the pub wall. Who was I to disagree?
Eating Out in St Peter Port
If you are looking for a great lunch spot, then I can recommend the Octopus Bar and Restaurant which is located on the southern side of Havelet Bay. This beautiful restaurant offers an international menu with a focus on fresh local produce and seafood. The stylish interior is complimented on those sunny days with a buzzing outside deck, where donning your shades while staring out to sea and people-watching is the order of the day.
How about afternoon tea? The Old Government House Hotel & Spa is a superb venue to savour a delicious traditional tea with delicate finger sandwiches, delicious pastries, freshly baked scones with homemade preserves and of course, Guernsey clotted cream.
In the evening check out the Fifty-Seven Restaurant. Set over two floors this modern, informal restaurant and late-night cocktail bar is in the very heart of St Peter Port. A fabulous dinner and wine menu offers steaks, seafood and Mediterranean cuisine all cooked to perfection.
Hauteville House
Widely known for his 1862 novel Les Misérables, the French poet and novelist Victor Hugo lived in exile in Guernsey for 15 years.
A stone's throw from the Octopus Bar and Restaurant you can visit his recently renovated residence and gardens at Hauteville House. Wander around the small museum with its beautiful rooms across several floors, showcasing his life through books, drawings, letters, and souvenirs.
Castle Cornet
The Castle Cornet is probably the most famous site in Guernsey. This 800-year-old castle is set upon an island that is connected to the entrance of St Peter Port harbour. Enjoy mooching around the gardens, barracks, and castle walls which provide incredible views across to the neighbouring islands.
Inside there are four museums – The Story of Castle Cornet, 201 Squadron (RAF) Museum, Royal Guernsey Light Infantry Regimental Museum and the Royal Guernsey Militia Museum
A visit to the castle is perfect for the family with various fun activities on offer for kids plus the gun firing at midday will excite or scare, even the youngest of visitors.
Wartime History
If you enjoyed the Royal Guernsey Militia Museum in Castle Cornet then, if you venture a little further afield, there are other opportunities to discover Guernsey's history during wartime occupation.
The German Occupation Museum is close to the airport and tells the history of the island during World War 2. It recalls how things were during those dark days and how life was for the locals. The museum houses relics dating from the period, including weapons, uniforms, communications, papers, photographs, maps, and other militaria items.
The La Valette Underground Military Museum is located just over a mile from St Peter Port. It is where the Germans stockpiled fuel during World War 2. The museum is a web of interconnecting tunnels and consists of two areas. The first is above ground, acting as an introduction to the second area where visitors walk through the fascinating secret tunnels.
Life's A Beach
If the sun is shining, then despite all of Guernsey's cultural and historical attractions you will undoubtedly be drawn to the coastline and some magnificent beaches.
Parking up at a quiet almost empty beach and taking in a deep breath and enjoying the views is a must! Some of my favourite Guernsey beaches include Cobo Bay, Vazon Bay and Port Soif. These wide open, picture-perfect bays are ideal for whiling away a few hours.
Popular smaller, sheltered bays, include Portelet Beach and Petit Bot. A coastal path from St Peter Port takes you to another well known beach at Fermain Bay. However be aware that the walk is challenging in places with steep inclines.
Sport
For those looking for sporting activities and pastimes then there is more to Guernsey than a game of Euchre in the Plough Inn! How about kayaking and paddleboarding, or if you want to explore the island's marine life then there are scuba and deep-sea diving opportunities.
The Royal Guernsey Golf Club offers day green fees for visitors while The Guernsey Tennis Club has a choice of indoor and outdoor courts.
There is even a Go-Kart track in Guernsey with excellent facilities including an outdoor floodlit karting circuit, a computerised timing system, purpose-built electric kids track and a 'Pitzone'.
Final Thoughts
Guernsey will not only surprise you with the variety of attractions and activities but above all, it will put a smile on your face.
Whether it's the stunning scenery, the warm traditional welcome, the retail shopping, the sensational cuisine or maybe it's the little cars, the "after you" roundabouts, or the yellow telephone boxes that float your boat.
There are just so many reasons to visit the beautiful island of Guernsey. I told you my first impressions back in the 90s were wrong …. 48 hours in Guernsey is certainly not dull and besides, what's wrong with beige cows?
More Information
If you fancy 48 hours in Guernsey, United Kingdom, then to book a flight, visit Aurigny Airlines which operates regular services to the island from a choice of UK regional departure airports.
For tourist information visit the office down at the St Peter Port harbour. This is a great place to get a map and information before heading out on your day of discovery.
The Visit Guernsey website is also a great source of information.