I was delighted to have recently received the following guest blog from Dhriti Chatterjee, showcasing the splendour of the Kaziranga National Park in the Golaghat and Nagoan districts of Assam in North East India.
If you are a wildlife enthusiast, then read on and discover why you need to consider a visit.
A UNESCO World Heritage Site
Being a UNESCO World Heritage Site, the Kaziranga National Park welcomes millions of domestic and international visitors annually.
One of the main attractions is that the park is home to over 2,400 magnificent one-horned rhinos and boasts two-thirds of the world's total population of this species.
In addition to this in 2006 the local authorities designated the area a Tiger Reserve and today a wide-ranging and successful conservation program exists to protect both these and many other unique species of wildlife.
The Journey
Our trip was to explore this Northeastern region of India, so as I was travelling from the countries capital, I booked a Delhi to Guwahati flight.
Upon reaching Guwahati, one of my friends from the city suggested that I should join them on their Kaziranga National Park trip. No doubt I couldn't resist the urge to discover the exotic flora and fauna of this hyped place. We took the national highway 27 early in the morning for what was a 3-4 hours drive covering 191 kilometres.
The journey affords the chance to admire the lush green meadows, beautiful people, and the many holy Thaans which are religious temples in Assam. En route, you should stop to eat at one of the many Dhabas which provide good affordable, on the go, food. As a little tip and a way to find the best outlets, always visit the crowded Dhabas as customers and locals will be attracted there!
We finally reached the Infinity Resort Hotel in Kaziranga, checked in, and freshened up. Since we had already booked a jeep safari online, we waited for the guide to pick us up from the hotel. Within half an hour, our journey to one of the world's most amazing jungles was under way. We were excited!
The Kaziranga National Park Zones
The mighty river Brahmaputra flows through the park and the mountain range of Karbi Anglong adorns its backdrop. The park is divided into four zones- Mihimukh in central range at Kohora, Bagori in western range at Bagori, Agoratoli in eastern range at Agoratoli, and Ghorakati in Budhapahar at Ghorakati.
Each of these four zones are home to varied species of flora and fauna and each is worth a visit in its own right. Since we had limited time, we visited Agoratoli, and Bagori.
Jeep Safari to Agoratoli
Our guide picked us up at around 1 pm and within 20 minutes we approached the Agoratoli range. Before we entered the jungle, we noted the abundance of Assam-style houses, where green-colored jeeps were common. In almost every house we came across this mode of transport parked outside, which showed that the national park is their source of livelihood. At least one member of every family works as a guide here.
When we reached the main entrance, our guide completed some paperwork on our behalf and an armed ranger hopped onboard our jeep. With Rhino and Tiger residing in the park sadly there is always the chance of poaching so while these rangers may seem intimidating it is what is needed today to protect these incredible animals and ensure their existence for generations to come.
As we passed through the main and final entrance, a herd of deer together with their fawns greeted us. Then as we headed deeper into the jungle, we got glimpses of rare species of migratory and native birds like pelican, hornbill, raptors and shanks. The Kaziranga National Park area is actually home to 25 globally threatened and 21 near-threatened species of birds.
All of these sightings are a sign of a healthy ecosystem and for ornithologists, this is heaven!
The Wildlife of Agoratoli
After a few kilometres inside the park, we finally got to witness the star resident- the world-famous one-horned rhino. Today, you can see them at every turn in the park. This is with thanks to the government which took very strict measures to stop poaching and this has naturally brought about an increase in the population of these majestic animals. It is indeed a sight to behold when you see these innocent creatures roaming in their natural habitats.
As we continued, we came across some monkeys and langurs monkeying around. Although it was fun to see them playing, I gripped my binoculars and camera a little tighter in case one tried to make off with it! We had hoped to catch a glimpse of the elusive tigers, which are common in the area, but as our guide and our ranger said, only the lucky ones can see them and, on this occasion, I was not the chosen one.
My disappointment soon turned to joy when we got to see a herd of elephants drinking in the nearby lake. This elephant family of at least 26 members had babies with them so were very protective. It was best we did not disturb them so kept a distance and enjoyed the sight from afar.
There was so much to see and admire in the park that we almost lost track of time and only realized when we saw the sun drowning in the lake that it was time to head back to our hotel. On our way out, we came across some wild hen, peacock, and rare plants.
A Bagori Safari
The next day our guide woke us up at around 5 am, as we had to visit Bagori, which is a 50-minutes drive from our resort. Without even sipping a cup of tea, we headed straight to the Bagori Bananchal area which is considered the best zone for wildlife sightseeing in the entire Kaziranga National Park.
The safari at the western range covers Donga Beel and Mori Diffalu River. This 26 km trail generally takes two hours, but with our guide, it may take 3 hours, as he was very passionate about his job and knows the area and the residents very well. He knew where to find particular animals and often pointed his fingers into the jungle where creatures have been spotted or are known to reside. Local knowledge of any park such as this is so valuable.
Unlike the Agiratoli safari, we found the western range wilder and bumpier. This raw experience was so worth it as we were again greeted by a group of rhinos, elephant herds, swamp deer, wild buffalos, tortoise, and varied species of both migratory and native birds.
At one of the turns, our guide pointed us at a tree, where tiger claws were clearly visible. Never mind that we couldn't see the tiger, his scratches on the tree were enough for us – I guess something is better than nothing.
The Wildlife of Bagori
As we passed through the dense forest trails, we came across a wide variety of native plants, larger-than-life trees. and even spotted a wild boar
There is more for the ornithologists here with a variety of bird species such as bar-headed goose, Indian Rollers, Adjutant storks, woodpeckers, white-breasted waterhens, etc. With just a few tigers in this park, the deer population here is considerable. Wild buffalos, elephants, and rhinos can be seen at most turns and also keep an eye on the ground to spot a tortoise heading towards his nest.
The only drawback with this jeep safari is you can't get close to these beautiful animals and have to see them from the jeep trailer. There is the chance to ride an elephant through the park which would allow closer access to animals however I have seen how the elephants are abused by the mahouts so I would advise against taking these trips. I would also urge the Assam Government to consider providing an alternate source of income to these mahouts and ban animal riding for good.
Orchid and Biodiversity Park
On our way back to our hotel, we decided to visit The Orchid and Biodiversity Park. We heard a lot about this place from our guide. Spread across 6 acres of land in Durgapur village, it is the largest orchid park in the northeast region of India. The park houses 500 varieties of wild orchids, 132 species of sour fruits and leafy vegetables, 46 species of bamboo, 12 species of cane, and more than a hundred varieties of foxtail orchid.
The park has employed local youths, with whom you can interact to know more about these orchids. I found it overwhelming, as I had not visited such a large orchid park before. It also has a medicinal plant garden, rice museum, local fruit and flower garden, and a dedicated space for native fish. It also houses a greenhouse and a tortoise shelter. You can visit the museum on site that contains agricultural equipment and other antiques of different ethnic tribes, who call this region their home.
Ethnic Village
Our trip wouldn't be complete if we hadn't visited the Ethnic Village in Assam's Karbi Anglong district, which is just a few kilometers from Kaziranga.
It is an initiative to showcase the culture, tradition, heritage, and history of various Karbi ethnic groups, like Rengma, Karbi, Kuki, Dimasa, Mantai, Adivasi, Khasia, Tiwa, Bodo, Garo, and Nepali. There are some traditional huts designed according to the tribe it belongs to and the decor represents a common rural tribal household. There are some sculptures outside depicting the daily life of the tribals.
A visit to the Ethnic Village is worth the time.
Best Time To Visit
The Kaziranga National Park remains open for tourists from 1st November to 30th April. The park remains closed from the first week of June to the first week of October due to the monsoon and annual flood.
Hence, plan your trip between February to April, when the dense fog evades and it is easy to catch sight of the residents.
Where To Stay
Being a popular tourist destination, there are an abundance of accommodation including hotels and resorts in and around Kaziranga The type of accommodation depends on your budget and the area you choose.
We stayed at the Infinity Resort Kaziranga, which is surrounded by Tamul Gos (betel nut tree), common in Assam. The Assam-style huts are made of bamboo and are well-equipped with a comfortable bed, and other amenities including a swimming pool.
Where To Eat
You may find several small hotels and restaurants in Bokakhat itself. Most of them are pocket-friendly and serve delicious meals. As I believe, the best way to know a region is by feasting on their traditional meal. Our guide suggested two restaurants for authentic Assamese meals.
On our first day, we visited the Saikia Hotel, suggested by our guide. It doesn't have much decor or ambience, and is just a small eatery. We didn't expect anything good, but we were amazed by their hospitality and traditional food. We ordered the local's favorite pork thali, and it turned out to be so good.
You can also visit the Hotel Chang Ghor, which has a small dining area. It is run by a woman who prepares the meal herself. She takes immense pride in her cooking skill and even gave us a bowl of Assamese chicken to taste for free. The spread was good and the prices were affordable. Later, we came to know that this restaurant is visited by a lot of famous people on their way to Guwahati from Upper Assam and vice versa.
Apart from these two, there are many Chinese restaurants however, I would recommend you sample local dishes and savour authentic platters.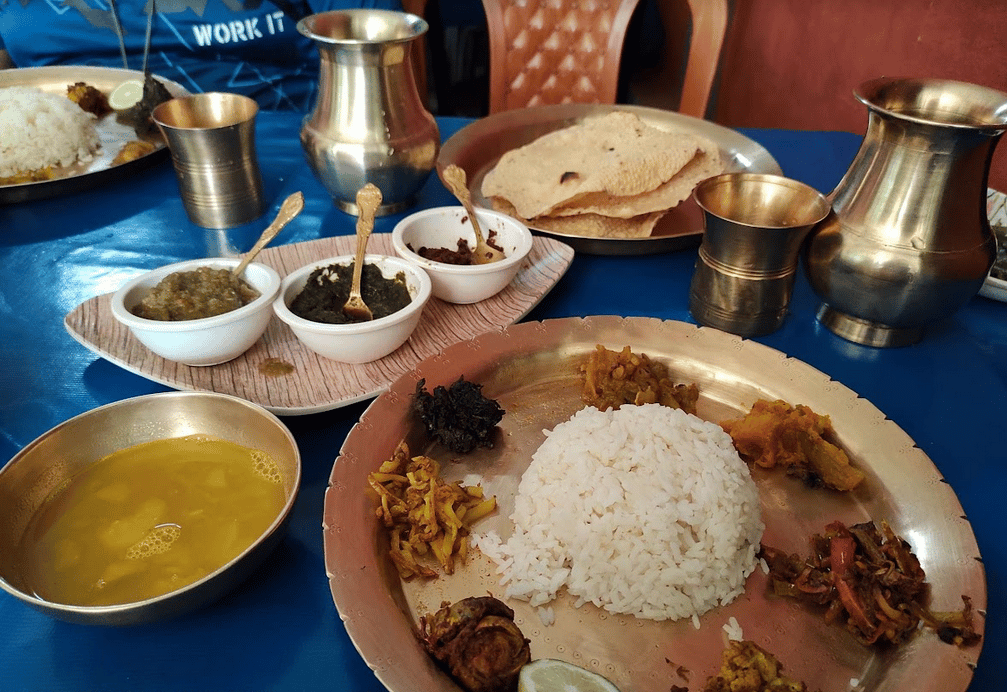 Tickets & Fares
Before you visit the park, it is worth understanding the costs. First of all make sure you take some cash as online transactions are not popular. There is an entry fee for each zone, and they charge for cameras as well. Here is a guide to the costs at the time of our visit in 2022. Naturally these will change over time:
Park Entrance Fee: INR 50 for Indian citizens and INR 250 for foreigners.
Vehicle Entry Fee: INR 200
Camera Fee: INR 50 for Indian citizens and INR 500 for foreigners
Video Camera Fee: INR 500 for Indian citizens and INR 1,000 for foreigners
Jungle Jeep Safari: Kohora: INR 4,000
Bagori INR 4,100
Agoratoli INR 4,900
Kohora, Bagori & Eastern: INR 7,700
Handy Travel Tips
Avoid visiting during winter as the dense fog may hinder spotting the wildlife. April is the best month as nature changes its colours and you can easily spot the animals.
The park remains open for safari between 05:30 AM to 04:30 PM and you are required to arrive at least half an hour prior to the scheduled safari time, if the jeep is not coming to pick you up from the hotel.
Carry binoculars to enhance your wildlife adventure experience.
Wear comfortable and light clothes. Avoid bright colours.
You will be denied entry if you carry arms, weapons, or sharp objects.
Do not touch or harm the flora and fauna.
Put your phone on silent and maintain silence when near an animal. You may not want to startle them.
Our Promise To Return
Keeping aside the incredible wildlife, the Kaziranga National Park has a lot to offer. Only if we had time, we would have explored the other attractions and zones.
Whether you talk about the hospitality of the people or the traditional food, we came home with a promise to visit this beautiful place again. When we do I will tell you my story!
Author's Bio
My thanks to Dhriti Chatterjee for her wonderful guest blog. Dhriti is an avid traveler and a blogger, who loves to share her journeys across the country with her readers,
I loved hearing about the region's nature and wildlife as well as the local life and traditions. It is certainly a part of India I did not know but it is very much now on my radar especially given the wonderful efforts of the Government to protect some of our planet's most majestic species of animal! Well done to them and to Dhriti – we look forward to hearing more from your travels.
For more blogs check out my India pages.