History In The Making
Slouched in the corner of the classroom, I was bored. It was 1978 and I was in the midst of a double history lesson. I was sitting behind a tiny flip-top wooden desk containing a pile of scruffy exercise books, a mountain of chewed pencils, a half-eaten rubber, a protractor, and a stash of Panini World Cup swapsies. Nothing bored me more at school than History – at the time it seemed as meaningless as the inkwell in the desk that had never seen a drop of ink.
My teacher took great delight in throwing about dates as if, once said, they would never be forgotten. The sealing of the Magna Carta in 1215, The battle of Agincourt in 1415, and the coronation of Charles the 1st in 1626. To make this subject exciting whilst perhaps finally recognising our interest had waned, I remember we were given rhymes that may help us remember these dates – "Columbus sailed the ocean blue in 14 hundred and 92". I never remember dates, I can't recall rhymes…. I hated History.
Just a handful of years later and in my early teens, I became the owner of a Penguin paperback that told of man's race to the South Pole. This was a story from 1911… now this to me was history. It charted the endeavours of Roald Amundsen and Captain Robert Scott as they strived to be the first human to reach the South Pole.
The story had everything…. bravery, competition, heroism, endurance, tragedy, frostbite…. and not least… my attention!
A New Dawn Of Polar Exploration
Fast forward 40 years, during which time I might add, I have never used a Protractor, the actions of our brave soldiers in both World Wars and the incredible feats of those Polar explorers fascinate me today, more than I could ever have imagined.
It was in early 2023 – no need to remember the year – that, out of the blue, I was invited to join a two-day sailing aboard a new Polar expedition ship – "Le Commandant Charcot" from the French Cruise Line, PONANT.
Immediately my memories of that Penguin book returned – the Terra Nova was the ill-fated ship that transported Captain Scott and for Amundsen, it was the Fram, which before the building of the Titanic, was the most famous ship on the seas!
It is now over a century since those vessels last sailed, so when it was confirmed that I was to be a guest aboard the world's only luxury hybrid-powered ice breaker expedition vessel powered by gas, I was a little giddy…. and not from the gas!
The Story of Le Commandant Charcot
Le Commandant Charcot was named after the French explorer and polar scientist, Jean-Batiste Charcot. The vessel was designed in Helsinki and built in Romania in consultation with experienced captains to develop state-of-the-art technology using the latest innovations, while also ensuring maximum safety alongside understated elegance and style. Quite a task!
In 2021 she was launched and became the 13th ship in the PONANT fleet. She soon became the first French ship to reach the geographic North Pole. Today she transports wannabe explorers from places like Punta Arenas, Ushuaia, Reykjavik, Helsinki, Tromso, and Quebec City to the Arctic, Antarctica, and the Baltic Sea.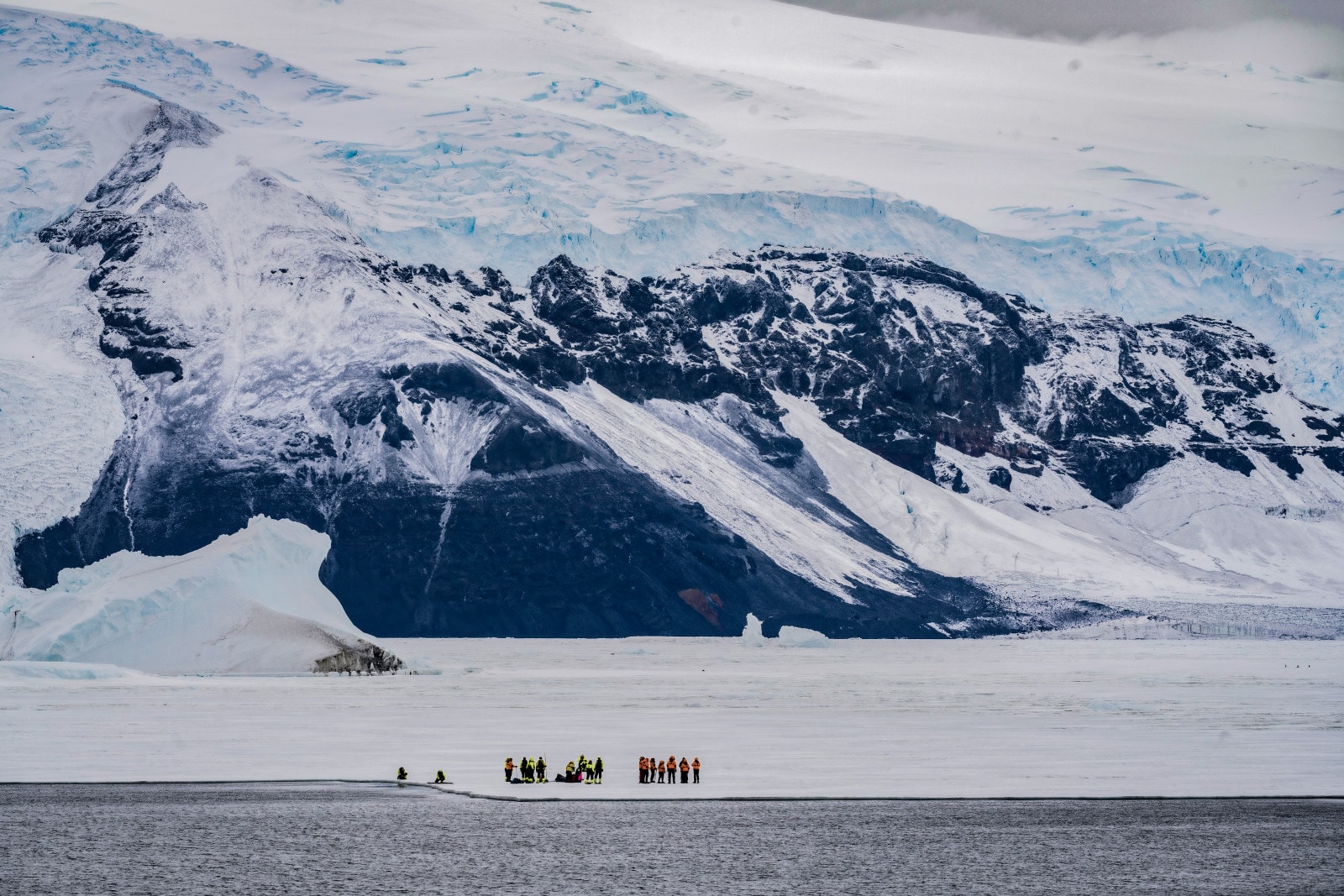 Ship Mates
Now I must be honest, I have rarely stepped aboard a cruise ship let alone a luxury icebreaker. This, for me, was always going to be a unique and thrilling experience. As with any trip, many questions needed answering before I boarded the vessel.
My first thought was for my fellow shipmates – I mean who books a trip that combines Luxury and Expedition? This would be a journey that I would share with those that have probably already seen a fair chunk of the world and have probably done so in style!
Being a French ship there are, of course, French clientele, although I understood there would be a real mix of international clients – I liked that. Announcements I understood were to be made in both English and French.
Dress Code
My next question was what to wear. Luxury and Expedition do not normally go hand in hand. Furthermore, they certainly don't lend themselves to the increasingly small baggage limitations placed upon us by low-cost airlines. Upon reading the joining instructions it was clear I needed to be casual and elegant by day and more formal in the evening.
That said, I would, also need to be ready, Superman-style, to rip it all off, at the mere sniff of a Chinstrap Penguin, to jump into a heavy expedition parka, a life vest, waterproof insulated pants, and waterproof boots – this little ensemble is about as far removed from elegance as you can get!
I was so looking forward to this trip!
Hello Hamburg
Now I must confess, the chance of me seeing a chinstrap penguin was zero, given that I was actually taking a short flight over to Germany and then enjoying a 2-day taster cruise from Hamburg to Southampton.
It was at Heathrow that I met a small band of media people of which I was to be part. A couple of Cruise aficionados, a couple of London Lifestyle Bloggers and a Belgium Blogger living in India. We were an unusual mix but thankfully, after a rather ironic period of ice-breaking, we were soon the best of friends and all of us, as keen as "moutarde" to get on board and see what the fuss was all about!
First Impressions
From the outside, this 492-foot-long vessel looked resplendent in the company's blue and white signature colours. My first impression, however, was not of a fiery ice-breaking machine but of a sleek luxury ship that would be more akin to laying off the coast of Monaco than at the farthest reaches of planet Earth.
After some formalities on shore, we glided, remembering I needed to be elegant, into the reception area where the welcome from chic, immaculately dressed, friendly staff could not have been smoother – I was secretly hoping the North Sea and the English Channel would be equally as smooth, but I kept that under my hat!
Further check-in formalities took place without fear or favour. Luggage was soon whisked off to my room and I was stood along with my fellow wide-eyed, would-be explorers, sipping on a glass of Veuve Cliquet and wallowing in the luxury to which we would soon become accustomed.
The reception area and atrium are dominated by a giant LED digital artwork titled "Oscillations" by Miguel Chevalier, which showcases inspiring images and video whilst playing the soothing sounds of Michel Redolfi. Adjacent is the expeditions desk, a Photo/Video Studio, as well as the "Illu" Boutique (Innuit for House or Igloo), selling all manner of polar-inspired books, jewellery, Ponant branded clothing, binoculars, sunglasses, and other paraphernalia.
Beautiful neutrally decorated corridors and public spaces around the reception, come with comfy seating and both freestanding and walled bookshelves showcasing over thirty artists' wares including, stone, glass, and wood sculptures as well as books and paintings.
The welcome area had it all – hi-tech, luxury, service, comfort, and something that is so often amiss in today's world, a smile….. these would-be explorers were in for a treat!
Staterooms & Suites
One of the highlights of any holiday or cruise is arriving at your room. Sadly these days I am not the type to dive onto the bed in the manner of a leaping salmon as you see in the adverts, but it still excites me nonetheless. I guess the welcome, not to mention the champagne, had raised my expectations another notch or two, so when the charming porter who was to be on call 24/7 throughout my stay, ushered me along yet more immaculately presented corridors, I was ready for the wow factor. I was not to be disappointed.
At this point I want to mention a very minor, yet very simple observation which reminds me of the phrase I live by when assessing any travel product or experience, "The Difference Is In The Detail". In this case, it was the room key! It comes presented in a neat little nicely branded hard-wearing, tactile wallet with Wi-Fi code details and a little map. So often keys are slotted into instantly perishable card wallets that dissolve as soon as they come into contact with a soggy bar table. It's only a minor thing but the Le Commandant Charcot room keys are a little piece of the trip that you will want to tuck away in the side of your case and take home with you.
There are 123 staterooms and suites of different sizes all with spacious balconies. On board, there can be a maximum of 245 guests and 215 crew members at any one time. A butler service is included in some suite categories.
I was lucky to be staying in a beautifully furnished and decorated deluxe suite. The bed was a king size and as I was to find out that evening, it was tremendously comfy even if the motion of the ocean was a little livelier than I had hoped. I even had a pillow menu!
Other important inclusions were a slim desk and seat, a couch, a club chair & table, and a wardrobe and safe. The bathroom included a washbasin, a spacious glass shower, Diptyche Paris bath products, bathrobes, slippers, and for those of you that still have hair (or a crease in your shirt), a Dyson hairdryer. There is a separate toilet next to the bathroom which I always think is a good idea although explaining why, probably not.
For those who get a kick out of the tech, there is a large flat-screen TV, Wi-Fi, American and European electrical sockets, air-conditioning and even a Bose Bluetooth speaker to annoy the neighbours, although to be fair, the walls were well insulated and soundproof.
For snacks and drinks, there is an always welcome free minibar which is replenished daily and a Nespresso coffee & tea facility.
A little feature I liked was the company folder that not only contained information about the ship, but tucked inside the back, rather hiding away, was the stationery. There was writing paper together with stylish retro branded envelopes that you could send home. This reminded me once again, of that old Penguin Book, where it stated in Amundsen's expedition logbook from 1911, "I'm leaving a folder behind, containing a letter for the King and a few words for Scott, whom I must presume will be the first to visit the place after us."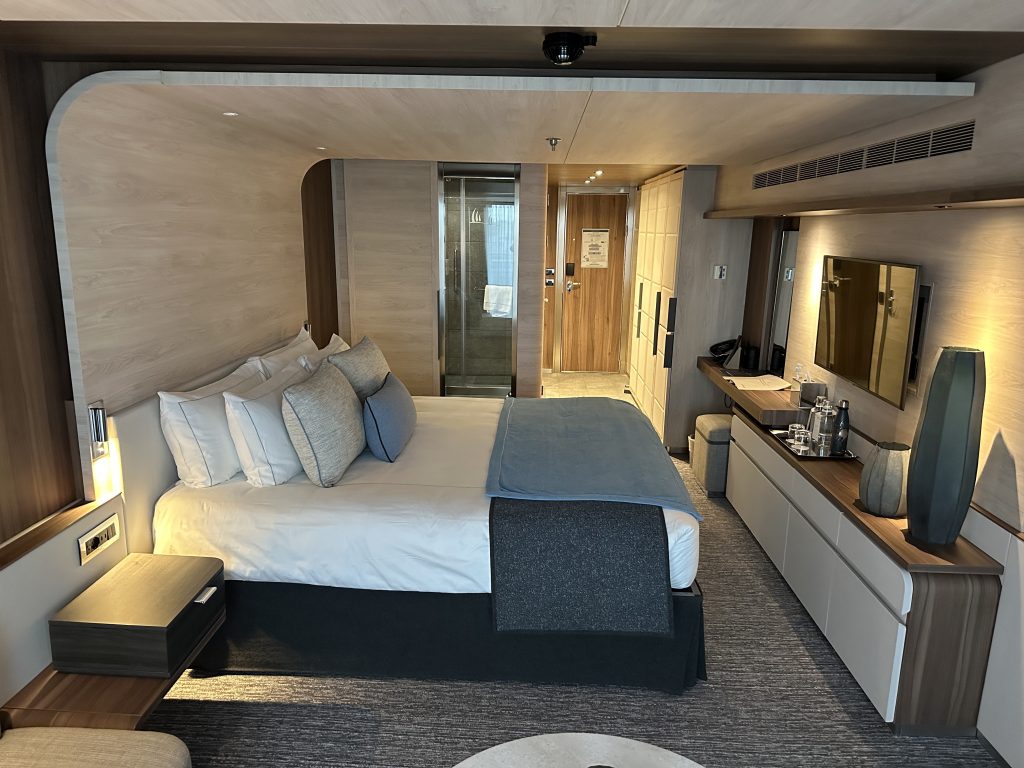 Decks
From my limited Cruise experience, I have always found it important, as soon as possible, to understand the layout of the ship and what is located on each floor. Sadly, time after time, I have failed this task, as I have always been in a rush to attend meetings, conference sessions or, let's be honest, get to the bar!
This trip was going to be different so with my key wallet and little map in hand, I headed out, like a true explorer, to navigate my way to every floor for a brief inspection.
My first stop was the rather impressive promenade on Deck 5, which is about 1 kilometre in distance and wraps around the entire ship. The decking and chairs along the route are impressively heated on recycled energy from the engines, meaning even in the depths of Polar Exploration, as you gaze out at spectacular scenery or just endless sea, your rear end will be warm! Do also take a moment to check out the two Swarovski Optik spotting scopes that are great for land, ice and wildlife spotting… or simply to be nosey!
There are 9 decks in total but only 5 (occasionally 6) decks that are in use for the public. There are two lifts connecting the floors or you can use the customary steep-sided cruise steps.
The two main decks with restaurants and lounge areas are located on decks 5 and 9 while accommodation is on decks 6,7 and 8. A rather exciting scientific laboratory where the public can occasionally, with planning, get involved, is located on Deck 3.
Deck 6 is home to a helicopter pad, and I understand two onboard choppers that are hidden away from sight. These are available for staff to either scout for wildlife or for use in the event of an emergency.
The medical centre is on Deck 4 and the expedition rooms and conference room are all on Deck 3.
Restaurants & Bars
Given that you are on a French ship you can be assured of some of the finest food, wine and champagne. Generally, French wines are served with meals and the house Champagne is Veuve Clicquot. Premium wines and liquors all come at an extra charge.
Throughout my stay, the food in every restaurant was simply sublime and the service was both friendly and attentive. I would go so far as to say that the meals I enjoyed aboard Le Commandant Charcot were far superior to the majority of those I have experienced in 5-star hotels.
Nuna Restaurant
If you are after fine dining and classic French/International cuisine served à la carte with fine wines recommended by a sommelier, then look no further than the incredible Nuna (Innuit for Earth). This is the Michelin-starred Alain Ducasse restaurant on Deck 5.
Dinners here are usually five courses with soup, starters, main courses, cheese and dessert. Needless to say, the restaurant is immaculately presented and the quality of the cuisine, on another level.
For breakfast, the Nuna opens between 07:00 and 09:00 and delivers a menu of delicious options including fresh pastries, eggs cooked to your liking, pancakes, waffles, seasonal fruits and sweets.
Sila Restaurant
The buffet restaurant on Deck 9, is called Sila (Innuit for Sky). Sila has open seating dining areas on both sides of the ship and once again the quality of the food was simply outstanding.
Breakfast is served in Sila between 08:00 and 10:00. Choose from a range of hot drinks, pastries and bread freshly made on site each day, home-made cakes and muffins, pancakes, waffles, eggs, cheeses, cold cuts, detox juices, and more.
Inneq Grill
Outside Sila, on Deck 9 there is a seating area, a bar, and a small outdoor grill restaurant called Inneq (Fire in Innuit). The Grill is available from 11:30 to 18:00.
The Main Lounge
Located on Deck 5, The Main Lounge appeared to be the livelier of the two main lounges providing live music often in the way of a pianist or classy singer. The table service seating is comfy and there is a selection of board games should that, float your boat.
The Observatory Lounge
On Deck 9 there is the Observatory Lounge and Library with fabulous views and a relaxed atmosphere. After dinner, I headed along to get a feel for the lounge and found it to be very chilled with an adequate choice of spirits, wines and cocktails although the choice of beer, much to the dismay of my Belgium blogger colleague, was limited to just Heineken.
The Observatory Lounge serves Coffee and Pastries from 06:30 each day. They also have a very popular afternoon tea often with a fabulous fresh pastry selection between 15:00 and 17:00.
The Cigar Lounge
Cigar aficionados have the option of the Cigar Lounge. This is one of the ship's most exclusive spaces even though it is a very small space and of course, a smoky one, so I did not stay long! Here you can enjoy a selection of fine cigars and premium spirits although no cigarettes are allowed. There is a smoking area at the rear of deck 5.
Activities
All of the ship's activity facilities are spread along Deck 9.
Spa & Sauna
The Wellness Centre and Detox Bar is a wonderful area to unwind. The Bar offers a variety of non-alcoholic beverages guaranteed to make you feel super healthy, prior of course to tucking into a 5-course feast, washed down with copious amounts of wine in the evening!
There is a complimentary indoor sauna with stunning views out to sea. The snow room gives you the chance to experience the extreme cold. Of course, if you are in either of the Polar regions you could simply step out onto an outside deck or your balcony for an almost identical experience!
The Spa offers a wide variety of treatments in their massage cabins all at an extra cost. After a couple of hours out on the Polar ice in one of those stylish expedition parkas', there is even a hair salon to make you feel and look normal again!
I particularly liked the hanging seats alongside the spa reception where, as the ship cuts through the most incredible scenery in front of you, you can just relax alone with your thoughts.
Swimming Pools
Along the stern of the ship is the Blue Lagoon infinity pool, which is divided into two halves, heated up to a temperature of 37°C and not heated. Alongside is a giant firepit and the Blue Lagoon outdoor bar serving food and drinks between 11:00 – 18:00.
Next to the Spa is the heated indoor pool which uses recycled energy from the ship, and it has its own tidal current to aid exercise. Alongside the pool is a sunroom with huge windows ensuring you don't miss the scenery even when your feet are up!
Fitness Centre
Should you wish, there is a fitness centre providing a small selection of equipment, including machines for rowing, stepping, and cycling plus there are weights. Whilst that may not fill many of you with excitement, the room does offer great views and air-conditioning, so you can at least work off those desserts in style!
Complimentary group exercise classes are available, or you could organise a personal session which is at an extra cost.
Learning On Le Commandant Charcot
Learning is a key element to your time on the ship with a variety of lectures, movies and classes available in the extremely comfortable 270 seat, theatre in the bow of deck 9.
Many of these classes will be related to your destination, and often delivered by special guests, experts in their field or even onboard working scientists. Subjects could include climate issues, geological matters, wildlife discussions, iceberg formation and so much more. There are often Photography and French Lessons, Wine, Rum and Caviar-tasting sessions (some at an extra cost). There is even a guided tour of the bridge which I was lucky enough to be able to enjoy.
It is important to realise that this ship does not offer high-energy dance or musical entertainment shows. A sailing on Le Commandant Charcot is unique, and all about immersing yourself in nature and understanding the region you are here to explore. You are after all on an expedition ship and not a party cruise!
Wildlife Sightings
For many, and it would most certainly be mine, the chance to spot wildlife, responsibly, is one of the highlights of any trip aboard this magnificent ship.
Depending on which route you take, there are many marine mammal sightings possible. These include Orcas, Minke and Humpback Whales, Dolphin, Porpoises, Seals, Emperor Penguins and perhaps the most iconic of them all, the Polar Bear! When there is a sighting, the captain will take to the tannoy, at any time of day, to advise guests many of whom will rush to a wildlife viewing point in the bow of the ship or simply step out onto their balcony.
It is not just mammals that you may see, as there are a wide range of seabirds that can be spotted, some even hitching a lift on the ship's air current. These include Albatross, Petrels, Gannets, Shearwaters and Skuas.
Regrettably, I did not need to unpack my wildlife bucket list during my brief sailing from Hamburg, but I can only imagine the excitement that takes place when some of our planet's most iconic and rare species make an appearance.
Excursions
A huge part of an expedition on Le Commandant Charcot is, of course, the onshore excursions which are all included as part of the package.
I previously mentioned that there are 215 crew members at any one time, and this includes an expedition team, composed of up to 23 experts.
One evening I had the pleasure of dining with Canadian, Steve Moir, Le Commandant Charcots's expedition leader. Aside from being a genuinely top guy with a personal love of adventure travel and British Classic Cars, it soon became clear of his passion for showcasing the history and heritage of the Charcot story. His love for exploration, discovery, advances in technology and witnessing our precious animal species in the wild, by the most sustainable and non-evasive means, was a pleasure to hear, and one that left me in no doubt that Ponant takes this responsibility very seriously.
The team under Steve include biologists, naturalists, engineers, glaciologists, and geologists, all of whom are on hand to ensure not only your safety but to educate and share their passion and expertise for the polar world.
On the ship, there are two dedicated boarding and disembarking rooms along with a small conference room with 30 seats, to brief those about to head out aboard a Zodiac inflatable boat, a kayak, a dog sledge, or just on a pair of snowshoes to go ice fishing.
Safety is the most important aspect of any expedition team and through meticulous planning and risk assessment, the expedition team will deliver some of the most incredible experiences of your life!
Regrettably, a Zodiac excursion was never going to form part of my trip from Hamburg, well I hoped it wasn't, although some might say that getting off in Southampton can open your eyes to things you may have never experienced before! I will leave that for you to decide!
The Tech
With its Polar Class 2 designation, Le Commandant Charcot takes you further inside the polar circle than ever before and with zero discharge. It is the world's only luxury hybrid electric-powered ice breaker expedition vessel that can break up to 2.5-metre-thick ice. It has a 52,000 horsepower hybrid power plant and is powered by LNG and 5 MWh electric batteries.
One of the many lectures I attended stated a fact which has remained with me. Incredibly we know "less about the polar regions than we do about the moon". To play a part in addressing that, there are two scientific laboratories as well as a sonar room and a meteorological station onboard with scientists monitoring temperatures, O2 levels, water salinity and animal behaviour. For scientists to undertake these studies via their own means would be cost-prohibitive, so this is the perfect marriage.
On some sailings, there is from time to time the opportunity for guests to get involved with studies. As a result, many clients return as ambassadors for science, and that can only be good for all of us.
Sustainability is also a key component of sailing on Le Commandant Charcot. I have mentioned the fabulous heating of the promenade deck, the toasty outside chairs, and the swimming pools heated from recycled energy. There is a wastewater treatment system and an onboard desalinization system. There is a water bottle for guests in your cabin with filling stations dotted around the ship while plastic bottles and straws are consigned to history – if only everyone in this world would follow suit!
Further tech is available having booked a cruise, with the PONANT app downloadable fromthe Apple Store or Google Play. Before your cruise, you can research practical information about what to pack, pre-book your excursions, and generally get yourself organised. During your trip, you can enjoy the daily highlights of your cruise, book spa appointments and even order photos.
Summary Of Le Commandant Charcot
Ponant's fabulous ship, Le Commandant Charcot offers the privileged few the opportunity to experience the furthest reaches of our planet on a luxury cruise that travels where few others have ever been able to venture.
It's an experience that I savoured in sumptuous, elegant and contemporary surroundings, with sensational cuisine and with levels of comfort that travel to the Polar region has never seen before.
With the challenges our planet faces through biodiversity change, sea levels dropping, thawing permafrost, and temperature rises, research and exploration are key to unlocking the truth as to how our world is changing. Ponant is making a statement that others need to follow, and none resonated more with me than this one from Ponants CEO, Hervé Gastinel:
"Nature is our guide" is not just a campaign, it's a commitment to sustainability and responsible tourism as being core values that guide everything we do. We believe travel has the power to transform individuals and communities. It is our responsibility to ensure this transformation is positive and lasting both for people and the planet.
The creation of this unique and very special ship together with the voyages that it now embarks upon, is history in the making and for that, we all, including me, need to pay attention!
Till next time…
Contact Information
For more information visit Ponant or contact your local travel agent or polar tour operator specialist.