Bergamo is one of the two Italian cities of culture for 2023. Its close proximity to the more box office Italian names such as Venice, Verona or Milan often means that tourists pass by. I like places like that, so I made sure I popped by – for 3 nights!
It's worth noting that the prices to Milan Bergamo Airport (not to be confused with Milan Malpensa) are often much cheaper than other Italian airports. The airport is just 5kms from the city centre so it really makes sense to include Bergamo in the province of Bergamo Italy in your itinerary maybe, like me, just before you return to the UK.
City of Culture 2023
Something I learned yesterday was that the reason both Bergamo and Brescia are the cities of culture this year is because in 2020, both cities suffered terribly from Covid. When it came to the voting process all the other cities in Italy decided to "gift" Bergamo and Brescia this title for 2023. How nice is that… I can't see Leeds gifting our City of Culture to Manchester can you? Anyhow ,before I upset my Yorkshire mates… back to Bergamo!
The Bergamo Tourist Office like to promote 6 hours in Bergamo. This really is a whistlestop tour of the Lower Town or Città Bassa and the more popular Upper Town or Città Alta. I however don't think it does the city justice as due to the hill climbs its hard work – well it is for me! To make life easier you can, for just €4, buy a 24 hour tourist ticket that includes unlimited access to the buses and the two funicular railways that take you from the Lower town to the Upper Town. Alternatively you can pay just €7 euros which includes the above PLUS a bus to the airport so again great value for money!
History
There is heaps of history in Bergamo. The 5 km long UNESCO protected Venetian walls built in 1561 house a lot of the treasures of the city including at the Piazza Vecchia, the Campanone or Bell Tower that you can climb (or take the lift) for 5 euros. There is also the beautiful Palazzo del Podestà and alongside it, the Duomo. At 22:00 every evening, the Bell Tower strikes 100 times in recognition, during the Venetian times, when occupants had to return inside the city walls.
The second of the funicular railways takes you from just outside the upper gate, to San Vigilio Castle. Whilst this is not the most exciting castle, it does offer some amazing 360 degree views of the city. When the sun came out I went up there for a few pics and loved just mooching around. There are a couple of lovely restaurants/cafes up there too – that always helps!
Out and About in Bergamo
The main street in the Citta Alta is the Via Corsarola. This truly magical street comes alive in the evening. Shops include bakeries, fashion boutiques, jewellers, crafts and souvenirs while the restaurants are as stylish as any you will see in Northern Italy.
Bars and Cafes are equally as enticing with the Bar Flora on Piazza Vecchia an institution offering Aperol Spritz and fabulous aperitivos, while The Tucans Irish Bar at Piazza Mercato delle Scarpe, next to the Funicular Railway is also a great shout for us Brits.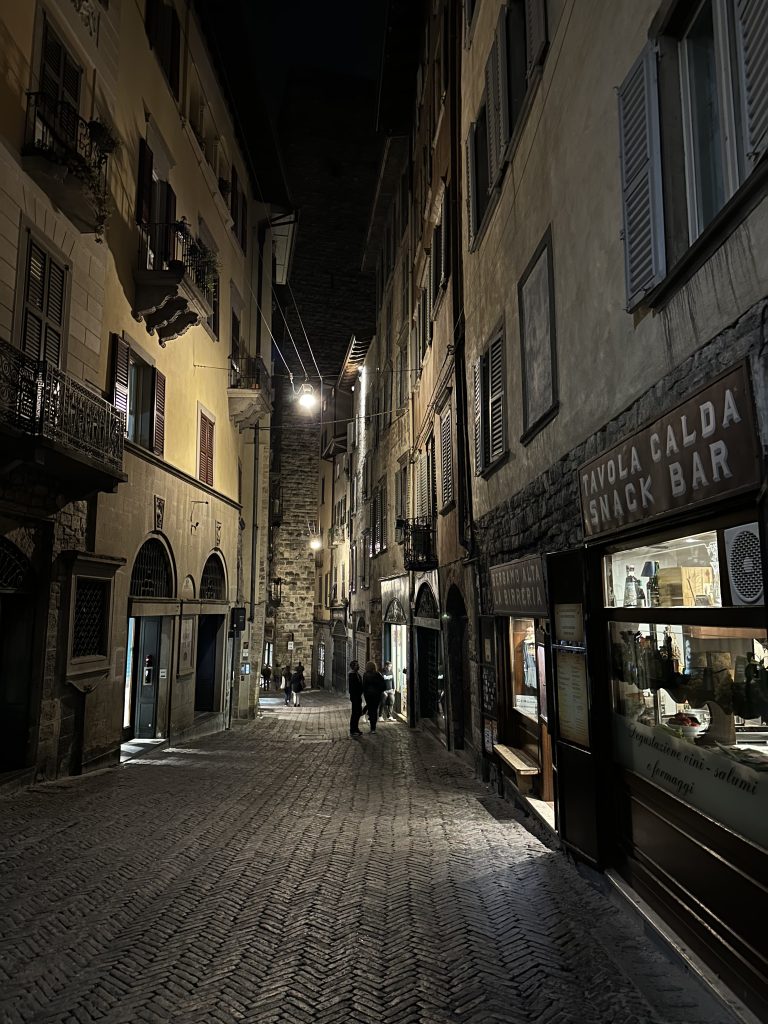 Stracciatella Ice Cream
Bergamo is home to the famous Stracciatella ice cream. If you visit La Marianna, just outside the city walls at the top end of the Via Corsarola near the Funicular, this is where in 1961, this ice cream was invented. I ordered a small tub and sat outside only to be told I had to take my rubbish (the tub) away with me – charming!
Another sweet treat you will see in the shops is Polenta e Osei – it is the shape of a Christmas pudding and comes in various sizes. It is sponge inside with a yellow coating flavoured with marzipan and decorated with chocolate birds on top. I had one for breakfast in a local bakery – its more a dessert but I needed to try it at some stage and 08:30am seemed like a good idea! I loved it !
Busy Streets
Now given these sugar laden treats, it is no wonder the children in Bergamo are out of control! It's actually the only issue I have with the city, in that each day I was there, they had a number of school parties (maybe 20-30 in a group and about 5 groups all over the city). Not sure what the answer is (apart from go in the evening) but it really affects the enjoyment of many peoples visit. Or maybe I am just a grumpy old man!
Today's dog of the day is a German Cockerpoo – her name is Kaya and I had to take this photo as behind her was an ornate statue in the same colour of a lion – I preferred Kaya!
Pre-Bookable Excursions
Contact
So that's Bergamo – a fabulous end to my Italian Adventure. It's been a long but very enjoyable trip from Venice to Bergamo. I have always loved Italy, but its been so many years since I truly had the chance to enjoy it, as I have these past couple of weeks – I hope to return one day, but who knows – there is a big olde world to discover so….
For more information on visiting Bergamo in Italy, contact the Bergamo Tourist Office or contact your local travel agent or tour operator.
All photos were taken by myself and should be credited if used to @justonefortheroad