I was sad to leave Cangas de Onis up in the Asturias mountains but with the weather having taken a turn for the worse it was probably best. As a result, I also cancelled a planned stop en route and decided to spend the day travelling all the way to A Coruna in the region of Galicia.
Travelling To A Coruna
The bus journey from Cangas de Onis to Oviedo was 90 minutes and then on to "A Coruna" was 4.5 hours. Upon boarding in Oviedo, I found myself wedged alongside a rather portly Peruvian bloke who was clearly partial to a Burrito or two. Within minutes of departing from Oviedo, he started to fall asleep. This nodding Llama soon got on my Burritos so after an hour I asked him to move. I wanted to watch the movie "Belfast" on the excellent on-screen entertainment system and I could not have done that with a Peruvian on my shoulder…I mean you just can't can you!?
Arriving at A Coruna bus station I said my farewell to our man from Lima who was a nice guy… when he was awake. The bus station at A Coruna is a strange place. Vast but when I arrived there was hardly a soul there. I headed over to the tourist information office to get a map and directions to my hotel. As I was waiting, a local drunk Señor tottered over to me and muttered something which I ignored. He then got a little louder and ended up putting his hands on my shoulder. What was it with my shoulder today…everyone wants a bit of it! At this point, security was called and he was taken away. Welcome to A Coruna!
Cerveceria Estrella Galicia
It was late so I checked in at the very nice Hotel Plaza but given the latest developments, I needed a drink, unlike old Señor who had consumed way too many. I asked the hotel reception and was directed to the Cerveceria Estrella Galicia just around the corner. This is one of the most famous bars in A Coruna which also happens to be the home of the rather fabulous, Estrella Beer.
This could not have been more perfect for me after a long day on the road. This incredibly atmospheric bar, pumping the beer through its on-site copper brew kettles was showing the football on giant TV screens while serving beer and tapas to hundreds of people.
A Herculean Effort
This morning the weather was still not great but with stormy skies, I headed out to see the main sights in town. The 1st-century Roman, Torre de Hercules, is the world's oldest working lighthouse. San Anton Castle is now home to the Archaeology and History Museum.
The beautiful 19th century Plaza de Maria Pita with the City Hall and a statue of the city's heroine herself, Maria Pita. Now forgive me for being somewhat paranoid however I witnessed three statues of women pointing in the first-hour mooching. Somehow I feel the men of A Coruna have had a hard time over the centuries!
Beach Soccer
The main beach, although there are five, is the impressive Praia de Riazor while the customary Spanish Old Town or Cidade Vella is home to churches, cobbled streets and delightful shops.
As if that is not enough A Coruna also has a pretty port and well-maintained promenades one of which leads along the beach to the impressive Deportivo La Coruna Football stadium which I simply had to visit.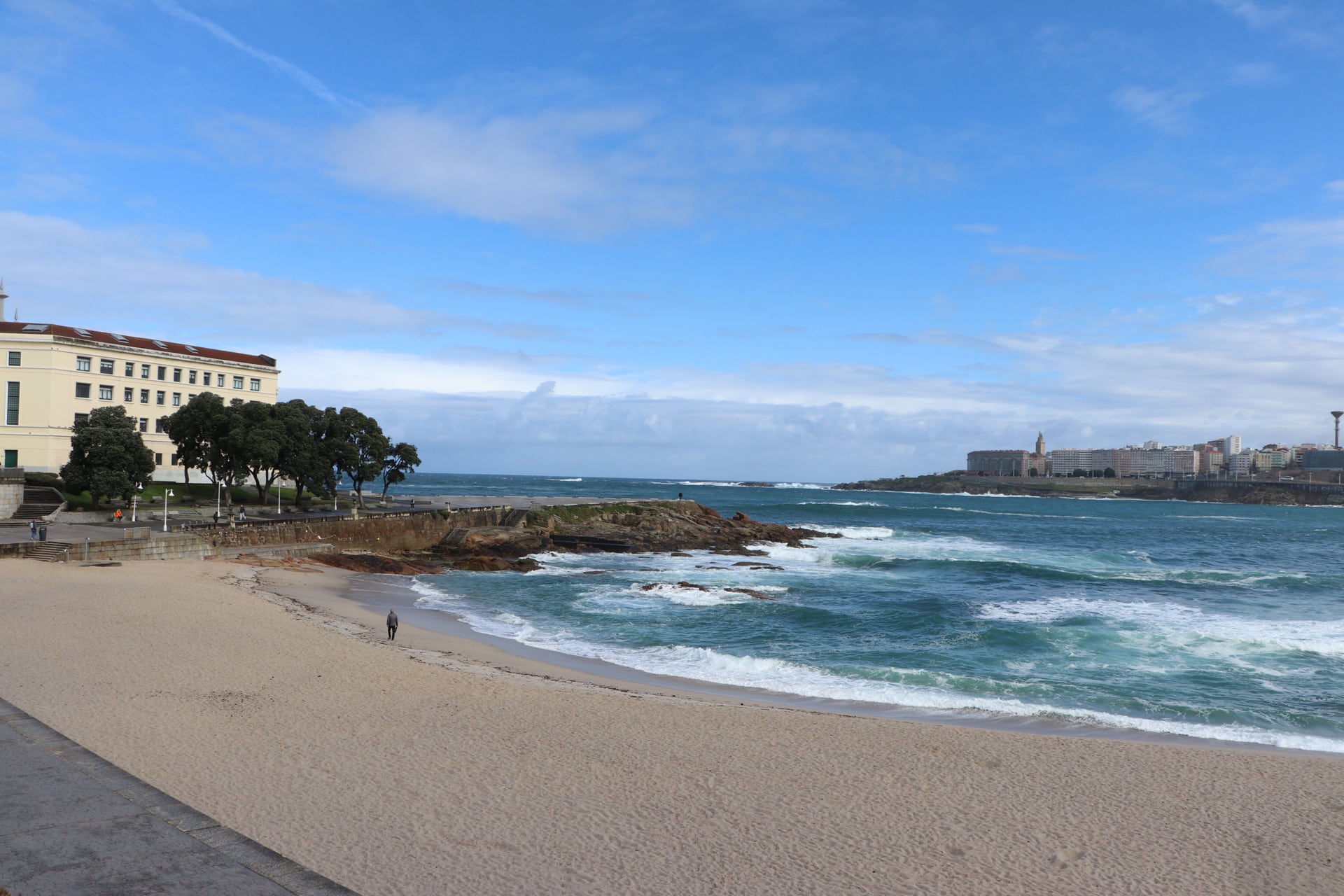 A Galician Welcome
In the short time I have been here, I have noticed that in the Spanish region of Galicia, there is a sniff of a chance that people will speak some English, unlike in Asturias where, aside from hotel staff, you are very much on your own! The Galician people come across really friendly. That's not to say the Asturians do not – they are just different and I like that!
Despite the hassle at the bus station on arrival and the foul weather I really enjoyed my stay in "A Coruna" and would recommend a visit however it's time to move on again.
While the ALSA bus company has been my friend so far, and they have been excellent and great value, it's time to change my mode of transport, as Just One For The Road hits the Tracks!
Contact
Contact
For more information on visiting A Coruna in Northern Spain, contact the Galicia Tourist Office or Visit Spain or contact your local travel agent or tour operator.
All photos were taken by myself and should be credited if used to @justonefortheroad