Today I decided to go off piste. I needed nature. I needed less human beings (preferably none). I needed mountains. In Northern Spain the place therefore to go, is the Picos de Europa mountain range. The problem is the Picos de Europa is largely in Asturias and if you ask anyone in the Basque or Cantabria regions they either can't tell you anything coz they have never been or in the case of the tourism offices I spoke to, they don't have any information – I would need to speak to the Asturias office.
So getting on a bus in Santander, Cantabria I only had my own research to guide me which, as some of you know, can be a little, shall we say.. thrown together. I knew that, for those visiting this region for walking and hiking, the small town of Cangas de Onis is where you need to go, so that was my target.
Journey to Cangas De Onis
My bus route was the 145 minute journey from Santander to Llanes. Then a 90 minute wait before connecting for another 1 hour journey to Arriondas. Then it was 15 minutes before the short hop of about 8km on a local bus to Cangas de Onis.
Just before I tell you about the journey can I just mention a new pet hate!! People who book a window seat on a bus then spend the whole trip playing Fifa 2022 on their mobile phone thus never looking out of the frigging window! Just saying!
So…. If you look up my first stop – Llanes – you will see a pretty Spanish coastal village. Sadly all I saw in the 90 minutes I was there was two bars – the Bohemia and the Triskel. With luggage I could not venture far from the bus station so I headed to the local Bohemia bar. I asked the young girl if they had WIFI. They did not but rather than offend the locals I ordered a Coca Cola which I must say tastes like it used to in my youth. Why is that? Who is the person in the UK responsible for taking the flavour out of our Coca Cola – I demand to know!!
Sorry this post sounds like a party political broadcast for the miserable old men party. Anyhow – the young girl delivered me my drink accompanied by what it has to be said was the smallest portion of complimentary fries with ketchup I have ever seen. I even took a photo alongside my Nectar card to demonstrate how small it was. With my fat fingers most ended up on the floor but hey a nice touch I thought !
So I really wanted to get onto WIFI as I needed a football score so I went over the road to the Triskel – not because I thought they may be showing Cheltenham v Ipswich in this isolated Spanish coastal town – but for the WIFI. I walked in and I could have been in Dallas as it was country hour and Garth Brookes was belting out "Tomorrow Never Comes" which given where I was heading may have been a premonition!
This time I ordered a beer and got a free soup – I am liking Asturias !! Anyway I could not stop long, so before a Spanish version of the Texas Two Step broke out I decided I best get back to the bus station for the next leg of my journey.
The terrain we were driving through was starting to change…. green rolling hills, picture postcard villages and giant mountains as a backdrop. I was liking what I was seeing! The bus on this leg of the journey had also had an upgrade…I had a TV screen with Wifi, arm rests and a USB port…. I still had the bloke next to me playing FIFA2022 but at least I was occupied.
The next stop was Arriondas. Suddenly the occupants of the bus had all disappeared except a Spanish couple. Actually I am not sure they were a couple as he was a lot older than her and he had crimson red hair and eyeliner… they were a great watch…. however I digress….
Cangas De Onis
Before long I was on the last leg to Cangas de Onis. Just before the three of us arrived I finally caught a glimpse of the Picos de Europa. I was in my happy place as I just love mountains and these are not only big at 2,648 metres but they are spectacular.
For anyone considering taking this journey, the roads have been great – not intimidating or dangerous in any way. I know that's a thought people will have when considering what I am doing. Tomorrow might me a little different however!
I checked into the lovely Hotel Santa Cruz in the heart of town and rushed out to have a rather uniquely poured cider and some amazing food as the sun was setting. Canis de Onis is a fabulous remote Spanish mountain town where no one speaks English. Its the sort of place where the shops sells knives the size of rolling pins and where the locals consider an entire wild boar as a bar snack. I already love it.
Lets hope the weather holds for tomorrow as I have an exciting day ahead….
Covadonga
Having been woken by the emergency rescue helicopter passing overhead I was slightly concerned that going up into the Picos De Europa National Park in early spring may not be such a wise move. That thought lasted about 30 seconds so off I went to the bus station to catch the Cangas de Onis shuttle bus to a place called Covadonga.
This took just 20 minutes and cost less than 2 euros taking you through a couple of beautiful traditional villages on the banks of the Rio Reinazo River. From here you then get a taxi transit vehicle to the lakes of Covadonga where you have the best views of the Picos de Europa mountains.
I was not expecting Covadonga to be much other than a brief stop but how wrong was I ! This religious mountain site is extraordinary. The centre piece here is the quite stunning Grand Basilica which is made from pink stone quarried from the local mountains. There is also a museum, a holy cave cut into the rock face along with a bar, restaurant and souvenir shop.
On arrival in Covadonga you are delivered to the waiting taxi drivers who charge you 12 euros to take you up to the lakes. Sadly today was cloudy so I was in two minds as to whether to delay my departure by a couple of hours and have a look around Covadonga, but in the end I bit the bullet and went for it along with half a dozen nervous looking Italians. I knew they were nervous as they finally stopped talking as soon as we hit the road….
Picos De Europa
Indeed the journey up is a little treacherous at times with few barriers. The cars coming the other way often have no regard for keeping to the side. Its one of those moments when you just have to man up (Uomo Su in Italian)…. I know that term is frowned upon these days but I am old school and it explains the situation perfectly!
Our driver stopped at a rock that is shaped like an elephant (the usual commercial claptrap but we all looked on in amazement). Then after 30 mins we drove past the first glacial Lake Enol and continued to Lake Ercina which was supposed to have those amazing views of the Picos de Europa. Sadly not today. Mother Nature was not playing ball but that's OK.
Now out of the vehicle and with my Italian friends chatting again we all had a strict couple of hours here to walk and experience this remarkable area in our own time. The lakes are incredible as were the alpine spring flowers scattered all over the grasslands and the air was as fresh as can be. Where the taxis were parked there is a rustic restaurant serving up various regional Asturias delights… the food in Northern Spain is off the scale!
En route down, the weather was improving and as we pulled over at a popular vantage point we got to witness, high up above, some pretty awesome birds! Once off the party bus my Italian (non) speaking friends said they were eagles. They weren't! As a five year old lad my favourite movie was Bedknobs and Broomsticks – anyone remember it? Well there was a football match in that movie and I have always remembered as it still makes me chuckle, that the stretcher bearers going on to the pitch to remove the injured, were Vultures! So I know a vulture when I see one circling… or about six in this case !! They were amazing and with the views at the top not so great…these big old birds made my day!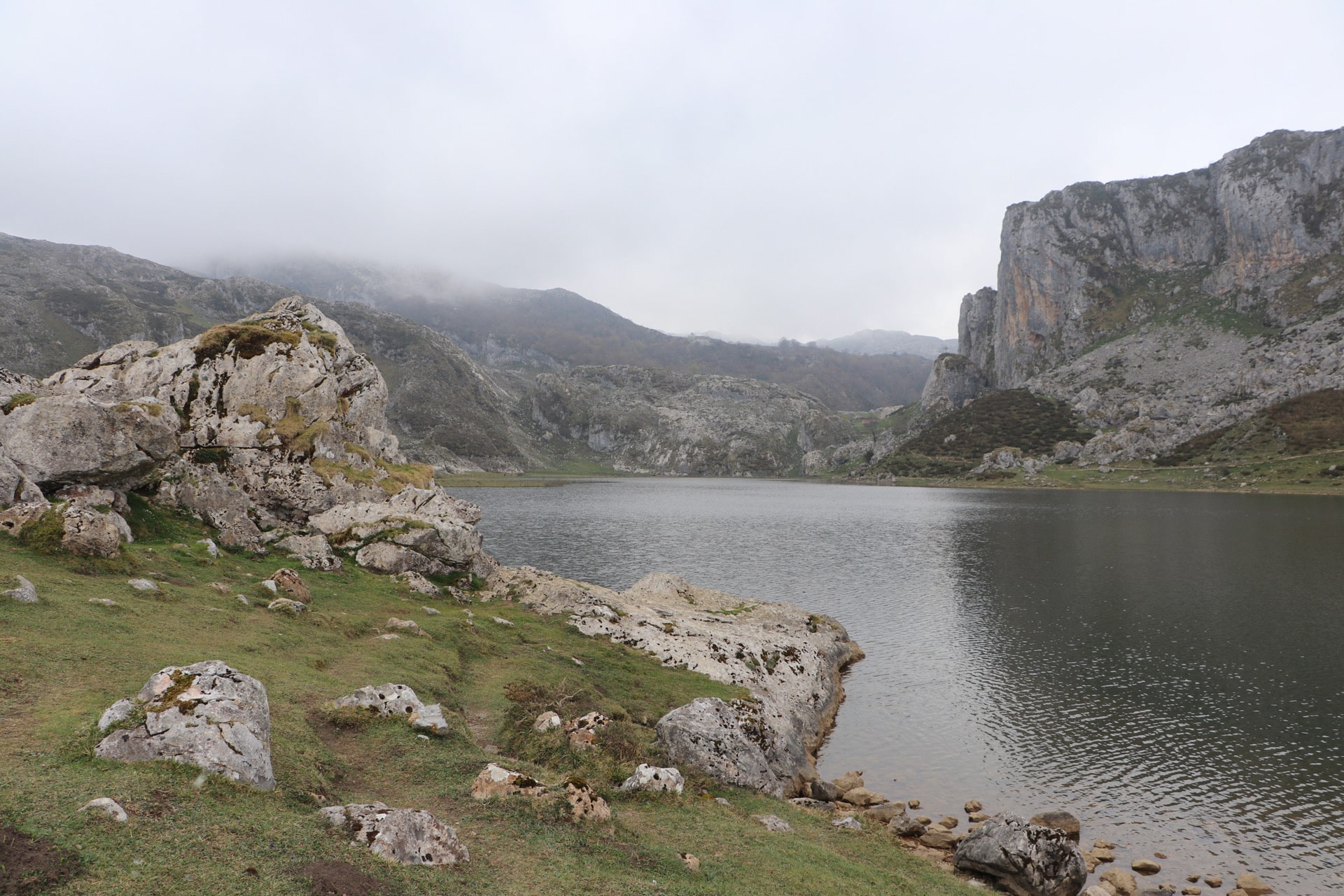 We soon got back to Covadonga allowing me to have some lunch, a wander round plus I almost gatecrashed a nuns room party before thinking better of it – those days are over. I then hopped on the short public bus back to Cangis de Onis. I am so pleased I made the effort to come up here… mountain air makes me happy as does seeing wildlife free and in their natural habitats. If you get the chance come to Asturias, make sure you "Uomo Su" and go see the Picos de Europa… they are incredible even if I didn't really see them at their best… or at all for that matter.
Contact
For more information on visiting the Picos De Europa in Northern Spain contact the Asturias Tourist Office, or Visit Spain or contact your local travel agent or tour operator.
All photos were taken by myself and should be credited if used to @justonefortheroad