I met a Finn last night over a tasty Pintxos. This attractive lady, was telling me that earlier that day she and friends had been on a wine and Pintxos tour to a popular local spot called Irura. When I got back to my hotel I spoke to the woman on reception and mentioned Irura as I was interested in going. After a long chat – she said why go to the well known place….how about a similar place but one the locals prefer? Well she was preaching to the converted – cue a trip to Zarautz and Getaria.
Getting To Zarautz From San Sebastian
A 30 minute train journey costing €4.50 takes you the six stops from San Sebastián through the lush green Basque countryside, to Zarautz.
Whilst I took the train, there are also great bus connections plus the area is popular with cyclists and motorcyclists who tour the area.
Zarautz
Now I thought the surfing in San Sebastián was pretty good. Zarautz is surf city central! Whilst I was visiting in Spring there was still plenty going on. During the Summer surfing is naturally very popular but Autumn brings the best conditions for the experts.
This enormous 2.5 km wide open beach on this gorgeous sunny day was crammed full of people surfing, sunbathing or sipping wine in the promenade cafe's. The beach is divided in three different parts. There is the west which is ideal for families, the centre is great for the surfers and then the East is popular for naturism so brace yourself for some sights.
At the eastern end of the beach, is a path that leads up to Mount Talaimendi. Originally a watchtower for whale hunting this is now a great spot to view the surrounding area. At the other end of the beach is the Santa Barbara lookout point. Again this provides visitors great views and wonderful countryside.
The old town is small and not so inspiring although the local market opposite the tower offers a taste of local life. Overall Zarautz is not as easy on the eye as others I have visited, but the beach for those surfing dudes and dudette's is an OMG or a WOW in their speak!
Getaria
From Zarautz, I took a one hour coastal stroll to Getaria. This walk follows the main road where lorries, cars and cyclists thunder along so whilst its not the quietest of walks it is enjoyable for the views.
The little town of Getaria is a medieval fishing village full of local history, classy boutiques and restaurants cooking fish on outside barbecues.
You will arrive into the square where the bus departs and where a statue of Juan Sebastián Elcanoyou a local explorer will greet you. Head along and down into the main street called Nagusia Kalea. Before long you arrive at the 15th century church of San Salvador before going through a small tunnel under the church. This brings you to the harbour side where there are a couple of restaurants alongside the fishing vessels and some larger buildings where they process the fish and send it on to local towns and villages.
Which ever restaurant you choose you can be sure of sensational freshly caught fish and served with the local white wine "Txakoli".
Surrounding Getaria are vineyards which you can tour as well as the Cristobal Balenciaga Museum – a fashion museum known throughout the designer world.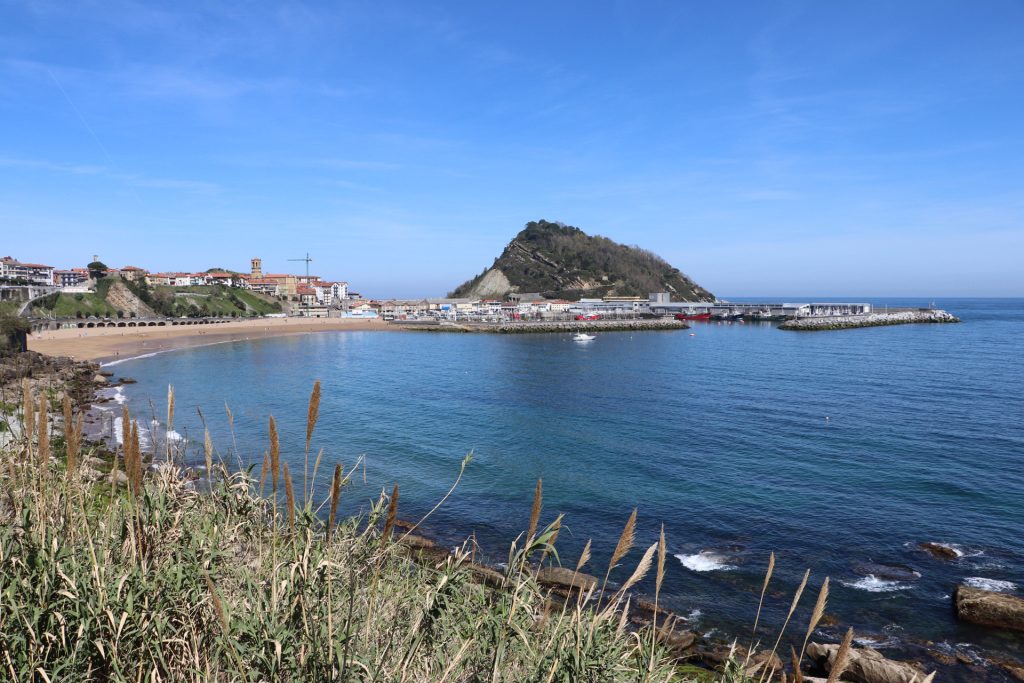 Contact
From San Sebastián these two towns are great options to get out and about – for the family perhaps to enjoy a day at Zarautz beach or just for a fabulous seafood lunch in Getaria.
Getting back to San Sebastián, I jumped on the bus from Getaria for €2.75 and was dropped virtually at my hotel door and just in time to go out again for one last fill of Pintxos…. when in San Sebastián n all that!
For more information on visiting Zarautz or Getaria in Spain, contact the local Bilbao Tourist Office, the Euskadi Tourist Office (Basque Country) or Visit Spain or contact your local travel agent or tour operator.
All photos were taken by myself and should be credited if used to @justonefortheroad