12 Hours In Hiroshima
Without doubt Hiroshima is a must see when taking a tour across Japan. I was arriving by train and was only stopping for the day so my focus was on the key tourist sites.
Looking back I wish I had stayed the night and had two full days as I have heard only good things about the cities nightlife, the nearby nature and cultural sights. In addition to that the cuisine is renowned as some of the best in Asia.
Getting Around In Hiroshima
Getting around the city was easy as it is compact not to mention safe. There is an excellent and regular electric tram network and you can buy a one day pass relatively inexpensively. Cycling is also very popular in the city with tours and bike hire readily available.
As I hopped off the train I chose another great way to get around – I walked. It was just 30-40 minutes to the centre during which time I started to get a feel for the city. There were some busy streets full of shoppers and a market however it all felt a little strange. Was that me and my preconceptions or was it just a very sombre and quiet city – I guess time would tell.
Of course Hiroshima and its name is forever going to be associated with the tragedy that unfolded here in on the 6th August 1945 when an American B-29 bomber dropped the world's first deployed atomic bomb on the city is truly humbling. The explosion wiped out 70% of the cities buildings and immediately killed 80,000 people with tens of thousands more later dying of radiation exposure.
The majority of visitors to Hiroshima will head towards the location of the nuclear attack which is separated into three distinct areas – the Memorial Park, the Museum and the Atomic Bomb Dome.
Hiroshima Peace Memorial Park
As I approached the park I crossed a bridge where small boats were taking tours along the river and a fruit and vegetable market was busily selling produce to locals.
I picked up a map in order to get my bearings and started to walk through the park stopping frequently at the many different structures and monuments dedicated to the legacy of Hiroshima.
The Cenotaph – pictured, also known as the Memorial Monument for the A-bomb Victims is located in the heart of the park. It consists of a stone monument beneath an arch and within it are the names of victims of the atomic bombing. If you look through the arch you can see the dome in the distance.
There are many guides offering tours of the park and museum. I was particularly taken with the lady pictured. An elderly lady, maybe a school teacher presenting her folder of images to school children. Some people you see in life have a story to tell and I could tell from the way in which she commanded the kids respect, her story was from the heart… perhaps a broken one. That was a special moment to just sit quietly and observe.
The park was busy but so so peaceful and reflective with people of all ages respecting all that was around. It was a pleasure and an honour to witness.
Hiroshima Peace Memorial Museum
The pretty park's main facility is the Peace Memorial Museum. Consisting of two buildings, the museum charts the history of Hiroshima and the advent of the nuclear bomb. Its main focus though is on the events of 6th August, the dropping of the bomb and the subsequent human suffering.
The personal details displayed are quite distressing and serve to remind us all that we should not take peace for granted.
Just outside the museum I enjoyed seeing the many groups of Japanese school children all immaculately turned out and well behaved learning of the story behind these tragic events. You cannot rewrite history – or delete it despite what many are trying to do in todays world. Its so important these kids and all of us all learn both these lessons and learn from the mistakes of the past.
Atomic Bomb Dome
The Atomic Bomb Dome is known as the Hiroshima Peace Memorial and is what remains of the former Prefectural Industrial Promotion Hall.
The building served as a location to promote Hiroshima's industries. When the bomb exploded, it was one of the few buildings to remain standing, and remains so today.
A Unesco World Heritage site the A-Bomb Dome is a tangible link to Hiroshima's unique past.
As I wandered around and stood and looked at the building it was hard to believe what actually happened here. Nearby older ladies and gentleman sat quietly with their thoughts to themselves or reading the daily news. Elsewhere tourists snapped away and took selfies.
Bringing life and colour to the area are numerous flowers and shrubs like this one. I took a moment here to take this simple photo and wondered who planted it and who perhaps it was in memory of.
Local Delicasies
There is plenty more to Hiroshima than just these three areas.
The city is renowned for its food and specialist local delicasies.
The most famous dish in Hiroshima is called okonomiyaki. It is a savoury Japanese pancake made with wheat flour, eggs, cabbage, yam and a variety of other ingredients.
Shellfish and in particular oysters are also popular so make sure you check out a local restaurant or go on an organised food tour while you are visiting.
There are evening cooking classes you can do if you want to take home some local tips and knowledge.
Shukkeien Gardens
The Shukkeien gardens were opened to the public in 1940, yet burned to ashes by the atomic bombing.
Located just east of Hiroshima castle it has been lovingly restored to its original glory and is now one of Hiroshima's main attractions and worth a visit. There is a central pond and a bridge to switch off and while away an hour or two.
Hiroshima Castle
Hiroshima Castle is better known as 'Rijou'- Carp Castle. It got its name from the black wooden slats attached to the outer walls of the Castle Tower that look like the carp's fish scales. Again this was destroyed by the bomb but rebuilt in the 1950's.
Getting to the castle is easy by either tram or just a short ten minute stroll from the Peace Memorial Park.
After passing through some attractive gardens and crossing the moat there is a small entrance fee to enter. Within you will discover a shrine, ruins and some reconstructed buildings.
It is sad like so many places in our world that have been destroyed that it is sometimes more pertinent what is not there than what is !
Miyajima Island
Less than an hour south of Hiroshima is Miyajima Island. This is a very popular hiking area and ideal for those wanting to experience wonderful nature. The area is also the location of some of the best views and vistas in all of Japan.
One particularly popular sight is the Itsukushima Shrine and its floating Torii gate.
Arigato Hiroshima
Hiroshima for me was all too brief. I think an ideal visit would be two days – one day to see the city and the second day to visit Miyajima island and the surrounding areas.
That said my day here was an experience I will never forget as it truly makes you grateful for what we have in life – peace… long may that continue !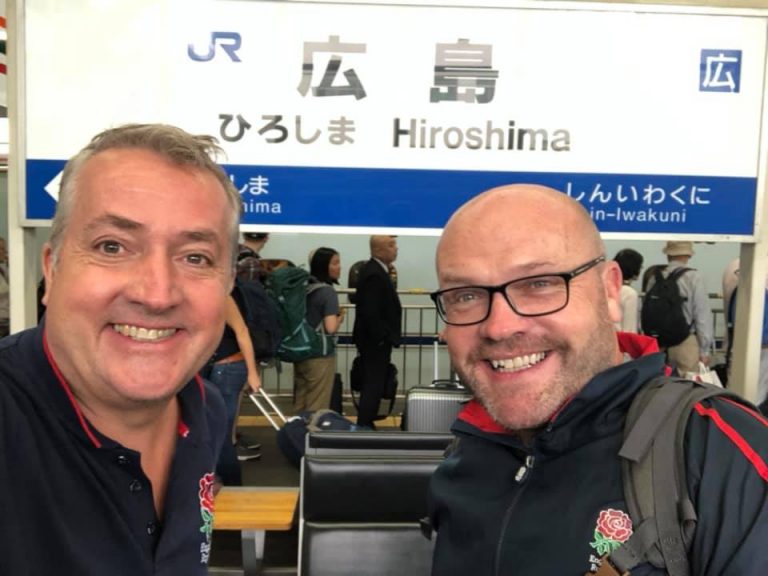 Pre-Bookable Excursions
If you are planning a trip to Hiroshima and want to pre book some excursions here are three of the very best.
Contact Information
For further information on taking a trip to any part of Japan or Asia either contact your local travel agent, a specialist tour operator or the Japan Tourist Office.
Check out my Japan Blogs for Tokyo, Kyoto, Osaka, Kobe, Hiroshima, Yokohama, Fukuoka and Fujikawaguchiko.