Just off the Normandy coast, the Channel Islands are an archipelago comprising two British Crown dependencies that many of us will know – Jersey and Guernsey. However, other, less familiar but just as interesting islands come under the Bailiwick of Guernsey – Jethou, Lihou, Brecqhou, Sark, Herm, and Alderney.
For years I have promised myself that I would visit these "lesser" islands and earlier this year I ticked one of these little gems off the list when I embarked on an exciting day trip to the rugged and beautiful island of Alderney.
Going anywhere for the first time has always raised my level of anticipation. The day was going to be all about adventure and discovery so, with a rucksack, comfortable layers of clothing, a camera, binoculars, and a strong pair of walking boots, I boarded the wonderful little Aurigny Airlines Dornier aircraft for the very brief but oh so exciting, 14-minute flight from Guernsey over to Alderney.
Introducing Alderney
Alderney is just one and a half miles wide by three and a half miles long and just eight miles off the coast of France. It is brimming with areas of special interest. At its heart is the delightful little town of St Anne, with its cobbled streets, quaint shops, and stylish accommodation.
Around the island are several spectacular sandy beaches or rocky outcrops, all connected by cliff paths that are worn by those who venture over to explore this friendly welcoming island that is steeped in history, abundant in wildlife and blessed with natural beauty.
Getting Around Alderney
Air
Access to Alderney by air is with Aurigny Airlines departing from either Guernsey (14 minutes) or Southampton, United Kingdom (40 minutes). The number of flights varies depending on the season so be sure to plan carefully.
Walking
The best way to discover the island is on foot. It's size means that you can circumnavigate the island in a day. There are ten different self-guided walks catering for all ages, abilities, and interests so before setting out, be sure to check the handy guide you can pick up free from the Visitor Information Centre.
Cycling
A great way to explore the island all year round is by bicycle. You may consider a half-day trip that involves a journey of about 4 miles and includes St Anne and the East of the island or perhaps you would prefer the full-day route which covers 6 miles. For a cycling experience a little less energetic you can also hire electric bikes.
Car & Taxi's
There are cars on the island however as a visitor you simply do not need one. Taxis are available and as a little tip make sure you have cash as they do not accept credit/debit cards. There is a bank with a cash machine on the high street in St Anne.
An Island Tour
Stepping off the plane at Alderney airport is an experience to savour. Just 20 metres from the aircraft takes you into a tiny little terminal hardly the size of a football pitch. Without a duty-free salesperson in sight, you are in seconds stepping outside the terminal where you will find yourself in the pickup zone where you could jump in a taxi for the somewhat lengthy 7-minute transfer to the centre of St Anne. The alternative is to use the on-site bench to pull on those walking boots and start your adventure. I just loved the simplicity of Alderney airport.
I was fortunate enough to be greeted by the team from Visit Alderney who collected me in an off-road wagon for my tour of the island. We were going in a clockwise direction, making our way from the airport to the extreme west coast for a view of the rugged offshore islands known as Les Etacs.
Les Etacs
Between February and September, these two rocky islands are home to 1% of the worldwide population of Gannets. This incredible bird has a wingspan of two metres and if you bring a pair of binoculars, you can witness them going about their daily business from various viewing points at Giffoine which is an area of heathland and home to Dartford Warblers, whitethroats and the rare Glanville fritillary butterfly.
For those wanting to view Les Etacs up close and personal, you can take a boat trip where experienced and knowledgeable guides will offer informative commentary from the sea on the seabirds, the scenery as well as the history of the island's fortifications.
Sadly 2022 has not been a good year for the islands Gannet colony as an outbreak of Avian flu has devastated Alderney's population of Gannet chicks. There is hope however in the team at the Alderney Wildlife Trust who have for 20 years been monitoring the population, understanding the species, building the data, and working with the wider scientific community to ensure this important part of the ecosystem is not lost forever.
The Telegraph Tower & Lager Sylt
From Les Etacs we took the short drive to two historic locations which give you a taste of what is to come. The Napoleonic War of the early 19th century and then the German occupation of the island during World War II is a fundamental part of Alderney's history and wherever you go you will see reminders of those days such as the island's many forts, bunkers, and memorials.
The Napoleonic Telegraph Tower was built in 1809 and was a signalling tower used to communicate the movements of French shipping vessels during the Napoleonic War. This was performed via visual means known as Mulgrave's "semaphore" system.
We also made a brief stop to reflect at the site of Lager Sylt – one of four Nazi labour camps on the island during World War II. The gate posts and plaque that mark the entrance to the camp, commemorate the 400 prisoners who lost their lives here on Alderney. It was at this moment I realised that whilst my visit was all about adventure, fun and discovery it was clear that Alderney has a past that however difficult to comprehend, is part of the island's history.
Fort Clonque & Fort Tourgis
We headed up the northwest coast passing Fort Clonque which today is owned by the Landmarks Trust and can be rented for self-catering holidays for up to 13 people. Back in the mid-1800s, it was built to protect the Channel Islands from capture by the French and was home to ten guns across four batteries pointing out in the direction of Hannaine and Clonque Bay. At high tide, the Fort is cut off from the rest of the island.
Further along the coast is Fort Tourgis which is open to visitors. This impressive Fort, made from Alderney granite was completed in 1855 and is the second largest of the Forts of Alderney. During World War II the Germans occupied this site and made it a powerful defensive position. Not far from Fort Tourgis is The Watermill – one of Alderney's oldest surviving sites and dating back to circa 1236.
Burhou Island & Ramsar Site
A stone's throw from Fort Tourgis is Burhou Island. This special little island is home, most famously to a population of loved-up Puffins who return every year to find the same mate. As with Les Etacs, boat trips allow you a closer view of these charismatic sea birds however landing on the island is strictly forbidden during the nesting season.
The region that includes Burhou island, Les Etacs and the West coast of Alderney achieved what's called Ramsar status in 2005. A Ramsar site is an area of wetland designated to be of significant international importance under the Ramsar Convention, also known as "The Convention on Wetlands".
Aside from the Gannets and Puffins, other species that thrive here include Oystercatchers, Ringed Plovers, Guillemots and Razorbills.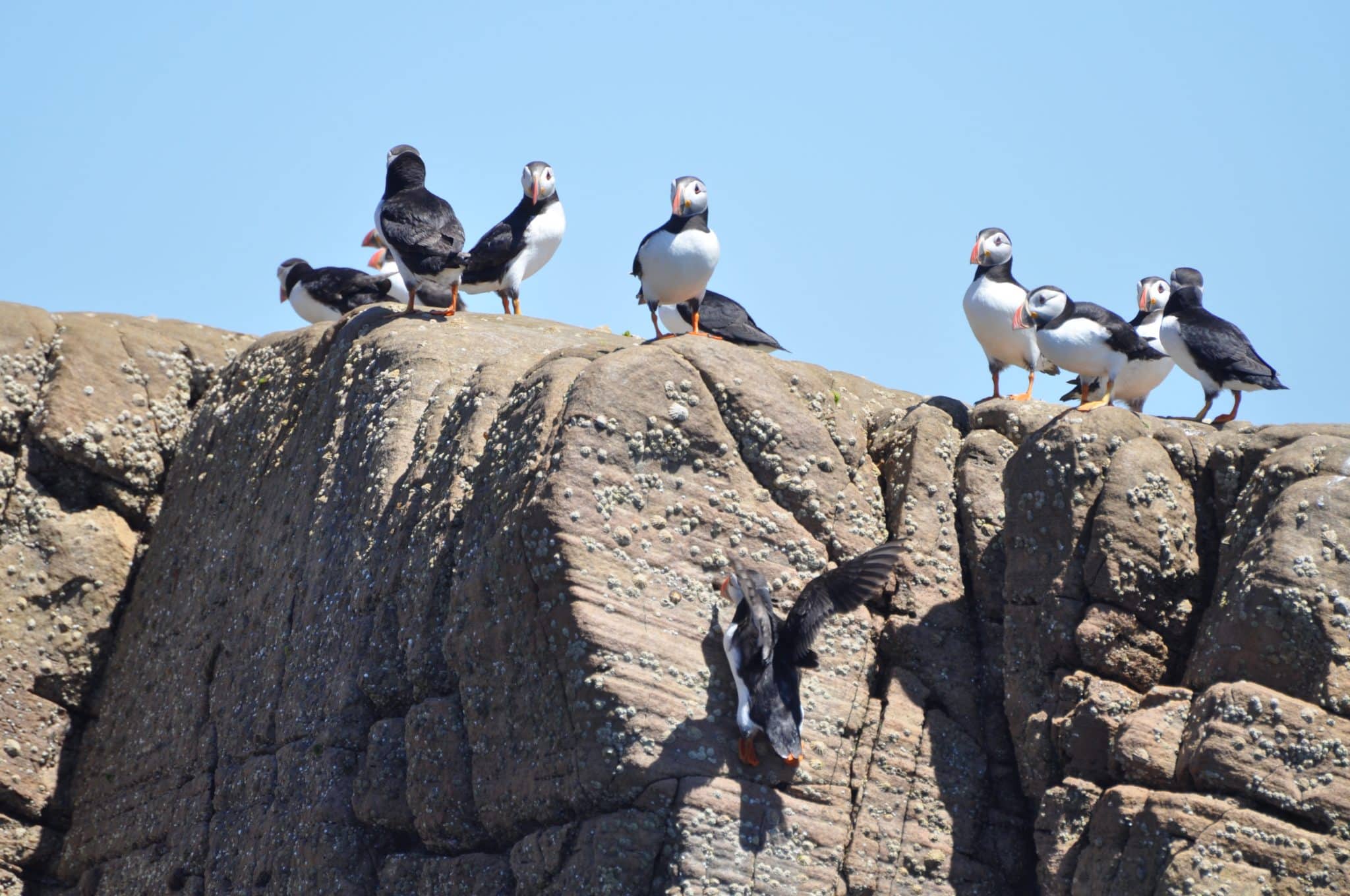 Braye Bay & Alderney Harbour
Passing both Fort Doyle and Fort Grosnez I arrived at Braye Harbour with its three-quarters of a mile-long breakwater protecting the bay from what is known as the Swinge, a tidal stream between Alderney and Burhou which even on a calm day can be treacherous. I was struck immediately by the pretty line of buildings with their pointed roofs.
Within this is the Braye Beach Hotel, now part of the Handpicked Collection of Hotels. This luxurious 4* boutique hotel provides guests with that authentic Alderney experience with sensational views across Braye Bay, a warm welcome and rooms and facilities that draw on the island's natural gifts.
The Quarterdeck Restaurant at Braye Harbour
A wonderful location from which to relax and enjoy life down at the harbour is to take lunch at the Quarterdeck Restaurant. This stylish restaurant offers lunch or dinner in an intimate atmosphere for up to 26 guests plus an outside deck with sensational views on those sunny days. I was lucky enough to meet Mark the manager who explained how after many months of planning the restaurant opened in July 2022. As with all good restaurants the menu will change with the season given their desire to use mainly local produce. On my visit, the menu included a superb selection of fresh fish, shellfish, and meat dishes all served with fresh salads and vegetables.
I chose the Charcuterie starter for one served with olives, salad, and crusty bread that came of course with a generous pot of Guernsey butter. Despite my love of mussels, I felt the need to sample the catch of the day choosing a plaice that was the size of a small satellite dish and served with capers, potatoes, and vegetables. The whole meal from start to finish was perfectly presented and tasted divine.
Before leaving Mark pointed out a little chap who was on patrol down at the edge of the harbour! This was Colin the Goose, a local celebrity in these parts don't you know. For several years he has provided "security" while often accompanied by his two duck henchmen – I don't have their official names – sorry! Apparently a kind gentleman has taken Colin under his wing (although surely that should be the other way round) feeding him daily and generally ensuring our Colin remains in fine fettle.
I enjoyed my stop for lunch and I know Mark could have told me many more stories and I could have easily stayed for another couple of hours sipping on fine wine, enjoying the relaxing and chilled-out sounds, while blissfully gazing out to sea however I had more of the island to discover.
Regrettably, I said my farewells, thanking both head chef Rebekah and Mark as I left. Wanting to walk off lunch I decided to stroll into St Anne passing along the harbourside and dear old Colin before arriving at the tiny Braye Railway Station.
Braye Railway Station
A surprise to many, including myself, is that Alderney is home to the only working railway in the Channel Islands. Opened in 1854 it was Queen Victoria and Prince Albert that first took the journey from Braye Railway Station just north of St Anne to Mannez Station on the East coast. The line is normally open from May to September and is maintained and operated by locals keen to preserve this unique heritage and popular attraction.
From Braye Railway Station I started to walk up the hill to St Anne town. As I started to puff, I thought I would check I was heading in the right direction and so I asked a local for directions. I mean perish the thought a travel blogger would get lost on one of the smallest inhabited islands off the British Isles!
I was indeed on the right path. However, moments later I experienced a little bit of Alderney that remains with me. The gentleman I asked had further down the hill jumped in his car, turned around and pulled over to ask me if I wanted a lift into town. I always say that the difference is in the detail and in particular those little gestures that often get unnoticed. Well, this little gesture taught me more in the 5 minutes it took to get to the top of the hill than in all the hours of research I did to understand this little island off Guernsey.
St Anne – Alderney's Only Town
My first act after arriving in St Anne town was to stop and just take in its beauty. The main shopping area with a small selection of quaint independent retailers lining the pretty cobbled streets is Victoria Street. This is the liveliest part of town with locals going about their business during the day while at night the surprising number of pubs and accommodations ensures a steady trickle of evening revellers.
As I wandered to the top of the high street, I once again decided to ask a lovely lady for information on where I was heading. Without a moment's thought she offered to walk with me and duly took me to the location of a yellow telephone box outside the Alderney Museum.
Here she told me that if you look at some of the terraced houses and in particular their windows you will see they are all square or rectangular apart from one which has an arch over the top. The official description is an arched tripartite gothic-style window. This is believed to indicate that the residents of the house were back in the day, considered slightly better off than the riffraff with square windows. How true that is I guess I may never know but it made me smile all the same! I thanked my guide and carried on exploring.
Attractions in the town include St Anne's church or the "cathedral of the Channel Islands", which dates to 1850. Open from April to October is the award-winning Alderney Museum showcasing the history of the island. Then there is the magnificent Alderney Cinema which transports you back in time. With just 90 seats the cinema is run by local enthusiasts and volunteers keen to protect an integral part of the island's history and identity.
The family-run Georgian House Hotel in the heart of Victoria Street provides charming townhouse-style accommodation with a contemporary feel. I dropped in for a cold beverage purely for research purposes of course and received a friendly welcome from the staff, while locals and tourists were gathering after a day out and about.
Fort Albert & Bibette Head
Leaving St Anne, I headed east. It was becoming apparent on my tour around the island that Alderney has more Forts than an entire series of Game of Thrones. Thirteen in fact and Fort Albert was the next on my call list.
Originally Fort Touraille, but later re-named Fort Albert following the death of Prince Albert in 1861, this fort was intended to be not only the strongest coastal defence but also to act as the main citadel should the island be overrun by enemy forces. Its 'polygonal' design shows many features that set it apart from its predecessors on the island.
Head north from Fort Albert and you come to Bibette head where you will find the German Strongpoint Biberkopf. This is one of the best preserved and most impressive of the German defences on Alderney.
The Hammond War Memorial, Alderney
Another short drive from Bibette Head led me to a place of remembrance.
Following World War II residents built this memorial to commemorate the lives of the slaves and forced labourers who were brought to the island by the Nazis and subsequently lost their lives. There are five plaques in Russian, Hebrew, Polish, French and Spanish.
The Odeon Naval Range Finding Tower
This World War II naval range-finding tower is one of the signature sights on the island of Alderney and a must-visit for those interested in the story of German occupation between 1940 and 1945. Built to observe enemy warships there are three levels each with slits providing views out to France. One of the viewing points has a telescope.
Inside there are three levels including a communications room where a fascinating mural provides a timeline of both World War II and below it the events that were taking place in Alderney at this time. In another room, there is also a mini cinema where you can watch a short documentary titled "Alderney The War Years" which includes useful information and moving interviews with those who were there!
Fort Quesnard & Fort Houmet Herbe
The most easterly point on the island is home to three Forts protecting that area of coastline. Fort Les Hommeaux Florains, Fort Quesnard & Fort Houmet Herbe. The most interesting of these is Fort Houmet Herbe with its distinctive medieval appearance. Back in 1854 it had ten guns and was manned by over 60 men however during World War II due to its location it was unused by the Germans.
Nunnery Roman Fort
Swinging around the East coast we soon passed Mannez Station the other end of the Railway line before arriving at the Nunnery Roman Fort.
Nearly 2,000 years ago the Romans built a fort on this site located by Longis Bay. Today it claims to be the best-preserved Roman fort in Western Europe. Opened to the public in the summer of 2020 you can discover not only its roman history but also when, in the late 18th century it was occupied by the British Army, and then more recently under German occupation in the second world war.
The Southern Coast
The south coast offers dramatic cliff walks, scattered with curious German fortifications from WWII. Some of the best views of the island can be enjoyed from the 9-hole golf course.
Festivals & Events in Alderney
Bloomin Alderney
May and June are the best months to see the island in flower. Every June Alderney holds an event called 'Bloomin' Alderney'. For one week the residents open their gardens to the public.
Alderney Week
In early August the biggest event of the year takes place on the island – Alderney week. The island comes alive with over 70 events including live music, entertainment for the kids, parties, carnivals and events for the whole family! This is the Channel Islands' very own and biggest festival.
Bunker Parties
Since 1995 a group of Alderney locals have held what has become quite a legendary event in the Channel Islands – Bunker parties. Normally taking place in early August around 250 people cram into a World War II bunker along with space for a further 300 outside and enjoy an all-night party with laser and light shows, a huge sound system, and non-stop 90's dance tunes.
Homecoming Day
This event on the 15th of December each year, commemorates the return to Alderney of the first group of islanders after WWII, following the mass evacuation of 1940. This is a major event in Alderney and is marked with a thanksgiving service and tributes all over the island.
Christmas in Alderney
If you are looking at getting away for the festive break, then how about Alderney? You can enjoy both the peace of nature yet in St Anne there are events throughout November and December including late-night shopping, Santa train rides and a community-led Boxing Day Walk.
Final Thoughts…
Alderney exceeded my expectations and left me wanting more. It would have been wonderful to stay at least one night as I wanted to sit and listen to stories from the locals and discover St Anne under the stars. Sadly though my day on this little island was over.
The nature, heritage, beauty, history, tranquillity, and friendliness of the local people have all captured my heart. You all need to add Alderney to your wish list. It's a place to make you feel good about the world and to remind yourself that the strength of kindness still exists.
I hope you enjoyed reading all about Alderney – I promise you will not be disappointed….
For more information about the island and places to stay check out the Visit Alderney website or to understand more about Alderney's rich nature check out my Wild About Alderney blog.