Dalmatia, Croatia
The region of Dalmatia including the sights of Dubrovnik, Split and the Adriatic Islands of Croatia, is a part of the world that every adventurer and holidaymaker needs to visit at least once in their lifetime.
Once you have visited that first time, I can guarantee you will be yearning to come back to this corner of Europe, as you won't be able to do it all in 7 or 14 days.
The jewel of the Adriatic is Dubrovnik in the very south of the country however with the Diocletian city of Split just a few hours by road away, it makes for a fantastic two-center touring holiday. What's more, you could also include some of the islands of Dalmatia too! The Adriatic highway connecting Dubrovnik and Split is a road trip of dreams that if done in one stretch will take about 6 hours.
Another popular location in Dalmatia is the Krka National Park with its pristine nature and stunning waterfalls. The Biokovo mountains are the backdrop to the Makarska Riviera and make for some incredibly dramatic and beautiful scenery, especially from the water.
Throughout the region, you will enjoy welcoming atmospheric restaurants serving some of Croatia's finest delicacies and washed down with local liquor or delicious wines from the Peljesac Peninsular.
Dalmatia is one of my favorite parts of the world and I long for the day that I will return.
Zadar
Zadar is an ancient Mediterranean port city. The old town is surrounded by walls and towers on a peninsula, with the new, urban part connected by the symbol of the city – a bridge.
Built on Roman principles, the streets are very well structured and orderly thus giving them and the city a rectangular shape. The old town is a treasure trove of archaeological artifacts and monuments to the ancient, medieval, and renaissance periods.
Despite all this history, Zadar has in recent years forged a reputation for entertainment, music events, and festivals in the nearby town of Tisno.
There are some excellent Dalmatia beaches on the outskirts of Zadar all with traditional little cafes and restaurants to get you through the day. As a little tip – try the sweet Dalmatia Maraschino cherry liqueur – a local treat!
Sibenik
Dating back to the 11th century the heavily Venetian-influenced city of Sibenik is well known in recent times for having been a location for the filming of the popular TV series Game of Thrones. The city itself has some wonderful places of interest including the Cathedral of St James which is a UNESCO World Heritage site.
Sibenik is a popular city for festivals with annual events such as music, children's events, medieval fairs, Christmas markets, and even comic book festivals.
A tip would be to purchase a Sibenik Card which gives you free entrance to attractions such as the St James' Cathedral as well as discounts on food, drink, and tourist outlets.
Primosten
The little village of Primosten gets very little press which has always surprised me as it's one of my favorite places in all of Croatia.
This impressive traditional fishing village reminds me very much of Rovinj with its hill and church up high on a spectacular peninsular.
On the northern side of the town is the Raduca peninsula, which is surrounded by pine forests intertwined with beaches and hotels such as the perfectly located Hotel Zora where I stayed many years ago.
Podstrana
Podstrana is a small town just 7 kilometers from the city of Split in Northern Dalmatia. The town is surrounded by mountains, slopes, and crystal clear waters set against beautiful pebbly beaches
The most beautiful beach in Podstrana is at the impressive and ideally located Hotel Le Meridien Lav. Some years ago I attended the opening of this hotel which comprises almost 400 rooms and suites. The wide range of facilities here attracts both leisure and business travelers.
Omis
Now Omis has never been my favorite Dalmatia town in Croatia. I guess we all have those places that you just don't take to. I desperately want to like Omis but on three occasions I have been disappointed.
Omis tends to be a place people visit to enjoy a range of outdoor sports activities as it is located at the mouth of the Cetina River. White water rafting is particularly popular here.
There is also plenty of history in terms of fortresses, church ruins, and architecture.
However, I think a combination of ugly graffiti, noisy streets, and a less welcome feel makes Omis a town I won't be rushing back to.
Trogir
Trogir is one of the most special places in Croatia. It's not big, it's not flash, and unless you cross the small bridge over to Ciovo Island then there are no beaches. A UNESCO World Heritage Site, Trogir is a unique and beguiling ancient city full of history dating back to 3BC and founded by the Greeks.
What I love about Trogir is the cobbled streets packed with shops, bars, and fantastic restaurants, the walled medieval center, the charming main square, and the fresh food market. You only stay perhaps one or two nights either on arrival into Split or as I prefer before heading home as it means a short 10-minute transfer to the airport.
There is also a lovely marina here where in the late afternoon you wander up and down the promenade where there are often kiosks selling art or local gifts to those who have pulled in on their yachts for an overnight stopover. I love the atmosphere here and to me, it is one of the most lovely Croatian towns with magic in the air.
Over on Ciovo island, it's good for that family holiday but Trogir itself is for people like me. We love to potter around, take photos, wander around markets and generally relax and people-watch. Just perfect, for a day or two!
Split
The city of Split is dominated by the Diocletian palace in the heart of the city. This palace built for the Roman Emperor Diocletian 1700 years ago is now a UNESCO World Heritage site. Split is a busy bustling city full of shops, cafes, restaurants, and bars. Many are located on the famous Riva promenade where those wanting to be seen stroll in late afternoon/early evening sunshine before pulling over for a coffee or a cocktail in one of the many watering holes.
Split is not just a Dalmatia city with cultural and historical significance. It is also a great base from which to explore. The airport is located close to the city center and also from a huge marina where many of those heading onto the Adriatic seas will embark.
Sport is popular here in Split with Hadjuk one of the more famous football teams in the Croatian league. The city also boasts strong tennis, volleyball, and water polo credentials.
I see Split as a gateway to other parts of Croatia so I only like to stay in Split for one or two nights before heading off to Makarska, the national parks, or one of the islands. It so depends on your requirements but for a cultural weekend break, it's ideal.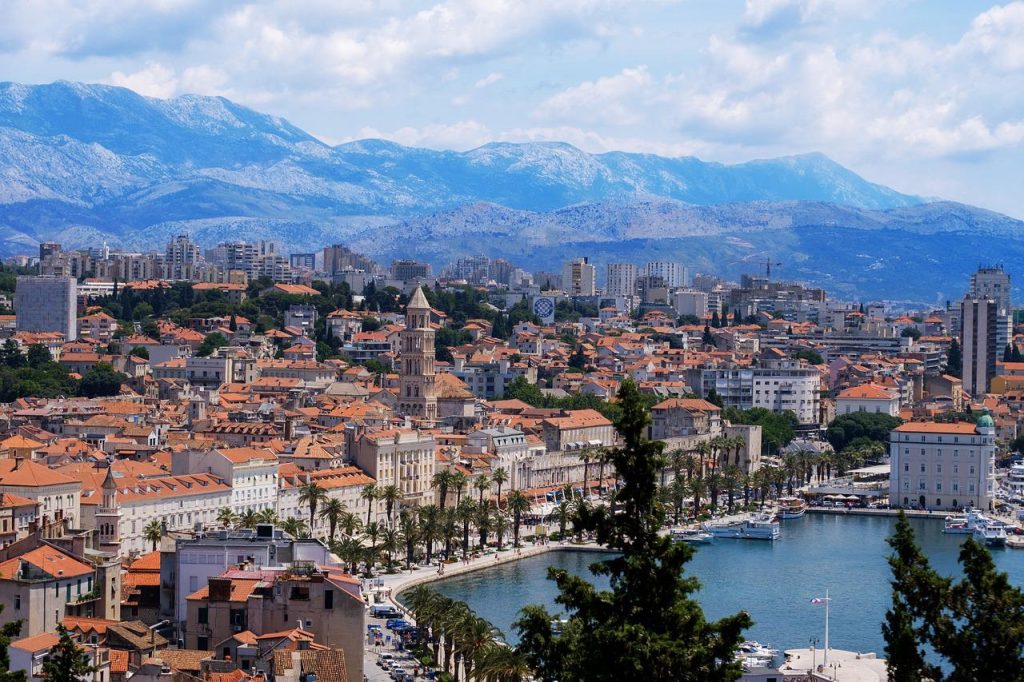 Brela
Now many of those people in the know when it comes to Croatia say that the charming resort of Brela in Dalmatia has one of the best beaches in all of Croatia. When you first see the white pebbles, crystal blue waters, and green pine backdrop it is difficult to argue otherwise.
Brela is a sleepy little village that is littered with stone houses, small bars, and cafes that only really come alive in the evening. Most accommodation is located to the side of the port area on densely wooded slopes. There are a lot of high-quality villas and private accommodations here but to secure them you need to book early.
Visitors, including families, tend to be those looking for a relaxing seaside holiday.
Baska Voda
Sitting in the heart of the Makarska Riviera, Dalmatia, Baska Voda, once s small fishing and farming village is now a popular tourist spot and favored by Brits and Germans. As with Makarska, it has the sensational backdrop of the Biokovo mountains but also olive groves, vineyards, and pine forests between the mountain peaks and the golden beaches.
People don't come to Baska Voda for art and museums they come for the great outdoors. The beach is always going to be the star attraction but there are many pleasant walks and hikes in the area and Makarska is just 9km south.
Baska Voda is for families and couples although those who like it livelier should head down to Makarska.
Makarska
If you are looking for a spectacular backdrop for those holiday snaps then the old town of Makarska located in the middle of a horseshoe bay with the imposing Biokovo mountain range behind is hard to beat.
You can travel up those mountains for spectacular views of the town and its surroundings but a word of warning… if you are hiring a car be aware that the track is narrow and if you encounter a car coming the other way as I did, you may need a second pair of pants, as I did!
Makarska has a beautiful palm-fringed promenade with a wide range of cafes, bars, and restaurants to choose from. As is the Croatian way, during the late afternoon and early evening the promenade becomes the place to be seen and to people watch.
The town is bustling with a cosmopolitan atmosphere, particularly in July and August when it is heaving. There is a pretty harbor where you can see the fisherman in the mornings selling their mornings catch or in the evening various seafaring craft bobbing at their moorings.
Alongside Markarska and the location of the majority of the hotels is a gorgeous pebble beach separated by a pine-fringed path full of restaurants, cafes, and bars.
Makarska is perfect for families and also for those looking for a livelier holiday.
I love Makarska and most of Dalmatia in June or September when it's not so crazy busy but I guess if I was 25 again it would be the height of the summer all day long !!
Tucepi
Tucepi is a quiet town with a flat promenade running alongside its shoreline making it ideal for visitors with restricted mobility. The beaches here are beautiful and like all of the resorts in this area are backed by the imposing Biokovo mountains.
Cafes, restaurants and bars, and a few shops are available and with its location just 80kms south of Split airport it's a great place for holidaymakers seeking a peaceful, carefree summer holiday.
Podgora
The little Dalmatia town of Podgora is located on the Makarska Riviera 65 km south of Split and 135 km north of Dubrovnik. Podgora used to be a simple fisherman village however in recent years it has evolved into a popular tourist resort with plenty of history, culture, great food, and plenty of outdoor activities on both land and sea.
The promenade is full of cafes and restaurants providing beautiful seaside views across pine-fringed almost 6 km of pebbly beaches bordering crystal clear Adriatic waters. In town, there is plenty of history in terms of the numerous churches and pretty cobbled streets. The lively town of Makarska, the spectacular islands of Hvar and Brac as well as some fabulous vineyards are all just an excursion away.
Ston
The walled town of Ston is just over an hour north of Dubrovnik. Wherever you stay there will be the chance to visit on a guided excursion. Tourists are attracted by the spectacular 5 km long walls, the nearby salt works, and also to sample the delicious oysters that are farmed in the Oyster beds of what is known as Mali Ston Bay.
If you don't go and catch them yourself then several superb Dalmatian restaurants will serve up some of the finest seafood and those oysters in all of Croatia, if not Europe!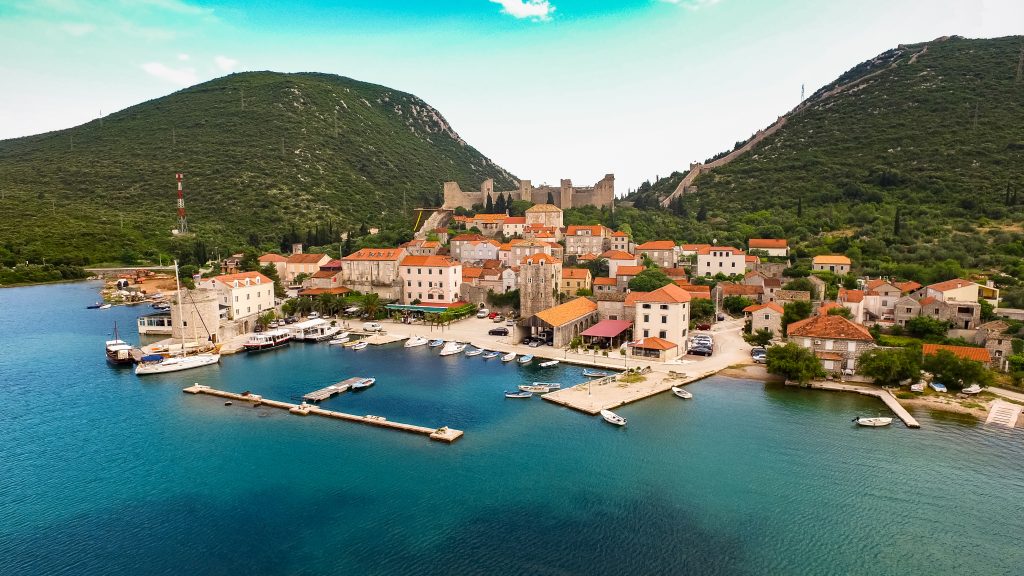 Orebic
Orebic is situated on the southwest tip of the Peljesac peninsular at the base of Mount Ilija. There are beautiful beaches here lined with palm trees as well as a little fishing village with views across Korcula. There is a regular ferry that takes the short hop over to Korcula so this is an ideal excursion if staying in Orebic.
I believe there are better places to stay in Dalmatia than Orebic…. it is perhaps good for those traveling as an overnight stop before an early morning ferry to Korcula or to explore the south mainland. Having said that the wine from Orebic and the Peljesac peninsular is excellent so maybe my memories of this village are a little hazy.
Dubrovnik
Where do you start with this perfect medieval city? The huge walls were built between the 11th and 17th centuries and today you will find tourists paying a fee to climb the steps and walk around them for views of the city from above. One tip when doing this is to avoid the hottest part of the day as it's hard work with little shade and limited refreshment stops.
Dubrovnik is alive both day and night with tourists although an ever-decreasing number of locals still live in the little cobbled side streets off the main Stradun where restaurants, cafes, and bars line the street. There are two gates at either end of the old town – Pile gate is north and Ploce by the old harbor is south. In the mornings the bars and cafes are filled with people enjoying the coffee, in the afternoons it's the delicious ice cream, and in the early evening, it's the cool beer that draws you in! Dubrovnik is the perfect place to people watch. Within the city, walls are boutiques, souvenir shops, churches, palaces, museums, and markets so whenever you visit there is plenty to do. The nightlife within the walls is pretty low key although a couple of Irish bars tend to attract the crowds.
A couple of bars I love in Dubrovnik are the tiny Troubadour where they regularly play Jazz outside on the cobbled streets or the Beach Bar Buza which is a late afternoon / early evening establishment where you stoop to get through this narrow entrance to a bar perched outside the city walls but where you can enjoy a sundowner with views across the Adriatic and the island of Lokrum. The Buza Bar is a real hidden gem and the word in Croatian means "hole" as it is accessed by a hole in the old city walls. There are nowadays several high-end glitzy bars catering to the rich and famous…. avoid those and feel the real Croatia!
Just across from Dubrovnik you will find the island of love – Lokrum where you can find the ruins of a Benedictine monastery, botanical gardens, a restaurant and there is also a pool with swings and countless spots to relax and gaze across the Adriatic sea without a care in the world.
Dubrovnik also has a fabulous cable car that will take you just 4 minutes to the top of Mount Srd for views of the city and where there is a classy restaurant and also the Homeland War Museum dedicated to the history of the Balkan war back in the early '90s. It's fascinating and I would highly recommend it.
Now Dubrovnik is not just about what takes place within the old city walls. There is much more to discover including the lovely Lapad peninsular where there are a selection of well-priced hotels as well as a popular beach and promenade full of bars and restaurants. Access to the old town from here is best by bus which is cheap and cheerful and drops you right outside the city walls. Add to this local markets, the Gruz port area and the Franjo Tuđman Bridge – one of the largest single-pylon, cable-stayed bridges in the world.
I love Dubrovnik although in recent times with the arrival of big cruise ships it can get very busy so I prefer it out of high season and I also shudder at some of the prices being charged now. Most well-located hotels are now 5-star and offer a high standard of service while catering to families or couples or even those just wanting a weekend break – Dubrovnik is for everyone – just not all at the same time hopefully.
Mlini
Just 11 km south of Dubrovnik is the little fishing village of Mlini is sheltered by high mountains, nestled amongst pine trees, cypresses, olive trees, orange groves, oleanders, and many excellent beaches which bask in the warmth of the Mediterranean sun. Old stone houses, a peaceful harbor, and a pleasant shoreline just add to the traditional and untouched feel of this small hamlet.
Dubrovnik is a short 10km bus or boat ride away. The Zupa Valley with its enchanting villages, vineyards, and farms is just a 15-minute walk away.
Until recent times Mlini was pretty low key however as Dubrovnik's hotel capacity has maxed out naturally companies have looked further afield and now the resort is getting many more visitors in particular to the five stars Sheraton Dubrovnik Riviera Hotel.
Cavtat
Always a favorite with the Brits, I have yet to meet anyone who does not like Cavtat in Southern Dalmatia. Located on the western shores of the Konavle Valley, an area of natural beauty south of Dubrovnik, Cavtat is such a delightful resort with a picturesque bay, harbor, and palm-fringed promenade. It is a mix of ancient culture, modern hotels, gift shops, pavement cafes, bars and I am afraid now quite expensive restaurants that come alive at night time. A walk around the peninsula path is a lovely early morning or sunset experience as are checking out the back streets, the art galleries, the Baroque parish church, and the octagonal Mausoleum built by the famous sculpture Mestrovic. A really popular pastime is to head down to the bay at about 6 pm and catch a game of water polo – a sport where Croatians excel.
From Cavtat, you can catch the bus to Dubrovnik but I much preferred jumping on a water taxi from the harbor front that takes about 30 minutes and drops you right in the heart of the old town.
If you are sporty there is so much to do in and around Cavtat and in the Konavle valley. You can go sea kayaking from Cavtat, scuba diving, horse riding, cycling, hiking or there are even buggy adventures and off-road jeep safaris.
Other little tips for Cavtat are to get up early and watch the fisherman docking and selling their haul to the local restaurants. You can also take the boat from Cavtat on a variety of island excursions so do your research and pick your island – Korcula for history, Mljet for nature and the Elaphite islands for a variety in one trip (Sipan, Lopud, and Kolocep) or Lokrum the island of love just across from Dubrovnik where the kids can play on a swing over the little pool or you can visit the botanical gardens and enjoy a meal in a tropical setting.
Watch out around the peninsula of the Hotel Croatia as you may stumble upon the nudist beach which is pretty common throughout Croatia…. of course, you may be there to partake in the sunbathing in which case my advice is don't burn your bits in the summer! There are several hotels in Cavtat – some catering for the family market and other smaller boutique styles for those looking to chill without the frill!
Cavtat is a magical place to stay as it offers the best of both worlds – the small resort with an evening atmosphere to savor yet close enough to the major city and island excursions. I love it there and it's one of my happy places in this world of ours!
Cavtat is a dreamy Dalmatia resort. Just like all of Croatia, you will not be disappointed.
Contact Information
For further information on taking a trip to Dalmatia or any part of Croatia, either contact your local travel agent, a specialist tour operator, or the Croatia National Tourist Board.