Berlin Green Bike Tour
It has been some years since I rode a bicycle – can you tell? That said the opportunity to get back in the saddle to discover the German capital by bike on a Berlin Green Bike Tour was just too good to resist. There are several bike tours available in the city from trips to learn about the story of the Berlin Wall and other key tourist sights.
There are also some more authentic tours, E-Bike tours, and Urban bike tours however I opted for the one operated by the company "Green Bike Tours" which aimed to showcase Berlin's green spaces, sustainable projects, and other eco-friendly initiatives.
Despite the gloomy weather not being great for a city tour, it was at least cool. I was super excited as we would be taking in 3 of the 12 districts in Berlin – Kreuzberg, Tempelhof and a little part of Friedrichshain.
Now I had strict instructions to be at the Re-Bike Shop n Rental at 10 am located on Blücherstraße 16 in the Berlin district of Kreuzberg. I hopped on the tram which is all part of the Berlin Welcome Card that I had purchased in advance of the trip and I was at the bike shop ready for another adventure.
Re-Bike Shop n Rental (1)
I was greeted by the friendly and welcoming shop owner Emre who offered me a coffee and promptly went next door to get me a super strong shot of double espresso. It was not long before the caffeine was kicking in and my energy levels were peaking when my guide for this bike tour of Berlin arrived.
Redhead Sophie has lived in Berlin for two and a half years and is originally from Denmark having been born close to Copenhagen where coincidentally the business she represents is based. Started in 2017 "Green Bike Tours" is a not-for-profit organization currently offering bike and walking tours in three lovely European cities – Copenhagen, Malmo, and Berlin.  Any profits that are made stay within the company or are donated to sustainable projects. The company aims to communicate through its excellent guides, what is being done in these cities to make them more liveable, sustainable, and affordable for all of its citizens.
With Emre's coffee having had the "Red Bull" effect and given me wings I was measured up to ensure the bike would take my weight (!!) and that it was the correct height. I was then ceremoniously presented with a rather stylish (don't you think) helmet.
Sophie and I were ready for our 3-hour Berlin Green Bike Tour.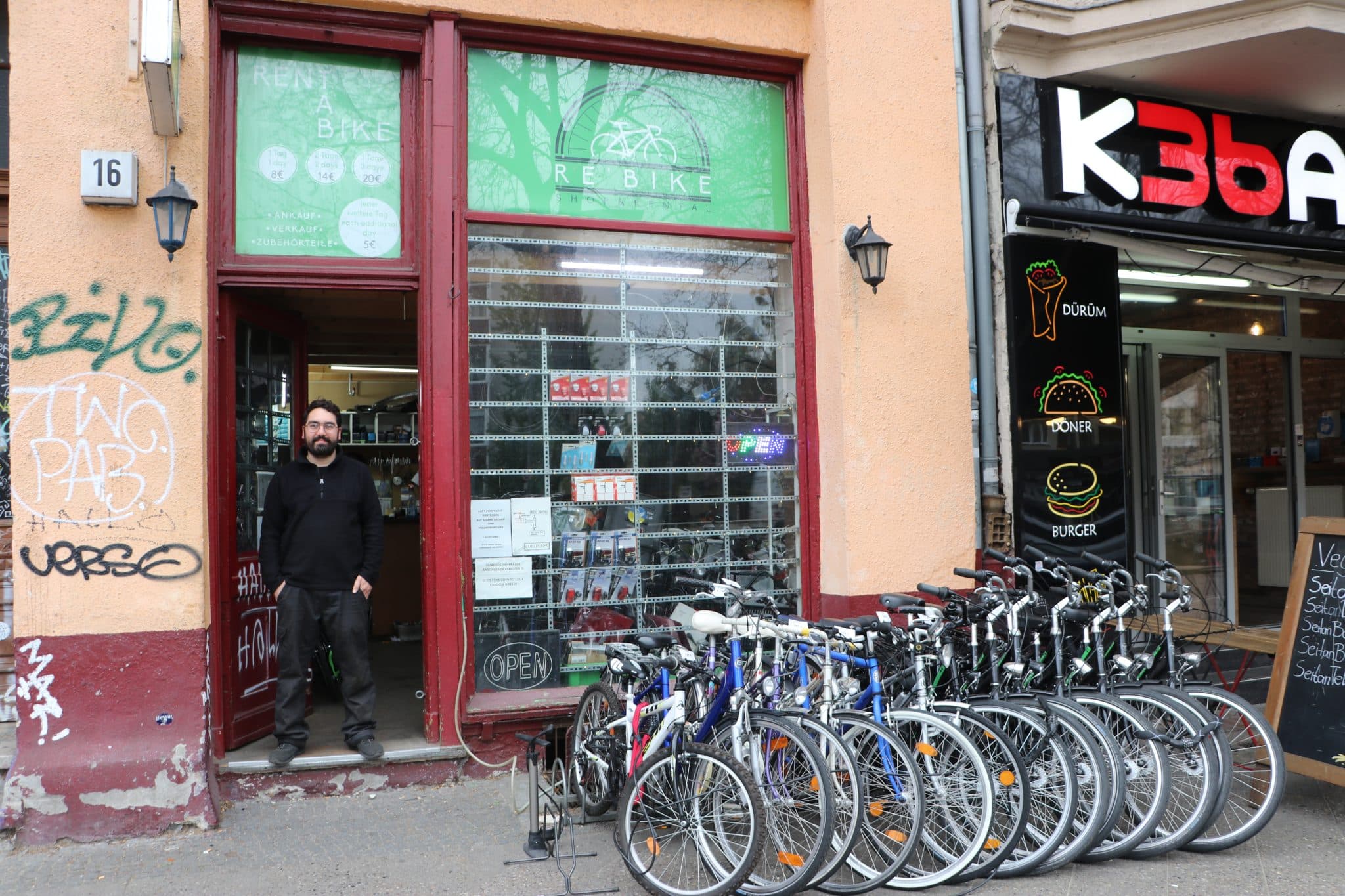 Bockler Park (2)
After hardly more than 100 meters the caffeine kick had worn off and the legs were burning – well not quite yet but it would not be long!
Our first stop was just to take in the lovely views in Bockler Park and along the pretty banks of a small waterway that gently flows into the main river in Berlin called the Spree.
It was here that Sophie explained, in perfect English, a little more about the challenges that Berlin and indeed the wider world faces when it comes to sustainability. She explained that 50% of the population in Germany lives in cities with this figure expected to rise to 75% by 2050. It was therefore considered paramount that a range of social and environmental initiatives are vital to ensure the future health of its citizens.
From a political standpoint, there is the Green Turnaround act that formed part of the 2015 Paris Climate agreement. Berlin had a focus of 85% of the city to have carbon neutrality by 2050 however it was clear that these targets were not stringent enough and that date has now been reduced to 2045.
Sophie explained that there is also a strong social movement in Berlin with young people demanding change as they are in so many countries around the world. Demonstrations are a regular feature in today's Berlin where the young demand such measures as energy neutrality by 2030, not 2045, and a car-free inner city.
A third of the city's CO2 emissions come from transportation with one in three people in Berlin owning a car. This needs to be a focus and specifically, the switch to electric vehicles should and is gathering momentum. One sign of that is the car giant Tesla is building a new motor plant just outside Berlin.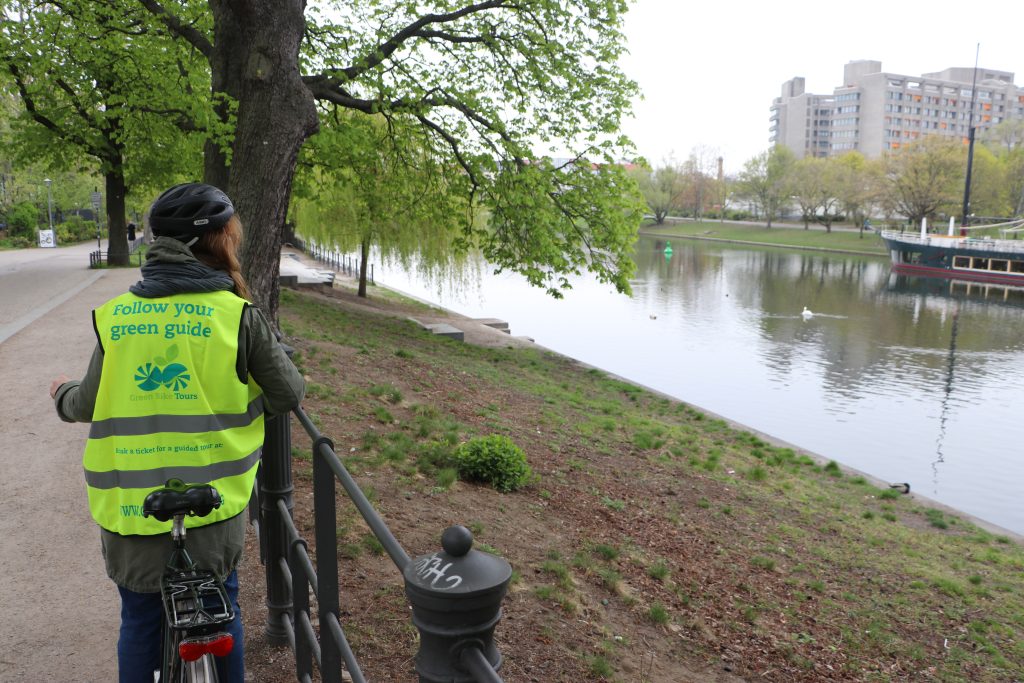 Oranienplatz (3)
Our next stop at what was on first impression a tired uninspiring park with a few dated swings and climbing frames as well as an open area of unkempt grass and stone. I wondered why Sophie had pulled over – surely not a puncture already!
She explained that this area within the district of Kreuzberg is heavily populated with migrants, especially from Turkey. From 2012-to 2014, demonstrations from the Oplatzmovement took place here as asylum seekers from all over Germany looked to have the freedom to choose where they lived rather than be allocated to certain areas of Germany. A large part of the Turkish residents in the area of Kreuzberg came in the 1960's – 1980's.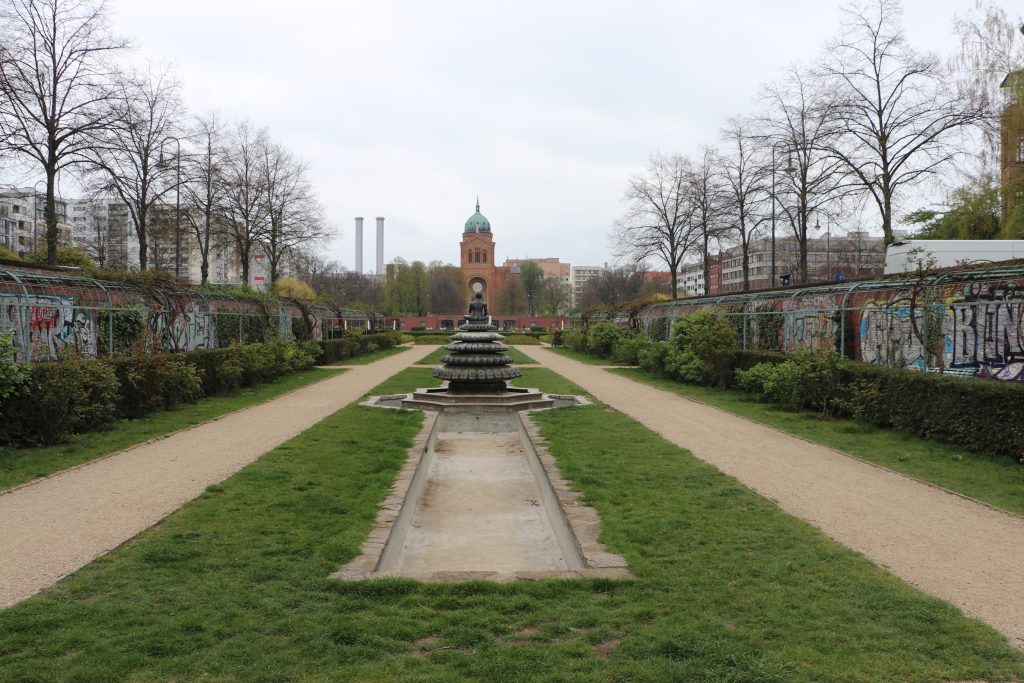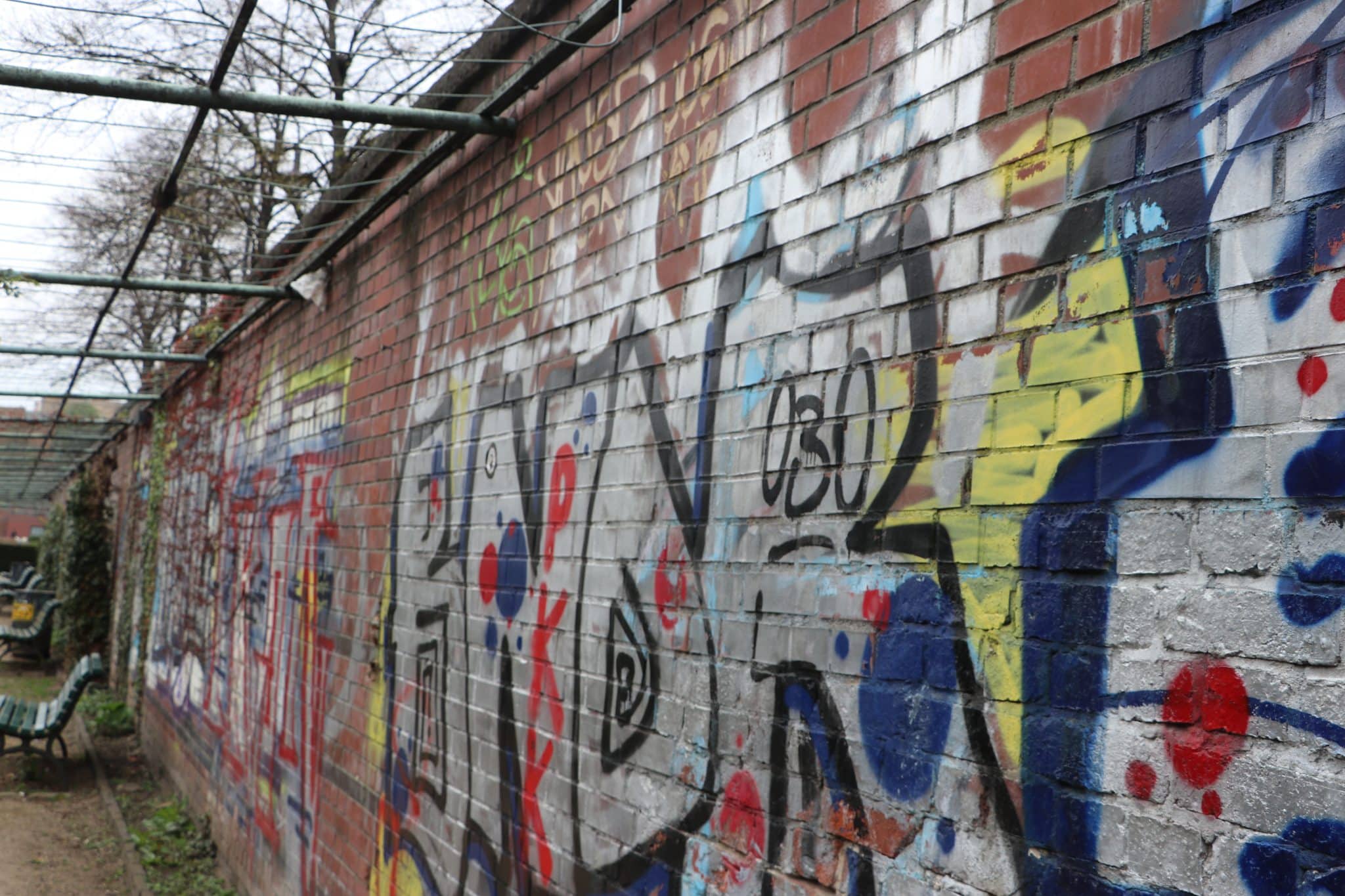 St Michael's Church (4)
Not far from Oranienplatz was the gorgeous façade of St Michaels church which on approach with its lake in front and fountain looked to be in pristine condition.
Saint Michael's church was designed by August Soller and is a Roman Catholic church dedicated to the Archangel Michael. The church was completed in 1851, then also serving as garrison church for Catholic soldiers
As you start to cycle around the church you start to see how the center of it was destroyed during the bombing in World War 2 with the damage left as a symbol to those who lost their lives back in the last century.
Holzmarkt (5)
One of my favourite areas we visited as part of our Berlin Green Bike Tour was this alternative urban development known as the Holzmarkt. Originally a thriving timber yard, it was after World War 2 developed by the local community into gardens and various fledgling businesses. In addition, a famous techno club called Bar 25 existed here from 2004-to 2012.
In 2012 the site was acquired by a Swiss fund management company that bought the land for alternative investments. Today this area is divided up into a mix of bohemian style businesses all renting space at affordable prices to run such establishments as quirky coffee shops, wine bars, vegan food outlets, and a bakery.
I particularly found amusing the tired and well used Teledisko cubicle where you go to enjoy your own private party. I can only imagine the kind of shanaghin's that goes on in there.
The site is now very popular with all kinds of visitors from tourists like me or locals who come to enjoy the relaxed atmosphere, the communal gardens, the location on the banks of the River Spree, and great value food and drinks.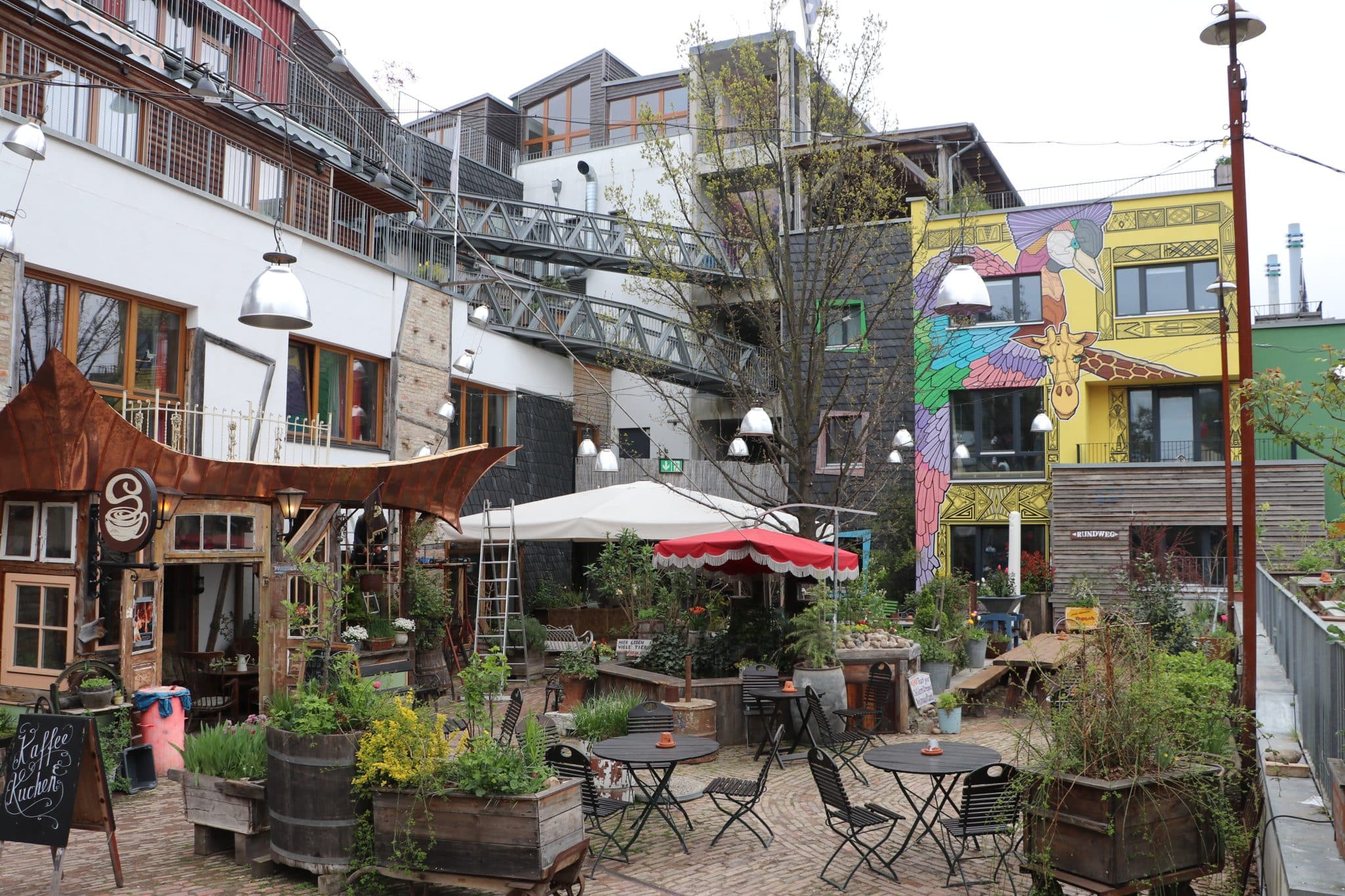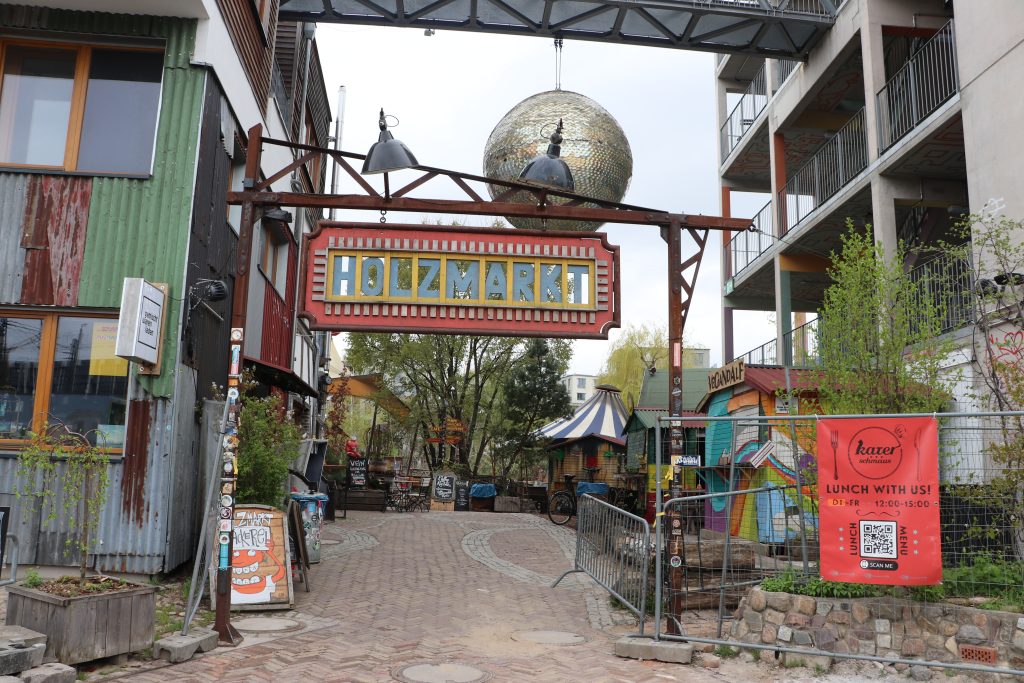 The Spree River (6)
As I have already mentioned the River Spree is the main river in Berlin meandering through the city for 400km.
Between 1893 and 1925 Berliners used to swim in the river however today as it takes both rain and wastewater that is no longer possible on health grounds.
Proposals are underway from nongovernmental organizations (NGOs) and engagement groups to filter the water and so allow once again people to bathe and enjoy the clean waters of Berlin. As the city like so many on our planet struggles with heatwaves and rising temperatures this, it is hoped, will be given the green light.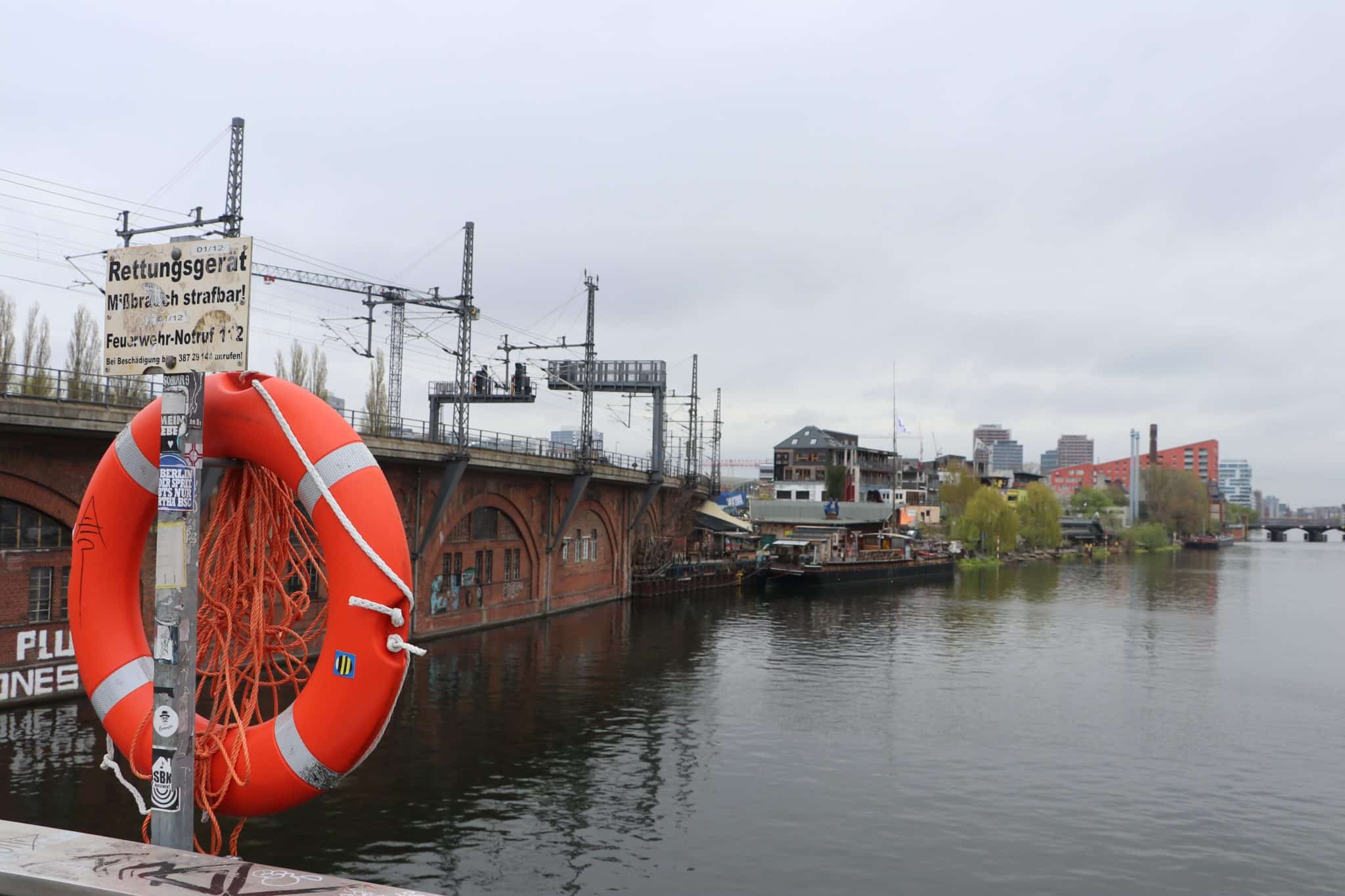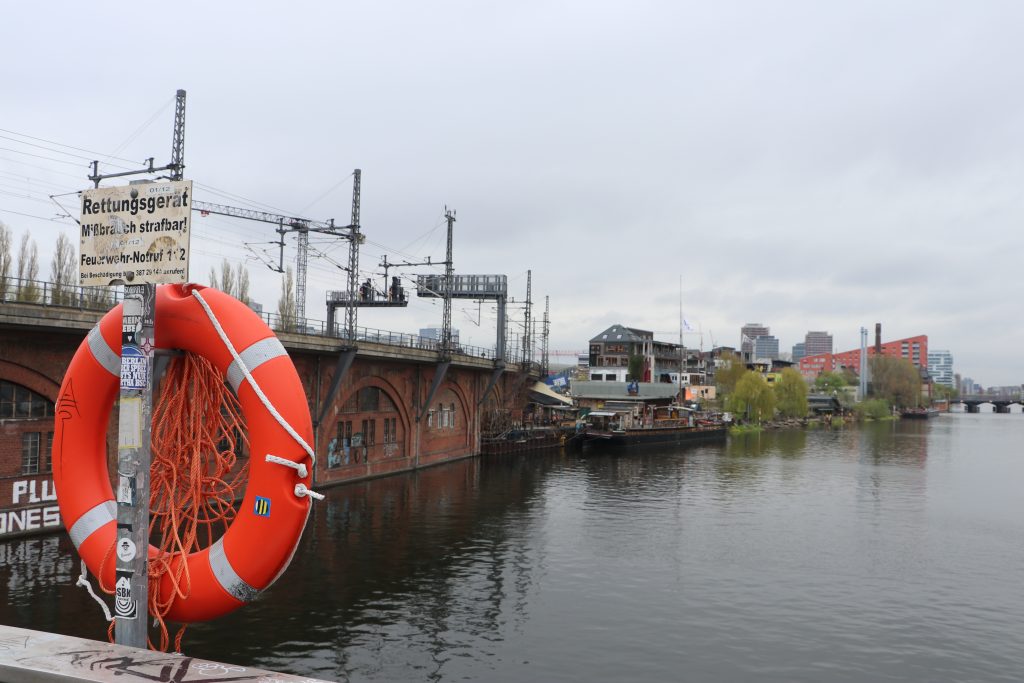 Markthalle Neun (7)
Built-in 1891 the Markhalle Neun used to comprise 18 food producers from around the city but sadly it was bombed during World War 2 and the building remained vacant until 11 years ago.
In 2011 it was reopened as part of a local initiative where local businesses showcased and sold local and organic produce. With one-quarter of greenhouse emissions caused by food production, it is another step to ensuring a cleaner and healthier city.
Workshops were started for young people and children to learn the importance of seasonal produce, and local food and they were also given advice such as the benefits of for example plant-based diets and eating white meats.
Original Unverpackt (8)
Sophie was leading from the front with a variety of hand signals now fully understood by this English biking novice.  We stopped briefly at Germany's very first food shop that offers a completely no packaging, no waste experience.
A wander inside this busy little store gave me an insight into the Berliner's desire to do the right thing as families with children rocked up with their jars, hessian bags, and such like to purchase everything from spices and pickles to soaps and day creams.
Something I had noticed throughout Berlin was the lack of plastic bottles and tin cans lying at the roadside. Unlike in the UK, Germany offers people the chance to claim back a small amount of money by trading in empty bottles and cans. As a result, the homeless see this as an opportunity to earn money and it keeps the city cleaner than perhaps it would be.
The UK should take note and sort this relatively simple process out if they are serious about the scourge of litter in our country.
Collection Points for the Homeless (9)
At regular intervals, I observed what on the face of it looked like small examples of fly-tipping only to learn that for some years (and exacerbated during Covid) local people put out at selected sites clothes and materials for homeless people to come and help themselves in times of need.
Many provided seating areas and tables where they could enjoy a hot drink. Others had clothes, shoes, blankets on a fence, or a clothes line for the homeless to choose from. Each of these sites while appearing to be unsightly, demonstrate the strength of community spirit that exists in Berlin.
Herfurtstrasse (10)
We briefly stopped at the entrance to a road known as Herfurtstrasse where alongside another one of the homeless collection points Sophie pointed out the blue bicycle symbol on the road which meant that this route was now bike only (aside from those residents living in the street with cars).
Again there is an increasing desire and a strong youth movement for more bike-only roads to reduce the number of cars, improve safety and lessen CO2 emissions.
At the end of the Herfurtstrasse road was a church which Sophie advised had been reduced in height some decades ago as just behind it was the old Templehof Airport and when planes came into land it soon bacame a requirement that the church be lowered!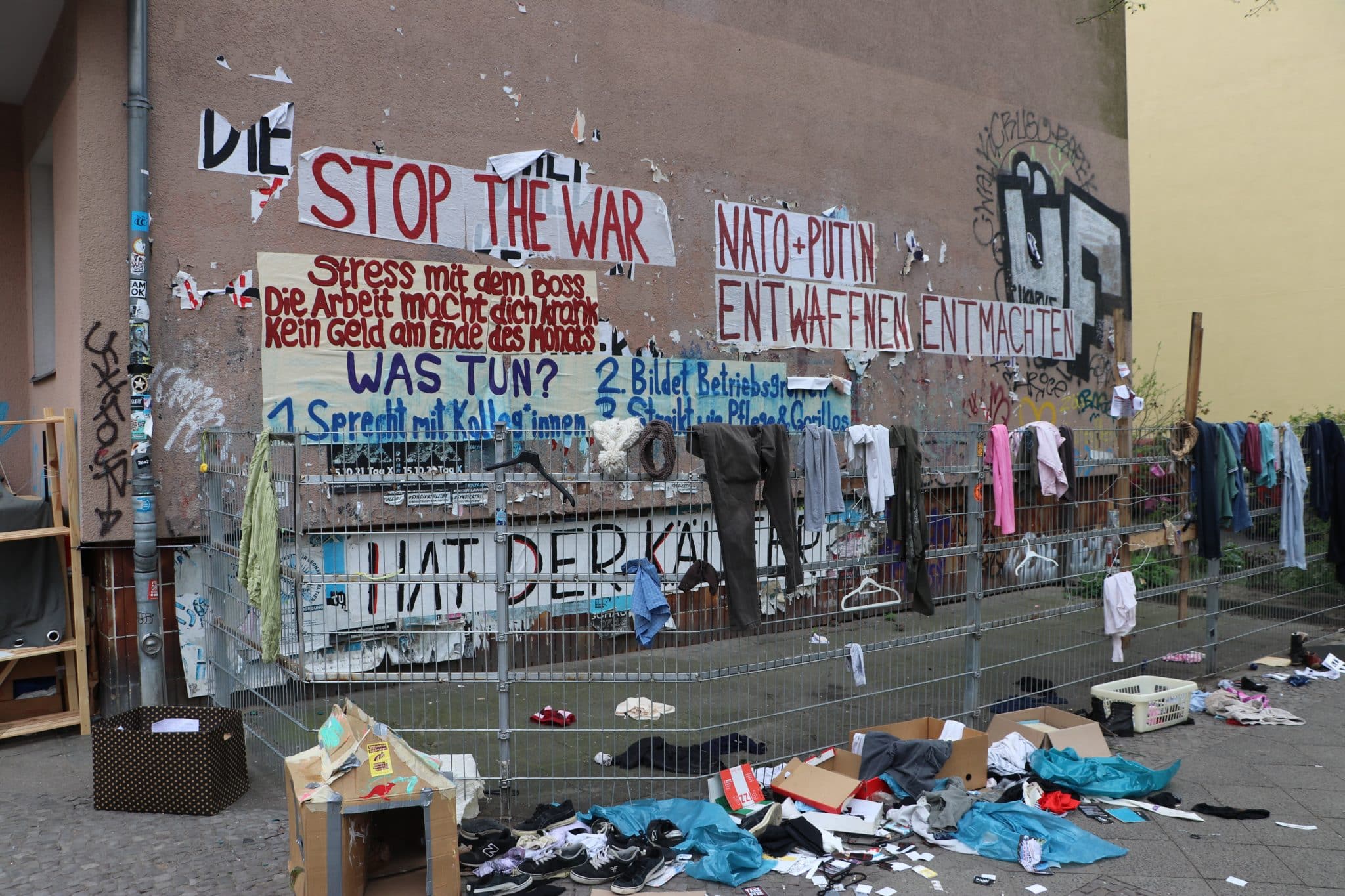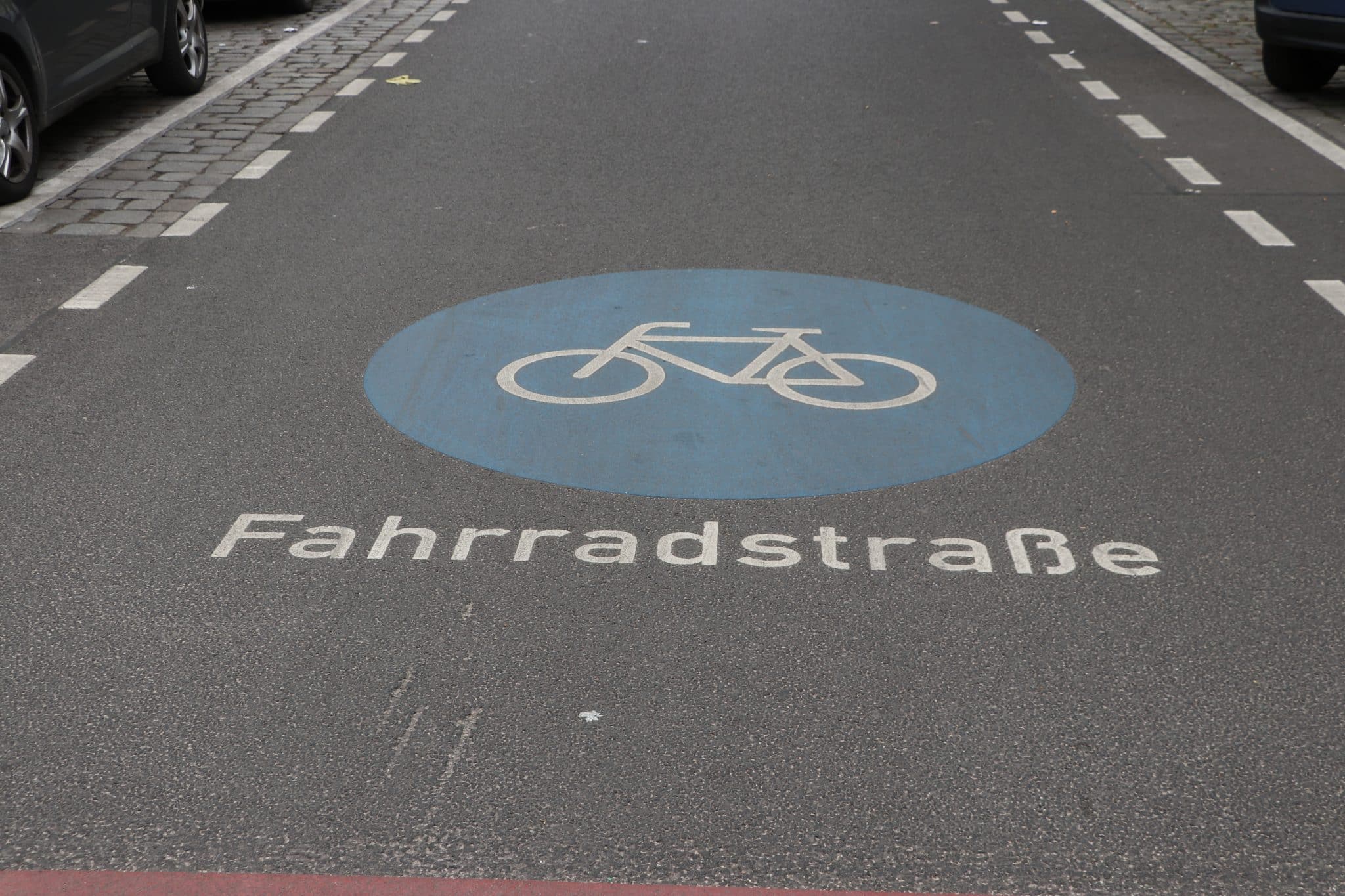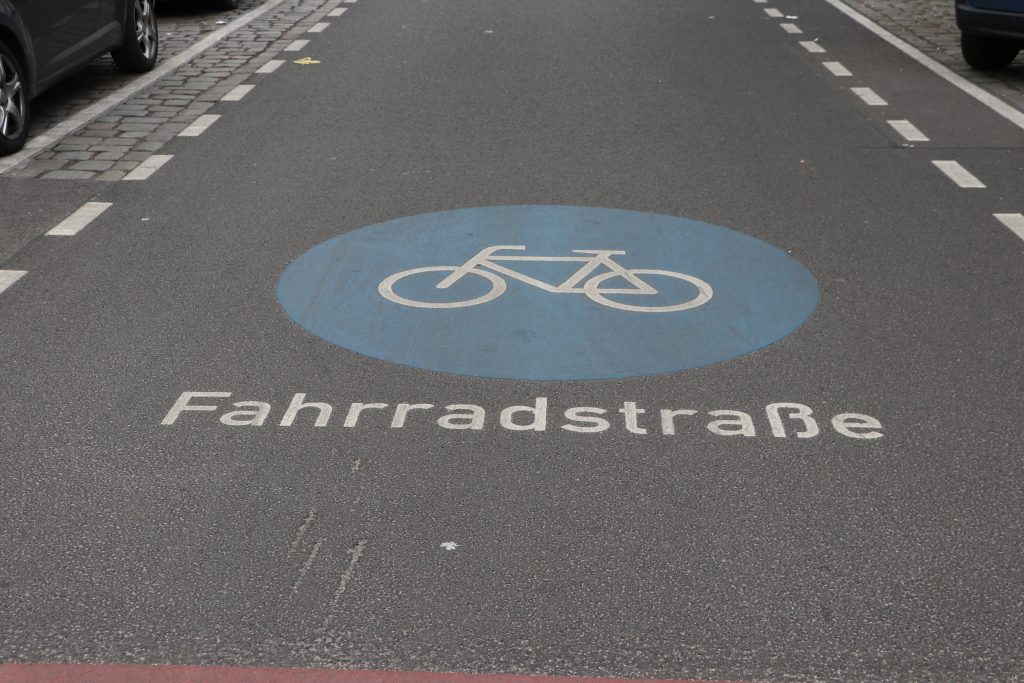 Tempelhofer Feld (11)
At the start of the 19th century, this green site was the venue for air balloons and Zepellins coming and going. Inaugurated in 1927, Berlin Tempelhof Airport was one of the most important historic airports in Germany. When it closed, it was redeveloped and converted into this public park in 2010.
Now an urban site and run by the citizens of Berlin with gardens and entertainment such as roller skating, skateboarding, musical events, and sports which take place across the vast site which to all intense and purpose still looks like an airport. You can even cycle, jog or walk on the old runway.
The old terminal is I understand Europe's largest single building and in August of this year the US Allied museum which is currently located outside of Berlin is moving into the site where it will then be open to the public.
A great story I learned was about the Candy Bombers from just after World War 2 who used this very airfield. In 1948, West Berliners were suffering and hungry, existing only on food rations provided by the occupying American forces. Russian forces were trying to control the divided city so blockaded access to West Berlin. In June 1948, American and British pilots risked their lives to airlift huge amounts of food and supplies until the blockade was lifted a year later. US pilot Gail Halvorsen, who only died recently aged 101, was the most famous of these pilots as he secretly dropped candy rations by parachute for the city's children.
Freewheeling Home
The old airport was our last stop on our Berlin Green Bike Tour before a ten-minute ride back partly through Hasenheide Park and to a waiting Emre who checked over the bikes. I would thoroughly recommend this trip when you are in Berlin as it gives you a different perspective on the many projects and initiatives that are ongoing in the city to simply make people's lives better.
Both Amyr and my guide Sophie were the perfect hosts and I would have no doubt that should you take this trip when visiting Berlin you will, like me have the most interesting and enjoyable time
Contact Information
If you too would like to take a Berlin Green Bike Tour in Germany then contact Green Bike Tours at +45 24851007 or by email at info@greenbiketours.org
Visit www.greenbiketours.org
For Tourist Information check out the Visit Berlin website or check out my Berlin Travel Blog