Steigenberger Hotel De Saxe
Booking a hotel anywhere, whether it is for business or pleasure can throw up a lot of uncertainties. Will the location be right, will the food, the service, the cleanliness, the room, and the facilities all be up to expectations? Often your only reassurances are from conversations with your travel agent or if booking online, then the description and the photos. When I was invited to stay at the Steigenberger Hotel De Saxe in Dresden, I simply looked at this photo and I knew – I just knew, that I was in for a treat.
Let me tell you all about my stay at this beautiful hotel located in the heart of Dresden, Germany where the difference was very much, in the detail.
Getting There
After flying into Dresden Airport, the city centre is 12 km away, a 35-40 minute transfer and a 35 euro fare by taxi to the hotel where you will step straight out onto the hotel's very own red carpet. There are of course other ways to get to the city by bus, tram and rail but a taxi takes away the strain.
I was however traveling down from Berlin, and arriving in the city by train at the Dresden Neustadt Railway Station. From here you also have several options. There is the train (10mins) to the other Dresden Railway station (Hauptbahnhof), tram (15 mins), bus (15 mins), taxi (5 mins) or you could walk (45 mins- 1 hour).
On reflection and with bags it is once again easier to take a taxi however on this my first visit to the city, I took the tram getting off at the Altmarkt (Old Market Square). From there I crossed the road and tram tracks and took a short walk on cobbled streets of just 5 minutes to the hotel.
To be fair Dresden is such an easy city to navigate – whilst the options seem many, none of them are too much trouble or take very long. Dresden is truly the perfect city break destination.
At First Glance
Now I have probably already given the game away regarding my first impressions. Well, that was in a photo. In real life, it was even better. The façade of the hotel just oozes quality and class and a mere scan of the area demonstrates that for location it cannot be beaten as you are alongside the Frauernkiche – Dresden's number one attraction!
Also alongside the hotel is a selection of classy retail shops many selling jewellery and upmarket products. Just a few steps from the hotel is a parade of al fresco restaurants all on the sunny lunchtime that I arrived, packed with people relaxing and enjoying delicious food in the most tranquil and atmospheric of locations.
Then finally across from the hotel is the King Friedrich August II statue and then the Neumarkt square with its traditional Christmas-style market cabins and stalls all closed up for now but being prepared for their next event.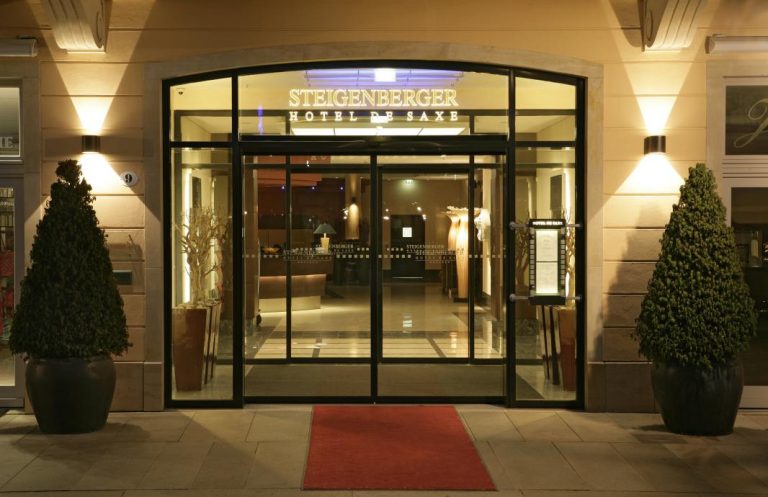 Reception
The hotel caters to both business and leisure clients which sometimes can taint a hotel but not here at the Steigenberger Hotel De Saxe.
At check-in, it soon became apparent that the service and reception staff were as good as the hotel's appearance was spectacular. I was swiftly checked in by staff who were not just fluent in English but also courteous, and efficient, and all provided with a smile. They also turned out to be a great source of city information with maps and personal knowledge to assist me with my plans.
Across from the reception is the lobby bar and then just a few paces from the reception desk were two lifts that would take me to my chosen floor. As you would expect for a hotel that also caters to business clientele there is Wi-Fi available throughout.
Accommodation
There are six room types all offering a fabulously comfortable and enjoyable stay.
Superior Room Twin
The air-conditioned Superior rooms with a size of 28 sqm are equipped with TV, radio, safe, a small refrigerator, and complimentary highspeed WiFi, as well as coffee- and tea-making facilities. The bathroom includes a bathtub/shower, toilet, hairdryer, and cosmetic mirror.
Superior Rooms with double or Queen-size bed
These Superior rooms with the same size of 28 sqm can have either a double or a Queen-size bed. Rooms are air-conditioned rooms and equipped with TV, radio, safe, a small refrigerator, and free highspeed WiFi, as well as tea- and coffee-making facilities. The bathroom includes a bathtub/shower, toilet, hairdryer, and cosmetic mirror.
Premium Room
I was lucky enough to have a premium room which is 30 sqm. Here you can choose between a double bed, a Queen-size bed or two separate beds. The air-conditioned rooms are equipped with TV, radio, safe, and complimentary high-speed WiFi. There are also bathrobes and slippers and a Nespresso capsule machine. In the bathroom, you will find a large shower, toilet, hairdryer, and a cosmetic mirror.
Grand Deluxe Room
For the best views of the Frauenkirche and Neumarkt square then one of the Grand Deluxe rooms with a size of 32 sqm is the perfect choice for you. Once again the minibar and the Nespresso capsule machine are included.
Junior Suite
For those with even higher standards, the, 49 sqm Junior Suites with combined living room and numerous extras are ideal. In the bathroom, you will find fluffy robes and slippers. The living room includes a Nespresso capsule machine for speciality coffees at any time. An additional bottle of water per day, the included use of the minibar, a daily newspaper, and parking are more of the benefits of this room category.
Suite
The "piece de resistance" is the 59 sqm suite with a separate living room and numerous extras. In the bathroom, you will find fluffy robes and slippers, and the living room includes a Nespresso capsule machine for delicious speciality coffees at any time. A seasonal VIP set-up, an additional bottle of water per day, the included use of the minibar, a daily newspaper, and parking are the benefits of this room type.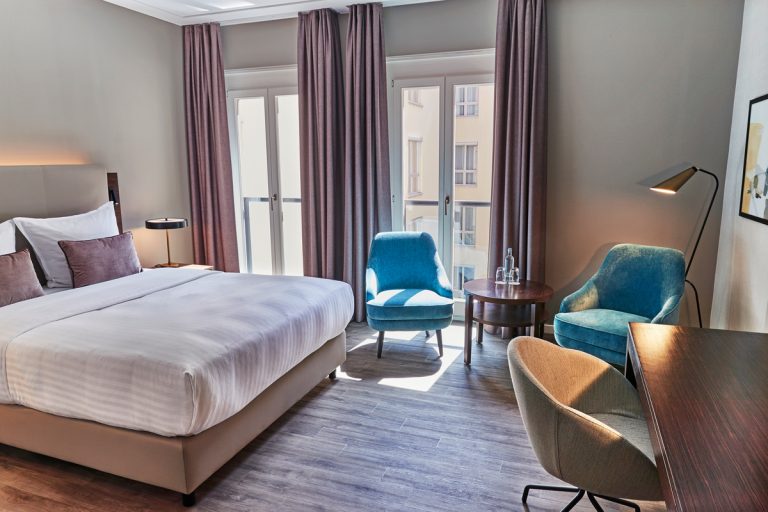 The Restaurant De Saxe
The sign of a top-class hotel is the restaurant. I really enjoyed breakfast here for the duration of my stay and it was a time I truly looked forward to every day.
As you step out of the elevator you are greeted by a welcoming maitre d who will take your room number and direct you to your table. Numerous staff are on hand to look after you. Plates are cleared promptly and without fuss while coffee or tea is delivered in a heartbeat. During the warmer days, there is a stunning balcony where a few lucky guests will get to enjoy breakfast views across the Neumarkt square.
The food was fresh and delicious. The bakery consisted of plain croissants, pain au raisin, and chocolate croissants together with fresh rolls and pastries. Accompaniments included butter, jams, and always a sign of class, a slab of honeycomb and honey. There were plenty of cold meats and cheeses, and the hot plates included sausages, bacon, scrambled and boiled eggs, chicken bites and so much more.
In the evenings the restaurant serves up regional specialties, seasonal dishes, international dishes, and many other innovative creations.
Not only was the food exceptional but the ambience and service were top-class in the most delightful of surroundings. I just hope no one was watching me as I went up time and time again for more. It really was that good but I blame it on my job – I need the energy to carry out this research you know!
Gallery Lounge & Lobby Bar
On the ground floor alongside reception was the bright open lobby bar complete with vases of fresh flowers. I observed a few business meetings taking place here in this quiet and relaxed part of the hotel.
In the evening people congregated to rest their weary feet and enjoy a drink from the comprehensive menu after a day discovering Dresden. Once again nothing was too much trouble for the attentive and courteous staff.
Meeting Rooms & Conferences
The hotel caters for business meetings and conferences. Having worked in the travel industry for 30+ years I truly believe that this hotel is the perfect venue for a small conference. With great service, comfortable rooms, and then a location with easy access to restaurants bars, and excursions, it is just ideal.
Furthermore, I love their Green Meeting concept. The hotel aims to minimize the ecological impact of a meeting from the planning and implementation right up to the departure of the guests. To do this they use power exclusively from renewable energy sources, provide conference equipment made of recycled and more sustainable materials, give preference to regional and seasonal food products, and offset unavoidable greenhouse-gas emissions by investing in certified climate-protection projects.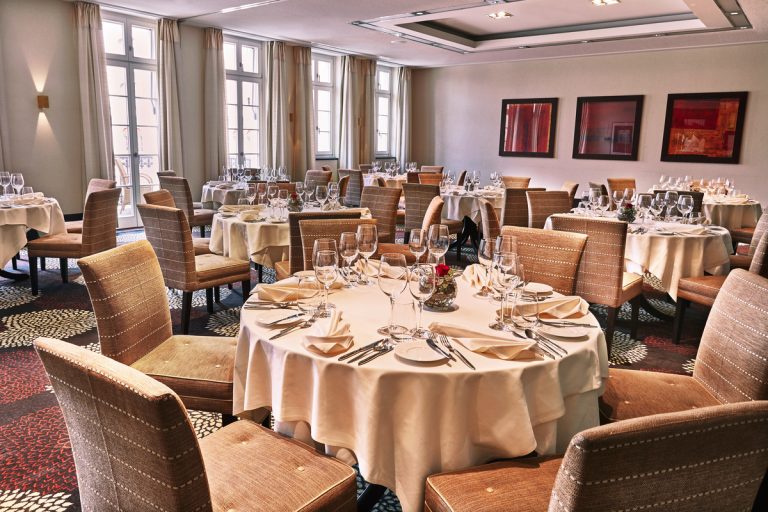 Parking & Bicycle Hire
If you do happen to be driving into Dresden then in the basement of the hotel there is convenient car parking.
This is a great feature along with the selection of about 20 bicycles that are available for hire to guests.
Christmas Markets In Dresden
I am told the Christmas markets in Dresden are spectacular. The main market is held in the Altstadt (5 minutes from the hotel) which used to be called the Striezelmarkt and which was a trading point back in the 15th century. Every year families and tourists flock to the city to enjoy the Ferris wheel and the numerous stalls and Christmas attractions.
In the Neumarkt (opposite the hotel) there is also a Christmas market – smaller but still from what I understand with a terrific family-friendly atmosphere and entertainment galore.
Dresden is certainly a city I would love to experience at Christmas time.
Going The Extra Mile
Sometimes in life, you only really know how good something is in the face of adversity.
Whilst staying at the hotel my lifelong condition of asthma took an unexpected turn for the worse and I needed to seek some medical advice. Without a blink of an eye, the staff in reception coordinated my visit to see a doctor and throughout the remainder of my stay regularly checked on my well-being.
Not only was I grateful – I was also extremely impressed!
In Summary
In over 30 years in travel, there have been relatively few hotels that when I have checked out I can honestly say that my stay had been perfect.
The Steigenberger Hotel De Saxe certainly ticked all the boxes for me and I would wholeheartedly recommend you visit at any time of the year for that magical city break. My stay was a truly unforgettable experience where the difference was very much in the detail.
Thank you to the Steigenberger Hotel De Saxe, Dresden, Germany – you were simply outstanding.
Contact Information
Steigenberger Hotel De Saxe
Neumarkt 9
01067 Dresden
Germany
To book just contact the hotel or your local travel agent or tour operator.
Check out my review of Dresden and the wide choice of Dresden excursions available.