The Almodovar Hotel, Berlin
Choosing a hotel in any big city can often be a daunting prospect. When it came to Berlin I was conscious that while I was in the city, I was going to be learning and understanding many of the sustainability issues that are affecting its citizens so it made sense for me to stay at an authentically organic eco-friendly hotel. My choice therefore was the Almodovar Hotel.
More and more of us are not only aware but are consciously making decisions on where we stay based on whether our chosen accommodation meets certain criteria that is in keeping with our values. With its modern organic design and ethical values of sustainability and ecology, the Almodovar Hotel ticks many a box for those looking to ensure they respect the environment and stay true to their beliefs.
Now somewhat out of my comfort zone given that I (clearly) love all food, was that the hotel also has a vegetarian and vegan, organic restaurant. For the first time in my life I was to choose from foods such as soya yogurt, vegan wraps, hummus spread and even an organic beer called HELL.
How would I cope? How would I react? Lets see how I got on and what I thought of this very unusual, ambitious and unique hotel.
Getting There
The hotel is located in the fashionable district of Friedrichshain in East Berlin, with easy access to all parts of the city by bus, tram or train. If you have purchased a Berlin Welcome Card then not only are all these means of transport included but you will also save a lot of money and hassle during your stay.
I had travelled from Hannover and was arriving at Berlin's impressive main Hauptbahnhof Railway station. From there I activated my Berlin Welcome Card and took the U5 train to S+U Frankfurter Allee station then changing onto a tram with just two stops to Holteisrasse.
To my delight, I stepped off the tram and I was just a few paces from the entrance to the hotel.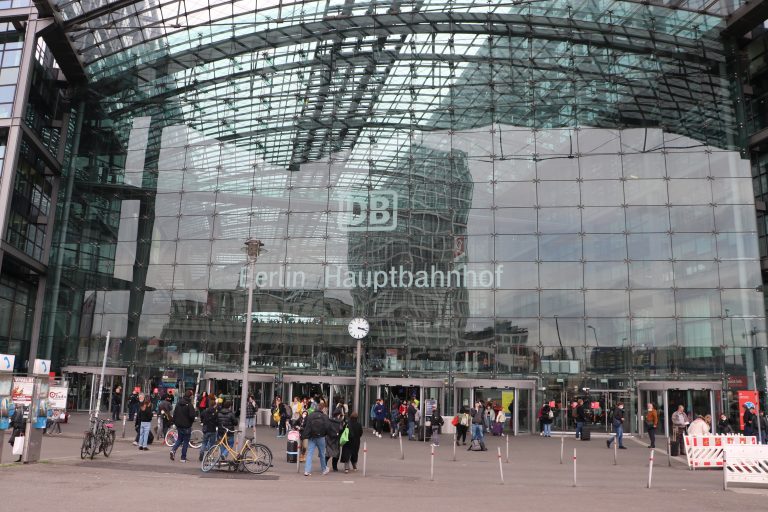 At First Glance
The hotel is located on the corner of a crossroads where trams, cars and buses frequently pass so I did wonder if noise was going to be an issue however I was later pleasantly surprised that this was not to be the case.
On one side of the hotel the walls were decorated with some amusing, slightly suggestive yet quirky wall art. This side was also the location of the conveniently close tram stop which made for quick and easy access to all areas of the city.
On the other side of the hotel on the busier side of the street was the Bistro Bardots Restaurant with its own entrance to the public.
On the corner was the entrance to the hotel.
Reception Welcome
Walking into reception you immediately get the feeling that a lot of thought has gone into the design and style of this hotel and that's before you get under the skin of its very eco-friendly nature!
The reception is of a modern design and beautifully decorated in a mix of red and neutral tones throughout. When I arrived, the reception was not staffed however looking through to the restaurant there was a lady checking clients in at a desk there.
As I walked through reception, I noticed the stylish furniture which I later found out is made of wood from sustainable forestry. There are comfy chairs and elegant drapes hanging from the ceiling while the elegant lighting is using energy-efficient light bulbs with electricity purchased through renewable energy sources. All the fittings are environmentally compatible, and products made from recycled materials.
Alongside the main reception desk in this lobby was a fridge containing a selection of water bottles, organic snacks, and drinks. This is the only fridge for guests anywhere in the hotel as there are none in the rooms. This is because it has been recognized by a top Swiss environmental authority that there are 55,000 Swiss hotel minibars contributing 24 million kilowatt-hours of electricity per year equating to 6,000 households. By offering just the one communal fridge the Almodovar Hotel is helping to protect our environment.
Upon arrival, you are invited to download the Almodovar Hotel APP as a paperless guide that gives you useful information throughout your stay.
The list of eco-friendly energy efficient actions goes on….
The Rooms
There are 75 rooms, all individually furnished again with a focus on locally sourced natural materials. The Almodovar Hotel room categories include standard, superior, courtyard, loft, suite, loft suites, apartments, and a spa suite.
All are designed along clear, modern lines. As with the reception the furnishings include naturally sourced furniture. The heating of the rooms is managed sustainably via a heat pump. You are invited to drink the tap water as Germany is considered to offer some of the cleanest, quality drinking water in the world. By doing this they are saving on the packaging of water bottles not to mention the transportation.
For bedding and bathroom textiles, they provide highly comfortable organically grown natural materials.
I was lucky enough to be staying in a beautifully appointed loft room overlooking the main street outside. In the shape of a box at first, it appeared small yet with the bed upstairs above the bathroom and desk, it made for a cosy and enjoyable stay. The windows were well insulated, so noise was limited.
My only negative, although you cannot do much about it, is when sat at the desk, I must have hit my head a dozen times during my stay as I got up from the chair. I guess I should have just learned my lesson and some might say it knocked some sense into me!
The bathroom shower and basin were clean and perfectly adequate, and it was noticeable the limited number of cosmetic products provided. Those used were of course sustainably sourced.
The flat-screen TV, yoga mat, small supply of reading books, convenient safe, and eco-friendly messages scattered around all added to the good feeling and experience.
Bardot's Restaurant
Now I am not going to lie, I was a little nervous before coming to the hotel as to whether there would be enough on the menu at Bardots restaurant to excite me let alone fill me up and give me my much needed energy boost for a day of exploration.
After one breakfast however, my concerns were soon put at ease. The choice, the quality and the range of options was superb.
The hotel only serves vegetarian dishes and looks to source locally produced fresh, organic seasonal products from local suppliers.
Breakfast choices included vegan croissants and pretzels stylishly hanging on display. There was a selection of cold vegan meats including curry sausage and vegan meatballs. I particularly enjoyed the spreads including a variety of jams, honey and marmalade.
There was freshly baked bread and rolls from the Berlin UFA organic bakery, along with soya yogurts and homemade granola.
For lunch and dinner there was a Tapas menu where you could choose from a small selection of dishes including potato salads, couscous and pasta options along with vegan wraps.
To wash down all of these delicious foods there was organic fair trade coffee and teas, a choice of fruit juices and at other times of the day locally brewed organic beer called Hell, vegan organic wines or spirits from European distilleries mixed into bio-drinks like gin and tonics.
How wrong I was that vegan and vegetarian food would be dull and limiting for me – the restaurant was tremendous both in terms of its food and also its design. Bravo !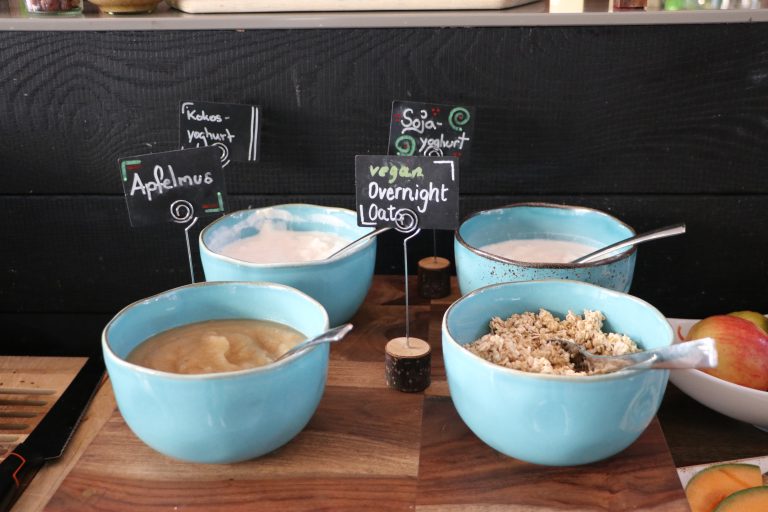 The Wellness Centre & Spa
On the final day of my stay the sun was shining brightly and with a couple of hours free I thought it high time that I checked out the sauna and wellness centre.
On the top floor of the hotel is both an indoor and an outdoor sun deck where comfortable recliners allow you to rest in calm and peaceful surroundings overlooking the skyline of Berlin.
The hotel offers the opportunity to book a massage via reception with one of their professional massage therapists who can pamper you with a range of relaxing classic massage techniques and soothing wellness massages.
There is also a spacious wooden sauna which again benefits from amazing views out across the city of Berlin.
I found the wellness centre and spa to be a lovely little addition to the hotel and I am sure is much loved by guests who have spent the day walking and discovering the many attractions of the city.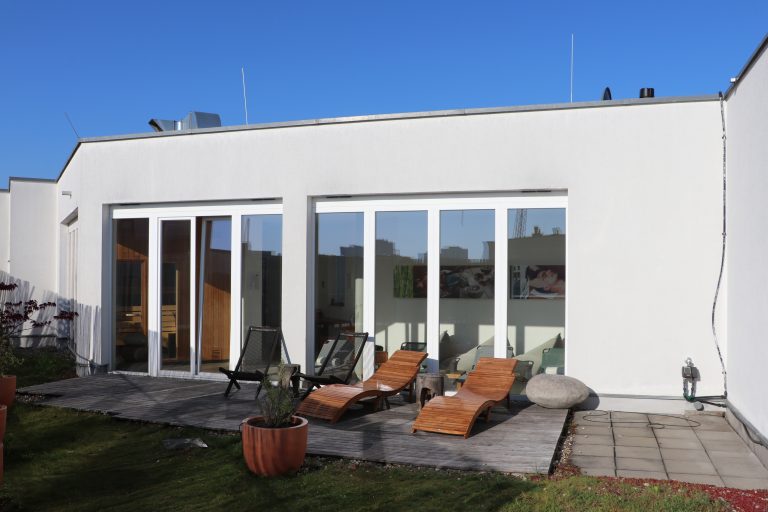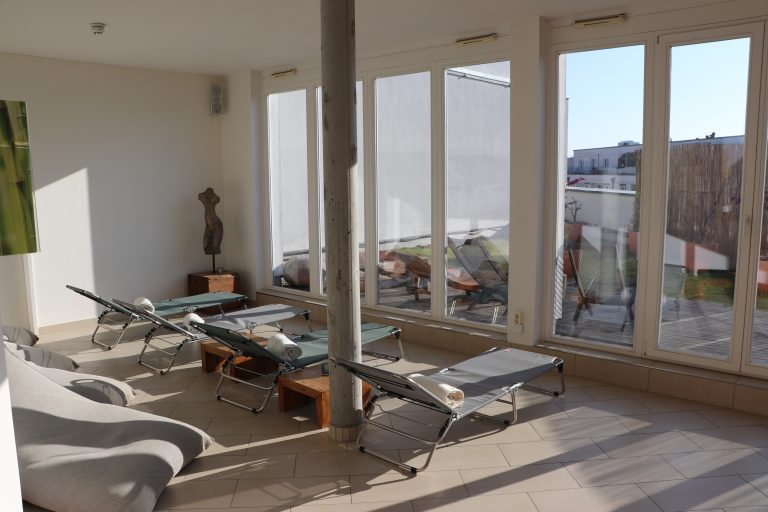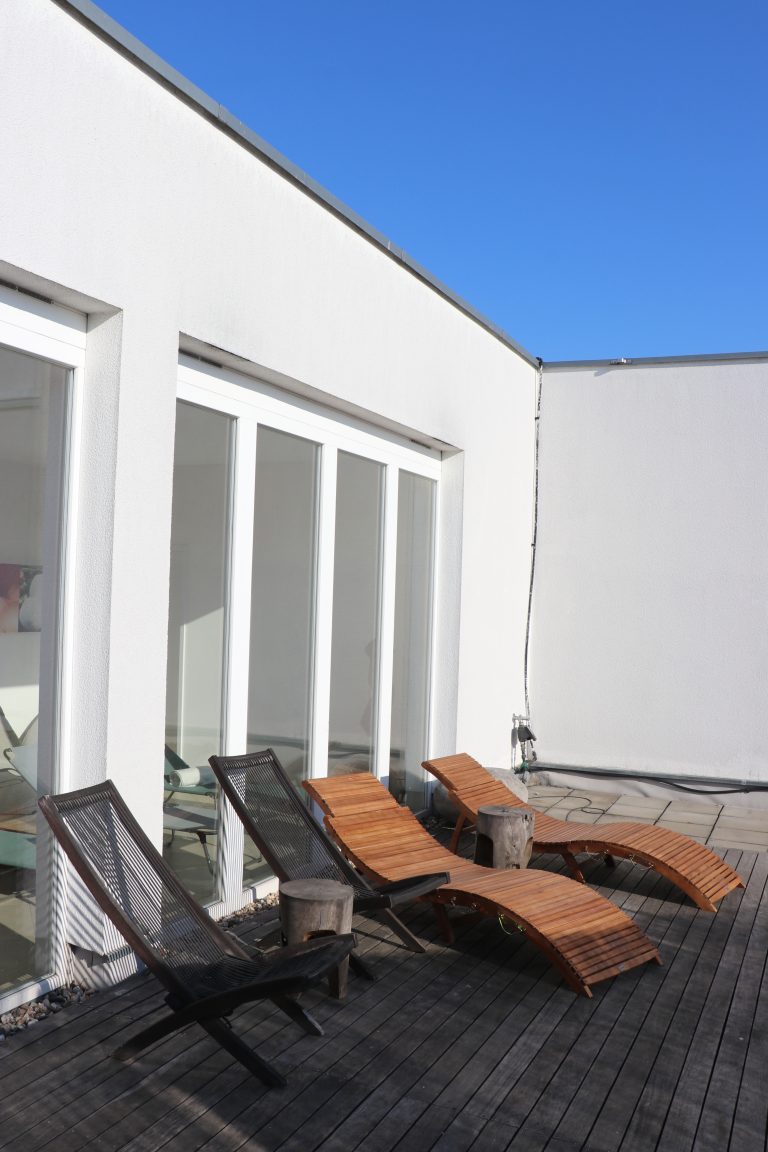 In the Vicinity
At first I was unsure whether the area around the hotel was going to have enough interest for me. However once I had enjoyed a mooch I soon realised that this up and coming trendy corner of Berlin has much to offer visitors.
Opposite the hotel is a small local supermarket along with some smaller late night stores as well as a chemist and some coffee shops. There are many attractive leafy tree lined boulevards some with hip and creative graffiti wall art. The more I got to see and just be in this edgy neighbourhood the more settled and comfortable I felt.
Just a couple of minutes walk was the nearest watering hole called "The Steppender Bar". A dark, mysterious yet cosy sports bar which, on every occasion I passed, was crammed full of local football fans watching their beloved Union team who are the team from East Berlin. The team from West Berlin are Hertha Berlin. Union are considered the team of the people and as such have a strong community spirit and quite a following particularly in this neighbourhood.
Just five minutes from the hotel was Grunberger Street which was a lively stretch of fine restaurants and beerhouses offering something for all types of guest.
A number of these bars offered happy hour promotions with the busy Habana Bar seemingly the place to be with great value food and a long list of cocktails drawing in many guests who, not least, enjoyed the outside terrace and overall ambience.
At the far end of Grunberger Street and some 20 minutes walk from my hotel was my venue for dinner on my first evening in Berlin – the Jager & Lustig. Previously a punk rock music venue called Jaegerklause, the restaurant has been delightfully refurbished and offers a range of traditional/modern German food dishes and an outside beer garden terrace.
On the menu for me that evening was the current seasonal produce – white asparagus and new potatoes. Clearly my new found love of all things vegan was having its effect although, lets be honest it was accompanied by a sensational Wiener Schnitzel the size of a satellite dish.
For the authentic German dinner this is a great choice in East Berlin. For reservations and event enquiries, email info@jaegerundlustig.de or call 030 2900 9912.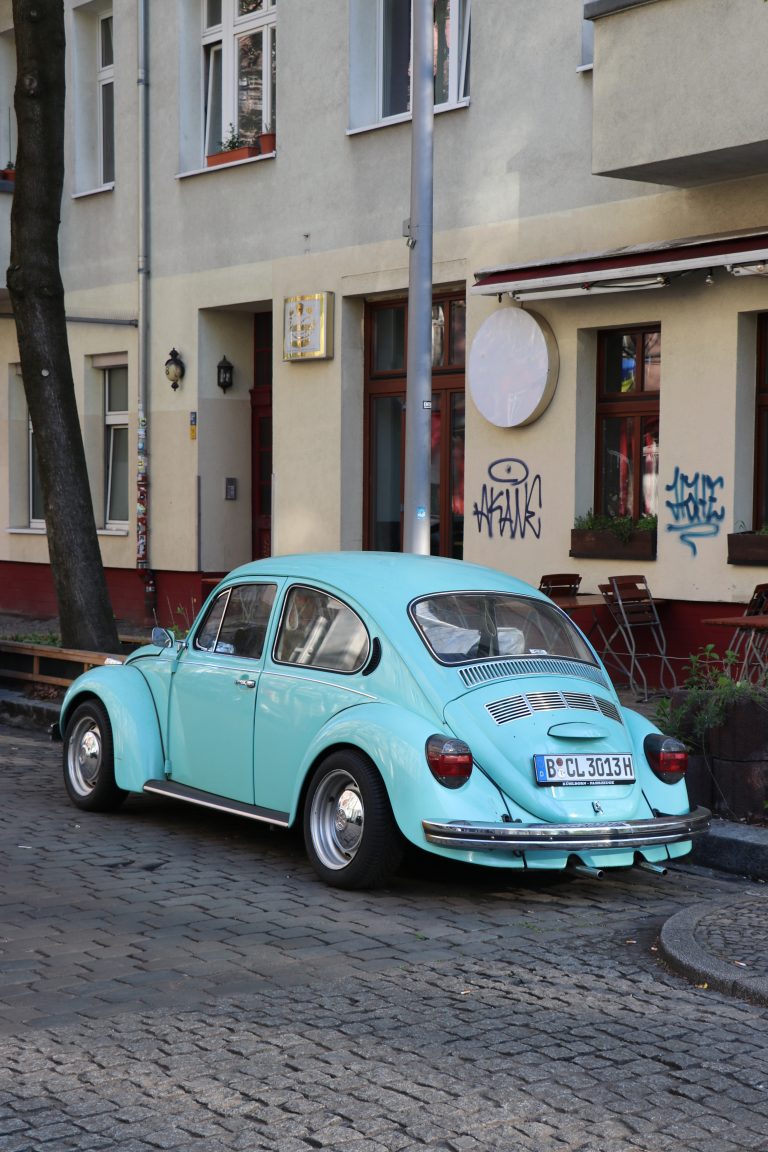 Pre-Bookable Excursions
Summary
The Almodovar Hotel is a wonderful base in the heart of East Berlin to discover this fascinating part leafy and part lively, local area of the city.
There is convenient and easy access through public transport into the centre for all the main tourist attractions.
The Almodovar hotel is an exciting eco friendly choice serving delicious food in stylish surroundings and all from friendly and welcoming staff.
I really enjoyed my stay. Would I recommend the Almodovar Hotel to anyone wanting to discover the authentic Berlin with a sustainable twist – the answer is in the organic beer – HELL YES!
Contact Information
Almodóvar Hotel
Boxhagener Straße 83
10245 Berlin
Germany
Tel. +49(0)30.69209708 – 0
Fax +49(0)30.69209708 – 9

Thanks also to the Visit Berlin Tourist office for all their help in assisting me with my trip to Berlin including dinner at Jaeger & Lustig.
Check out my travel blog on the Best Of Berlin