Zagreb and Central Croatia
Zagreb is the small capital of Croatia and within the region known as Central Croatia in the very heart of the country. This mountainous area comprises the three key areas of Gorski Kotar, Lika, and Hrvatsko Zagorje.
I have visited Zagreb and Central Croatia on several occasions enjoying both the city and the national parks. Whilst completely different from the Adriatic coast of Istria and Dalmatia I have grown to enjoy this relatively undiscovered inland part of Croatia.
Central Croatia is very popular for those who like active holidays where you can walk, hike and even ski during the winter months. Alongside the activities are pretty baroque towns, churches, and palaces. The attractive, blissfully quiet area of Hrvatsko Zagorje in the northwest of the country is famous for its vineyards with superb wines, wooded hills for nature, and history, the castles. Hrvatsko Zagorje borders both north Slovenia and then to the south the cultural center of Krapina and Varazdin as well as the suburbs of Zagreb.
Gorski Kotar is a mountainous, forested region of central Croatia, located between Karlovac and Rijeka. Delnice is the main town here and is well known for its beauty and wellness treatments. Gorski Kotar borders Lika and Kvarner and is perhaps most famous for the Risnjak National Park.
Lika is a mountainous region surrounded by the Velebit mountains in the southwest and the Pljesevica mountains in the northeast. Gospic is the main town here and also the birthplace of Nikola Tesla, the famous Croatia scientist. Here you will discover the world-famous Plitvice Lakes and the North Velebit National Park. There is also the cultural village and popular excursion of Sinac near Otocac and Majerovo Vrilo.
Zagreb and Central Croatia do not have the glitz, the glamour, or the magnificence of other parts of the country or for that matter the crowds. What it makes up for though is that it offers authenticity, fresh air, good living, fine food, delicious wine as well as natural treasures which are well worth exploring and discovering
Zagreb
Zagreb is Croatia's capital, as well as a business center, university, and city of culture.
Springing up from two medieval settlements are Kaptol and Gradec which form the core of the old Upper Town. This is a fabulous Central European city and with the surrounding settlements, it has more than one million inhabitants.
The old Baroque center is comprised of old stone streets and buildings, churches, a magnificent cathedral with modern shops, cozy cafes, and restaurants.
There is also the 19th-century Donji grad (Lower Town) with its shops, excellent high-quality restaurants, cafes, theatres, and parks
I particularly liked the Trg Ban Jelacic square with its cafes, statues, and constant flow of people going about their daily lives. I stayed at the Hotel Dubrovnik right on the main square. It perhaps has that feel of a business hotel but I found it ideally located for a city break with excellent food and rooms.
For more of a luxurious stay try the equally well-located Esplanade Zagreb Hotel with a history dating back to the 1920s when it played host to visitors stepping off the Orient Express train.
When In Zagreb why not have a ride on the blue tram or walk down the longest street in Zagreb – Ilica? Climb up the funicular to the Upper Town and visit the Lotrscak tower, St. Mark's Church, Kamenita Vrata, as well as numerous museums and galleries.
A large number of green spaces and walks make Zagreb a city to discover on foot. There are so many parks, monuments and sacred objects making it a lovely place to spend a weekend.
Located at the foot of the Medvednica mountain, which hosts two FIS ski races, there is a sports and recreation center on Lake Jarun with regatta races and the tennis tournament Zagreb Indoors. All this makes Zagreb a city recognized for its world-renowned sporting events.
At night time the bars and restaurants are busy and lively and ideal for those wanting to party long into the night.
Zagreb and Central Croatia offer a lovely relaxed small city break that would rival many other central European destinations for history, culture, and fun.
Risnjak National Park – Gorski Kotar
The beautiful Risnjak National Park is situated in the northwest part of Gorski Kotar, with the nearest major city, Rijeka. Guests can access the park by way of a small entrance fee of approximately 6 euros.
Those visiting like myself tend to be looking for adventures and activities and you will not be disappointed. The jagged mountain peaks and green meadows and valleys dissected by rivers attract those wanting hiking, mountaineering, walking, and trekking opportunities.
Mountain biking is becoming more and more popular with bike and helmet hire available locally. Fishing in spring and summer is possible at a charge as well as skiing in the winter months.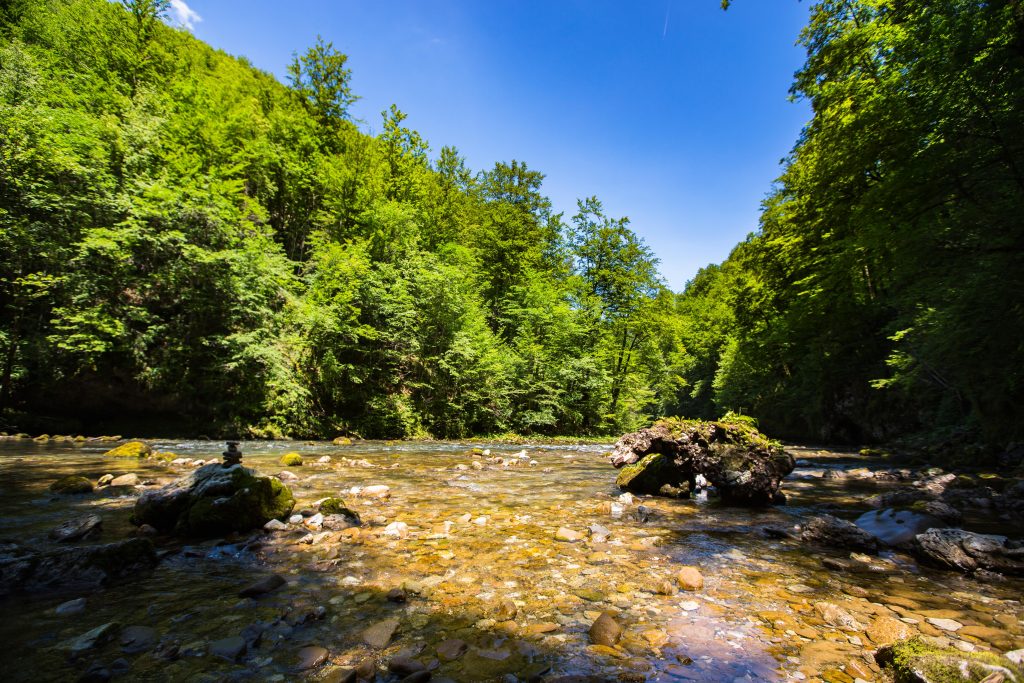 Delnice, Gorski Kotar
The main town in the region of Gorski Kotar is Delnice. Most people staying here will be attracted due to the proximity to the natural beauty of the park and its different tourist attractions such as sports, fitness, walking, and health and wellness opportunities.
I found Delnice itself quite disappointing however the various simple types of accommodation are aimed at those who plan to spend most of the day outside so don't expect too many frills.
Krapina, Hrvatsko Zagorje
The town of Krapina in Croatia is most famous for its Neanderthal history and museum. It was way back in 1899 when the largest number of Neanderthal fossil bones from almost 80 individuals was discovered. As a result, the site has been a source of great interest to experts who are keen to understand how our ancestors lived back at the very start of civilization.
As well as this history the area also boasts many castles, thermal springs for wellness tourism, and sensational cuisine.
Varazdin, Hrvatsko Zagorje
Situated to the northeast of the capital Zagreb and only 46 km from the Hungarian border you will find the baroque town of Varazdin. The architecture and ambiance in the town are quite special and can be enjoyed on foot as Varazdin is a great place to just stroll and explore.
There is the Fortress and City museum dedicated to the town's history from when it was once the capital of the region. Then there are palaces, churches and cathedrals, and a pretty central square. There are many fabulous restaurants and watering holes and in the summer they regularly host festivals and street parties such as the Spancirfest to bring in visitors both young and old to enjoy the music, food, and family entertainment.
Plitvice Lakes National Park, Lika
The UNESCO-protected Plitvice Lakes National Park is the oldest and largest national park in Croatia.
There are 16 lakes on three different levels and over 90 amazing turquoise waterfalls and they attract over 1 million visitors every year many on day trips from Zagreb, Zadar, or Split.
Throughout the park, there is a network of walkways, trails, and viewing points including the most popular which is called the Veliki Slap.
North Velebit National Park, Lika
The North Velebit National Park is a paradise for walkers, hikers, and cyclists with over 30 spectacular trails and routes through all manner of different and diverse landscapes. The mix of forests, mountains, valleys, caves, and even botanical gardens provide a home to a wide variety of plants and animals. Species include butterflies, birds, snakes, the Eurasian Lynx, Brown Bears, and Grey Wolves.
The Southern part of the park is known as Paklenica National Park. Both areas command a small entrance fee to obtain tickets that are valid for three days of exploration. Access from the north would be from Rijeka and in the south it's best via Zadar or Split. Various overnight lodgings and mountain huts are available for serious adventurers! It is a nature lover's dream.
Contact Information
For further information on taking a trip to any part of Croatia, either contact your local travel agent, a specialist tour operator, or the Croatia National Tourist Board.