After four days in Bilbao I hit the road taking the bus on the 90 minute journey east across to San Sebastián – a city famed for being the birthplace of Pintxos – those tasty small bar snacks similar to Tapas. I knew I was going to be in for a gastronomic treat!
Getting To San Sebastián From Bilbao
Nothing specific to report re the journey which cost £12, apart from the fact the bus broke down 20 minutes from San Sebastián, so the 90 minute journey became a 120 minute sauna session in a vehicle with poor air-con that was packed to the rafters with noisy students on TikTok.
San Sebastián – What to Expect
I had been in San Sebastián a couple of days and the fact I extended my stay another couple of days demonstrated how much I love the city. It also demonstrates that as its Easter weekend there is very little hotel availability and I should have booked ahead
On this solo trip I have actually booked very little. It's how I like my adventures plus I like to go off piste every now and then. Nothing worse for me to book a hotel for 3 or 4 nights and realise it's in the wrong end of town or indeed the wrong town which some of you know has happened before!
San Sebastián is special. A city with three incredible beaches – the main one is the Playa de La Concha, then there is a surfing beach, the Playa de Zurriola and a slightly smaller family beach, the Playa de Ondarreta. The tidal Urumea estuary flows into the heart of the city and is crossed by a number of beautifully decorated bridges. Then there is great shopping, green parks, street entertainers, an abundance of hotels and private accommodation, safe and clean streets and in the heart of the city, the Old Quarter – a matrix of cobbled streets packed every step of the way with bars, cafes and restaurants serving up the most amazing food – Pintxos.
To say this is the perfect family holiday beach destination is an understatement and the beauty for me is that there are very few British people here (and its Easter). Its a slice of the real Spain and the welcome is extraordinary.
Mount Igueldo
One evening I took the funicular costing €4.25 up Mount Igueldo for the iconic sunset views of San Sebastián looking over Santa Clara Island which sits in the middle of the bay. As I queued to get onboard I realised things were a little noisy and chaotic. I was surrounded by families. It turns out there is a children's theme park on top of the mountain complete with log flumes and duck shoots.
It wasn't the experience I was expecting but the kids all seemed to be having a whale of a time! I took a few photos of the iconic view while standing alongside some children's Mushroom characters and made a hasty descent down the mountain for a beer in Cafe de la Concha. I feel this is like placing a roller coaster ride in the middle of Stonehenge – although to be fair, that would elevate that attraction no end, so who I am I to say this is wrong!
Pintxos – San Sebastian Style
I headed into the old town to a bar called "Fermin Calbeton" for a beer and some Pintxos all for €14. I chose three. A pepper stuffed with cod. Anchovies on a small piece of baguette and a Torrezno – a cut up pork chop with a slice of lemon. OMG!! The food really is epic….. that pork was probably the best I have ever tasted….. these next two days are going to be spent laying on a beach by day and eating Pintxos at night before the next leg of the journey begins…I just have to decide where that will be!
Mount Urgull, San Sebastián
Yesterday I walked to the top of Mount Urgull which is a forested area of natural beauty and a great place to observe the city and the coastline. At the top there is the statue of Sagrado Corazon as well as the fortress of Castillo de la Mona. The views include the Old Town, the Playa de la Concha and across to the surfers beach at the Playa de Zurriola.
There are numerous paths and steps and so many different routes you can take to the top. It just so happened that the route I took ended up like a scene from "Animal Rescue" as I came across a Hedgehog in distress.
As I arrived an Italian bloke was poking it with his Apple phone. I consider smacking Gianlucca round the face with my Canon Camera but instead decided to calmly ease him out of the way so I could look after the little fella, whom we shall call Spike.
Spike had somehow ended up in full sunshine by the path and was overheating, like me, in the midday sun. I decided to pick him up and move him to an area close by that was sheltered and protected from Italian mobile phone prodders. As I did so a group of kids came over. They were on a Spanish exchange with some from London who declared they did not know what a Hedgehog was and had never seen one. They also demanded a photo from me for Instagram – of themselves, not Spike! The times we are living in!
With Spike and myself cooling down I continued my day exploring. Mount Urgull is a must if you come to San Sebastián. You should also make time to potter around the harbour which is alongside the Old Town. Maybe take a trip on the tourist road train or take the kids on to the famous Merry Go Round in Alderdi Eder Park in the centre of town.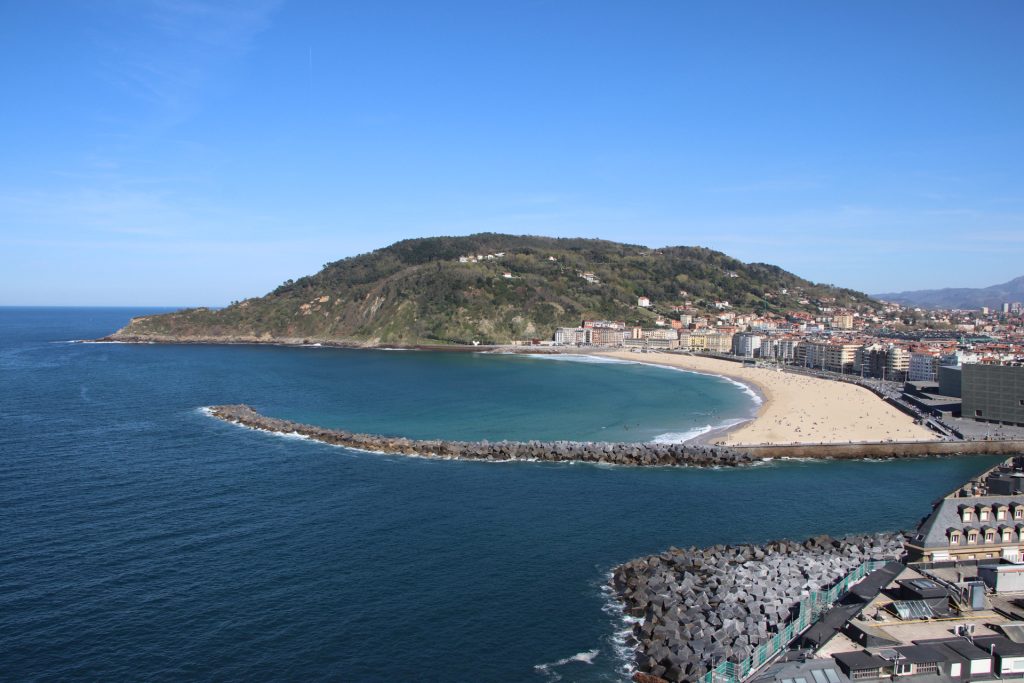 Pre Bookable Excursions
Contact
San Sebastián has it all as a holiday destination and I reckon the photos I have posted may have elevated this incredible Basque city on to your bucket list. It's a 90 minute flight from the UK. It can be combined with Bilbao. It has some of the best gastronomy in the world. The beaches are sensational and there are a ton of activities and amusements for the family. Plus its great value too !
Its clear that I loved San Sebastián in Northern Spain – and you will too…. I suggest you pop it in your diary !!
For more information on visiting San Sebastian contact the local Bilbao Tourist Office, the Euskadi Tourist Office (Basque Country) or Visit Spain or contact your local travel agent or tour operator.
All photos were taken by myself and should be credited if used to @justonefortheroad