Lake Bled, Slovenia
For sheer natural beauty, there are few locations in all of Europe to rival the most famous alpine resort in the country of Slovenia – Lake Bled. However, when I think back to before that first trip I used to imagine it was the kind of place for the retired to go on a coach tour, for bridge nights and ballroom dancing. I guess that is indeed one of the markets that pour into the town but it is much more than that. Lake Bled is a place to unwind and relax in the fresh air with great food and an abundance of nature at every turn.
It is also a place for those who love an active holiday – walkers and hikers come from across Europe. Rowers are often seen on the lake and these guys and girls go on to represent their countries in the Olympics. They are certainly not in the retired market – they are in the prime of their lives.
Other visitors like myself over the years have come for work conferences, workshops, for lads golfing breaks, a snowy winter getaway or just for a weekend to recharge. Lake Bled is special…. if it's peace and fresh air you crave there are few better places.
Lake Bled Resort
Lake Bled, Slovenia's most famous resort, lies at the edge of the Triglav National Park and is a mecca for those that seek to be at one with nature.
What I like about the town is that it is just so peaceful – no one makes a sound in Bled – well apart from ducks and the very few late-night bars but for much of the day it's all about the great outdoors.
The lake is a photographer's dream with shimmering water reflecting the nature and alpine buildings that surround it.
The little town centre with a small square where coffee and pastries are served is popular on a sunny day. Don't be fooled however into thinking this is a summer resort as some of the best times to go are for the Autumn colours, the Winter snow scenes or the Spring flowers bursting into life.
Lake Bled is an all-year-round resort.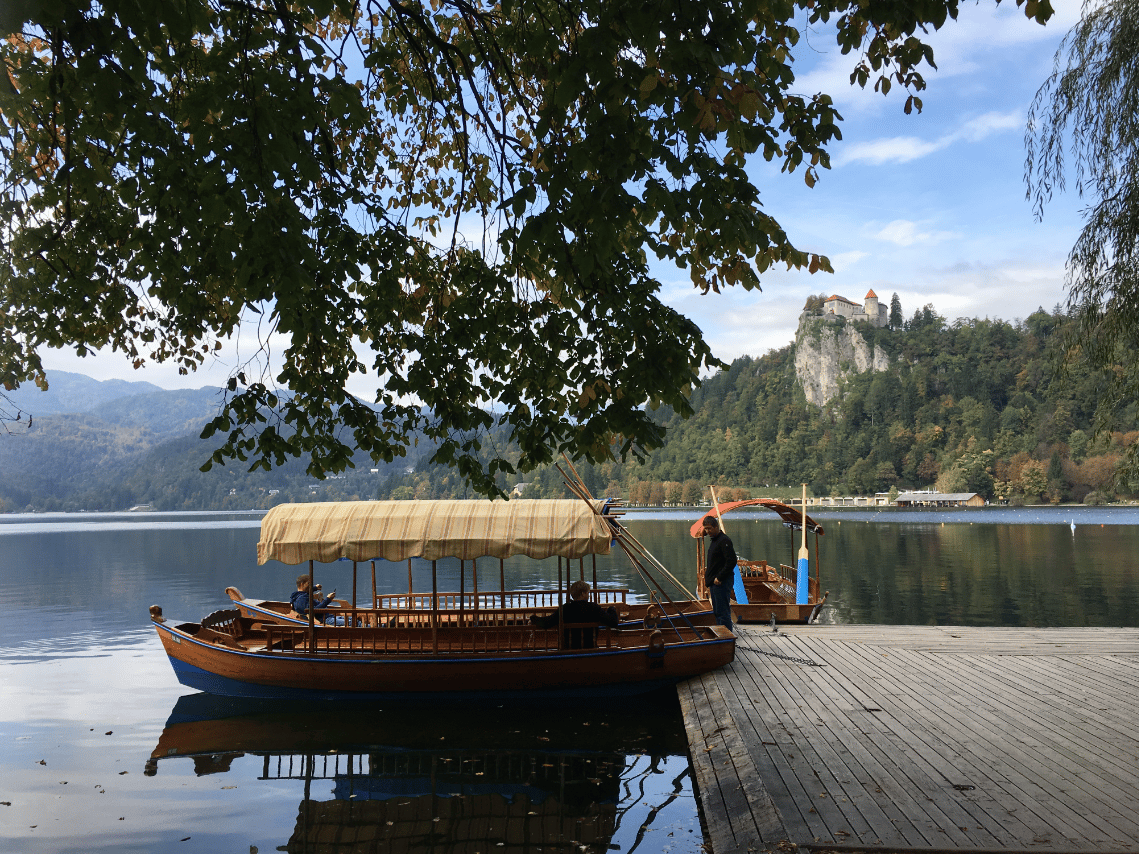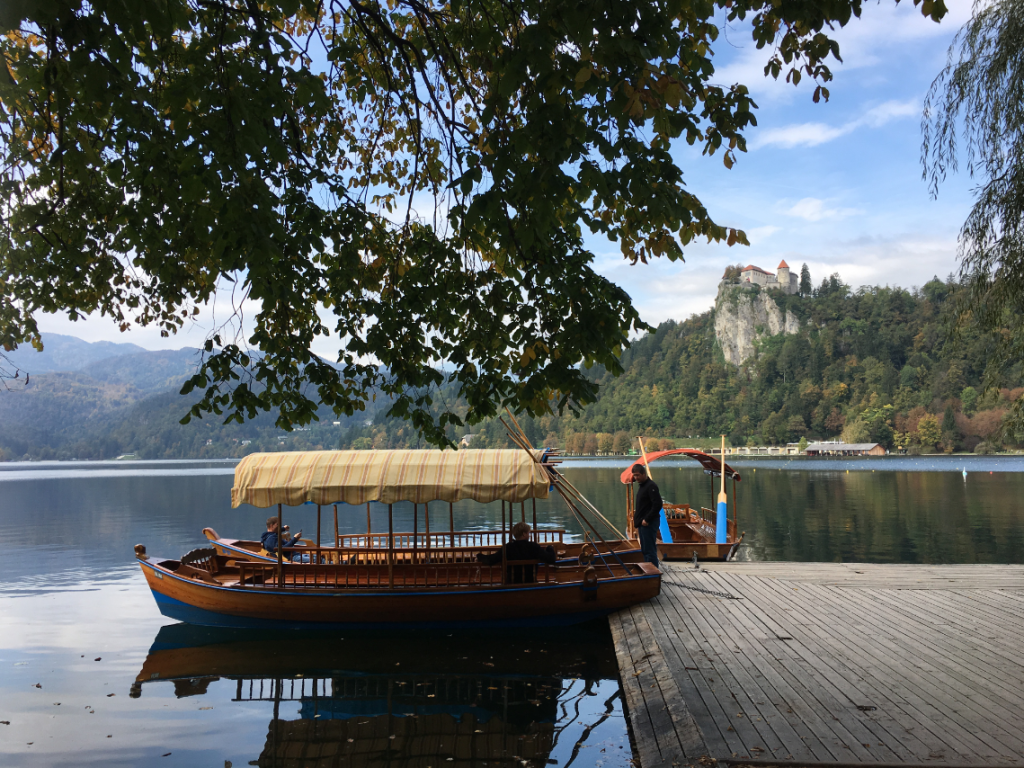 Travelling To Lake Bled
I have always hired a car from Ljubljana Airport and driven to Bled as the roads are so easy and parking at the hotels is without a problem.
However, another way to pull into town is by train. The station "Bled Jezero" with the backdrop of the Julian Alps is a throwback in time where you can step out onto the tracks as I did here for a photo.
Getting Around
Make sure you pack your hiking boots as the temptation to head off for the day around the lake will be strong. Distance wise it is about 6 km and will take 90-120 minutes depending on stops of which there will be many not least for photos and dare I say it, selfies!
Another way of circumnavigating the lake is by horse and carriage or a "Fijaker". Reserved really for the romantics of whom there are many in Bled the carriages generally take up to four people and are a wonderful way to enjoy the scenery. Costs are about 60 euros at the time of writing.
There is also a tourist train (pictured) in Bled that runs around the lake every 45 minutes in the summer months and at weekends in the winter.
Slovenia has a long tradition of sporting success in rowing and on the lake here you can watch the fit and healthy launch their boats either for training or on the regattas that are often held on the lake.
Lake Bled By Day
For breakfast and/or lunch people tend to head to the lakeside restaurants to sit outside on the terrace and enjoy the sun and the views.
One thing I have always appreciated was the peace even on those restaurant terraces. Today with mobile phones and video calls invading people's lives I have always found that those well-dressed and well-heeled individuals hidden behind dark sunglasses on the terraces of Bled do show the respect that is sadly lacking in other countries.
As you look down to the water's edge you often see young families feeding the many ducks and swans that reside at the lakeside. The paths and the town end of Bled are flat and made of tarmac so easy for prams or those with walking difficulties.
Rucksacks and mountain boots are the fashion with many heading off early or arriving back in the late afternoon sun for a refreshing beer on one of those terraces that are catching the last rays of the day.
Bled Island
The most iconic symbol of Lake Bled is of course the little island that is positioned at its heart.
To get to the island, you will need to buy a ticket on what is called a "pletna". This is the small boat pictured and rowed across by a burly Slovene who often will sing or tell amusing stories. I love the Slovene humour and something you will soon pick up as you travel around the country.
Back in the year 745, a temple that was on the island was replaced with the church that remains to this day despite a few makeovers during the past 1300 years!
Back in the 17th century, the 99 steps that led up to the church were built. For those who choose to marry on this island, the tradition is that the groom must "sling" for want of a better word, his wife to be over his shoulder and take her up those steps…. not sure my back could do that these days but its a nice thought!
If you are not there to marry but instead just to visit a popular activity is to ring the wishing bell and hope that someone is listening! Back in 1998 Prince Charles was indeed on the island and making his wish – one can only imagine !!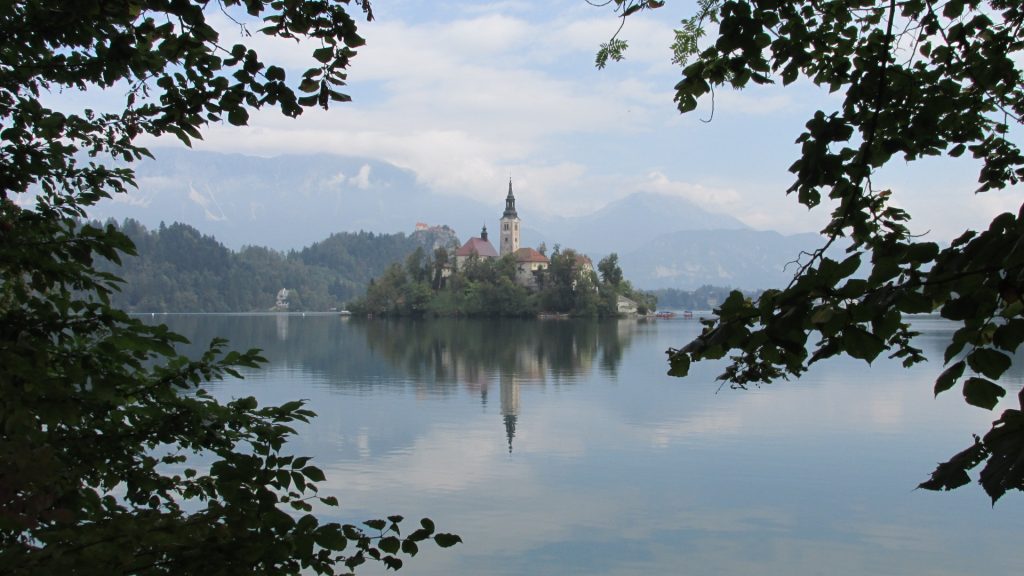 Bled Castle
Overlooking the lake from up high is a medieval castle with a museum, shop, restaurant and some of the best views of Bled.
You can of course walk from your lakeside hotel however there is a car park at the castle although you will still need to manage a steep slope and some uneven steps so this is not a trip for those with walking difficulties.
The castle dates back to the year 1004 with various additional towers and ramparts added over the following centuries.
Check out the museum, the galleries, and the wine cellar where you can seal your bottle with wax. Alternatively, you can have a meal in the courtyard restaurant and drink that bottle instead!
The views from the top are wonderful as you look down on the little church on the island as well as on a clear day, the imposing mountains of Stol and Triglav.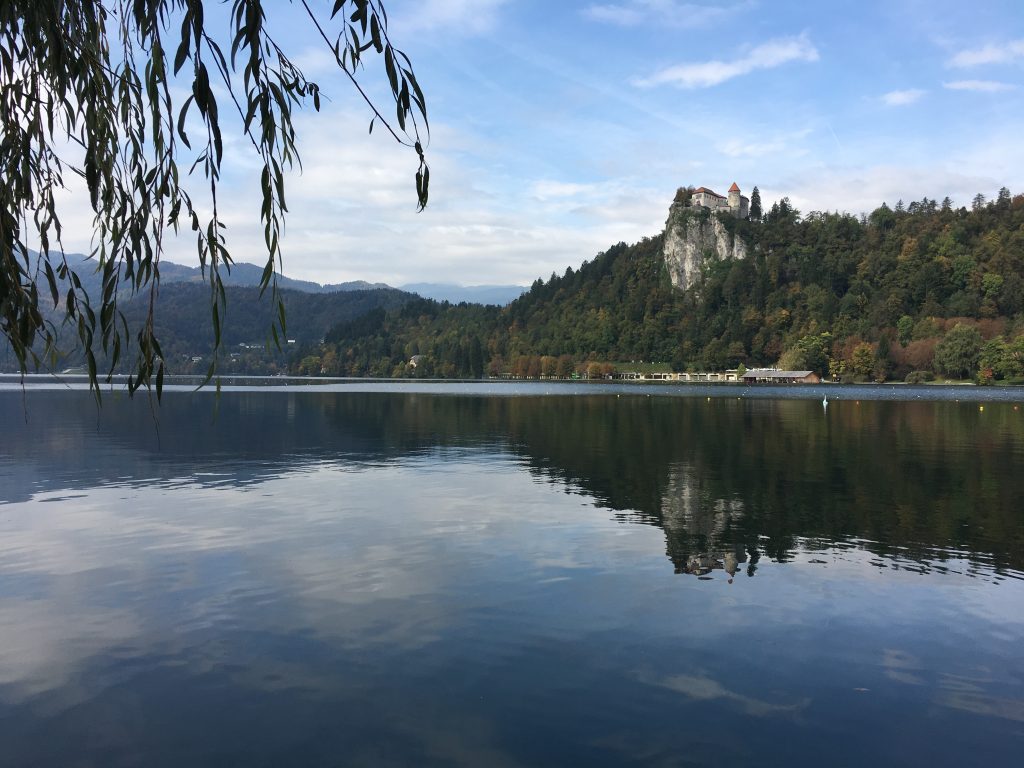 Lake Bled at Night
In the evenings those restaurants that previously served up coffees, pastries and afternoon beers now serve delicious traditional Slovene dinners. At busy times tasteful music will fill the air.
If you wish to step it all up a gear then there are also a small collection of bars – I recommend the Devils bar with great staff and an open terrace should the weather be nice.
For those that want to dance to the latest rhythms then there is a nightclub which is generally only open at weekends under and alongside the main square.
Accommodation
The little centre of Bled is surrounded by a large number of hotels – some small and friendly, some luxury offering spas and some conference-style hotels as well as private apartments.
Two of the most well-known are the Hotel Golf and Hotel Park however today the Hotel Golf is called the Rikli Balance Hotel. Both are not blessed with that cosy alpine look as they cater more for groups and conferences however they are both comfortable and ideally located.
Villa Bled is perhaps one of the most famous properties at the lake as it was a former residence of President Tito – the former head of Yugoslavia.
The Grand Hotel Toplice is the most elegant and refined hotel in the resort and a member of the Small Luxury Hotels of the World. The spa here is magnificent.
If you happen to be at one of the many campsites or in self-catering accommodation then the centre has some shops, a mini-mart and a bank so all your needs are met. I remember needing to buy a phone charger here and sure enough, I found one.
Eating Out
There are numerous restaurants in Lake Bled and I would be putting my neck on the line to say that I don't think you will have a bad meal at any of them !!
As with many waterside resorts, you will pay a premium for those at the lakeside edge but for special occasions they are perfect. Slovenian wine is of a very high quality so check out our dedicated blog here.
Head into town or off into the outskirts of the resort and you may find many small Gostilna serving up delicious home-cooked soups, schnitzels, dumplings, goulash and pancakes.
My favourite restaurant serving exactly this is also a pub. Located in the old city centre on the castle road – the Gostilna Pri Planinco is a treat if you just want that traditional venue, grub and service. Check it out and say I sent you!
Tying the Knot
Lake Bled is a very popular place to tie the knot with couples coming from all across Europe to marry in the most beautiful of surroundings.
You can of course marry on the island church and this is what many peoples wish. However other options exist including a marriage service at Bled Castle.
For information, I would recommend you have a look at this website and get in touch with Storija Weddings in Bled,
Things To Do
I have already mentioned many of the outdoor active pursuits that entice visitors however did you know that golf is very popular in Slovenia and the quality of the golf courses – as I found out some years ago on a lads golfing break- is superb.
The Royal Bled Golf Course is one of the most beautiful I have ever played with the snow-topped Julian Alps acting as a backdrop to many holes. The course is a stone's throw from the centre of Bled so with a car it is very easy to access.
Other fabulous Slovenian courses, although further away, are the Arboretum Course and the Golf Klub Lipica.
For a day trip from Bled, you could look to visit many of Slovenia's top tourist attractions such as Ljubljana, Lake Bohinj, Kranjska Gora, Lipca or the Postojna Caves.
R & R Guaranteed
So there you have the key facts about a visit to the Slovenian resort of Lake Bled.
A place to relax and unwind, a place to discover nature and peace and a place to reacquaint yourselves with great food, top service and people who will go out of their way to look after you and welcome you to their country.
A recharge in Lake Bled is a must!
Contact Information
For further information on taking a trip to any part of Slovenia, either contact your local travel agent, a specialist tour operator or the Slovenian Tourist Office.
If you are interested in visiting other parts of Slovenia then check my blogs for Ljubljana, Lake Bohinj, Maribor, Kranjska Gora or how about a Slovenia road trip over the Vrsic Pass or even understanding Slovenian Wine.