Whilst Lake Garda will always attract the headlines, I wanted to visit Lake Iseo, especially during the Spring when visitor numbers are far less than in those busy summer months.
I took the train from Desenzano on Lake Garda, with a change in Brescia, to Iseo. The train station at Iseo does not have much in the way of signage, however, upon asking a local, I was told to swing a right and I would soon find myself walking along the main approach to Iseo and its attractive little town and waterside promenade.
Iseo Town
Iseo is small yet has a good selection of boutiques, cafes and numerous restaurants either on the back streets or close to the jetty where ferries and tourist boats take you on a scenic tour of the lake.
For a 45-minute group tour, Massimo from Iseo Taxi Boat charged me 10 euros which included his expert knowledge and guidance as we enjoyed close-up views of Monte Isola, the largest Lake Island in Europe and the little island of Sao Paolo which has a beautiful monastery that is owned by the Beretta family, who is one of the world's leading manufacturers of guns.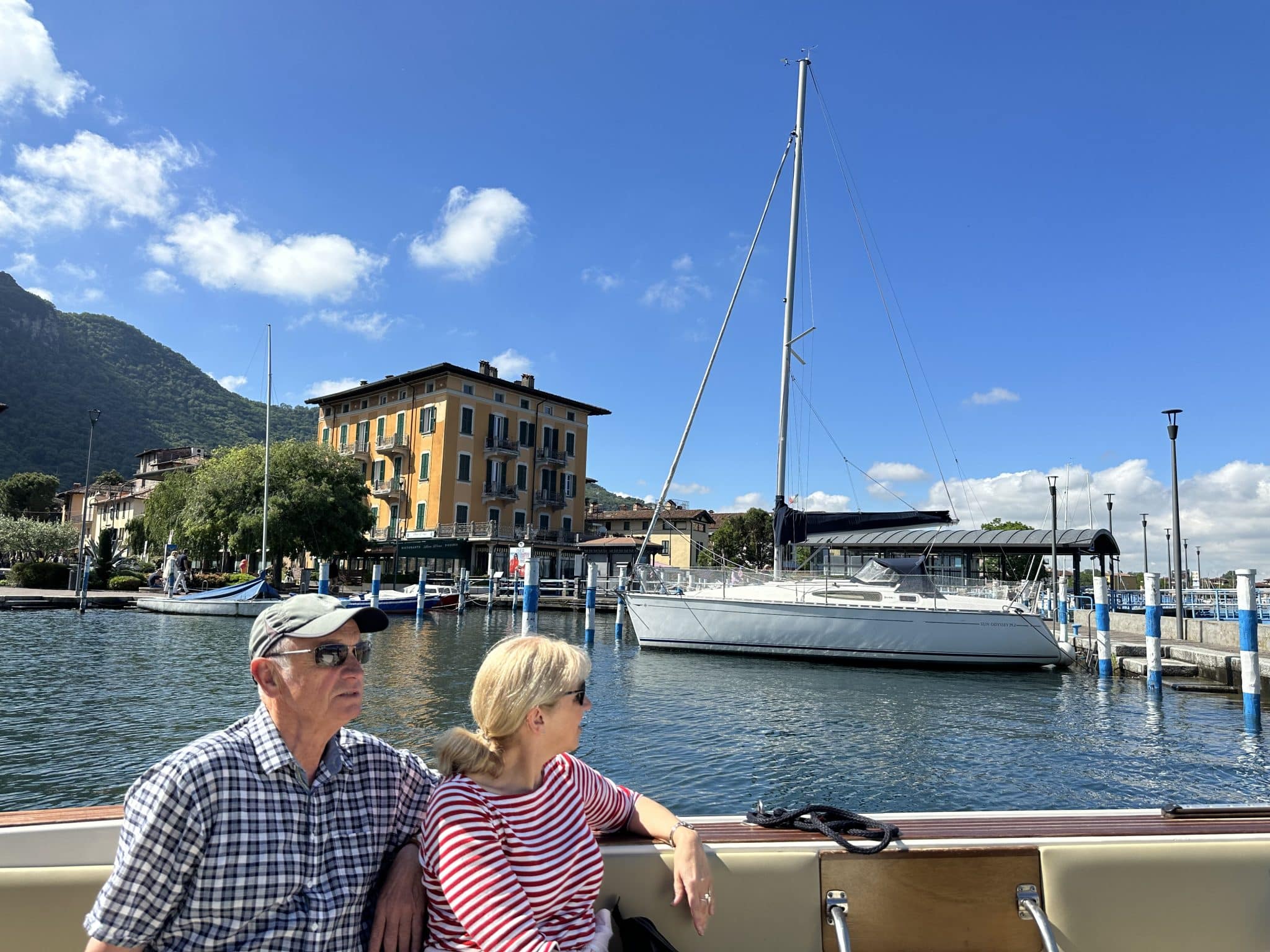 Back on the mainland have a wander around the pretty side streets and you may stumble upon the gorgeous Basilica of Sant Andrea. It is understood that the Bishop of Brescia, Vigilio founded the church of Sant'Andrea between the late 5th and early 6th centuries.
A short stroll from the church through lovely little pastel coloured side streets leads you to a selection of luxury boutiques and shops. You may, as I did, choose to relax and sip a coffee while watching the locals reading their Gazette dello Sport in the spring sunshine.
Exploring Lake Iseo
From Iseo town, I jumped on the rather infrequent local bus to Paratico where I was staying for a couple of nights. The journey took just 15 minutes to cover the 10 km.
I stayed at the rather dated but superbly located and oh-so-authentic, Hotel Stazione. A family-run hotel dating back to 1957, it offers views from the magnificent, wisteria-clad terrace across the River Oglio that flows into Lake Garda. On one side of the river is Paratico and just a two-minute walk across the bridge, is the town of Sarnico.
Sarnico, Lake Iseo
Sarnico has aromatic and picturesque little side streets, art deco villas and the beautiful Church of San Martino. Down on the riverfront, there is a delightful promenade where people like to stroll in the late afternoon sun.
A couple of ice cream parlours are perfectly located with chairs to relax and enjoy the views. Further along, there are a small number of bars offering happy hour deals and delicious aperitivo.
The Bar called "Swing 1966 Bar" – was a popular hang-out and even older than me – I guess I wasn't the oldest swinger in town after all!
Paratico, Lake Iseo
Paratico appeared less developed and the poorer neighbour so to speak. There are the remains of a castle plus a fabulous old railway station that's been turned into a shop, a restaurant, and a cafe.
Alongside there is a small nature park, called Tassodi Park or Bosco Taxodi, where local authorities are developing a 300-metre over-lake boardwalk. Here you can admire the incredible tree species Taxodium Ristichum, from which the park is named, and which grows directly out of the water. All around are wildfowl and up high in the trees were nesting herons. I loved it here for the wildlife and the calm.
It's only small, but to me, it appears to be the start of a project to develop and protect a little area of this previously disused and run-down corner of the town.
Contact Information
Iseo is the signature town of Lake Iseo in Italy, and will receive the most attention. Sarnico is the authentic experience and Paratico is the rough diamond which I loved. All three were wonderful in their own way and I am so pleased I went a little off-piste and visited Lake Iseo.
With Lake Como, Lake Maggiore and many more just waiting to be explored my stop at Lake Iseo was over but it won't be long before I am back….. till next time – Arrivederci!
For more information contact the Lake Iseo Tourist Office.