This Pachmarhi Travel Guide is from guest author Shreya Patel. Here is what she had to say about Pachmarhi – a hill station in Madhya Pradesh in the very heart of India:
Pachmarhi, Queen of Satpura or Satpura ki Rani (in Hindi ), has an abundance of eye-tempting attractions to explore. Although the place is lesser-known, once you visit Pachmarhi, its beauty will leave you in awe. The good thing is that the government has kept it in the same condition, which means a plethora of unadulterated natural beauty for all travel junkies. Encompassed with lush greenery, rich wildlife, pristine waterfalls and picturesque landscapes, this Central Indian spot offers a high level of tranquillity for those who prefer hill stations over beaches.
So, being a wanderlust Indian myself, I am always keen on exploring those untraversed spots and so my curiosity led me to this beauty. I visited Pachmarhi with my family and booked a local gypsy camp to enjoy the beauty of this place better. We covered several attractions and I must say, the warmth and remarkable aura of Pachmarhi left me awestruck and happy.
In this Pachmarhi Travel Guide I will be listing all the places you must visit when heading to this beautiful undiscovered part of India.
An Introduction to Pachmarhi
Located at a height of 1607 meters above sea level, Pachmarhi is in the second largest state, Madhya Pradesh. And since it's the only hill station and the highest point in the state, it serves as a vantage point and is the most visited by locals and tourists across the nation.
The place is also home to wild animals – leopards and bison. The town isn't very large and is a perfect cosy retreat for tourists from metropolitan cities.
Pachmarhi Travel Guide Facts
Some amazing fun facts I learned about this place are:
Pachmarhi was named a Biosphere reserve by UNESCO in May 2009.
A lot of cave paintings found in the caves of Pachmarhi are believed to be about 10,000 years old.
Dhoopgarh is the highest peak point of this hill station. During my trip, I visited here during sunset, and I can say that the views from the peak were unmatchable.
The name of this place, Pachmarhi, is derived from the words "Panch (Five) and Marhi (Caves)".
Many Bollywood movies have been shot in this beautiful location. When I visited Reechgarh, a local guide told me that scenes of the popular movie Ashoka the Great, (starring Shah Rukh Khan & Kareena Kapoor), were shot here.
Bee Falls Pachmarhi
Amongst the count of waterfalls, the Bee Falls Pachmarhi is the most renowned. Also known as Jamuna Prapat, it offers the most extreme tranquillity one could ask for. The hiking trail, which is a wonderland in itself, leads visitors to this waterfall. Amid the trail, you'll see 2-3 picturesque spots. Tourists here can be often found pushing and shoving to get a click with the mesmerizing view, especially the first-timers.
People sit and relax by the brooklet, while many dip their feet in the water and enjoy fish offering a very natural and free pedicure. It may be a little exhausting to hike down to the Bee Falls Pachmarhi, but as you arrive, the drizzle from the fall, the soothing sounds of gushing water, and the view will be enough to take away the fatigue.
Jatashankar Caves – A Lord Shiva Temple
The Jatashankar Caves is the most sacred Hindu pilgrimage site. It is said to be the place where Lord Shiva concealed himself from the wrath of Bhasmasur. Although it's a long walk to reach the temple entrance, it's all worth it. On the way to the entrance, you will come across street sellers selling different items such as pipe fryums, papad, labdo ber, and herbal oil.
Here at the Jatashankar Caves, water seeps from the rock above and flows into the temple's courtyard, making one's feet numb. You may come across a lady, who sits on the cliff, and chants mantras of Lord Shiva, and her voice echoes can be heard throughout the entire cave. There is a cave built in the rock, from which you have to stoop through to reach and worship before the idol of Lord Shiva.
Bade Mahadev Caves
Sitting in the lap of rugged nature is this Lord Shiva shrine, which goes by the name of the Bade Mahadev Caves. The temple also consists of the idols of Lord Brahma, Vishnu, and Ganesha, which are of major significance in the Hindu religion. At the entrance to the cave, there is a lot of Trishuls and Damru, symbolizing the tenacity of Lord Shiva.
Natural water streams inside the cave, which forms a holy pool. It is believed that whoever bathes in this pool, can wash away their sins. Here also, you will have to stoop to get to the end point of the cave, where you will find the idol of Mahadev and all the above-mentioned Gods.
As an extra travel tip for your visit to the Bade Mahadev Caves, beware of the monkeys roaming around, as they can snatch your food and bag.
Pandav Gufa Caves
Pandav Caves or Gufa are well renowned and have a reference to Indian mythological characters Pandavas, hence the name. These caves are said to be the place where Pandavas ( 5 sons of Kunti ) stayed during their exile period. It is now a protected tourist spot, and people from all over India visit here to witness this place. Built-in the 9th century, these caves are adorned by beautiful sculptures and ancient carvings.
A pathway from a large beautiful garden leads to the Caves. Here you can see a group of five small caves, covered with grills, and carved on a hilltop. The caves are covered with lush greenery and provide a tranquil aura away from bustling cities.
This was, however, the least interesting place for me in Pachmarhi.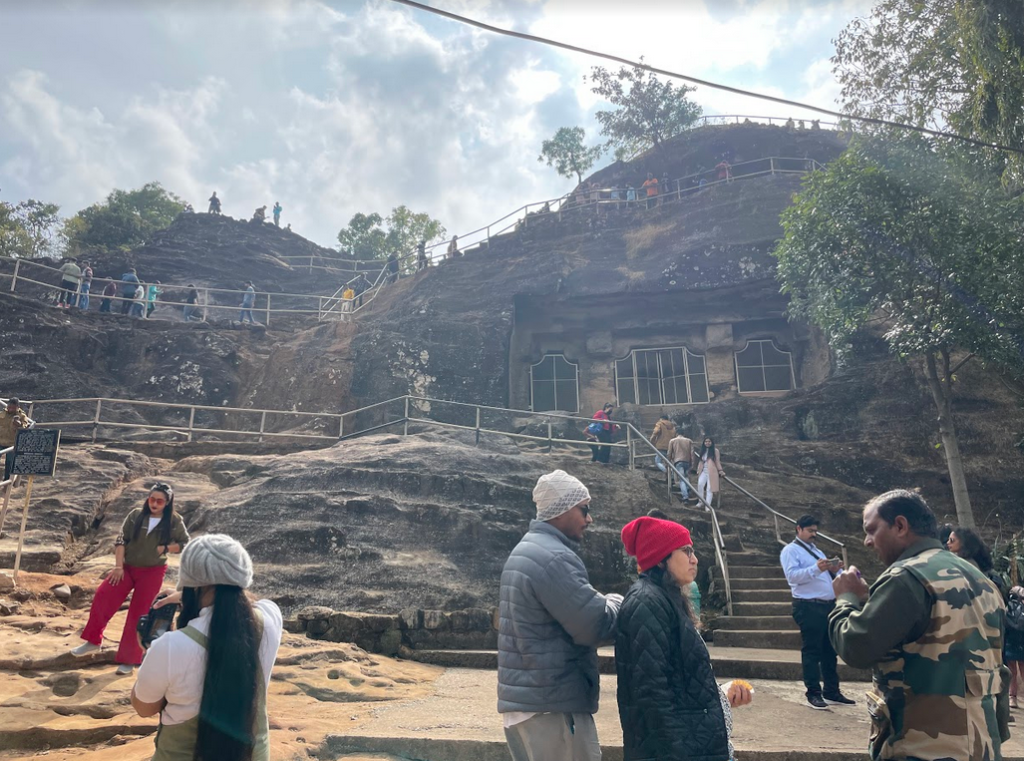 Reechgarh
Reechgarh is a huge cave hidden in the folds of Pachmarhi. A myth says that a giant bear (reech in Hindi) used to live in this cave, and hence, a local legend gave this place the name Reechgarh. Here you'll get to see sunshine peeking through craggy rocks, making it a beautiful place to take pictures. The climb above the cave offers vistas of lush greenery and this cave serves as a natural air conditioner since a cool wind blows through them.
However, to enjoy the best views of this place, you will have to hike down through the streak boulders. And, while doing so, you need to be very careful to avoid tripping over.
Dhoopgarh
Dhoopgarh is the highest point in Pachmarhi, and located at a height of 1352 meters. It serves the most eye-tempting views of the place. It is the best place to admire sunrises and sunsets, and hence, most people come here during these times only. The vistas are truly incredible, and people often enjoy this view with snacks and tea.
However, you can only reach here by trekking up to the peak. The route isn't easy either. The path passes through certain waterfalls and valleys, therefore making the way as steep and challenging as you can imagine.
For first time visitors it's best to visit Dhoopgarp with an experienced Pachmarhi Travel Guide, as the hike can be a little overwhelming.
Handi Koh
Being one of the most beautiful ravines in central India, Handi Koh is a v-shaped ravine covering a 300 feet deep precipice in the heart of a dense forest. This place has a rich mythological history and is said to be closely linked with Lord Shiva. Although it was said to be a lake earlier, which dried up due to the wrath of a giant snake. Now Handi Koh is well known for hiking, trekking, horse riding, and photography.
Here you will get a view from the cliff of a ravine laden with trees, and greenery. Local people will hand over binoculars and telescopes for a fee. Indigenous people use a rope to get down into the jungle in order to get herbs for medicinal virtues.
Best Time to Visit Pachmarhi
The best time to visit Pachmarhi is anytime year-round, thanks to its pleasant weather and topography. The days here are pleasant with chilly nights, which makes it a perfect getaway destination. Although it would be best to avoid the monsoon (July to September) since the precipitation is quite high in this region.
In my experience, the best time to visit Pachmarhi would be in the summer season (April to June), which is perfect to escape the dry heat of the plains. Not only is it less crowded, but it also tends to be much cooler as compared to other hotter parts of the country. The weather is just perfect as any hill station encounters. Plus, what's the best time to enjoy playing around in waterfalls? It's always the summer.
How to Reach Pachmarhi
Being the only hill station of Madhya Pradesh, it's the most visited and hence is well connected with major cities of the region. Bhopal is one of the nearest cities to reach here (210 km). Those taking a flight from Delhi, Mumbai or any other Indian city, can utilize Raja Bhoj Airport to reach Bhopal and then take a taxi to Pachmarhi (which is a 4 hours drive).
If you're someone who prefers traveling by train, then a useful Pachmarhi Travel Guide tip is to take a train to reach Pipariya Railway Station, the closest to Pachmarhi (only 54 km). This train station is linked directly with several major stations including Varanasi, Surat, Delhi, Nagpur, Kolkata, etc. When you reach Pipariya, take a taxi to Pachmarhi and you will reach in about an hour.
If you prefer a road trip, then you are most welcome to bring your own vehicle. Although driving can be exhausting, you will get to enjoy the stunning vistas as you drive. Remember that the travelling time will depend upon the traffic and whether you take stops in the middle.
For the road route, you can also opt for a bus ride. Yes, several state-owned and private buses are accessible for Pachmarhi from nearby cities like Bhopal, Jabalpur, Nagpur, Indore, and renowned tourist attractions like Kanha National Park and Pench National Park. Being a cantonment town, the road conditions here are quite phenomenal.
Accommodations in Pachmarhi
It makes sense that being a popular spot amongst the locals and tourists, there are a handful of accommodations accessible in Pachmarhi. From budget stays to chic hotels, there is a suitable option for everyone. That said, budgeted hotels are available for a stay starting from INR 600 to INR 1500. Although these hotels are affordable the quality of stay provided isn't questionable.
But for me, the budget wasn't the issue, so I decided to book a lavish hotel. And since hill stations call for a chic stay with a mind-blowing view from the balcony, I went for a hotel that offers the same. Fortunately, there are plenty of incredible options nearby Satpura National Park, Dhoopgarh, and Pandav Caves. And since hill stations call for a chic stay with a mind-blowing balcony view, I went for a hotel that offers the same.
Final Takeaway
I have always preferred natural beauty over man-made attractions and this place offered it all. And indeed, a trip to a cosy hill station can better rejuvenate your entire soul. Pachmarhi is truly a gem brimming with a myriad of remarkable attractions and offers the most tranquil vistas you could ask for.
The best thing I realized here was that even with an excessive population, such a mesmerizing gift of nature still exists in the country. If you're in India or ever plan to visit here, then make sure to spend some time exploring the beauty of this hill station.
Not only will this place offer you peace, but will take you a step closer to the tales of Indian mythology. I will also recommend you carry strong grip shoes for rugged trails, sunglasses and a hat to avoid being smothered in dust, as well as some motion sickness tablets.
Author's Bio
My thanks to Shreya Patel for her wonderful Pachmarhi Travel Guide guest blog.
Shreya loves to travel with her family. She has completed all the safari trips of India and writes content for lowestflightfares.com for a living.