In The Foothills Of Mount Fuji
Before I stepped on board the Cathay Pacific flight to Hong Kong and on to Japan I had two hopes and before you say it…..Bob was not one of them! One was to once again see England lift the Rugby World Cup and the other was to see Mount Fuji in all her glory.
At that time there was no thought of the bright lights of Tokyo or the old-world charm of Kyoto, it was the natural beauty of Fuji that I was craving.
There are iconic sights in the world that I feel you just have to witness for yourself and the snow-capped volcanic peak of Fuji has always been one of them. It's weird however and I am certainly showing my age here but when I think of Fuji I immediately think of Fujifilm. Those old film cartridges you used to buy and then when your 36 photos were taken you would drop them into Boots to get them developed. How times have changed…I digress!!
Now earlier on in my tour of Japan I had boarded the Shinkansen and had whistled past Fuji at a mere 320kms an hour however with the dense cloud that day, I sadly did not see her. I thought that may be my dream over until perhaps one day if I could, I would return to Japan.
Thankfully the gods were with me as England progressed to the final of the tournament leaving me a few days free to return. Having covered the key cities there was only one place I was heading for and that was Fuji – actually to be more precise the mouthful that is, Fujikawaguchiko.
Getting There
Now the two-and-a-half-hour journey from Tokyo to Mount Fuji was to throw up a couple of surprises that I certainly was not expecting.
I needed to take the train from the marvellous Shinjuku station in Tokyo on the JR Cho line to Otsuki station. From there I was to then pick up the Fujikyu Railway Line to Fujikawaguchiko.
However, it was boarding the train in Otsuki that I got my first surprise. The train was a Thomas the Tank Engine train fully kitted out with plush Thomas seats and decor. Then each station en route to Fujikawaguchiko was named after a character from the popular TV series like Gordon or Percy. The inner kid in me loved this and I smiled for the entire journey as we trundled through magnificent lush mountain scenery.
The first night was booked in a place called Fuji Q Highland which turned out to be my second surprise. Instead of being that naturally beautiful location that I had dreamed about with views over Mount Fuji, it was in fact a hideous, noisy amusement park.
I later discovered that it was actually built in 1968 so it was as old as me. Now not being too child-friendly I was none too impressed however I did appreciate that if I was a ten-year-old both the journey on Thomas and the amusement park at the end of the line would have been a little bit special.
That evening after sitting on the floor eating Ramen in an authentic, yet eerily quiet Japanese restaurant it was an early night before that final push, past the rollercoasters and ghost trains for the magnificent Mount Fuji.
The Five Lakes
Surrounding Mount Fuji are what are known as the Five Lakes. These are Yamanaka, Saiko, Shoji, Motosu and Kawaguchi.
When I was doing my research I found it really hard to understand which area around Fuji had the best location and as a result, I found it confusing choosing where to stay for that balance of great views and access to the mountain plus having something going on in the evening.
The answer was to stay at the second largest of the lakes Kawaguchi and then to locate myself in the town of Kawaguchiko or as it is better known FujuKawaguchiko.
Lake Kawaguchi is located on the border of the towns of Fujikawaguchiko and Minobu in southern Yamanashi Prefecture near Mount Fuji, Japan.

Fujikawaguchiko
I chose to stay in a very simple basic old hotel which effectively provided a bed, a wonderfully old-fashioned reception and lounge and a location on the lake side and a short 5-minute stroll into the town of FujiKawaguchiko.
The town is built on the eastern side of the lake and hosts a variety of shops selling local gifts and produce as well as some tacky souvenirs.  A small selection of restaurants offer a choice of local dishes like Ramen and noodles. There is also a small sports bar providing westerners with a burger or fish and chips if you need that break from the ramen! There is also a Lawson's minimart for daily supplies. 
After a little time understanding the best way to get about and to view the area it became apparent that there was a colour-coded bus network that offered different routes around the five lakes. I purchased a two-day pass allowing me to explore at my heart's content.
I have to say this was superb as all around the lakes are numbered stops and with the excellent map available you can decide when and where to jump off.
There are heaps of different attractions all around the lake from museums to shops, to natural attractions, waterfalls and even a bat cave complete with 1960's Batman gallery. I loved it!
Fuji Panoramic Ropeway
The Mount Fuji Panoramic Ropeway is a cable car which provides wonderful views of Fuji (on a clear day).
At the top, there are a couple of small shops and a cafe as well as various photo opportunities to catch Mount Fuji through the clouds.
There are also some children's attractions based around a bizarre story of a rabbit and a raccoon. If you get a moment look it up…. a very odd children's story and one that will probably lead to nightmares for both you and the kids!
I love this image I took while at the top of the old-fashioned guard who bows every time the cable car arrives and departs at the top. So love these little gestures that the Japanese make – just wonderful.
Pleasure Boat Cruise
I really never expected there to be so much to do in this area.
Another fun activity is to enjoy a pleasure boat cruise from the lakeside. Its very slow but pleasurable with open deck views of the incredible scenery.
Another lake-based activity is hiring a swan peddle boat and if you pedal far enough you can catch that first glimpse of Fuji.
Chureito Pagoda
When I realised I was going to be staying in Fujikawaguchiko I researched the best place to view Mount Fuji. All the reports suggested I take a very early morning trip up to a viewing point at the Chureito Pagoda which is part of the Arakurayama Sengen Shrine.
With a clear blue sky expected I set my alarm and got up bleary eyed jumped in my pre-booked taxi.
I was dropped at the base of some steps in the pitch dark. I paid the taxi driver and started the 20-minute climb of about 400 steps to the top.
As I did the sun was just starting to come through and sure enough three-quarters of the way up I turned around to see the majestic sight of Mount Fuji – it was one of my favourite travel moments as suddenly this iconic Japanese volcano was before me.
I rushed up the remaining steps where I heard voices and sure enough, there were about 20 individuals and cameramen all jostling for position to take a photo of Fuji with the stunningly beautiful red Chureito Pagoda in the foreground. Wow what a sight!
After 30 minutes of photos and taking in the view I walked back down the road that takes you into the Fujikawaguchiko suburbs and then to a train station with amazing fuji views and from here I jumped on board for the short trip back to Fuji station.
It was an awesome experience viewing Mount Fuji from the best possible location and on the most gorgeous day. A memory that will live with me forever!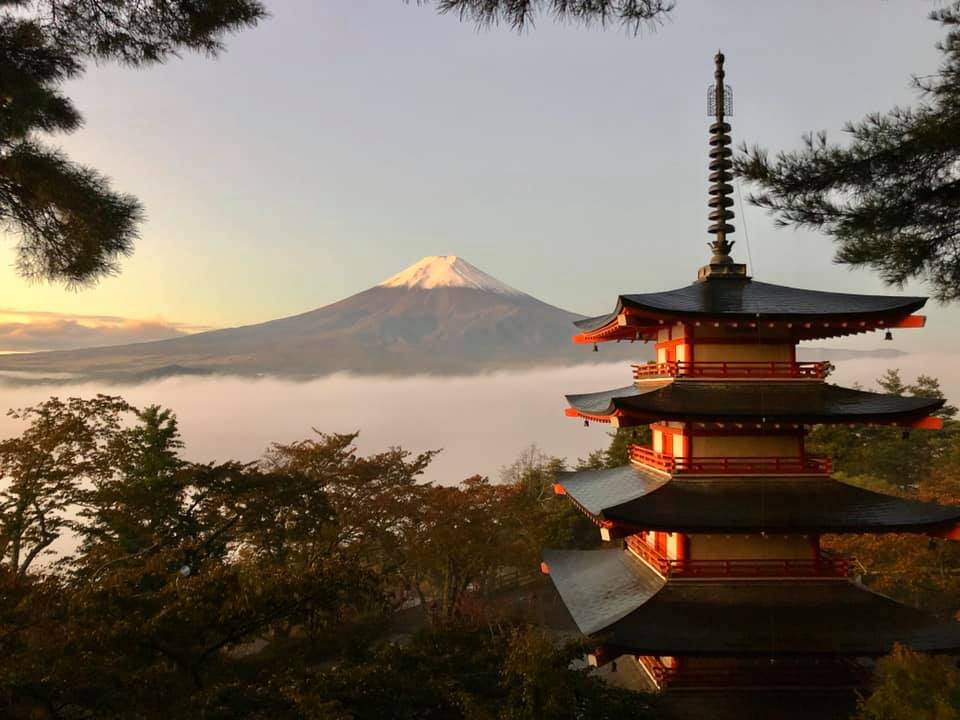 Fujikawaguchiko Town
The more time I spent wandering around the modest and peaceful town the more I fell in love with this little corner of Japan.
Like anywhere I guess, the more you walked and explored, the more you discovered.
I even came across a Sake distillery that offered tours and tastings. Now Fujikawaguchiko was fabulous but I wanted to remember it so declined the opportunity.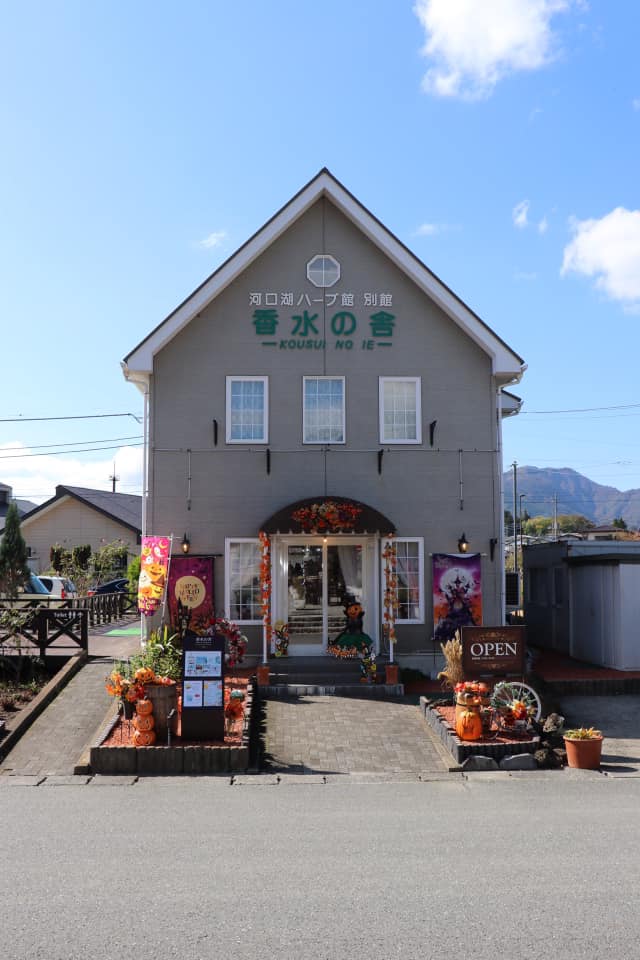 Arigato Mount Fuji
I loved Fuji Kawaguchiko and would highly recommend a couple of nights here on any tour of Japan.
My biggest tip is whatever you do make sure you take a two-day bus pass as it is the best thing you can do in order to explore the area and get the most out of your stay here.
Check out this useful guide to Fuji & The Five Lakes
Pre-Bookable Excursions
If you are planning a trip to Fujikawaguchiko and want to pre-book some excursions here are three of the very best.
Contact Information
For further information on taking a trip to any part of Japan or Asia either contact your local travel agent, a specialist tour operator or the Japan Tourist Office.
Check out my Japan Blogs for Tokyo, Kyoto, Osaka, Kobe, Hiroshima, Yokohama, Fukuoka and Fujikawaguchiko.