A visit to the Japanese city of Kobe, much like Hiroshima, was always going to be thought provoking and reflective. For this is a city that as recently as January 1995 endured the pain and heartache of an earthquake that killed almost 6,000 people.
Memorials and galleries dedicated to those who lost their lives are all around.
Life however must go on and over the past quarter of a century the city has been born again with a variety of attractions that will entice visitors once more.
Not least is its cuisine and in particular the world famous Kobe beef for which I was definitely going to indulge as I enjoyed 24 hours in a city that provides a true taste of the Japanese spirit.
The port city of Kobe is the capital of the Hyogo Prefecture and has a population of about 1.5 million. Located 33km to the west of Osaka. Kobe has always been an important Japanese trading port and today is considered one of Japan's most easy going and relaxed cities. Back in the late 19th and early 20th centuries it also lays claim to hosting Japan's inaugural football (soccer) match and is also the location of the countries first golf course!
For lovers of history and culture, Kobe is home to many museums and galleries so if maritime history, art or indeed the story of the earthquake is of interest then Kobe is a must visit in Japan.
Getting around is best on foot with pretty easy access to all the main areas that include Sannomiya Station, the Motomachi Shopping Arcade, the Old Settlement area near the City Hill, Daimaru Department Store and Kobe City Museum.
We stayed at the large business style Ana Crowne Plaza hotel which was ideally connected just a minutes walk to the Shin Kobe Shinkansen Station and a gentle stroll from the heart of the city.
So with my walking shoes on we began to discover Kobe by heading first towards a rather odd area known as Kobe Harborland.
En route my attention was taken by a rather questionable statue of Elvis Presley. Whilst Kobe is known more for its jazz than its rock n roll this statue used to be in Tokyo outside the Love Me Tender store but when that closed it was relocated to Kobe in 2009. My first rather weird observation! 
Realising that with only 24 hours in Kobe it was perhaps a case of a little less conversation and a little more action I swiftly made for the enormous Ferris wheel guarding the entrance to Harborland. This is the shopping and entertainment district between JR Kobe Station and the waterfront of the port area.
A popular tourist area it offers a decked promenade hosting a large selection of slightly tacky, uninspiring restaurants, shops, cafes and other amusements all overlooking the waterfront and port.
Personally I found it all a bit soulless and lacking an atmosphere and identity however I guess it was very much geared towards families and entertainments – maybe my head wasn't in the mood for nintendo's, bright lights and fairground rides!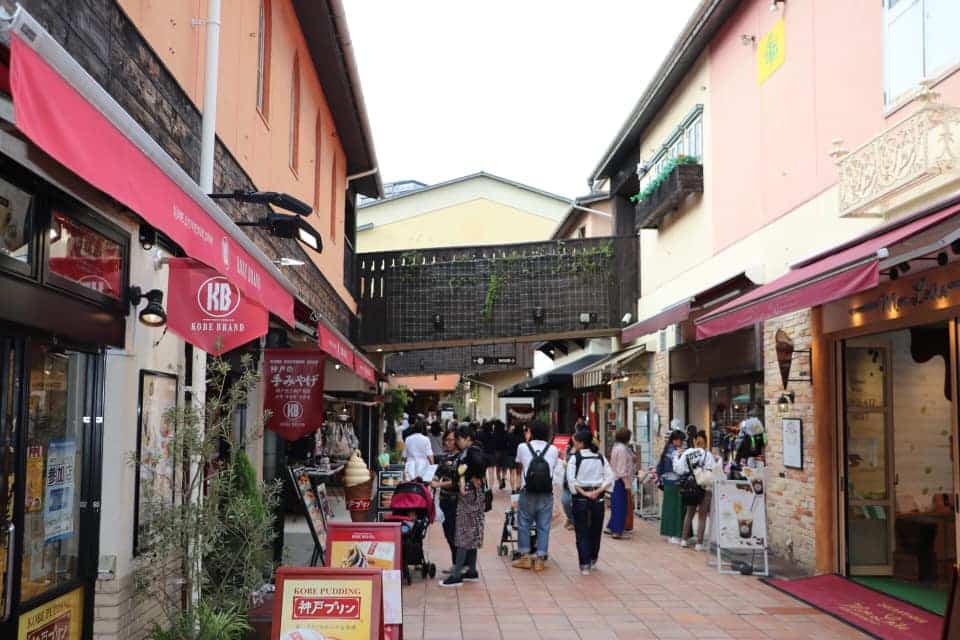 South of Sannomiya Station is Kobe's commercial centre which hosts the City Hall and Kobe museum.
The tree lined streets of Kyukyoryuchi form part of a former foreign settlement that began trading in 1868 and where many western style buildings in both European and Japanese styles were built.
Throughout there are plenty of upmarket shops and trendy cafes with at its heart the 10 story Kobe Daimaru Department Store which boasts over 60 branded stores and numerous restaurants including a popular Beer Garden during the summer season.
The historic Kitanocho quarter with its many cool cafes, antique shops, museums and boutiques is a great place to stroll and discover the essence of the city.
Much like Kyukyoryuchi  it is also well known for its western style mansions built in the 19th and early 20th centuries.
Other popular places of interest are the Kobe Kitano Museum and the English House. 
Meriken Park is a spacious waterfront where you will find the Kobe Maritime Museum, the Hyogo Prefectural Museum of Art as well as well tended gardens and several statues and monuments.
The park was decimated by the earthquake back in 1995 and an area has been left as a reminder to show the appalling level of destruction that was created.
The iconic red, cylindrical Port Tower standing at 108 metres in height overlooks Meriken Park and provides visitors with wonderful views across the city as the tower is open from 9am every day.
You can also get some magical views from the top of the Shin-Kobe Ropeway cable car which is based in the Kitano area of the city.  
Kobe of course is sadly most famous in in recent times for the Great Hanshin Awaji Earthquake on the 17 January 1995, resulting in the death of nearly 6,000 people and the destruction of tens of thousands of homes. The earthquake measured 7.2 on the richter scale.
The Earthquake Memorial Museum is a modern state of the art glass building dedicated to the memory of all those that lost their lives in the Great Hanshin Earthquake.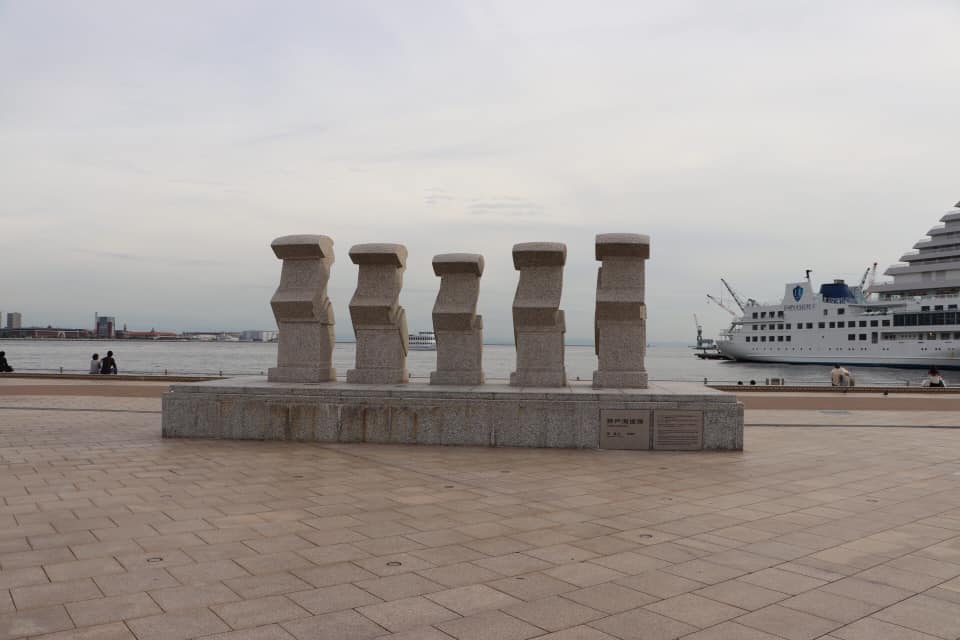 Kobe Chinatown (Naking Machi)
An area that I loved was Nanking machi which is their Chinatown. Bustling and full of life and people going about their daily business, the colourful stalls sell everything from pop socks to ice creams. In fact I reckon Naking machi must surely be the pop sock capital of the world– I nearly succumbed to a pair myself!
Whilst not in the same league as some in Japan, the Kobe Chinatown is west of Sannomiya and is still a great place to spend a couple of hours and just mooch around and take in the sights.
One of the top attractions of Kobe is its nightlife that includes a wide choice of establishments offering fine Chinese and Indian cuisine not to mention the numerous bars and clubs.
If you wander around any of the key areas such as Sannomiya, Kitano or Motomachi you will be sure to find something to entertain you for the evening.
I particularly liked Higashimon Street where you should check out the "Old Kobe Bar" which is a sophisticated whiskey bar oozing charm and history.
I cannot write this piece on Kobe and not mention a gentleman at our hotel who wanted a picture taken of us "beefy" rugby lads – well we were in Kobe after all! For some bizarre reason he wanted a selfie so despite difficulties in understanding each other we obliged – maybe he thought we were actually rugby world cup players.
Long after he had gone we went to settle up at the hotel bar and he had left his credit card details with the waiter to cover all of our drinks for that evening – another example of the amazing Japanese hospitality we received… Arigato my friend.

Aside from the earthquake the city of Kobe is world famous for its beef and my word it is good but boy it is expensive. It is however supposed to be the best in the world so I guess quality comes at a price.
Yes it was delicious but to be fair I could have eaten three more portions and at £50 a pop (not socks). I thought it best to control the hunger and look after my wallet.
Now I have never been a lover of taking photos of food but given the amount of time I had been looking forward to sampling this dish I made an exception.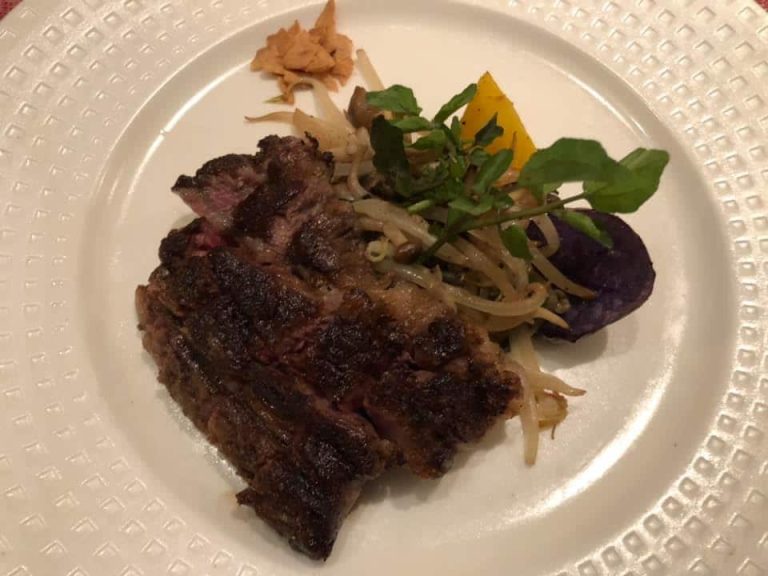 I am glad I visited Kobe however it would not be the first place I would return to in Japan.
The history is both interesting and heartbreaking and so I guess for that reason I was never going to be bowled over.
Kobe is a city that has been rebuilt and reborn and for that memory alone it is worth your visit.
For further information on taking a trip to any part of Japan or Asia either contact your local travel agent, a specialist tour operator or the Japan Tourist Office.