The Lively Fukuoka
Fukuoka in the west of Japan had been a source of much confusion and research, since it was announced that it was going to be the venue of the England v Australia Rugby match that I was attending in October 2019. Pronunciation alone was going to be an issue!
The city is actually on Japan's third largest island called Kyushu. An early settlement for Japanese civilization, Kyushu has many historic treasures, natural beauty and modern cities including Fukuoka.
Getting Around In Fukuoka
Both the city and the region have very easy access whether by air to Fukuoka International Airport, by sea to Hakata Port Terminal or as I chose by train to Hakata Station.
The city is perhaps most known for its shopping and food offerings yet it even has its own seaside resort. Clearly, it was time to get my walking shoes on and start exploring the city of Fukuoka for myself
Fukuoka
Staying at a hotel called "The Lively" perhaps gave us an indication that Fukuoka was going to be party central.
If you are planning to stay in Fukuoka I would wholeheartedly recommend this charming, modern and well-appointed hotel which also has locations in Osaka and Tokyo.
The fabulous bar even had while we were there, a FREE beer hour. Now for some rugby lads on a tour that was always going to be a winner although I am not sure they realised just how attractive that was going to be as hoards of thirsty rugby fans converged on the bar!
Bus Tours
A great way to see Fukuoka is by bus.
The very popular open bus tour network is available to tourists but also used by the residents to transport them from all corners of the city.
When you purchase an open bus ticket you also get free access to the Nishitetsu buses which work the city centre routes.
Hakata Old Town
Formerly a thriving port the Hakata Old Town within the city of Fukuoka is home to many attractive and historical shrines and temples.
A popular gate to visit at the entrance to the temple part of the city is the Hakata Sennen-No Mon. Here you will find many cultural attractions to fascinate you as you tour the city.
The old town is also well known for its crafts including traditional Hakata Doll Painting. Then there are the arts and cultural centres including the Hakatamachiya Furusatokan, the Hakata Traditional Craft and Design Museum and the Hakata Traditional Performing Arts Centre.
Kawabata & Kushida
The most celebrated shrine in Fukuoka is the Kushida Shrine.
This is probably the easiest one to access from the end of the popular Kawabata Shopping Arcade.
Other shrines that you may be interested in are the Tochoji Temple and the Shofukuji Temple!
Fukuoka Castle Ruins
The Fukuoka castle ruins are located in the heart of the city in Maizuru Park.
Sadly just a few walls and turrets remain so most visitors tend to spend more time walking and strolling around the park and pretty surroundings.
Ohori Park
The Ohori Park is a peaceful place where you will find many people out running or walking their pets.
The pond here actually used to be part of the moat that belonged to the neighbouring Fukuoka Castle.
Take a break and relax here alongside the lake watching giant koi carp and turtles.
Shopping by the Sea
Two popular parts of Fukuoka are Tenjin, a riverside area known for its high-quality shopping at the underground mall. It is also known for its abundance of tech companies with workers spilling out into the trendy cafes and bars at the end of their working day.

Also, the seaside Momochi area is the location for a number of key landmarks including the striking triangular Fukuoka Tower, the Fukuoka Museum and the Yahuoku Dome. There is also some great shopping and an artificial but very popular beach for those looking to relax and enjoy some seaside sports and activities.

Nakasu
Nakasu is the "amusement" district in Fukuoka. This red light district is packed with bars, restaurants and other entertainment.
Fukuoka's open-air food stands are called Yatai and are possibly the city's best-known symbol. They can generally seat up to eight people and provide an atmospheric outdoor environment to enjoy various foods that are generally simple and filling.
Nakasu Island has a row of around 20 yatai that are attractively situated along the water and located in the very heart of the city.
Bars & Memories
Some of my favourite memories of Fukuoka was finding a small bar to watch a game of rugby between South Africa and Japan.
The young local Japanese came out in huge numbers all dressed in their red and white hooped shirts to cheer on, very loudly, their team.
It was such a magical afternoon mixing with the locals and supporting their players who sadly put up a great show but ultimately lost. It was a long day and night with some of the most wonderful friendly people in Japan.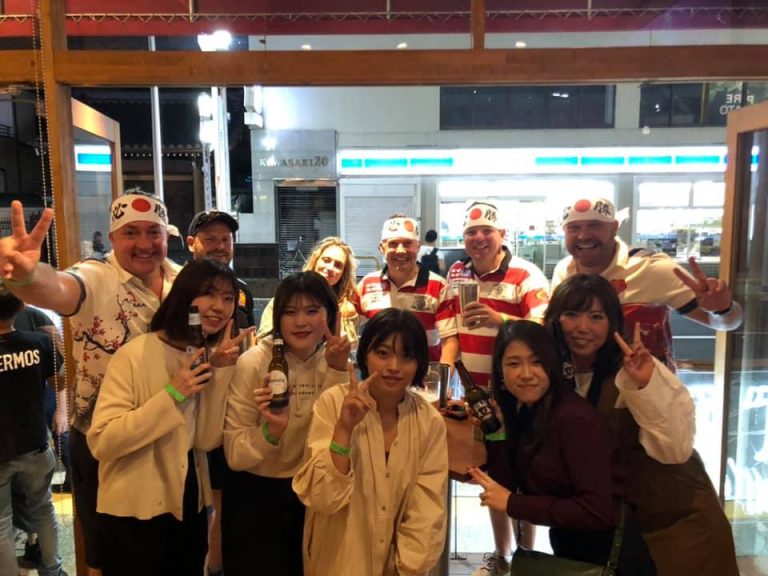 Arigato Fukuoka
Whilst not the most attractive or lively (aside from the hotel that is) part of Japan it was really enjoyable to see an area not known for tourism and as such part of authentic Japan.
As always the charm of the Japanese people shone through during another great stop on my tour of the country.
Pre-Bookable Excursions
If you are planning a trip to Fukuoka and want to pre book some excursions here are three of the very best.
Contact Information
For further information on taking a trip to any part of Japan or Asia either contact your local travel agent, a specialist tour operator or the Japan Tourist Office.
Check out my Japan Blogs for Tokyo, Kyoto, Osaka, Kobe, Hiroshima, Yokohama, Fukuoka and Fujikawaguchiko.