Osaka & The Onsen
Now if I was to say that there is a city in the world where my overriding memory was getting naked with one of my good pals and leaping into a variety of cloudy and somewhat smelly baths then you may think I have a strange way of enjoying myself. Well I am not ashamed to admit it but Osaka in the heart of Japan is the city and I had a blast!
Whether you come to Osaka for the history, the bright lights of the evening or indeed the spa and the Onsen scene that I threw myself into – quite literally – you are sure of another great time and a wonderful stay.
Osaka
Osaka is Japan's second largest metropolitan area after the capital Tokyo. This port and commercial centre has been an economic powerhouse of the Kansai Region for many centuries.
The city is known for its spa world, its gardens, temples and for the passion and creativity that the locals put into their gastronomy.
Prices in Osaka are considerably cheaper than Tokyo so its a great alternative for partying the night away amongst the late night bars and restaurants.
There are plenty of walking and biking tours that you can take from local shops or through your hotel as the cities green and open spaces are ideal for mooching!
We took a mini river cruise down the river all the way to Osaka Castle Park passing under the many bridges and with an English speaking guide pointing out the key attractions including the Japanese Mint that has its headquarters in Osaka.
Osaka Castle
Constructed in 1583, Osaka Castle is worth a visit to explore its history. The adjacent Nishinomaru Garden is a lawned garden with 600 cherry trees, a tea house, the former Osaka Guest House and with wonderful views across the city.
The entire Osaka Castle Park covers an area of about two square kilometers. Its lovely to get out and walk in the green spaces and view the sport facilities where I witnessed baseball practice, a popular pastime in Japan.
Osaka is also a popular hanami spot during the cherry blossom season, which takes place in early April.
Kuromon Market
The 600 metre long Kuromon Market is full of fresh street food selling a variety of fish and shell fish. If you like your photography make sure you visit this market as it offers plenty of opportunity for street and culture shots.
This image always makes me laugh and demonstrates the English Rugby fans height compared to the locals of Osaka.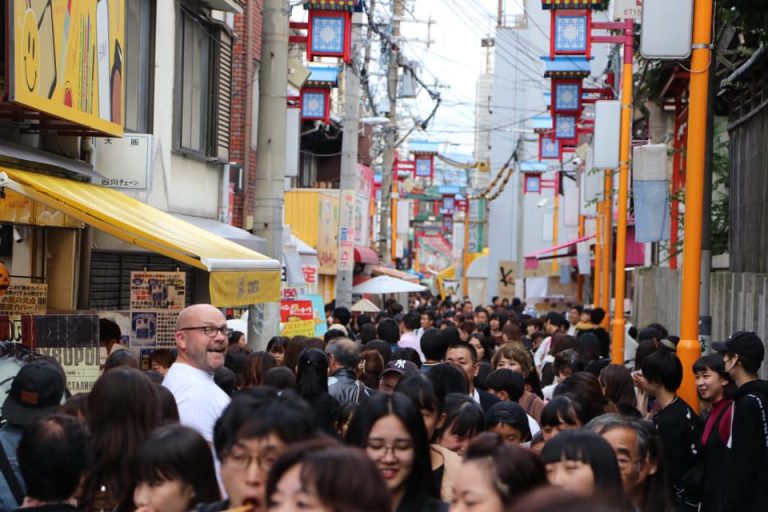 Shitenno Ji
For more history Shitenno-ji is a stunning Buddhist temple and pagoda structure in the heart of the city.
It is sometimes referred to as the oldest temple in all of Japan and founded by a prince in the late 6th century.
Dotonbori
At night Osaka comes alive with its bright lights and enticing restaurants and bars offering a variety of attractions and watering holes.
Dotonbori is quite possibly the most hectic and busiest part of Osaka, with plenty of shops, restaurants and stalls to keep you entertained.
Onsen
As you know I also tried out the Japanese speciality of the Onsen. Basically this consisted getting naked and wallowing in a variety of pools, some hot some cold, some salty some freshwater. There were others that I could not even try to explain without putting you off the entire experience !
It really wasn't for me but if there was a chance it would make me feel healthy and live longer then of course I was all for it !
This is the before photo. I would post some during and after shots however I am not sure the world wide web is ready for such a showing!!
An amusing evening – when in Rome and all that !!
Universal Studios
Universal Studios Japan is a must for the family. The park is just 10 minutes on the train which is the most convenient way to get there especially at peak times. Kids will delight in the range of different experiences and attractions on offer with all the familiar entertainment brand names to enjoy. There is the most popular Harry Potter World plus other favourites such as The Minions Park, Nintendo, Jurassic Park and more.
Buying tickets in advance is recommended as at peak times queues can be very long. A little tip is to buy an Express Pass 7 which fast tracks you into the park. The park is huge and at least a days entertainment with hundreds of food and drink outlets to keep you well fuelled during the day.
Arigato Osaka
Spending time walking around the city seeing people going about their daily lives whether meeting for a chat or going to the baseball game like here was a real authentic Japanese experience. Its one that I will always remember.
I preferred the quiet part of Osaka to the bright lights of the city but maybe it was because I had already experienced Tokyo and how was I ever going to top that!
The memory of the Onsen will live long – I just hope that experience has the same effect on me!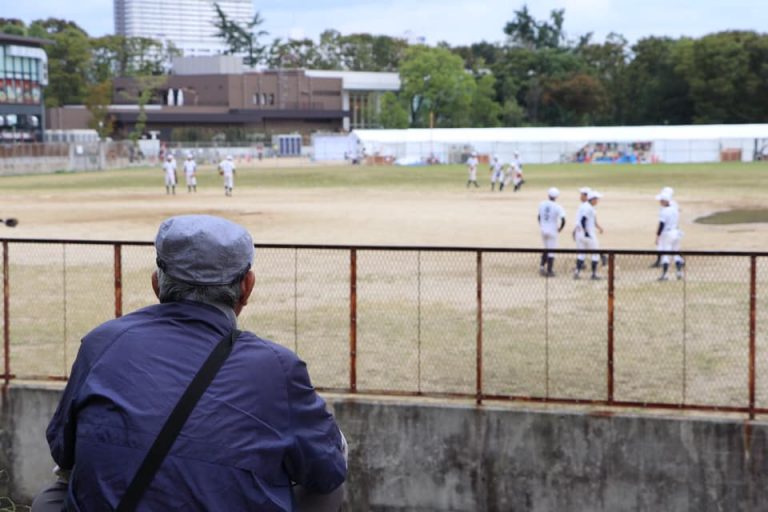 Pre-Bookable Excursions
If you are planning a trip to Osaka and want to pre book some excursions here are three of the very best.
Contact Information
For further information on taking a trip to any part of Japan or Asia either contact your local travel agent, a specialist tour operator or the Japan Tourist Office.
Check out my Japan Blogs for Tokyo, Kyoto, Osaka, Kobe, Hiroshima, Yokohama, Fukuoka and Fujikawaguchiko.