Japan had never been a destination that I had ever really considered visiting. However with the country hosting a Rugby World Cup in October 2019 suddenly my attention was gained. As soon as my name was pulled out of the ballot for match tickets it was time to make plans!
I called upon a number of friends who had far greater knowledge and expertise on the country than I did and before you could say "Dim Sum" I had a list of recommended places to visit as long as my arm.
Whilst I always love to see the iconic places I do also love the sense of adventure and have always liked to go off the beaten track and explore. As a result I have never been keen on set group tours as witnessing for myself that little village where tourists rarely tread is to me what its all about.
So once the planning was done what followed was one of the trips of my lifetime. A destination that opened my eyes in so many ways and actually questioned how I live my life back in sunny Sussex, England. I had always thought of Japan as a destination for the retired. A place to go on one of those regimented tours and marvel over bonzai trees and cherry blossum or stare at ancient porcelain. What I had not envisaged was that Japan was actually a place for all. For families, couples, nature lovers, the party animals and the adventurous!
Kindness is a strength....
The Japanese people are just incredible. They are just so kind, so curteous, so welcoming and so warm. How it had taken me 51 years to discover this I will never know but I would urge you to visit this beautifully diverse country, even if only to restore your faith in mankind.
This video I took as I left the Rugby World Cup Final in Yokohama. The Japanese volunteers from young to old were magnificent and on this final occasion they formed a line which for me epitomised the friendly, wonderful welcome we had received right across the country.
Arigato Japan..... Thank You....
Japan is more than the bright lights of Toyko or the mystical charm of Kyoto, its a country that makes you feel alive and wanting more.

Without question Japan is up there in my top destinations of the world – its incredible and I just love the place.
Continent:                      
Asia

Time Difference:             Local UK Time + 8 Hours

Currency:                          Japanese Yen

Flight Time:                      11h 50m from London

Visa:                                  
No for British Nationals

Language:                        Japanese
Travelling in Japan is without doubt one the greatest concerns of those planning a trip. However with the lure of a ride on a 320kph Shikansen or as we know it, the hi tech state of the art "Bullet" train, all the inital worry and confusion is soon replaced with excitement and admiration. For this a travel network that is both precise in its execution and outstanding quality in its design.
Accommodation
Hotels are expensive throughout Japan but particularly in the major cities. However the ANA chain of hotels in Tokyo were well priced and common throughout the city. The famous Gracery hotel in Shinjuku complete with its Godzilla T Rex on the roof that roars on the hour to the delight of waiting tourists is a perfectly positioned quality central hotel near the action and nightlife.
If staying in a well known chain like Crown Plaza or Hilton look out for the free airport shuttles although the per night prices tend to be steeper.
For an unusual experience then pods are a cheap and a fun way to spend a night however don't book yourself in for a week.
Simple hotels in the area around Kawaguchiko, Fuji are more reasonably priced but don't expect too much as rooms are basic and furnishings dated. For most guests however its all about the outdoors here.
As with anywhere in the world location comes at a price but if you get in quick there are bargains to be had!
Bus
Flights
Metro
Rickshaw
Taxis
Train
Tram
Fukuoka had been a source of confusion to me since it was announced that it was going to be the venue of the England Australia Rugby match that I
was attending in October 2019. In fact pronunciation alone was clearly going to be an issue!
The city is actually on Japans third largest island called Kyushu. An early settlement for Japanese civilization, Kyushu has many historic treasures,
natural beauty and modern cities including Fukuoka.
Staying at a hotel called "The Lively" perhaps gave us an indication that Fukuoka was going to be party central. To the contrary that was far from the truth as this sleepy city offered little for the tourist staying more than the one night.
Shopping is a highlight of any visit to Fukuoka. The main shopping centre was a long covered walkway with numerous shops selling everything from food to sports goods.
For history there are shrines and temples scattered throughout the city. The easiest one to access is Kushida Shrine from the end of Kawabata Shopping Arcade. There is also Tochoji Temple and Shofukuji Temple!
Ohori Park is located right next to some Castle Ruins and is a peaceful place to take a walk or rest alongside the lake watching giant koi carp and turtles.
Nakasu is the "amusement" district in Fukuoka. This red light district is packed with bars, restaurants and other entertainments. Fukuokas open air food stands are called Yatai and are possibly the city's best known symbol. They can generally seat up to eight people and provide an atmospheric outdoor environment to enjoy various foods that are generally simple and filling. Located in the heart of the city, Nakasu Island has a row of around 20 yatai that are attractively situated along the water. 
Our stay in Fukuoka included an afternoon watching Japan play South Africa in the Rugby World Cup. The excitement and passion demonstated by the Japanese in supporting their team will live long in my memory.
Without doubt Hiroshima is a must see when travelling across Japan. The tragedy that unfolded here in on the 6th August 1945 when an American B-29 bomber dropped the world's first deployed atomic bomb on Hiroshima is truly humbling. An explosion wiped out 90% of the city and immediately killed 80,000 people with tens of thousands more later dying of radiation exposure.
The city has that sombre feel and was quiet and reflective. I toured the Peace Memorial park which hosts a variety of structures and monuments dedicated to the legacy of Hiroshima.
This pretty park's main facility is the Peace Memorial Museum. Consisting of two buildings, the museum charts the history of Hiroshima and the advent of the nuclear bomb. Its main focus though is on the events of 6th August and the dropping of the bomb and the subsequent human suffering. The personal details displayed are quite distressing and serve to remind us all that we should not take peace for granted.
The Atomic Bomb Dome is known as the Hiroshima Peace Memorial and is what remains of the former Prefectural Industrial Promotion Hall. The building served as a location to promote Hiroshima's industries. When the bomb exploded, it was one of the few buildings to remain standing, and remains so today. A Unesco World Heritage site the A-Bomb Dome is a tangible link to Hiroshima's unique past.
The Cenotaph, also known as the Memorial Monument for Hiroshima for the A-bomb Victims is located in the heart of the park. It consists of a stone monument beneath an arch and within it are the names of victims of the atomic bombing.
The Shukkeien gardens were opened to the public in 1940, yet burned to ashes by the atomic bombing. It was then lovingly restored to its original glory and is now one of Hiroshima's main attractions and worth a visit.
Hiroshima Castle is better known as 'Rijou'- Carp Castle. It got its name from the black wooden slats attached to the outer walls of the Castle Tower that look like the carp's fish scales. Again this was destruoed by the bomb but rebuilt in the 1950's.
The area around Fuji was the one area that I really struggled to understand before my visit. Where should I stay for the best views of Fuji and for some places of interest to walk to in the evening. The answer is Kawaguchiko or as the actual town name is called FujuKawaguchiko.
Lake Kawaguchi is located on the border of the towns of Fujikawaguchiko and Minobu in southern Yamanashi Prefecture near Mount Fuji, Japan. It is the second largest of the Fuji Five Lakes. The town is built on the Eastern side of the lake and hosts a variety of shops selling local gifts and produce as well as some tacky souvenirs. A small selection of restaurants offer a choice of local dishes. There is also a small sports bar providing westerners with a burger or fish n chips if you need that break from the ramen! There is also a Lawsons minimart for daily supplies.
You can enjoy a pleasure boat cruise from the lakeside. Its very slow but pleasurable with open deck views of the incredible scenery. Other water based activities include riding a swan peddle boat and if you pedal far enough you can catch that glimpse of Fuji.
The Mount Fuji Panoramic Ropeway is a cable car which provides wonderful views of Fuji (on a clear day). There are a couple of small shops at the top as well as various photo opportunities and some childrens attractions based around a bizarre story of a rabbit and a raccoon !
There is a superb bus network operating daily and it covers all the key sites. I would recommend buying a two day pass that allows you to hop on and hop off the bus network that takes you around the five lakes. Various coloured routes easily direct you to the many attractions from Bat Caves to restaurants, museums and water sports.
Chureito Pagoda is part of the Arakurayama Sengen Shrine. The shrine is built at the foot of a mountain with almost 400 steps leading to the pagoda where you are likely to find a pack of paparazzi. The view showcases the Chureito Pagoda in the foreground, the city in the background and looming over it all wonderful Mount Fuji. Chureito Pagoda is without doubt the best place to see Mount Fuji. 
Fuji Q Highland is really not what you would expect to find near one of the worlds most iconic mountains however this amusement park hosts a wide choice of roller coasters (with views of Fuji) plus the very popular scary haunted house which used to be a real hospital. 
I loved FujiKawaguchiko and would highly recommend a couple of nights here on any tour of Japan. 
Check out this useful guide to Fuji & The Five Lakes
Kobe is a city on Osaka Bay in central Japan and the reason for my visit was to sample the world famous Kobe beef.
Before satisfying the stomach though I had time to walk around the city starting with the rather odd Kobe Harborland. This is a shopping and entertainment district between JR Kobe Station and the waterfront of Kobe's port area. This popular tourist area offers a decked promenade hosting a large selection of clightly tacky, soulless restaurants, shops, cafes and other amusements.
Kobe Port Tower is the landmark of the city, a sightseeing tower with an observation deck which offers panoramic views of the city. The tower reaches 108 metres and is best explored at night, so you can enjoy it at its best.
Kobe is also sadly well known in recent times for the Great Hanshin Awaji Earthquake on the 17 January 1995, resulting in the death of more than 5,000 people and the destruction of tens of thousands of homes. There is an Earthquake Memorial Museum in the city.
An area of Kobe I loved was Nankinmachi which is their Chinatown. Bustling and full of colour and people, the exciting stalls selling everything from pop socks to ice creams. In fact I reckon Nakinmachi must surely be the pop sock capital of the world– I nearly succumbed to a pair myself!
So then there was the world famous Kobe beef and my word it is good but boy its expensive. It is however supposed to be the best in the world so I guess quality comes at a price. Yes it was delicious but to be fair I could have eaten three more portions and at £50 GBP a pop (not socks). I thought it best to control the hunger and look after my wallet.
Without doubt my favourite city in all of Japan was Kyoto.
The Gion district of Kyoto's is one of the most famous areas of Japan and is located around Shijo Avenue between Yasaka Shrine in the east and the Kamo River in the west. It is full of shops, restaurants and ochaya (teahouses), where geisha entertain. I was lucky enough to see two Geisha as I took the tip of hanging around the end of Shijo avenue at about 6pm. These beautiful Geishas often arrive in taxis for engagements around that time but you need to be quick as well as respectful in order to take a photo.
There is something quite magical about the traditional wooden machiya merchant houses that line the streets here. Down by the river as the sun sets friends and many lovestruck youngsters sit and chat on the banks. Meanwhile herons swoop down and prey on the fish in the river in front of ancient buildings and bridges. This place is pure magic!
Nishiki Market is a popular fresh food market in Kyoto and ideal if you have a rainy day as its fully covered.
In Southern Kyoto is the Fushimi Inari Shrine, a world famous Shinto shrine with its thousands of vermilion torii gates.
A short 20 minute bus journey from Kyoto took us to Arashiyama. Here you can spend time in the glorious gardens, admire exquisite temples and walk through the bamboo grove. Then cross the river and if you are fit, climb the steep mountain side to an area where you can view the wild snow monkeys.
In short Kyoto, is the real Japan experience. Beautiful people, stunning history, great shopping, nature and then there was the mystery of seeing the Geisha's. I never believed that experience would excite me in the way that it did but witnessing this piece of history was one of the moments of my Asian adventure.
Check out this useful guide to Kyoto
Osaka is Japan's second largest metropolitan area after the capital Tokyo. It has been an economic powerhouse of the Kansai Region for many centuries.
Constructed in 1583, Osaka Castle is worth a visit to explore its history. The adjacent Nishinomaru Garden is a lawned garden with 600 cherry trees, a tea house, the former Osaka Guest House and with wonderful views across the city.
The entire Osaka Castle Park covers an area of about two square kilometers. Its lovely to get out and walk in the green spaces and view the sport facilities where I witnessed baseball practice, a popular pastime in Japan. This is also one of Osaka's most popular hanami spots in the cherry blossom season, which takes place in early April.
Kuromon Market is full of fresh street food selling a variety of fish and shell fish. If you like your photography make sure you visit this market as it offers plenty of opportunity for street and culture shots.
For more history Shitenno-ji is a stunning Buddhist temple and pagoda structure in the  heart of the city. It is sometimes referred to as the oldest temple in Japan, founded by a prince in the late 6th century.
At night Osaka comes alive with its bright lights and enticing restaurants and bars offering a variety of attractions and watering holes.  Dotonbori is quite possibly the most hectic and busiest part of Osaka, with plenty of shops, restaurants and stalls to keep you entertained.
As you can see I also tried out the Japanese speciality of the Onsen. Basically this consisted getting naked and sampling a variety of pools, some hot some cold, some salty some freshwater. It really wasnt for me but if theres a chance it will make me feel healthy and live longer then I am all for it ! 
Check out this useful video on Osaka
An early morning visit to Tsukiji Outer Market is well worth it. Consisting of a few narrow lanes of stalls selling fresh and processed seafood as well as other food related items like pots and knives, it truly gives you a sense of daily Japanese life. One word of warning, the blowtorched eels are a little on the tough side!
I stayed in the Shinjuku area where you will find little time to switch off as the area is party central and everything you expect from Tokyo. Busy bars and Izakawa restaurants line the streets with a famous visitor attraction being the Robot bar. Here there are regular daily completely bonkers technicoloured dance and music performances costing about £60 per person. Shinjuku is also home to the largest railway station in the world so get your bearings as it can be confusing.

Shibuya is a little more formal than Shinjuku and a popular shopping and entertainment area for the young and trendy. It is also one of Tokyo's most colourful and busy districts, packed with cafes, dining and nightclubs. A lot of tourists and businessman migrate towards the large intersection in front of the station's Hachiko Exit. Decorated with neon advertisements and giant video screens it is also home to the largest pedestrian crossing in the world.
Roppongi is a lively entertainment district where locals and tourists mix in heaving late night bars and clubs. By day, the vast Roppongi Hills skyscraper draws visitors for its observation deck, boutiques and the Mori Art Museum.
For a classier part of Tokyo head to Ginza which is the "Kensington" of Tokyo with its imperial palace, amazing shopping and great luxury hotels.

There is also Asakusa, a more traditional yet laid back part of Tokyo with some good 3/4* hotels, nice shopping a  good local atmosphere.
Tokyo is of course a must see in Japan. Like any big city there are the shops, the sites and the seedy areas. I loved Tokyo and as in all of Japan it was the people and their quirky ways who I enjoyed the most but certainly not the blow torched eels!
Check out this useful guide to Tokyo
Yokohama was perhaps the biggest surprise of my tour of Japan.
My day started with a walk down to the beautiful port and through Yamashita Park where I randomly visited a North Korean military spy ship that had been captured off the coast of Japan in 2001. The guide who took us around the hangar was so proud of his capture and was so passionate in pointing out every bullet hole on the rusty scarred remains of the vessel.
Visiting the Red Brick buildings is a must in Yokohama. The government built these warehouses between 1911 and 1913 to cope with the increased trade demands on the port. They were used until 1989 at which time they were were renovated and now house shops and restaurants. 
Alongside the exhibit were beautifully manicured lawns and then a boardwalk promenade consisting of restaurants, bars and stylish shops. This promenade led down to one of the most bizarre experiences of this or any other holiday. Yep a visit to the Cup noodle museum is as cool as you can get. Here you can indulge in the madness of this Tate gallery style museum dedicated to this timeless classic snack. Completely bonkers and the reason I love Japan!
Walking further along the sea front takes you to a place called Minato Mirai 21 which means 'Harbour of the Future'. This is a seaside urban development aswell as the city's central business district. Featured here are many futuristic buildings including the country's tallest building, the Landmark Tower. Visitors to the area will find shopping centres along with hotels, a convention centre, an amusement park and museums.
Japans largest Chinatown is here in Yokohama and has the same recognisable things that let any visitors know that they are in the Chinese neighbourhood namely dragons, lanterns and the aroma of Chinese spices.
Just a stones throw from here takes you through into the historic area of Yokohama called Noge. Best discovered at night Noge is where you will discover niche bars and eateries as well as many of the more typical izakaya and yakitori shops. Old karaoke snack bars are located next to more contemporary fusion restaurants. One of the charms of Noge is for you to wander the streets and find a bar or a restaurant that draws you in – a truly unforgettable experience and cuisine to die for!
Eating
Sushi
Probably Japans most famous export. Some of the most popular types were Maguro (tuna), Toro (fatty tuna), Hamachi (yellowtail), Hirame (flatfish) Uni (sea urchin roe), Ebi (prawn) and Ika (squid). Restaurants love to showcase their catch and their handywork and the chefs seemed to love the interest from us tourists.
Ramen
Ramen is originally from china, but now it has become a regular Japanese dish. There are Ramen noodles which are served with a variety of toppings in a hot soup such as Tonkotsu Ramen a white, milky, pork bone based dish. Also try Shoyu Ramen a brown soya sauce based dish and Miso Ramen another brown, miso dish and finally Shio Ramen which is salt based.
Bao
Made from steamed buns stuffed with salad and delicious savoury fillings. Bao closely resemble sandwiches or tacos and have become a firm favourite in ramen shops aswell as at many train stations and convenience stores. They sell them in Lawsons but get in quick !
Drinking
Sport
Nature & Wildlife
Hints & Tips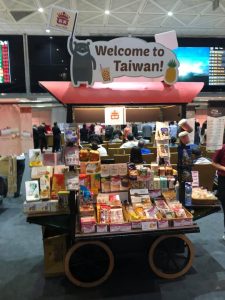 A fond farewell to incredible Japan and hello to Taiwan
Read More »